Monroe, Washington, is around 30 miles away from Seattle and located in Snohomish County, which has been heavily impacted by the opioid epidemic, as well as the effects of other drugs and alcohol.
Monroe, Washington, is a city located in Snohomish County and the Cascade Foothills. Monroe is around 30 miles away from Seattle, near the city of Everett. All of Snohomish County has been heavily impacted by the opioid epidemic, as well as the effects of other drugs and alcohol. According to a message from the Snohomish County Sheriff, while the county only makes up 10% of the state's population, more than 18% of heroin-related deaths in the state occur in this county.
Having an overview of the drug and alcohol rehab, detox and recovery resources can help people and their loved ones if they struggle with substance abuse and need treatment.
Monroe Drug and Alcohol Rehabilitation and Treatment
There are drug and alcohol rehabilitation and treatment programs available near Monroe and throughout the state of Washington. The Recovery Village Ridgefield is one such facility, offering a variety of programs from medical detox through aftercare.
Finding the right treatment program can have a significant impact on a person's life. The first step to finding the right treatment is knowing the options.
Drug and Alcohol Detox Programs and Treatment Centers in Monroe, WA
There are a total of nine drug and alcohol detox programs and treatment centers not necessarily in Monroe but in the Everett area, too. These include specialized treatment programs, as well as inpatient and outpatient options.
Drug and alcohol detox programs help people begin recovery with a fresh foundation. These programs clear the body of all traces of drugs and alcohol so that people can transition to inpatient and outpatient care.
You make the decision, we take care of the rest.
Comprehensive addiction treatment at The Recovery Village Ridgefield.
Monroe Residential Treatment Programs
There is one residential detox program in Everett, Washington. There is also one hospital inpatient program and two residential substance abuse treatment programs. The Recovery Village Ridgefield is also a Washington state facility offering residential detox and addiction treatment.
A residential treatment program is one where participants check into a facility and live there for some time. A residential treatment program allows for intensive, in-depth and holistic treatment. The environment is also characterized by a sense of support and structure. Some people attend residential treatment near their home, but another common practice is attending a residential treatment program in a different city or state.
Monroe Partial Hospitalization Programs
There isn't currently an option for Monroe or Everett partial hospitalization programming (PHP), but The Recovery Village Ridgefield offers partial hospitalization options.
A PHP is a type of program in which a person participates in intensive treatment, but it's a step down from a residential rehab program. Some people may begin their treatment journey in PHP, or they may move into PHP treatment after completing a higher level of residential care.
Monroe Outpatient Treatment Programs
There is one outpatient detox program in Everett, and there are two other outpatient treatment programs. There are also outpatient programs available at The Recovery Village Ridgefield.
Offering daytime treatment, an outpatient treatment program allows people to continue going to school or work and take care of family obligations if necessary. Outpatient treatment programs offer flexibility once someone has completed residential rehab. Some people may also only participate in an outpatient treatment program.
Sober Living and Rehab Aftercare Programs in Monroe, WA
Of the Everett facilities, 89% offer aftercare or continuing care planning. At The Recovery Village Ridgefield, a big component of our treatment programs is also aftercare and discharge planning to ensure the best possible long-term outcomes for every client.
Addiction is considered a chronic disorder, and treatment can be long-term for many people. As part of a treatment and recovery plan, continuing care (aftercare) is important.
Continuing care can include drug rehab aftercare programs, or moving into sober living homes. Sober living has a lot of the support and structure of inpatient rehab, but someone who lives there can start transitioning back into daily life.
Everyone's treatment journey is unique, so for some people, their drug rehab aftercare program may consist of ongoing therapy or counseling, or participation in a 12-step program.
Specialized Treatment Programs in Monroe, WA
Some rehab programs offer treatment for certain populations and demographics. While there aren't specialized treatment programs in Monroe, there are in Everett, including:
Three Everett treatment programs for people with co-occurring addictions and mental health conditions
One specialized treatment program offering rehab for the LGBT community
Two programs offering rehab for veterans
Four Everett treatment programs offer rehab for pregnant women and are specialized to the needs of pregnant or postpartum women
Several centers offer rehab for PTSD, trauma and abuse
The Recovery Village Ridgefield can also work with people who have unique needs because each of the treatment plans can be built around people's individual needs.
What Is the Process Like in a Drug Detox and Rehab Facility?
Whether you're exploring Monroe addiction treatment options for yourself or someone you love, you may wonder what the process is going to look like. First and foremost, an addiction treatment plan should be specifically tailored to the person and their needs.Most addiction treatment programs are holistic as well, meaning the needs of the whole person are addressed in addition to their addiction.
When someone contacts a drug detox and rehab facility, they will speak with an admissions counselor who will help them learn more and answer questions they have. Then, if someone has private insurance, the verification process can start to determine what costs of treatment will be covered. Once someone goes to the rehab facility where they'll receive treatment, they will first go through the intake process. The team at the treatment facility will fully assess the person's physical and mental health and create a treatment plan.
When the plan is finalized, detox can begin. Once detox finishes, the patient can transition to further programming, including inpatient and outpatient care. The drug treatment process should also include aftercare planning and long-term follow-up.
To learn more about a typical rehab process, visit this informational page from The Recovery Village.
Finding the Best Rehab Program for You
There are so many options for rehab that people tend to wonder how to find the best rehab center or what separates the best drug rehab centers from the others. This helpful article from The Recovery Village can offer more insight on how to choose a rehab facility.
In general, to find the best program for you, look for facilities that can meet your needs. These needs may be related to:
What kind of drug or alcohol addiction you face
Health insurance coverage
Mental health concerns
Gender-specific treatment needs
Willingness or ability to travel for rehab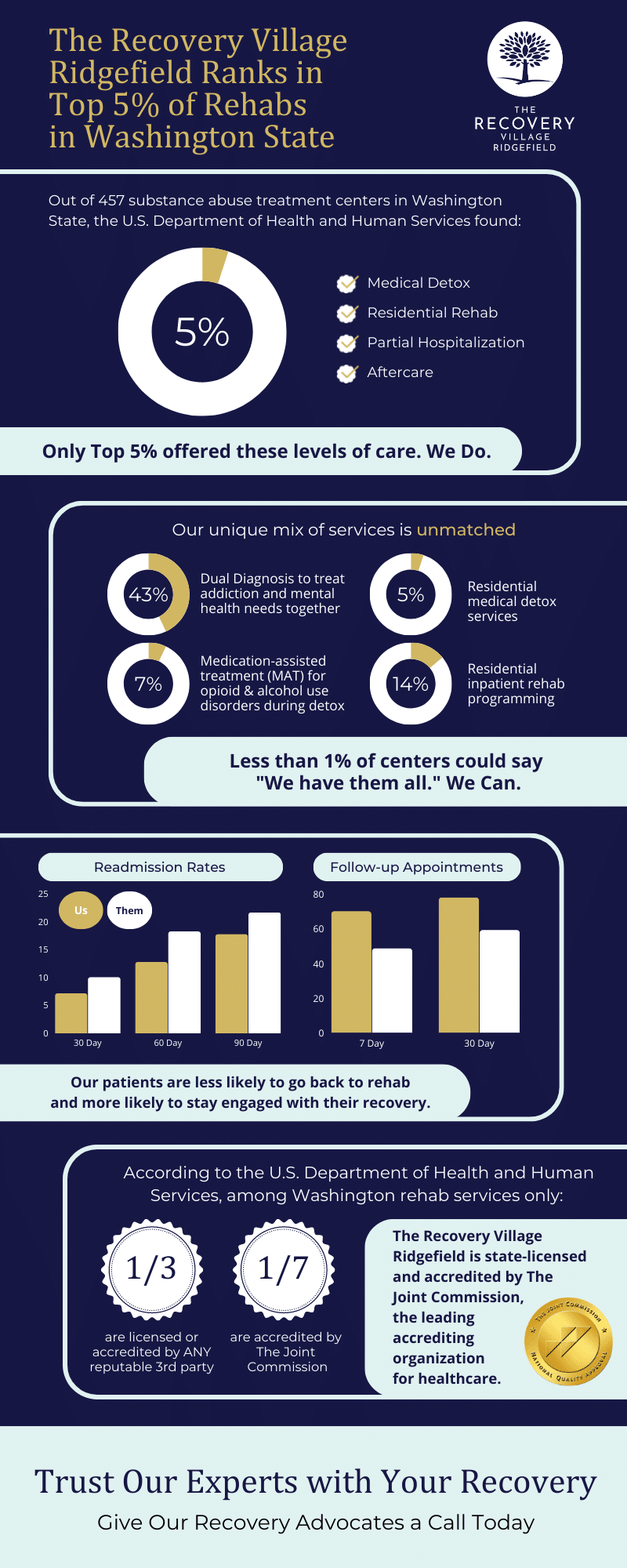 What Questions Should You Ask When Considering a Treatment Program?
There are some questions that can guide the decision-making process as someone is comparing and choosing a treatment program.
How Do You Approach Treatment?
When searching for addiction treatment, it's important to learn more about the underlying philosophy and approach a program takes. For example, is treatment individualized and personalized? Does treatment include different types of therapy as well as recreational treatment? How does the treatment center's philosophy contribute to sustainable, long-lasting recovery? These are all questions to ask a treatment center.
Many treatment centers also utilize 12-step therapy as part of their programs, and this form of therapy can be a good option because it allows someone to be familiar with the format so they can continue participation in a support group after leaving rehab.
What Is the Admissions Process Like?
One of the most important components of addiction treatment is the admissions process. People who are struggling with addiction need fast access to treatment when they're ready to enroll in rehab, and if a center has an overly complex or cumbersome admissions process, people may be less likely to get treatment. An admissions process should be simple and transparent.
Is Insurance Accepted?
Rehab centers, including The Recovery Village Ridgefield, often accept private insurance. If someone selects a treatment center that's considered in-network with their insurance provider, they will have to pay less out-of-pocket and the costs of treatment may be much more affordable. Look for a rehab center that will verify insurance coverage.
If a person doesn't have insurance, they should speak with treatment centers about their payment and financing options and find one that's flexible.
What's Part of Treatment?
If someone is going to an inpatient treatment center, room and board and therapy are usually included. Also ask about the inclusion of recreational activities, such as exercise or yoga and nutritional programs. Sustainable recovery from addiction depends on physical but also mental and emotional health.
For more questions to ask about rehab, view frequently asked questions about rehab with The Recovery Village.
Exploring Treatment Options Near Monroe, WA
How do you know if it's best for you to attend rehab near your home in Monroe, such as an Everett treatment center, or whether you should travel for rehab? There are pros and cons to weigh with each option.
If someone is looking for drug abuse treatment near Monroe, or near their home, they have the support of their family and loved ones. This support can be valuable during the treatment process. Someone who stays close to their home may also feel more comfortable with their treatment experience. They also don't have to think about arranging long-distance travel.
On the other hand, leaving one's hometown or state has benefits as well. For example, it gives someone the opportunity for a fresh start, and they can focus exclusively on treatment and recovery. It removes them from their previous environment, which may have been negative. Leaving for treatment in another city or state also may also allow for complete anonymity.
Additional Addiction and Rehabilitation Resources in Monroe, WA
There aren't addiction treatments in Monroe, but there are several in nearby Everett. There are other recovery resources in and around Monroe, too. These include recovery meetings, such as 12-step programs.
Recovery Meetings Near You in Monroe, WA
Recovery meetings are an excellent resource for someone who is sober from drugs and alcohol and wants to maintain their sobriety and recovery. Recovery meetings are typically convenient because they are held throughout the week in most cities and towns in the United States.
Recovery meetings offer the benefit of social support as well, which is one of the most important factors for sustained recovery. Meetings include 12-step programs like Alcoholics Anonymous (AA) and Narcotics Anonymous (NA), but there are alternatives as well, like SMART Recovery.
Alcoholics Anonymous (AA) Meetings in Monroe, WA
Alcoholics Anonymous is a 12-step meeting for people who are alcoholics or who abuse alcohol. Some available AA meetings in Monroe, WA include:
Local Alcoholics Anonymous (AA) Meetings
Monroe Downtowners
Fridays 7:00 p.m. to 8:30 p.m.
Church of Our Saviour Episcopal
301 South Lewis St., Monroe, WA 98272
Monday Night Miracles
Mondays 6:00 p.m. to 7:00 p.m.
Monroe Congregational
301 South Lewis St., Monroe, WA 98272
Narcotics Anonymous (NA) Meetings in Monroe, WA
Narcotics Anonymous or NA is similar to AA in that it is a 12-step program based on belief in a higher power. However, NA is geared toward people who struggle with drugs and other substances aside from alcohol.
SMART Recovery Meetings in Monroe, WA
Most 12-step programs are excellent recovery resources, but they aren't right for everyone. There are alternatives including SMART Recovery. An acronym for Self-Management and Recovery Training, SMART Recovery is a worldwide organization based on a four-point program system. The four points help people with all types of addictions including alcoholism, drug abuse and behavioral addictions such as gambling addiction.
While there isn't currently a SMART Recovery meeting in Monroe, there is one in nearby Bothell:
Al-Anon and Nar-Anon Meetings in Monroe, WA
Al-Anon and Nar-Anon are 12-step support groups, but they are for the family, friends and other loved ones of people who struggle with substance abuse.
Local Al-Anon and Nar-Anon Meetings
St. Mary of the Valley Church
Mondays at 7:30 p.m.
601 W. Columbia St., Monroe, WA 98272
First Presbyterian Church
Tuesdays at 7:00 p.m.
1306 Lakeview Ave., Snohomish, WA 98290
Non-Profit Organizations in Monroe, WA
There are various non-profit organizations in Monroe and Snohomish County that provide services related to behavioral health and addiction. For example, some resources include:
Monroe, WA Substance Abuse Hotlines
For someone experiencing a crisis in Monroe, they can contact Crisis Services at (800) 584-3578. Anyone can also text the Crisis Text Line at 741741 from anywhere in the United States. Additionally, the hotline of The Recovery Village Ridgefield is always available to take calls related to drug or alcohol abuse.
City of Monroe, WA
The population of Monroe, Washington is estimated to be around 18,790. Monroe is located at the intersection of three major highways which are U.S. Route 2, State Route 203 and State Route 522, connecting Monroe to Seattle. Monroe has several parks located along the Skykomish River, and it's home to the annual Evergreen State Fair.
Addiction Resources in Nearby Washington Cities
For those who are seeking alcohol and drug treatment facilities outside of Monroe , Washington, there are also many drug rehab resources across the state of Washington: