Centralia, Washington, is in Lewis County. Originally a railroad town, Centralia at one point had five railroad lines including the Union Pacific Railroad, Northern Pacific Railway, Milwaukee Road, Great Northern Railroad and another short line. Centralia is also home to Centralia College, which is the oldest junior college in continuous operation in the state of Washington.
Lewis County, where Centralia is located, is the sixth largest county in Washington.
Unfortunately, Lewis County and Centralia do feel the effects of substance abuse, including the opioid epidemic. For example, in August 2017, Lewis County law enforcement officials began carrying the opioid overdose reversal drug Narcan because of upticks in opioid overdoses in the area.
For people who live in Centralia and nearby, drug and alcohol detox and rehab resources are available and can help them overcome addiction to drugs and alcohol, and remain in recovery.
Centralia Drug and Alcohol Rehabilitation and Treatment
Some of the different types of programs available not necessarily in Centralia, but generally to help someone struggling with drugs or alcohol include:
Individual counseling or therapy
12-step programs
Other support and recovery groups aside from 12-step programs
Inpatient rehab including short- and long-term residential treatment
Outpatient rehab including intensive outpatient programs
Partial hospitalization programs
Non-profit organizations
It's important for people in Centralia to know there are local resources, but also statewide Washington rehab centers, and out-of-state rehab and treatment centers.
Drug and Alcohol Detox Programs and Treatment Centers in Centralia
For most people who struggle with drugs or alcohol, treatment may occur along a continuum of care, meaning there are different steps in a treatment process. For example, someone's treatment for addiction may include:
A supervised detox program to help manage to symptoms of withdrawal and ensure they don't become life-threatening
An inpatient, residential treatment program during the earliest stages of recovery
Once completing a higher level of intensive care a person may begin a lower level of care such as outpatient rehab
Continuing recovery support and maintenance in a support group such as Alcoholics Anonymous or Narcotics Anonymous
Of course, everyone and their treatment needs are unique, so the above is an example of what a continuum of care could include.
Centralia, WA Residential Treatment Programs
Ten programs offering residential treatment are currently available within 50 miles of Centralia. The Recovery Village Ridgefield is also in Washington state and offers a variety of residential treatment programs, as well as onsite medical detox.
Residential treatment, or inpatient alcohol rehab or drug addiction treatment, offers a high level of care where patients live in the treatment facility. They participate in programming throughout the day at the inpatient rehab facility, including group therapy and one-on-one therapy. Most residential treatment programs also include recreational therapy and holistic care.
Centralia Partial Hospitalization Programs
A partial hospitalization program (PHP) has many of the same types of treatment and therapy as is offered in residential treatment. The difference is that when people are in a PHP, they may return home each evening as treatment ends, depending on the facility's requirements. In some cases, when their home environment isn't substance-free or safe, they may go to a sober living home.
The Recovery Village Ridgefield offers partial hospitalization programs, and six programs are also within a 50-mile radius of Centralia with partial hospitalization or day treatment.
Centralia Outpatient Treatment Programs
An outpatient treatment program is one where a participant can continue living their daily life, including attending school or work. They also add daytime attendance to a treatment program into their weekly schedule. Some people may begin with outpatient treatment, but for someone with a more severe or long-term addiction, outpatient rehab may be part of their program after completing a higher level of care.
Four outpatient detox programs are currently offered within 50 miles of Centralia. Within 25 miles, there are 20 general outpatient drug treatment programs for substance abuse. The Recovery Village Ridgefield offers outpatient treatment, including intensive outpatient programs (IOP).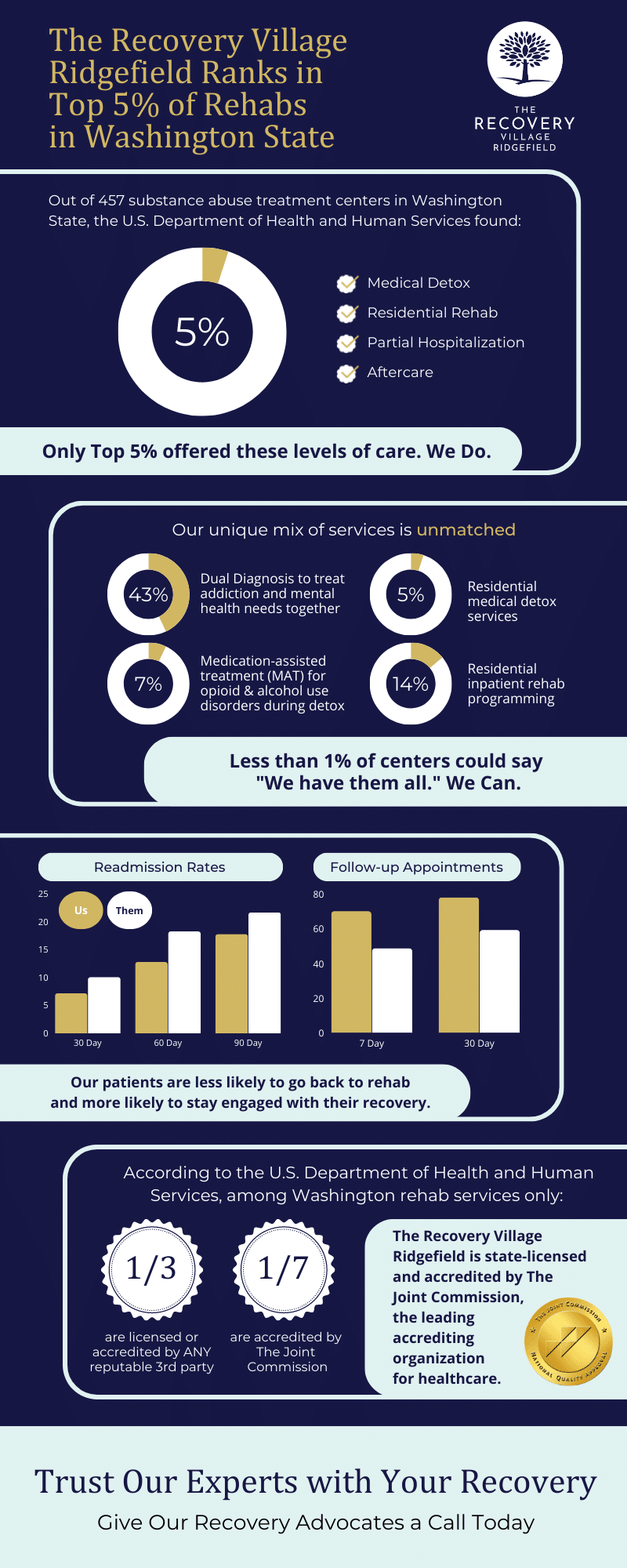 Sober Living and Rehab Aftercare Programs in Centralia
The importance of aftercare in sober living can't be overlooked. When someone completes treatment, it's important that their individualized plan includes comprehensive continuing care plans to help them transition into their daily lives and prevent relapse.
Types of continuing care can include:
Sober living homes
Drug rehab aftercare programs at treatment facilities
Rehab alumni programs
Individual therapy
Participation in recovery and support groups
Staying connected with aftercare facilities
Most rehab programs should include aftercare planning, as is the case with The Recovery Village Ridgefield.
Specialized Treatment Programs in Centralia
When someone seeks addiction treatment, they need to feel comfortable with the program, and it needs to be well-matched to their needs. That's why there are specialized treatment programs available.
Specialized treatment programs near Centralia include:
12 programs for adolescents within 25 miles of Centralia, including rehab for teens
Eight programs within 25 miles of Centralia offer women's rehab centers or programs for adult women.
Five programs within 25 miles include rehab for pregnant women, including in Chehalis and Olympia
Six programs near Centralia offer rehab for the LGBT community
Three substance abuse programs near Centralia include rehab for veterans in Chehalis and Lacey
Five substance abuse treatment programs nearby for people who are victims of sexual abuse
Ten programs work with people who have experienced trauma, including offering rehab for PTSD
What Is the Process Like in a Drug Detox and Rehab Facility?
While every rehab program is going to be different based on the center, the treatment philosophy, and the individual receiving treatment, the treatment process tends to be similar.
First, a person who is receiving substance abuse treatment will need a thorough intake assessment from the team who will be providing their treatment. During this time, it's important to be transparent and honest. This evaluation is when a treatment plan will be developed, taking into account a person's full mental and physical health history as well as details of their addiction history.
People with a dependence on drugs or alcohol, which is often the case when there is an addiction, will likely require a supervised detox.
If there is an on-site detox, the transition into the next phases of treatment will be logistically easier.
The final part of the drug and alcohol treatment process is aftercare and continuing care planning, which will include strategies for relapse prevention.
You can find more details on what happens during the drug detox and rehab process on this page from The Recovery Village.
Finding the Best Rehab Program for You
Finding the best drug rehab centers or knowing how to find the best rehab center can often come down to balancing individual needs with the credentials and reputation of the facility.
From a personal standpoint, as you find the right program, think about the following:
How severe is your addiction, and how long has it been going on? You'll need to look for a treatment program well-suited to treating the specifics of your substance abuse.
Are you able to travel for treatment, and if you're able is that something you're willing to do?
Do you have co-occurring disorders requiring treatment as well? If so, you'll need to find a center offering dual diagnosis treatment.
Do you need supervised detox and is that available on-site at the facility?
Do you prefer a specialized treatment program, for example, a single-gender program?
How long do treatment programs last?
What Questions Should You Ask When Considering a Treatment Program?
Beyond personal considerations, the following are some other factors to keep in mind and questions to ask when considering a treatment program.
Exploring Treatment Options Near Centralia
Should you go to treatment near home in Centralia or a nearby community, or should you travel for treatment?
If you decide to stay close to Centralia for addiction treatment, you'll have the advantage of being near your family and support system. It may also be easier to get your insurance to cover in-state rehab versus out-of-state care. You won't have to worry about arranging travel during a difficult time either.
Of course, there are benefits of traveling for rehab to weigh, too. One big benefit is that if you're further from your home, you'll be less likely to leave treatment early. You can also separate yourself mentally and physically from your environment of active addiction when you travel for rehab rather than choosing drug abuse treatment near Centralia.
Additional Addiction and Rehabilitation Resources in Centralia
As well as the different treatment centers and substance abuse programs named above, addiction resources are available in Centralia and nearby. These resources include local recovery groups such as 12-step meetings, nonprofits geared toward substance abuse and mental health needs and support hotlines.
Recovery Meetings Near You in Centralia
Social support is an extremely important part of addiction recovery. Some elements of social support can include having purpose in one's daily life and contributing to society in a meaningful way and having a stable, safe home to live. Along with those foundations, someone in recovery benefits tremendously from having social support networks which bring not only friendship and interactions with others but also a sense of hope. Recovery meetings are a great way to build a social support network.
Non-Profit Organizations in Centralia, WA
Whether someone has received substance abuse treatment already or not, they may benefit from having a connection to local nonprofit and government resources. The following are some non-profit organizations in and near Centralia to be aware of:
Centralia Substance Abuse Hotlines
In addition to the resources named above, there are hotlines and phone numbers you can call if you need help quickly or need referrals to other services. If you aren't facing a crisis or emergency, you can also contact The Recovery Village Ridgefield with questions about substance abuse or addiction treatment.
City of Centralia, WA
Centralia, Washington has a population of just under 17,000. There are several historical points of interest in Centralia, including the Borst Home and the Carnegie Library. There's also the Centralia Factory Outlets and the popular Centralia Farmers Market. The Centralia Park System includes 15 parks, trails and recreational areas and the largest is Fort Borst Park. The nearest major airport to Centralia is Seattle-Tacoma International Airport, and King County International Airport is relatively nearby. Centralia is located at 46.7162° N, 122.9543° W.
Addiction Resources in Nearby Washington Cities
For those who are seeking alcohol and drug treatment facilities outside of Centralia, Washington, there are also many drug rehab resources across the state of Washington:
Medical Disclaimer
The Recovery Village aims to improve the quality of life for people struggling with substance use or mental health disorder with fact-based content about the nature of behavioral health conditions, treatment options and their related outcomes. We publish material that is researched, cited, edited and reviewed by licensed medical professionals. The information we provide is not intended to be a substitute for professional medical advice, diagnosis or treatment. It should not be used in place of the advice of your physician or other qualified healthcare providers.
Reach out now
We can help answer your questions and talk through any concerns.