Everett Drug & Alcohol Rehab, Detox & Treatment Resources
Everett, Washington, with a population 107,000, finds itself in the heartbreaking grip of drug and alcohol abuse. Heroin and prescription medication abuse have devastated the community, a key player in half of the crimes committed in Snohomish County. According to Sharon Salyer, a reporter with "The Everett Herald", Snohomish County is "the epicenter of the opioid problem in Washington."
To address the crisis, Everett sought for and received grant funds for pilot opioid programs, and offers recovery by way of detox, outpatient, medication-assisted treatment (MAT), residential treatment and aftercare. Read on to find the treatment program that is right for you.
If you are suffering from substance use disorder and you are seeking drug addiction treatment in Everett, Washington, there are many options available to you. This guide will inform you of all your options. Prefer to speak with someone about your options? Call The Recovery Village, where you can learn more about:
Everett drug treatment facilities
Everett alcohol treatment facilities
Everett alcohol rehab
Everett drug rehab
Everett drug detox
Everett alcohol detox
Inpatient drug rehab (Everett, WA)
Outpatient drug rehab (Everett, WA)
Our Closest Facility:
The Recovery Village Ridgefield Drug & Alcohol Rehab is just miles away from your doorstep. Our award winning facility is ready to tackle any substance abuse or addiction problem. Specializing in drug & alcohol treatment, learn more about why we're perfect to help you or a loved one.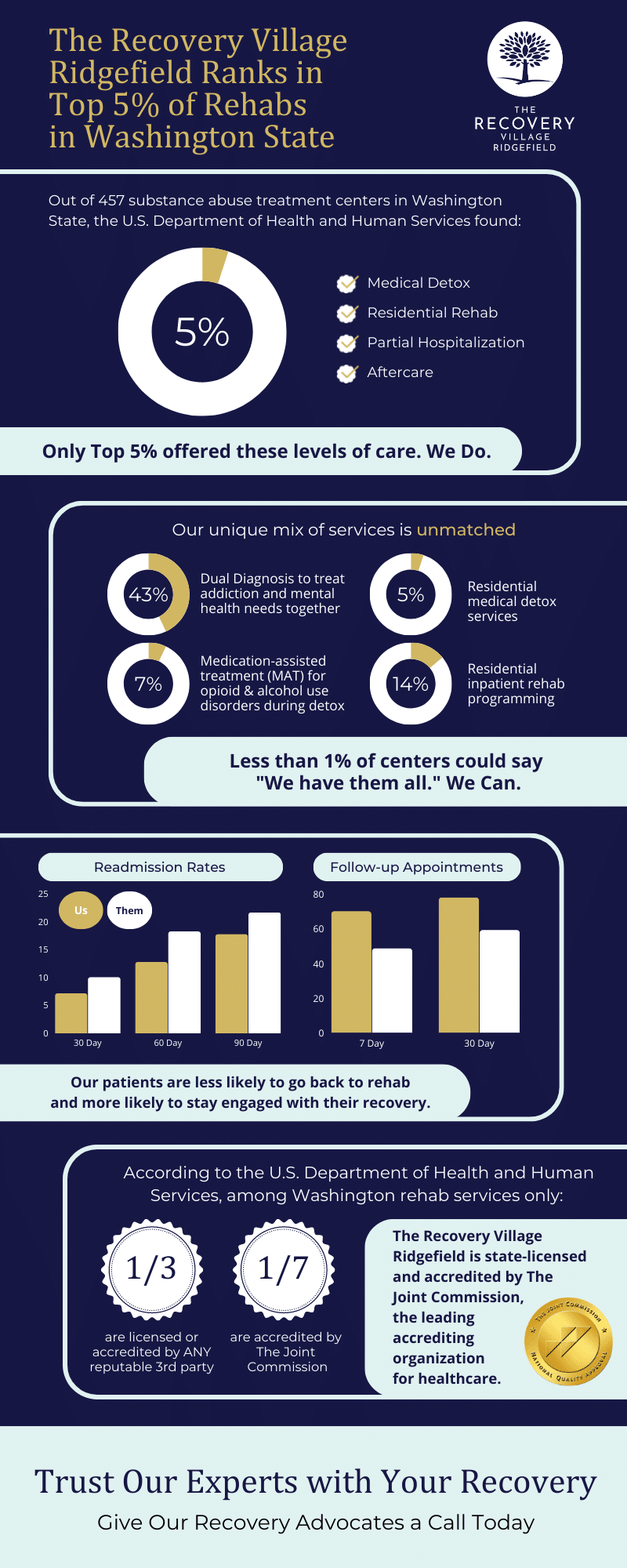 Finding Drug and Alcohol Rehab in Everett, Washington
Drug & Alcohol Rehab Centers in Everett, Washington
Residents of Everett suffering from alcohol or drug addiction have numerous treatment options available to them. These include detox, inpatient services, outpatient services, medication-assisted treatment or a combination of these.
Residential Treatment Programs
Residential or inpatient treatment programs allow a patient to stay in the facility and receive medical care 24 hours a day. This is the best fit for patients who need more monitoring – either because they are prone to relapse and have a history with addiction or because they have a more serious addiction that needs to be monitored.
Partial Hospitalization Programs
In a partial hospitalization program, a patient participates in all of the same treatment activities as inpatient patients (therapy, classes, recreation, etc.), but they are permitted to go home at night or to go to housing that is provided on campus.
Outpatient Treatment Programs
Patients who have moderate addictions and are not as prone to relapse may be a good fit for the outpatient treatment program. In outpatient treatment programs, a patient lives at home and only spends 10 to 15 hours per week at the facility. This is also a good fit for patients who have progressed through inpatient programs and/or PHPs.
Locating the right treatment program can be taxing, but help is a phone call away. Some want to put distance between themselves and the enabling factors in their neighborhood that can lead to distraction. The Recovery Village is a national, branded treatment facility that offers a full suite of quality services, including detox, inpatient, outpatient, partial hospitalization, medication-assisted treatment and aftercare. Professional teams meet the individual needs of the patient with personalized case plans while implementing a holistic approach in the treatment process.
Detox Centers
The first step on the road to recovery is detoxification. This is hard to do by yourself. It can even be dangerous to undertake on your own. Sometimes you need medical assistance through withdrawal symptoms, especially if you are detoxing from benzodiazepines, opiates, alcohol or other substances. The good thing about Washington detox centers is that they will provide you with this monitoring by healthcare professionals.
The bad thing about detox centers, however, is that they do not provide patients with the necessary treatment programs that treat all of the psychological, mental, emotional and spiritual aspects of an addiction. They only treat the physical side of the addiction. Many people choose a national treatment center like The Recovery Village for this reason. At The Recovery Village, patients go straight from detox into an inpatient treatment program, which is the most effective way to detox.
Recovery Meetings Near You
Recovery is a multi-layered journey. Completing a treatment program can change your life, but it is only the first step in the recovery process. Aftercare is as important as the stages that came before it. Aftercare services ordinarily include a 12-step program, individual therapy, support groups or a combination of these.
There are a large number of treatment centers available to the residents of Everett, Washington, but often the most comprehensive treatment programs are found outside of the city. If you determine that an Everett alcohol rehab center or Everett, WA, alcohol rehab center won't meet your specific needs, consider one of the following cities to learn about other options:
Addiction Resources in Nearby Washington Cities
For those who are seeking alcohol and drug treatment facilities outside of Everett, Washington, there are also many drug rehab resources across the state of Washington: