Lacey, Washington, is in Thurston County. Lacey is approximately a 10-minute drive from Olympia, Washington. This small suburb of Olympia is known for its dedication to green energy and sustainability, and it's also experiencing rapid growth currently.
Unfortunately, as is the case in any city or town, some people struggle with drug and alcohol abuse in Lacey. What's important to know if you're struggling (or someone you care about is), is that treatment options are available to you. Knowing where to look and how to compare rehab and addiction treatment empowers you to take the next step.
Along with treatment centers located near Lacey, programs in other cities throughout Washington, as well as national rehab centers, are available.
Our Closest Facility:
The Recovery Village Ridgefield Drug & Alcohol Rehab is just miles away from your doorstep. Our award winning facility is ready to tackle any substance abuse or addiction problem. Specializing in drug & alcohol treatment, learn more about why we're perfect to help you or a loved one.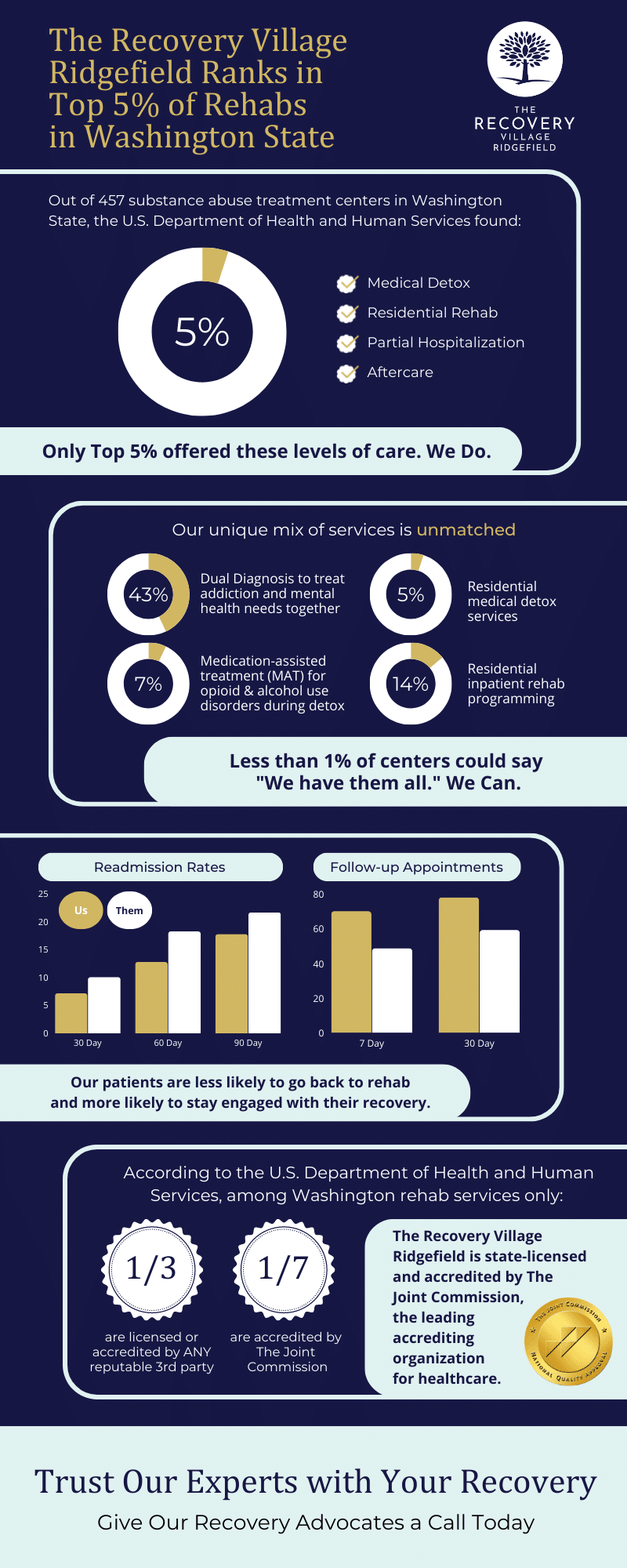 Lacey Drug and Alcohol Rehabilitation and Treatment
There are different types of drug and alcohol rehabilitation and treatment programs available. Most rehab programs begin first with medical detox. During detox, the goal is to treat the symptoms of withdrawal a person may experience as drugs or alcohol leave their system. Supervised detox can be important because it prevents the risk of medical complications and lowers the risk of relapse.
Other types of addiction treatment for drugs and alcohol include inpatient rehab, outpatient treatment, and partial hospitalization. Support and recovery groups are available as well, such as Alcoholics Anonymous and Narcotics Anonymous. Everyone is unique, as are their paths to recovery, as well.
Drug and Alcohol Detox Programs and Treatment Centers in Lacey, WA
There are substance abuse treatment programs in Lacey, including nearby options for drug and alcohol detox. This first step of rehab helps cleanse the body of harmful substances so that people can begin recovery with a fresh foundation.
The Recovery Village Ridgefield works with patients from Lacey and provides comprehensive treatment programs including medical detox at a standalone center dedicated to detox care, as well as thought inpatient and partial hospitalization programs, outpatient treatment, and aftercare planning. Additionally, there are treatment programs in other cities and towns.
Finding the right fit in a treatment program is one of the primary factors that lead to better long-term recovery outcomes. General factors to consider when comparing drug and alcohol detox programs and treatment centers near Lacey include:
The treatment center should approach the process as treating any other chronic disease
Location is relevant, and it can often be helpful to go to a treatment center that puts some distance between you and your home environment, although not always
Gender-specific rehab programs work better for some patients, particularly if they want to focus fully on treatment without possible distractions
The length of the program is another predictor of how successful someone will be after treatment in the maintenance of long-term recovery. Generally, the longer someone stays in treatment, the better.
Lacey Residential Treatment Programs
There are two inpatient rehab facility options within a 15-mile radius of Lacey and six residential programs within a 25-mile radius. The Recovery Village Ridgefield also offers residential treatment programs.
Residential treatment has many benefits for someone who struggles with an addiction to drugs or alcohol. Residential treatment, also called inpatient alcohol rehab or inpatient drug addiction treatment, provides a safe, stable environment in which healing can begin.
During inpatient, there is ongoing support from the staff, and both mental and physical health care is available. Residential treatment programs also tend to be holistic, in that they can treat the whole person and not just their addiction. While residential treatment may be available near Lacey, often people will instead opt to travel to an inpatient rehab facility.
Lacey Partial Hospitalization Programs
There is one partial hospitalization program in Olympia, and there are three others within a 25-mile distance from Lacey. The Recovery Village Ridgefield also offers day treatment and partial hospitalization programs.
Some people's treatment plan may include a partial hospitalization program. Partial hospitalization programs (PHPs) have elements of inpatient rehab. Much of the treatment day is similar to what inpatient residents experience. The difference is that some PHPs allow patients to return home in the evening. Some people may start with a PHP if their substance use disorder is milder on the spectrum, while others may do an inpatient program and then transition to a PHP.
Lacey Outpatient Treatment Programs
There are quite a few outpatient treatment programs in and near Lacey, although they may offer varying levels of care. Two programs offer outpatient treatment in Lacey, and there are 17 other programs in Olympia and within 15 miles of Lacey. The Recovery Village Ridgefield offers outpatient treatment as well, including intensive outpatient care.
Outpatient treatment programs require a commitment to commute to treatment for a total of several hours a week. Patients do not have to live at the treatment facility, which allows them to continue living and working as they normally do, while still receiving addiction treatment. As with a PHP, some people start with outpatient rehab while other people transition into a more flexible program as they're ready.
Sober Living and Rehab Aftercare Programs in Lacey, WA
Completing a rehab program is an amazing accomplishment. However, recovery has to be maintained over the long-term, which makes aftercare programs and planning an essential part of rehab. What do continuing care and aftercare planning entail?
Aftercare planning depends on the person and their treatment plan. People with more severe addictions may leave treatment and move into a sober living home, to help them gradually transition back into daily life. Other people may participate in structured drug rehab aftercare programs or rehab alumni problems. Participation in a 12-step or recovery group is something many people do after rehab to maintain their sobriety as well.
There are sober living homes in Lacey, and there is also one Olympia program that offers transitional housing and continuing care services. All individualized treatment plans at The Recovery Village Ridgefield include in-depth discharge and aftercare planning, as well as relapse prevention.
Specialized Treatment Programs in Lacey, WA
Specialized treatment programs are options geared toward specific clients and populations. For example, someone who has been a victim of domestic violence may feel more comfortable in a treatment facility that only offers rehab for women.
Facilities and programs currently offering specialized care in or near Lacey include:
Six facilities in and near Lacey, WA that offer rehab for women, and three offering rehab for pregnant women and postpartum women
Four options for rehab for the LGBT community in Lacey and nearby Olympia
Two programs in the area, one in Lacey and one in Tacoma, offer rehab for veterans
Eight programs in Lacey, Olympia and within 15 miles include programs focused on victims of trauma, which can include rehab for PTSD
Eight programs within a 15-mile radius of Lacey offer rehab for teens
What Is the Process Like in a Drug Detox and Rehab Facility?
There are four general phases of the drug treatment process. While everyone's treatment plan is unique, you can expect similar steps at most rehab facilities.
A complete intake assessment: When you arrive at a treatment facility, you will likely have an intake assessment by doctors and mental health therapists and the support staff at the facility. This assessment informs the beginnings of an individualized treatment plan.
Medical Detox: Once someone's assessment is complete, they move into the detoxification phase of treatment. There can be dangerous side effects of detoxing from drugs and alcohol, which is why a supervised inpatient detox is often the best option.
Transitioning to other rehab programs: Following a complete detox, a patient transitions into the next step of their program, which is usually inpatient care. Inpatient often includes a combination of different types of treatment such as cognitive behavioral therapy, 12-step programs, and recreational therapies.
Aftercare: The last phase of the drug treatment process and the alcohol treatment process is aftercare, which is when someone takes what they learned during treatment and starts to integrate it into their daily life with a structured aftercare plan put together by a medical team.
Find more information about what to expect during rehab on this page from The Recovery Village.
Finding the Best Rehab Program for You
Finding the best rehab centers can feel overwhelming, especially with so many options. There are certain factors that the best drug rehab centers will have in common, however. The following are considerations to keep in mind as you explore how to find the best rehab center:
What is the treatment philosophy?
What treatment is available? For example, is treatment for co-occurring mental health disorders available?
Does the treatment center have experience with your particular addiction?
Are evidence-based methods used in treating patients?
What are the qualifications of the staff?
What types of amenities are there and what's included in treatment?
Where is the treatment facility located and are you willing to travel? If you're looking on behalf of a loved one, is that person willing and able to travel for treatment?
Is aftercare part of treatment? What about alumni networks?
What Questions Should You Ask When Considering a Treatment Program?
By knowing what questions to ask when you contact different treatment programs, you'll be prepared and empowered to make the right decision for your short- and long-term needs.
Is Your Treatment Facility Licensed and Accredited?
One of the highest levels of accreditation a rehab facility or mental health services provider can have is from the Joint Commission. The Joint Commission accreditation shows that an outside panel of experts has reviewed a rehab center and proven to provide a high quality of care and treatment.
Along with the accreditation of the facility, speak with the admissions coordinators about staff qualifications at the individual level as well. For example, what level of education do therapists and care providers have? Are there mental and physical health care providers that work at the facility?
What Is Your Approach to Addiction Treatment?
There are different approaches to addiction treatment. At some facilities, the focus is on the whole person, which is often called holistic treatment. This approach means the connection between the mind, body, and spirit are all integral to treatment. Many treatment centers also utilize talk therapy and cognitive behavioral therapy, but not all use this. Some treatment centers emphasize medication-assisted treatment as well.
How Much Will Treatment Cost?
The cost of rehab is something people tend to see as a barrier to receiving the treatment they need, and that's an unfortunate misconception. Many insurance plans will cover the cost of addiction treatment and mental health services. This coverage was expanded under the Affordable Care Act as well. When you contact a rehab center, ask if they can work with your insurance company on your behalf to determine your level of coverage.
Do You Offer Detox?
Not all programs offer an on-site detox as part of their program, but it's something that can be important. You can't begin the rest of a treatment program until you've fully detoxed your body from drugs and alcohol. Medical detox is important to maintain safety and as much comfort as possible as well. If you attend a rehab center with a detox on-site (like The Recovery Village Ridgefield), it makes the transition into the next step of your program much easier.
Find more common questions and answers about treatment on this page.
Exploring Treatment Options Near Lacey, WA
Location is a big consideration as you explore treatment options. Should you travel for treatment, or should you participate in one of the programs in Lacey or nearby Olympia?
Both options can work and there are also pros and cons to each.
Some people travel out of their city or state for rehab, which allows them to leave behind the negative aspects of their active addiction and focus exclusively on recovery. Traveling can remove distractions and allow for the feeling of a fresh start.
On the other hand, some people may not be able physically or mentally to travel. Arranging travel does add an additional layer to the treatment process as well.
Additional Addiction and Rehabilitation Resources in Lacey, WA
While rehab facilities are an integral part of addiction treatment, there are also different addiction and rehabilitation resources in and near Lacey and throughout Thurston County.
There are also local resources that can be helpful to someone struggling with addiction or mental health issues. These resources include government agencies, non-profit groups, and hotlines. Also available are recovery meetings such as Alcoholics Anonymous and Narcotics Anonymous, which are usually part of someone's long-term recovery plan.
Recovery Meetings Near You in Lacey, WA
One of the most important factors in long-term recovery is social support. Remaining connected and in contact with other people can help someone avoid relapse. Participation in recovery meetings is an excellent way to stay connected and feel supported, especially during challenging times.
Non-Profit Organizations in Lacey, WA
Non-profit organizations, whether they're operated by the county government or are private organizations can be beneficial to someone struggling with substance abuse. These organizations can put people in contact with local resources or help them if they or their loved one are dealing with a crisis.
City of Lacey, WA
Lacey, Washington is near Olympia. Considered an Olympia suburb, Lacey is in Thurston County. Lacey is part of the South Puget Sound Area, and the community puts a significant focus on green energy and sustainability. For example, Lacey was the 12th city in the country to be designated as a "Green Power Community" by the Environmental Protection Agency. Lacey is home to Saint Martin's University, and the population is around 50,000 people. Lacey is located at 47.0343° N, 122.8232° W.
Addiction Resources in Nearby Washington Cities
For those who are seeking alcohol and drug treatment facilities outside of Lacey, Washington, there are also many drug rehab resources across the state of Washington: