Levels of Care
At our facility, medical professionals use clinical assessments to determine the best treatment plan for each client. These assessments examine physical and mental health as well as current and past drug use. Many substance abuse treatment plans start with a medical detox and are followed by an outpatient program. 
The levels of care provided by Denver Mental Health and Counseling include:
Outpatient Treatment
In an outpatient treatment program, patients do not live onsite at a rehab center. Rather, they attend appointments at a facility while living at home or in a sober living community. Traditional outpatient programs generally provide under nine hours of treatment per week. Treatment typically includes a combination of individual or group therapy and medical appointments. Outpatient care is best suited for people who have mild substance use concerns or have already completed higher levels of care, like an inpatient program. It is also suited for many mental health disorders where substance abuse is not present. 
Intensive Outpatient
An intensive outpatient program (IOP) is similar to a standard outpatient program but more involved. It provides at least nine hours of care per week, and the treatment plans tend to be more structured. Patients in an IOP still return home after sessions each day.
Dual Diagnosis
According to the National Institute on Drug Abuse, about half of people struggling with substance abuse will also experience a mental health disorder. For this reason, Denver Mental Health and Counseling offers treatment that can address substance use and mental health disorders simultaneously. Dual diagnosis treatment typically includes behavioral therapy and medication when appropriate.
Medication-Assisted Treatment (MAT)
Medication-assisted treatment (MAT) combines the use of medication and counseling to treat substance use. It is approved to treat opioid and alcohol addictions, as it can help reduce withdrawal symptoms and cravings. However, MAT is not for everyone and is used only when medically appropriate.
Individual Therapy
Most outpatient rehab programs include some form of individual therapy. This approach can help patients process their emotions and learn healthy coping skills for life's stressors. Individual therapy can also teach patients how to respond to interpersonal conflicts or events that might interfere with their recovery. 
Group Therapy
Many outpatient programs also include group therapy meetings. Group therapy offers patients social support from a group of people who understand what they're going through. It also helps patients stay accountable for their sobriety.
Learn More
Important Notice Regarding COVID-19:
We are closely monitoring all developments associated with Coronavirus (COVID-19) and are taking proactive steps to ensure the health and safety of all patients, employees and the communities we serve. This means some off-site activities or other programming have been postponed or moved to telehealth offerings. Your cooperation during this time is greatly appreciated.
What To Expect
Understanding what to expect at Denver Mental Health and Counseling can help make your experience with us a positive one.
Before Your Appointment
You will receive some emails from us before your first appointment. The first email introduces you to Nobu, our mental wellness app. There, you can create an account, see your upcoming appointments and message your clinician directly. You should still download and create an account on Nobu even if you made your appointment(s) in person, as any virtual appointments and other communications will take place directly within the app.
You will receive another email containing electronic consent forms to be completed before your first appointment. You will then receive an email confirming your upcoming appointment(s).
What to Bring
Some items you will need for your first session include:
A valid ID
Insurance card/information
Relevant medical records
Note-taking aid, like a pen and notepad/journal (optional)
Expectations Upon Arrival
We ask that you arrive at the facility 15 minutes before your scheduled appointment time. This will give our staff members time to check you in and confirm any necessary details before your appointment. Please bring all required documentation with you for the appointment.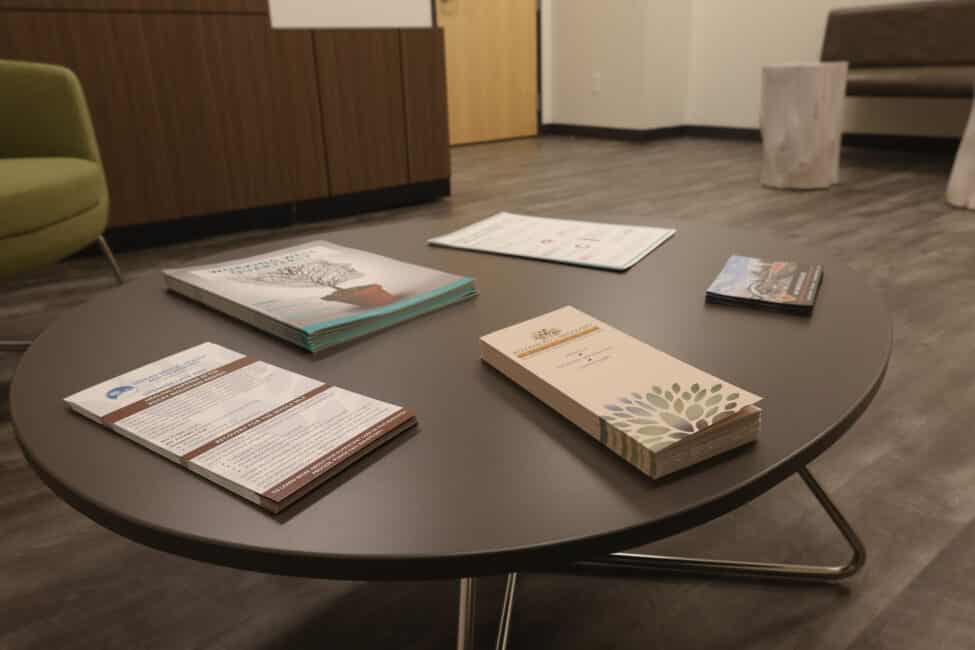 Our Staff