Kelso, Washington, is in Cowlitz County. It's part of the Longview metropolitan area but is also relatively close to the city of Vancouver. In Cowlitz County, some people struggle with drugs and alcohol which is the case in most cities and towns across America. However, opioid abuse seems to be particularly problematic in Kelso and the surrounding areas.
According to data gathered by Cowlitz County, younger people who abuse opioid prescription drugs often get them from people they know or within their own homes. There have been times where there are more opioid prescriptions than people in Cowlitz County, and there are more opioid hospitalizations and deaths in the county than compared to the rest of the state.
People in Kelso also struggle with drugs other than opioids as well.
So, where can you turn if you're in Kelso and you're struggling with substance abuse? Fortunately, options are available, but sometimes the number of options can make it difficult to know where to begin with drug and alcohol rehab.
Kelso Drug and Alcohol Rehabilitation and Treatment
Drug and alcohol rehabilitation and treatment programs can come in different forms and settings. For most people, the starting point for their drug or alcohol rehab program is detox. Medical detox provides supervision, stability and medical care as someone comes off drugs or alcohol.
Once someone completes their detox, they can transition to the next phase of their treatment program, which could include participation in an intensive inpatient rehab or something less intensive such as partial hospitalization or outpatient treatment.
The specific steps someone takes during treatment are largely dependent on their individual needs. Each person's treatment plans are different.
Drug and Alcohol Detox Programs and Treatment Centers in Kelso, WA
According to the Substance Abuse and Mental Health Services Administration (SAMHSA), there are two substance abuse treatment programs in Kelso. There are eight programs within a 15-mile radius in nearby cities and towns such as Longview and Vancouver.
While local drug and alcohol detox programs can be the right option for some people, there are also programs in different cities and even states. For example, The Recovery Village Ridgefield is in Washington and offers a standalone facility dedicated solely to medical detox care.
Factors to consider when comparing drug and alcohol detox programs include:
Does the rehab center approach addiction as a chronic disease? A quality treatment center should use scientifically sound and evidence-based treatment practices.
Are you or your loved one able to travel for treatment?
Do you prefer specialized treatment, such as a single-gender rehab center?
How long will you stay in the program? The length of treatment someone receives is an important part of successful long-term recovery outcomes.
Kelso Residential Treatment Programs
A residential treatment program offers patients the opportunity to live in an inpatient rehab facility. During this time, the environment is calm, stable and structured. All of these factors are valuable in the early days of recovery. Someone who participates in an inpatient alcohol rehab or drug addiction treatment program has the opportunity to focus entirely on treatment and recovery without outside influences or stress.
There are two treatment centers near Kelso offering residential treatment. The Recovery Village Ridgefield also offers inpatient treatment programs.
Kelso Partial Hospitalization Programs
There are not currently any Kelso partial hospitalization programs. There are two PHPs near Kelso, however including The Recovery Village Ridgefield.
During a partial hospitalization program (PHP), there is a high level of intensive treatment, which is sometimes called day treatment. In some instances, a person participating in a PHP will return home in the evenings.
While everyone's treatment plan is unique, most PHPs include daily group therapy and individualized therapy as well. Many PHPs may include recreational therapy such as exercise and fitness classes and family therapy.
Kelso Outpatient Treatment Programs
There are two outpatient treatment programs in Kelso, and four others near Kelso. The Recovery Village Ridgefield offers outpatient rehab as well, including intensive outpatient programs.
Outpatient treatment programs are less structured than inpatient care and require a less significant time commitment than an inpatient program or partial hospitalization. Outpatient drug treatment or alcohol treatment may begin for some people as the first part of their treatment process. For others, treatment occurs along a continuum so they may participate in outpatient treatment programs after completing higher levels of care.
Outpatient treatment programs allow people to keep up with their daily lives while attending treatment. To participate in outpatient rehab, it's best for someone to have a supportive, substance-free home environment or to live in sober housing during the program.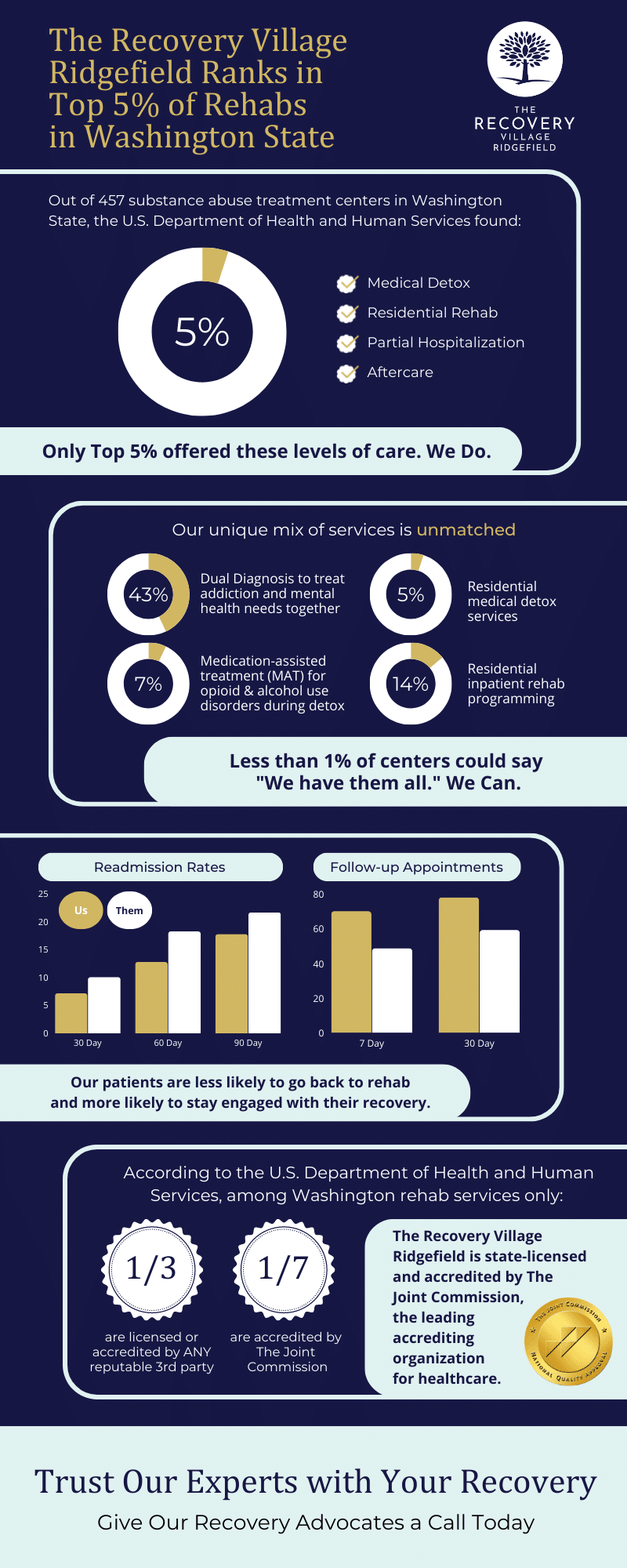 Sober Living and Rehab Aftercare Programs in Kelso, WA
Maintaining recovery after receiving treatment relies on aftercare services and continuing care planning. Participating in a program offering aftercare planning can help you continue building on the coping skills you learn in rehab and avoid potential relapse triggers.
While aftercare doesn't technically start until you complete a recovery program, the planning of aftercare starts with your initial assessment and the creation of your individualized treatment program. Drug rehab aftercare programs and rehab alumni programs help people stay connected, accountable and supported.
There are also sober living homes and aftercare facilities where some people live after they complete treatment as they transition back to daily life. While there aren't transitional housing facilities in Kelso, The Recovery Village Ridgefield includes full aftercare support and planning with treatment programs.
Specialized Treatment Programs in Kelso, WA
When someone goes to rehab, they need to feel comfortable in the environment, which can be a predictor of whether or not they stay in treatment for the entirety of the program. Sometimes patients will feel most comfortable receiving care in specialized programs.
The specialized treatment programs available in and near Kelso include:
Five programs offering rehab for women, and there are three programs with rehab for pregnant women, including one in Kelso and two near Kelso
Two programs offer rehab for the LGBT community, both of which are in Longview, near Kelso
Two rehabs for veterans near Kelso, and one program also specializes in the needs of active duty military
Two local Kelso and Longview rehab centers work with patients who have experienced trauma, including offering rehab for PTSD
Two programs focused on rehab for teens
What Is the Process Like in a Drug Detox and Rehab Facility?
How do you know what to expect when you go to a drug detox and rehab facility? While there will be differences depending on the center and your needs and treatment program, there are usually four general phases.
The first part of the drug treatment process is an intake assessment. This evaluation is important because it helps create the foundation for recovery. During an intake assessment, you will meet with your treatment team including doctors and therapists, as well as support staff.
Once someone's assessment is completed, they will likely begin detox. A supervised, medical detox helps with withdrawal symptoms.
Following detox, a patient can transition to the next steps of their treatment program and may enroll in inpatient or outpatient levels of care. These programs often include therapy and counseling, medication management if necessary, and recreational treatment.
Finally, the last step in the drug treatment process and alcohol treatment is aftercare planning.
Finding the Best Rehab Program for You
As you compare the best drug rehab centers and the best rehab centers for alcohol, think about the following:
What is the location? If you're able and willing to travel for treatment, you may find this beneficial. Otherwise, there are treatment options near Kelso.
Is there onsite detox? Not all programs offer onsite detox, but if you choose a program not offering this, you will either have to go through detox on your own or change facilities when you complete detox elsewhere.
What are the credentials of individual staff members?
Is there treatment for co-occurring mental health disorders?
What Questions Should You Ask When Considering a Treatment Program?
Along with the general considerations above, there are also logistical and facility-related questions you may want to ask a treatment center before enrolling in a program. For example, what is the admissions process like? How much help and support will you receive from the treatment team in terms of travel arrangements, working with your insurance provider and the entire admissions process? What can you expect as far as payment goes?
Other specific questions to ask even the best rehab centers include:
Exploring Treatment Options Near Kelso, WA
While the quality of care and the available programs are the most important factors when it comes to choosing a rehab, location plays a role as well. You may find as you compare your options that the best fit for you isn't in Kelso, or you may prefer to leave home for treatment for a reason.
Benefits of traveling for rehab may include:
You gain access to more programs, and you may be able to find a better fit for your needs
You are giving yourself a fresh start in a new location that can help change your mindset
Physical separation from active addiction can provide you with a sense of mental separation as well
If you aren't close to home, you may be less tempted to leave treatment early
Leaving for treatment may allow you to feel as if you have more privacy
Additional Addiction and Rehabilitation Resources in Kelso, WA
As well as the addiction and rehab resources in Kelso like inpatient and outpatient rehab, there are other programs available. For example, there are local recovery meetings in Kelso and near Kelso.
Recovery meetings are good for social support and having a sense of local connection and accountability in recovery. Along with recovery meetings, there are county and nonprofit organizations that work to help people in the local community with substance abuse or mental health concerns.
Recovery Meetings Near You in Kelso, WA
When someone participates in a support group or recovery group, particularly after receiving treatment, it lowers the risk of relapse. Some of the benefits of recovery meetings include improved motivation and psychological well-being, and improvement of coping skills along with social support. Recovery meetings are typically free of charge, open to anyone and held at flexible times throughout the week.
Non-Profit Organizations in Kelso, WA
There are a variety of non-profit and also local government organizations in Kelso and Cowlitz County that help people dealing with mental health and substance abuse issues.
Kelso, WA Substance Abuse Hotlines
There are both local and national substance abuse and mental health hotlines available if you live in Kelso or Cowlitz County. The Recovery Village Ridgefield is also always available if you have questions about drug or alcohol addiction.
City of Kelso, WA
Kelso, Washington, is located in the southwest part of the state. Kelso shares a border with Longview and is also near Mount St. Helens. Kelso is less than 50 miles north of Portland, Oregon, and around 125 miles south of Seattle. Three rivers including the Columbia, Cowlitz, and Coweeman run through Kelso, and Kelso and Longview are called the Twin Cities. The population of Kelso is around 12,000. Kelso is at 46.1468° N, 122.9084° W.
Addiction Resources in Nearby Washington Cities
For those who are seeking alcohol and drug treatment facilities outside of Kelso, Washington, there are also many drug rehab resources across the state of Washington:
Medical Disclaimer
The Recovery Village aims to improve the quality of life for people struggling with substance use or mental health disorder with fact-based content about the nature of behavioral health conditions, treatment options and their related outcomes. We publish material that is researched, cited, edited and reviewed by licensed medical professionals. The information we provide is not intended to be a substitute for professional medical advice, diagnosis or treatment. It should not be used in place of the advice of your physician or other qualified healthcare providers.
Reach out now
We can help answer your questions and talk through any concerns.