Like the rest of the United States, Washington state is facing an alcohol and drug abuse public health crisis. The National Institute of Drug Abuse (NIDA) reported an estimated 742 deaths from opioid overdose in 2017, a rate of 9.6 deaths per 100,000 persons, compared to the national rate of 14.6 deaths from overdose per 100,000 persons. The biggest increase in deaths was attributed to heroin overdoses, which went from 60 deaths in 2010 to 306 deaths in just seven years.
Clark County, which contains the city of Camas, reported an increase in drug use of 57.9% from 2004 to 2013.
The opioid crisis has been rising nationwide and the state of Washington. Fortunately, health care providers in the city of Camas and the state of Washington are working tirelessly to provide much-needed help and support to anyone whose life is affected by substance abuse.
Our Closest Facility:
The Recovery Village Ridgefield Drug & Alcohol Rehab is just miles away from your doorstep. Our award winning facility is ready to tackle any substance abuse or addiction problem. Specializing in drug & alcohol treatment, learn more about why we're perfect to help you or a loved one.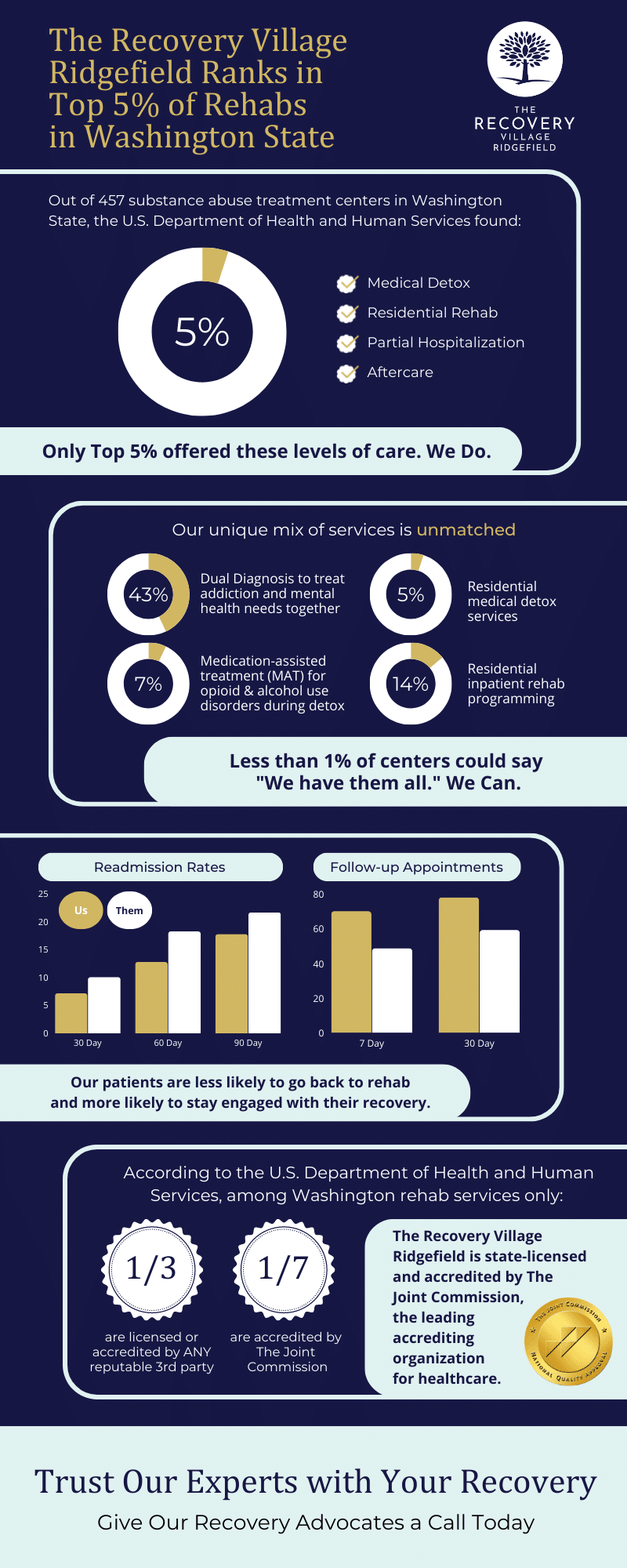 Camas Drug and Alcohol Rehabilitation and Treatment
Choosing a drug and alcohol rehab center is the first step in reclaiming your life from drug and alcohol abuse. However, It may be a stressful process trying to find the right rehab center. There are a lot of options for people who are willing to reach out to trained professionals willing to help.
For anyone willing to get addiction treatment in Camas, there may be options for inpatient and outpatient treatment centers. There are also multiple drug and alcohol rehab centers, such as The Recovery Village Ridgefield, that have a full variety of treatment programs in the surrounding areas.
Drug and Alcohol Detox Programs and Treatment Centers in Camas, WA
Drug and alcohol detox is the first step in recovery for many people. This level of care involves cleansing the body of all traces of drugs and alcohol in a safe, supportive environment.
Residents of the city of Camas have an option of traveling for treatment and they can choose from a variety of different treatment programs that are available in the proximity of Camas (Camas detox centers may not yet be available). For residents who are willing to drive, The Recovery Village Ridgefield Detox Center offers comprehensive care exclusively for detox.
Camas Residential Treatment Programs
Residential treatment, also called inpatient treatment, is a program where the patient lives at the rehab center full-time for a specified short-term or long-term time. The patients have access to trained health care professionals who provide care 24 hours a day.
Most inpatient rehabilitation centers have programs that provide necessary services for recovery, such as medication management, individual and group counseling or therapy.
Though there is currently no residential treatment program in the city of Camas, there are a few choices available in the metro cities near Camas. The Recovery Village Ridgefield also offers residential care.
Camas Partial Hospitalization Programs
Partial hospitalization programs are drug addiction treatment programs that require the patient to be at the center daily for a set number of hours a day and return home in the evening. However, program requirements vary.
These centers can be a good transition from residential treatment. The health care providers use the time spent at the treatment program to offer group or individual therapy, medication management as well as assessment or treatment planning.
The city of Camas currently has no partial hospitalization programs, but it is worthwhile to look in the surrounding cities for one. The Recovery Village Ridgefield also offers partial hospitalization programs.
Camas Outpatient Treatment Programs
Outpatient treatment programs are designed for the patient to stay at home and go to treatment for a few hours a week. Most outpatient drug treatments require the patient to be in treatment for 10 to 12 hours a week.
Compared to residential and partial hospitalization programs, outpatient programs allow the patient to stay in their familiar environment (or in a sober living home) to maintain a healthier daily routine. Outpatient treatment is more suited for people whose addiction is mild, and they are typically more successful if the patient has a strong, supportive social circle.
There is currently one outpatient drug treatment facility in the city of Camas, Washington.
Sober Living and Rehab Aftercare Programs in Camas, WA
Life in recovery requires a commitment to a carefully crafted continuing care plan. Sober living becomes an everyday effort for many recovering patients and may require aftercare plans in the months and years following treatment.
The purpose of drug rehab aftercare programs is to connect people to community resources that will support their journey to sobriety and hold them accountable. Rehab alumni programs provide tools necessary for a strong foundation for a substance-free life.
There are currently no rehab aftercare centers or sober living homes in the city of Camas, Washington, but there are a few choices in the neighboring cities that are willing to welcome recovering patients.
Specialized Treatment Programs in Camas, WA
There is no one-size-fits-all approach to treating substance use disorder. Multiple social, psychological and environmental factors affect each patient differently and may require a more individualized plan of treatment.
Specialized treatment programs are tailored to serve one group of patients based on a common factor. These treatment programs will address the problem of drug addiction in conjunction with other group-specific underlying issues.
Patients who face substance use disorder in the city of Camas may have options to choose from in the area, potentially including the following specialized treatments:
One program for persons with co-occurring mental and substance abuse disorders
One treatment center that specializes in rehab for LGBT persons
One rehab center for military families and one specialized program for active duty military
One outpatient program offering rehab for veterans
One specializing in persons referred by a judicial court
One Camas-based center for people who have experienced sexual abuse
Those who have experienced trauma have a specialized group in Camas
One program in Camas for people who have experienced intimate partner violence or domestic violence
A center offering rehab for pregnant women and postpartum women
What Is the Process Like in a Drug Detox and Rehab Facility?
The process in a drug detox and rehab facility varies by the treatment center, location and other factors. However, a typical drug and alcohol treatment process may follow these phases:
Assessments
Health care providers will spend time with the patient getting pertinent drug use history and creating a treatment plan that is specific to the patient's needs.
Detox
The detox process is typically the first level of care. Different methods are used to clear the drug out of the patient's system, this process varies depending on the type of drug substance used.
Transition to Other Levels of Care
After detox, the patient may transition to a treatment program that is determined to be the most beneficial. Some patients can transition to either inpatient care, partial hospitalization care or outpatient treatment programming. The transition is carefully planned and assigned by the health care providers who have been following the patient's progress.
Aftercare
The days following a treatment program can be challenging for many patients, which is why an aftercare program is necessary for many people recovering from drug use. Aftercare programs offer services that help patients build their discipline in recovery. Many of these aftercare centers will be filled with programs that are designed to improve a person's overall physical, physiological and spiritual health.
Additional helpful information about the process at a rehab center can be found here.
Finding the Best Rehab Program For You
The decision to join a rehab facility is a big step for a patient and their loved ones. It is important that you find the best rehab facility that best fits your situation.
Factors like the location of the center, the type of programs they offer, and the specialized treatment group the center offers play a big role in your recovery process. It can be a good idea to contact the center beforehand to understand the specific process of their programs, how long they keep patients and what types of rooms or recreational activities they offer.
It also helps to have information on how your loved ones and family can contribute to your recovery. Questions about if the facility accepts visitors and how often will help put your mind at ease before starting this journey to reclaiming your independence from drug or alcohol use.
What Questions Should You Ask When Considering a Treatment Program in Camas, WA?
Some questions to ask include:
What kind of license does the center have?
The rehab center has to meet different criteria to be accredited. The Commission on Accreditation of Rehabilitation Facilities (CARF) awards accreditation to rehab centers that meet the requirement to provide quality rehabilitation care to patients affected by drug and alcohol abuse.
What type of health care providers does the center have on site?
Most centers will have a variety of providers available that work together for a patient's recovery. The staff may include medical doctors, therapists, psychiatrists, social workers and case managers, to name a few.
What type of health insurance is accepted at the rehab center?
The cost of a rehab program can be high for most people. Many rehab centers will accept health insurance and it is always good to know if the insurance you have is accepted at the specific center you plan to join.
Does the center have a referral for aftercare programs?
Some rehab centers will have forged relationships with aftercare programs in the area. They can provide patients with referrals or recommendations.
Are there any recreational activities at the center and what kind?
Rehabilitation is a process that may take a long time for many. A lot of rehab centers will offer recreational activities for patients that are complementary to their treatments. Having recreational activities of interest at the center can improve the patient's quality of life at the rehab center.
You can find a list of other frequently asked questions about a rehab center here.
Exploring Treatment Options Near Camas, WA
Choosing a treatment option that best fits a patient's need can be an overwhelming process and availability of a perfect fit can be limited. It is wise to consider expanding your search to surrounding areas.
Some of the benefits of traveling to a treatment facility include the ability to distance yourself from distractions and triggers to allow you to focus on your recovery. Multiple drug abuse treatment centers near Camas can assist you in your journey to recovery.
Additional Addiction and Rehabilitation Resources in Camas, WA
Besides rehab programs, other options are available to people who struggle with substance abuse, including recovery meetings, non-profit groups and substance abuse hotlines.
Recovery Meetings Near You in Camas, WA
Completing a rehabilitation program is one of the biggest milestones in the life of someone who faces addiction. It is important that you put a plan in motion to help you enjoy your life of sobriety. Finding a strong and supportive recovery meeting will be the next wise step after treatment.
Non-Profit Organizations in Camas, WA
A few non-profit groups available to residents of Camas include:
City of Camas, WA
Camas is a small city in Clark County in the state of Washington and on the southern border of Oregon. Its population is estimated at 21,000 people. It started as a small paper mill town that has flourished since and offers a safe community and a lively historic downtown. It follows the bank of the Columbia River and has beautiful scenic views.
The main airport to the city of Camas is the Portland International Airport (PDX) and is located approximately 15 miles from the downtown Camas. The geographic coordinates of Camas, WA, are 45.5875° N, 122.4045° W.
Addiction Resources in Nearby Washington Cities
For those who are seeking alcohol and drug treatment facilities outside of Camas, Washington, there are also many drug rehab resources across the state of Washington: