Find Ohio Drug and Alcohol Rehab Programs That Work
Known for its swing-state status, scenic views and thrilling roller coasters, Ohio has also become known for something sinister: high rates of drug overdose. Overdoses from opioids like heroin, fentanyl and carfentanil are a huge concern in the Buckeye State.
Our Closest Facility:
Just a short drive down the road, The Recovery Village Columbus Drug & Alcohol Rehab is centrally located to solve any addiction problems you may have. Accepting all major insurance providers including medicaid and medicare, get admitted today and solve your addiction issues.
Drug use and overdose has left many Ohioans in desperate need of local, comprehensive drug treatment centers. While the state's drug and alcohol problems are far from solved, the good news is that resources are available for those ready to break free from the confines of addiction. Whether you're searching for national hotlines, drug treatment or inpatient alcohol rehab centers> in Ohio or local support groups, there are options available for every city and every situation.
Ohio drug and alcohol rehab centers are designed to not only help men and women reach a state of sobriety, but to stay on a path for lifelong recovery from drugs, alcohol or both. Many Ohio drug rehabilitation centers are equipped to handle any substance abuse case, including those that involve more than one substance. If you're struggling with alcohol only, there are many Ohio alcohol rehab centers that can help.
Ohio's Opioid Crisis
Even though it is geographically smaller than states like California and Texas, Ohio is ground zero in the nation's opioid crisis. Illicit and prescription opioid use is extremely widespread across the state; 75 out of every 100 residents held a prescription for opioid medications in 2016. Every year since 2011, the Ohio opioid overdose death rate has been in the thousands, but 2016 set a chilling record: 4,327 Ohioans died by opioid overdose, according to the Centers for Disease Control and Prevention (CDC). Fortunately, this trend reversed in recent years with fewer than 4,300 deaths in 2017 and about 3,500 deaths in 2018. If you or a fellow Ohioan is addicted to opioids or other drugs, these resources can help.
Choosing a Drug or Alcohol Rehab Facility in Ohio
Finding a place that offers drug rehab or an Ohio alcohol rehab center can be a daunting task. However, there are plenty of options for alcohol treatment and drug rehab in Ohio and surrounding states. Finding the appropriate rehab care for you is a critical first step in recovery, and can make all the difference in your journey to sobriety. Need drug rehabilitation? Ohio offers programs that can help.
Whether you're seeking alcohol treatment centers in Ohio or drug treatment centers in Ohio, you can choose from inpatient (residential) and outpatient programs to meet your needs. Inpatient rehab allows clients to receive round-the-clock care while outpatient programs allow them to spend time at home.
Ohio outpatient and inpatient drug rehab centers typically offer a variety of programs to help men and women through their treatment and recovery, including individual and family therapy, counseling and 12-step programs.
It's possible to find safe and effective drug and alcohol rehab in Ohio, and The Recovery Village can point you in the right direction. If you are unsure which level of rehab care is right for you, the caring addiction specialists at The Recovery Village are available to talk with you anytime. It's toll-free to call, and you don't have to commit to treatment if you just need advice on where to go. When you choose rehab at The Recovery Village, you can expect:
A full continuum of care programs, from medically assisted detox to outpatient and aftercare
Innovative traditional therapies such as cognitive behavioral therapy (CBT) and 12-step groups
Recreational options like yoga and art therapies
A full staff of licensed doctors, nurses and clinicians specializing in addiction and recovery
Care that is 100% confidential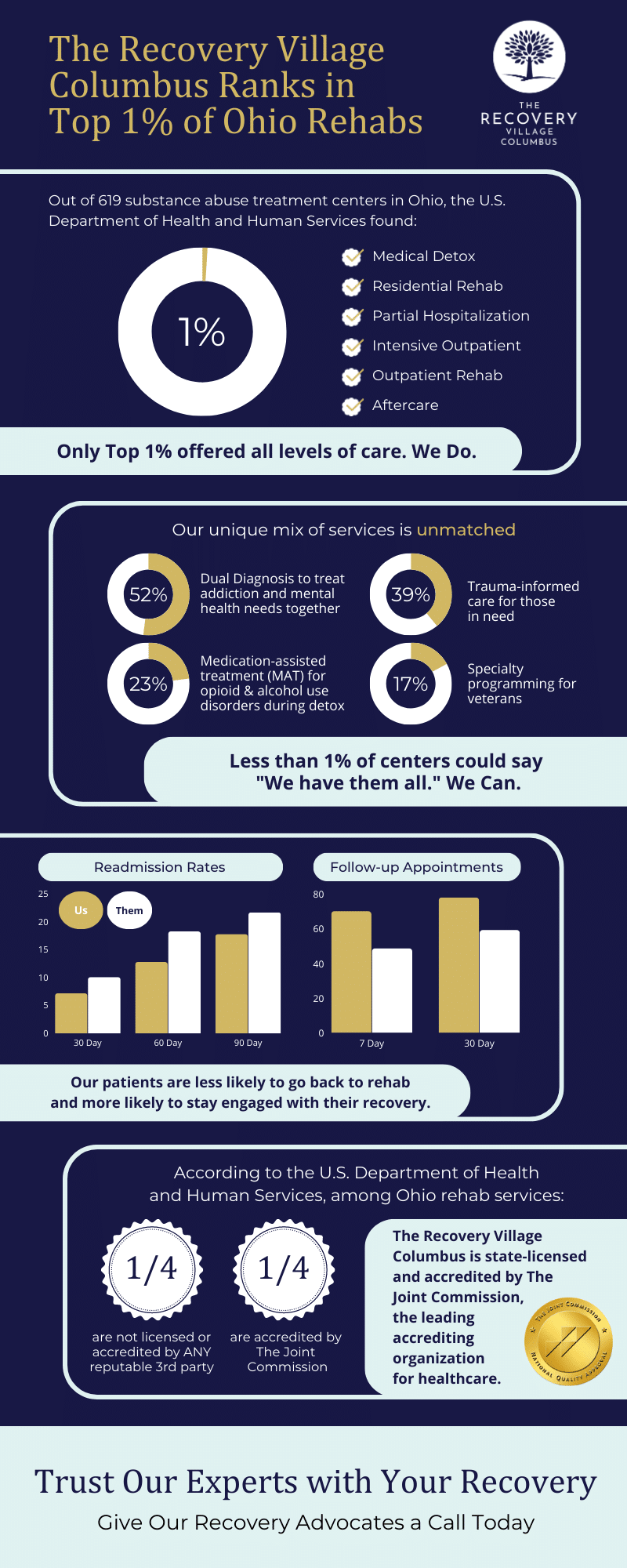 Addiction Resources in Nearby Ohio Cities
The Recovery Village: Your Destination for Wellness
If you or a loved one is looking for drug treatment in Ohio or beyond, The Recovery Village is a great option for rehabilitation care. This acclaimed facility has locations across the country, including Groveport, OH.
Whether you're searching for medically assisted detox, outpatient care or any level of care in between, The Recovery Village has a treatment for any type of substance use disorder. At every The Recovery Village location, each patient is cared for physically and mentally, with each program including counseling for co-occurring mental disorders.