Bellingham Drug & Alcohol Rehab, Detox & Treatment Resources
Bellingham, Washington is the most northern city within the lower of the 48 states. Before Europeans settled in the area the oceanic climate of Bellingham was home to the Coast Salish people of the Lummi Tribes. The town experienced a gold rush when thousands of miners left California and put down roots in Washington. Whatcom (Bellingham's prior name) grew almost overnight from a little mill village to a busy seaport.
Bellingham is the sixth largest metro area in Washington with convenient access to the San Juan Islands, the northern Cascade mountain range and Vancouver and Seattle. Bellingham has seen many different industries thrive within its borders including: coal mining, forestry and a technology boom.
There is a dangerous industry growing rapidly within the city limits of Bellingham: substance abuse. The Center for Disease Control estimates more than half a million Americans have lost their lives due to drug overdose between 2000-2014.
The pandemic of the misuse of drugs and alcohol is raging across the country at alarming rates. The widespread availability of illicit drugs and the misuse of legal substances are harming individuals with a tendency toward dependence. This guide will inform you of the resources available and what to expect when you get treatment for this devastating illness.
Our Closest Facility:
The Recovery Village Ridgefield Drug & Alcohol Rehab is just miles away from your doorstep. Our award winning facility is ready to tackle any substance abuse or addiction problem. Specializing in drug & alcohol treatment, learn more about why we're perfect to help you or a loved one.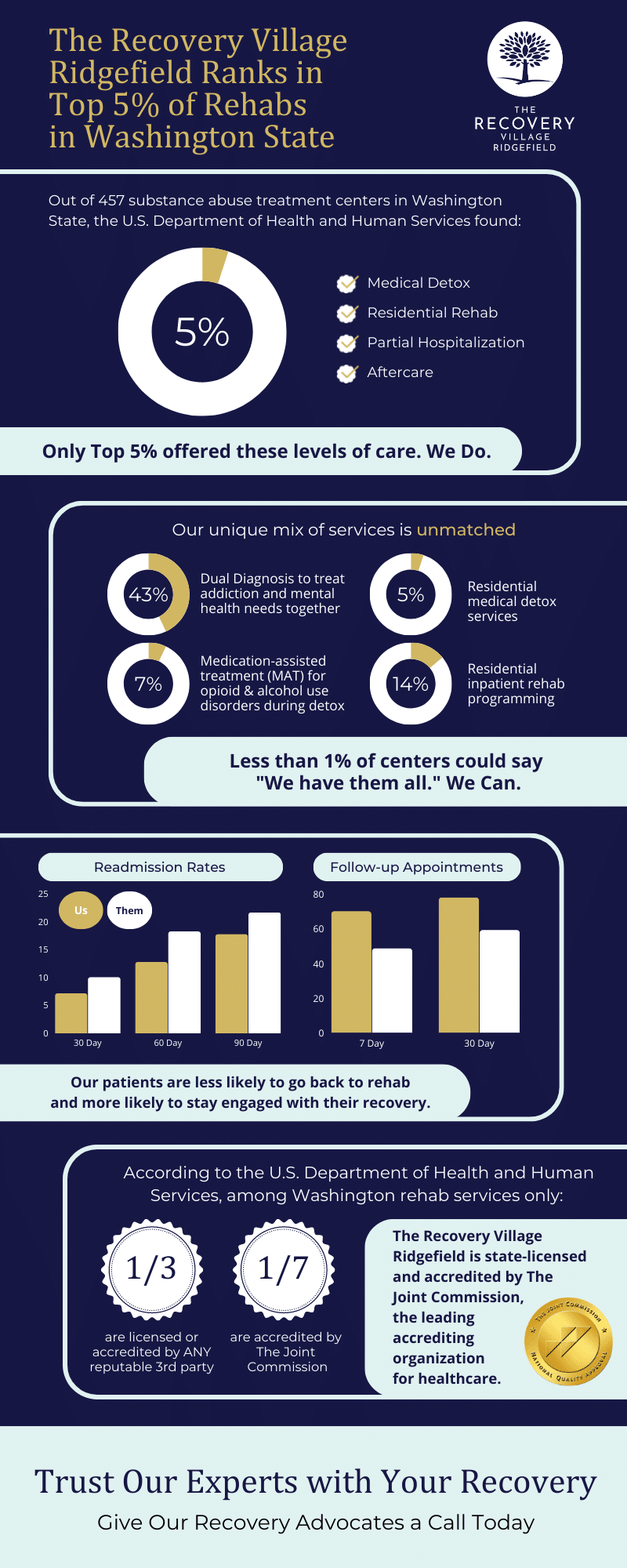 Do you prefer to speak with someone about your options for Bellingham, WA, drug rehab or alcohol rehab? Call The Recovery Village to speak with an intake coordinator who can give you more information about:
Bellingham alcohol rehab
Bellingham drug rehab
Bellingham drug detox
Bellingham alcohol detox
Bellingham treatment facilities
Bellingham treatment facilities
Inpatient drug rehab (Bellingham, WA)
Outpatient drug rehab (Bellingham, WA)
Finding Drug and Alcohol Rehab in Bellingham, Washington
Bellingham, Washington Alcohol Rehab Centers and Drug Centers
Addiction and alcoholism can affect anyone. No one is immune from this disease. The silver lining to this epidemic is that there are countless resources and advocates available to help people suffering from this crippling condition.
Residential Treatment Programs
Residential Treatment Programs are also referred to as inpatient hospitalization or retreat-based therapy. Residential treatment programs are the most effective method of treatment for alcoholism and addiction. Due to the removal of enabling environments and people, the lack of accessibility to preferred substance and a medical team to prescribe a holistic plan with a variety of approaches.
Partial Hospitalization Programs
Partial Hospitalization Program are like residential treatment programs in the services they provide to their patients. Individuals may be required to remain on-site as they complete their detoxification. Then they will commute to the facility daily for the group and individual cognitive behavioral therapies.
Outpatient Treatment Programs
Outpatient Treatment Programs are the most flexible and the most difficult of these 3 options. Outpatient treatment program patients will remain living at home and may continue fulfilling their responsibilities to their family, career or education. However, there won't be any enhanced supervision for the patient to protect them from relapse.
The misuse of drugs and alcohol are a serious illness which threatens and destroys lives. If you or someone you know is struggling with this disease, it is essential that you get the help that you deserve. A national treatment facility like The Recovery Village can help you.
Detox Centers
Detox isn't going to be fun. It will be a lot easier and a heck of a lot more comfortable under the supervision of a psychiatric or medical team trained to fight against this condition. Detoxification is the physical cleansing of your body from illicit substances. Detox is an impressive accomplishment, but it is just one of several phases toward sobriety. A quality facility will ask their patients to commit to detox, individual and group counselling, skill-building and an aftercare program.
The detoxification facilities in Bellingham are convenient and provide similar services to national clinic, but national retreat-based therapies are the only method of treatment that will remove the entrapments and temptations of enablers and substances from the patient's immediate environment. Don't exchange convenience for life-long sobriety. People with cancer don't choose their method of treatment on convenience. Alcoholism and addiction patients shouldn't either.
Recovery Meetings Near You
Aftercare is just as important as the detoxification stage. In fact, aftercare is where the majority of the patients' recovery is completed. Alcoholics Anonymous and SMART Recovery meetings are a treasure trove of fellowship and insight into the condition of substance dependency.
Travelling to a new city for recovery may be the most direct route back to sobriety and independence. The beautiful cities of the Pacific North West offer some of the best treatment programs in the nation. National facilities operate with bigger budgets, extensively trained staff, a commitment to the adaptive nature of research and respect for their patients' comfort and privacy. Don't rule out retreat-based therapy. While it may appear complicated on paper, scientifically, it is the easiest way to achieve the transformation required to live a sober life. If you don't think that drug rehab in Bellingham, WA, or that a Bellingham alcohol rehab center would meet all of your needs, consider the options in the following cities to find other Washington drug rehab centers:
Addiction Resources in Nearby Washington Cities
For those who are seeking alcohol and drug treatment facilities outside of Bellingham, Washington, there are also many drug rehab resources across the state of Washington: