Olalla, Washington, is a city located in the Tacoma metro area, in Kitsap County. This small, unincorporated Washington community is just north of Pierce County, which is the county Tacoma is located in. Olalla is on Puget Sound.
People in Olalla (as well as in Kitsap County) who struggle with substance abuse have resources available to them. These resources are primarily in the nearby Tacoma metro, as well as statewide in Washington. National resources are also available to residents of Olalla who would like treatment for drug or alcohol addiction.
Olalla Drug and Alcohol Rehabilitation and Treatment
Drug and alcohol rehabilitation and treatment programs are ways for someone to receive therapy and other forms of care that will help them recover from addiction. While everyone's treatment plan is unique, general components that are usually part of drug and alcohol treatment include:
Detox
Inpatient care
Outpatient treatment
Aftercare planning
Participation in support and recovery groups
Drug and Alcohol Detox Programs and Treatment Centers in Olalla, WA
There is one residential treatment program located in Olalla, and then there are many others located in nearby Tacoma and surrounding areas. The Recovery Village Ridgefield also serves the needs of people from Olalla and throughout Washington with a full variety of rehab programs and a standalone, dedicated detox facility, The Recovery Village Ridgefield Detox Center.
Medical detox care is often the critical first step of rehab for many people. This level of care allows clients to cleanse their bodies of alcohol and other drugs so that they can begin recovery with a healthier body and mind.
Olalla Residential Treatment Programs
Along with the one inpatient rehab facility in Olalla, there are two residential treatment programs in Tacoma. The Recovery Village Ridgefield is located in Washington state and offers customized residential treatment programs as well.
A residential treatment program is a structured way for people to begin their recovery and these centers often include an inpatient detox as part of the overall treatment program. When someone participates in a residential treatment program, also known as inpatient alcohol rehab or inpatient drug addiction treatment, they live in the treatment facility as they receive care.
Olalla Partial Hospitalization Programs
Currently, there isn't a partial hospitalization program in Olalla, but The Recovery Village Ridgefield offers these programs.
There are different levels of treatment available in many comprehensive drug and alcohol addiction treatment programs. Partial hospitalization is a level of care that's a step down from residential or inpatient treatment.
During partial hospitalization programs, participants complete much of the same treatment curriculum like they are in residential care, but their time commitment is reduced. Some partial hospitalization programs will allow participants to return home at the end of the treatment day, or perhaps to a sober living house.
Olalla Outpatient Treatment Programs
There is one outpatient detox program in Tacoma, and there is one other outpatient treatment program, but there aren't any in Olalla. The Recovery Village Ridgefield also offers nearby outpatient drug treatment and alcohol treatment, including intensive outpatient rehab.
An outpatient addiction treatment program doesn't require someone to stay in the treatment facility overnight. When someone participates in outpatient rehab, they have the opportunity to receive treatment while continuing their daily life. There are different levels of outpatient care, as there are with inpatient treatment. For example, there are intensive outpatient programs with at least nine hours of rehab each week.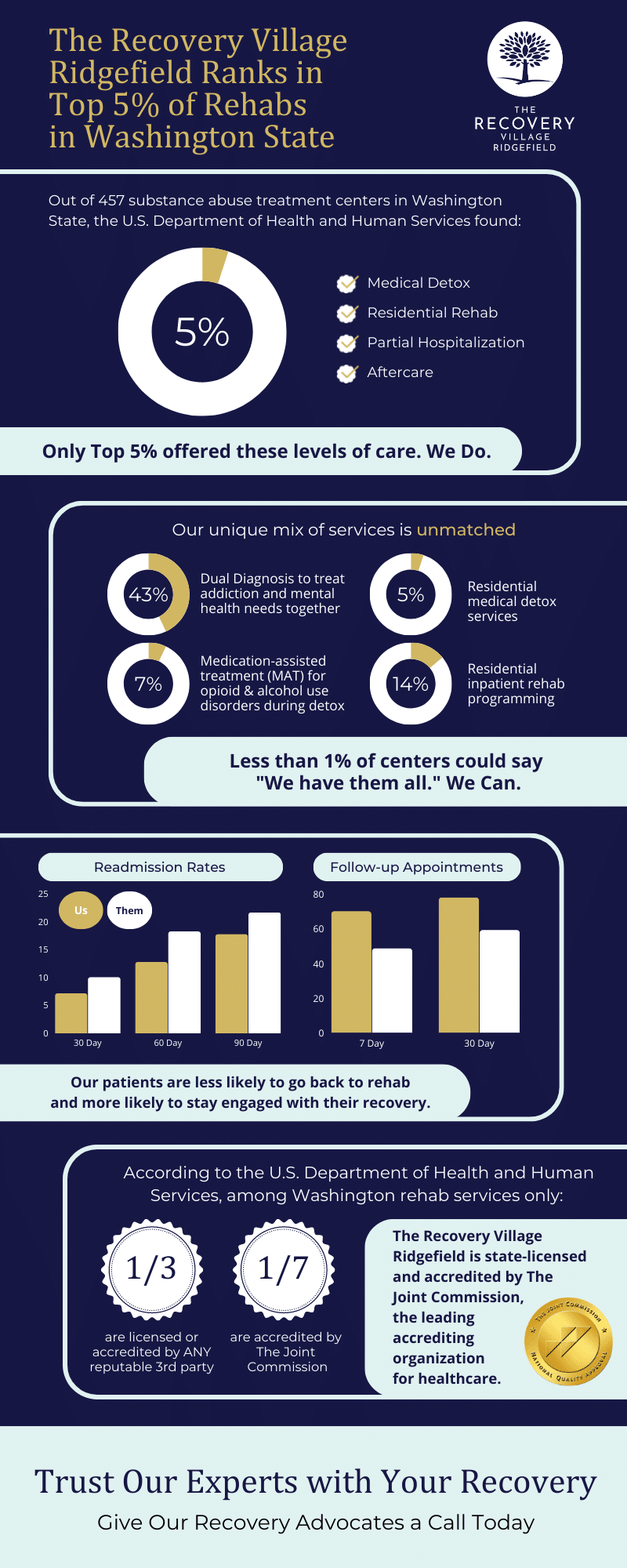 Sober Living and Rehab Aftercare Programs in Olalla, WA
Of the accredited addiction treatment programs near Olalla in Tacoma, five offer aftercare or continuing care as part of treatment. A person's journey in recovery is often long-term and even lifelong. As part of that, when comparing addiction treatment programs, it's important to look for options that emphasize the importance of continuing care.
Drug rehab aftercare programs can include sober living homes, long-term therapy plans or long-term support through options like rehab alumni programs.
Specialized Treatment Programs in Olalla, WA
Currently, specialized addiction treatment programs are not available in Olalla but are available in Tacoma and other areas in Washington, including Ridgefield.
Types of specialized rehab and addiction treatment programs in the area include:
Two Tacoma-area treatment programs for people with co-occurring mental health disorders and substance abuse disorders
One local center for active duty military and three offering rehab for veterans
Two centers work with clients who have suffered from sexual abuse
Three programs that specialize in treatment for trauma victims, which may include rehab for PTSD
About 27 facilities in the area offer rehab for the LGBT community, with the closest location to Olalla located in Seattle
Approximately 33 centers offer rehab for pregnant women in the greater Seattle area
One recovery center in Olalla offers care for people who are looking for women's rehab centers
Approximately 20 facilities offer rehab for teens, with the closest located in Vashon
What Is the Process Like in a Drug Detox and Rehab Facility?
Knowing what to expect with the drug treatment process can help someone get comfortable with the idea of receiving treatment at a drug detox and rehab facility.
After an in-depth intake process where a person's medical and psychological history are discussed, they may begin detox. Medical detox may last anywhere from a few days to several weeks, depending on a person's needs.
Once someone completes detox, they can begin their individualized treatment plan. For many people, their treatment plan starts with inpatient rehab. Inpatient care usually includes counseling, and a focus on overall wellness, physical health, nutrition, and recreation.
Once someone completes inpatient rehab, their treatment team will work on determining the best next steps. These steps could include a program like a partial hospitalization program or intensive outpatient program, or outpatient rehab. A person can continue individual counseling or participate in a support and recovery group during these levels of care.
Finding the Best Rehab Program for You
Seeking addiction treatment is one of the most important actions you can do for yourself and your quality of life, but how do you make the right decision? How do you know how to find the best rehab center?
When narrowing your options for treatment, look for rehab centers and programs that:
Have the necessary accreditations (which ensures you get top-quality care)
Works with your health insurance, or offers flexible private payment plans
Has a full-time medical staff
Has relatively positive online reviews
Offers mental health counseling in addition to medical care
What Questions Should You Ask When Considering a Treatment Program?
There are important questions to ask that can be used to differentiate between addiction treatment programs.
Exploring Treatment Options Near Olalla, WA
While there are treatment programs near Olalla, how do you know if it's better for you to leave your city or perhaps your state for rehab?
Some of the pros of leaving where you live for rehab include:
You are likely anonymous wherever you go to receive treatment
You can leave behind familiar stressors and triggers
A new location and environment can give you a fresh perspective
If you do decide to stay close to home for rehab, benefits include the fact that you'll be near your support system and your family and loved ones may be able to participate in your treatment.
Additional Addiction and Rehabilitation Resources in Olalla
Along with rehab centers in Olalla and near Olalla, there are other resources in the area that can be valuable for people who are currently in active addiction or recovery.
Recovery Meetings Near You in Olalla, WA
Recovery meetings are also called support groups. Usually, 12-step programs are the most common type of recovery meetings, but there are alternatives as well.
Non-Profit Organizations in Olalla, WA
Olalla, WA Substance Abuse Hotlines
City of Olalla, WA
Olalla, Washington is in Kitsap County, located on the Puget Sound. The population of Olalla is around 4500. Several small airports serve Olalla including Vashon Municipal and Bremerton National Airport. There's also nearby Seattle-Tacoma International Airport. The location of Olalla is 47.4291° N, 122.5463° W.
Addiction Resources in Nearby Washington Cities
For those who are seeking alcohol and drug treatment facilities outside of Olalla, Washington, there are also many drug rehab resources across the state of Washington:
Medical Disclaimer
The Recovery Village aims to improve the quality of life for people struggling with substance use or mental health disorder with fact-based content about the nature of behavioral health conditions, treatment options and their related outcomes. We publish material that is researched, cited, edited and reviewed by licensed medical professionals. The information we provide is not intended to be a substitute for professional medical advice, diagnosis or treatment. It should not be used in place of the advice of your physician or other qualified healthcare providers.
Reach out now
We can help answer your questions and talk through any concerns.