Auburn Drug & Alcohol Rehab, Detox & Treatment Resources
Auburn, Washington is a suburb of Seattle. Nestled in a fertile river valley Auburn has grown to be the 14th largest city in Washington and one of the greenest urban areas in the United States. The Auburn Environmental Park (AEP) is a development to build a local, expansive and wild park within the city's limits. The AEP campaigns to restore wetland ecosystems, improve living conditions for fish and wildlife while improving the condition of water. The Auburn Environmental Park has brought jobs, storage capabilities for flooding and excess water, ecosystem education and fun for the community in Auburn.
Despite the resident dragonflies, blue herons and hummingbirds not everyone is using the AEP for recreation. Auburn's proximity to Seattle and Tacoma make it vulnerable to the epidemic spreading across the nation: alcoholism and drug addiction.
After an 18-month investigation into a major drug ring for the trafficking of heroin and methamphetamine, money laundering with connections to criminal elements in California and Mexico, authorities arrested 17 people within the Puget Sound area, including Auburn, Kent, Bellevue and Renton. The police found 53 pounds of narcotics, $178,000 in cash and 16 firearms.
In November of 2016, the Organized Crime and Drug Enforcement Task Force and Eugene and Tacoma Drug Enforcement Agents arrested ten people in a drug trafficking ring. The authorities seized 30 pounds of methamphetamine, cocaine, firearms and more than $350,000 in cash.
Our Closest Facility:
The Recovery Village Ridgefield Drug & Alcohol Rehab is just miles away from your doorstep. Our award winning facility is ready to tackle any substance abuse or addiction problem. Specializing in drug & alcohol treatment, learn more about why we're perfect to help you or a loved one.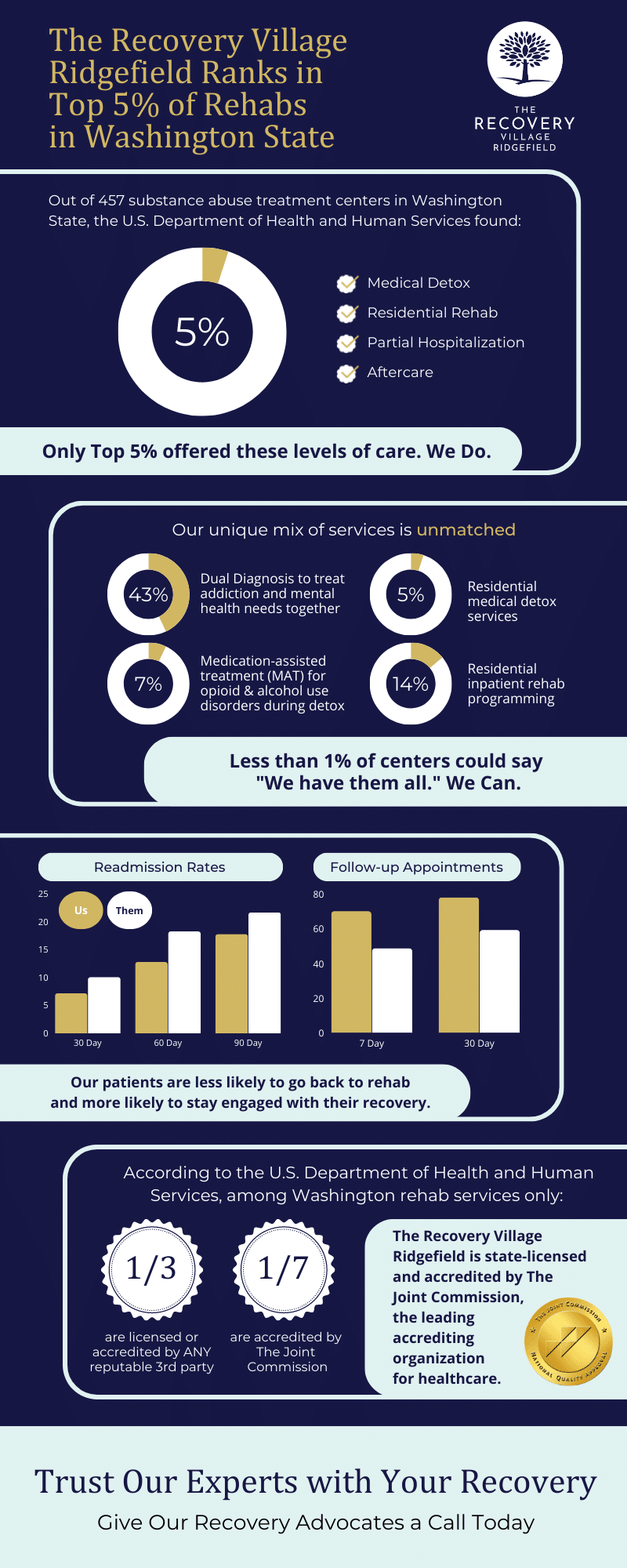 The splendor of the great outdoors doesn't protect the community from the ravages of addiction and alcoholism. Heroin, methamphetamine and prescription opioids are widely available in Auburn. Alcohol adds to the problem with its' prolific presence and inexpensive nature. If you or someone you care about is battling with the chronic condition of addiction and alcoholism, keep reading this guide will help you begin your journey of recovery.
In this guide, you will find details regarding the types of treatment available and the importance of aftercare treatment. Choosing to get help for substance dependency can feel overwhelming and delay you from enrolling in a program. This guide will help you narrow down your choices and decide upon the best route for your transformation. If you are looking for alcohol rehab in Auburn, WA or drug rehab in Auburn, WA there are many resources available.
Our intake coordinators at The Recovery Village can help you with questions relating to:
Auburn alcohol rehab
Auburn drug rehab
Auburn drug detox
Auburn alcohol detox
Auburn drug treatment facilities
Auburn alcohol treatment facilities
Inpatient drug rehab Auburn, WA
Outpatient drug rehab Auburn, WA
Finding Help in Auburn
Auburn, Washington Alcohol Rehab and Drug Centers
Understanding the recovery process and knowing what to expect once you arrive at the facility will help you orient yourself to this new beginning in your life. Most treatment programs share similar therapeutic methods, but vary according to where you will live while undergoing this change. There are many options available for drug treatment Auburn or alcohol treatment Auburn.
Residential Treatment Programs
Residential treatment programs are also referred to as inpatient and retreat-based therapies. Inpatient facilities are the most effective form of recovery treatment for alcoholics and drug misusers. The success of retreat-based therapies is primarily contributed to the lack of outside temptations, stresses and relapse triggers. Residential Treatment gives the patient the time, space and calm to heal themselves.
Partial Hospitalization Programs
Partial hospitalization programs will ask you to reside on-site throughout the detoxification process of your recovery plan. Once the toxins are flushed out of your system you may be allowed to return home and commute daily to individual and group cognitive behavioral therapies.
Outpatient Treatment Programs
Outpatient treatment programs are the most flexible treatment option because patients can continue to fulfill their obligations to family, work and school. However, this type of treatment is riskier than the other programs because the patient is forced to remove all temptations and enabling elements from their lives voluntarily. The patient also remains exposed to the stresses and circumstances of a non-clinical environment that may lead to relapse. Outpatient treatment features group and individual counselling.
Leaving your home to attend a retreat-based therapy may seem impossible, but think about how other critically ill people respond to potentially life-threatening diseases. Individuals with bone cancer don't procrastinate and delay getting medical treatment. They realize their life is in danger and they do everything they can to defeat the bone cancer. Just because you don't feel like you're dying doesn't mean alcoholism and addiction aren't fatal. Getting the help you need at a treatment facility like The Recovery Village is essential.
To have all of your questions about local Auburn drug rehab centers or alcohol rehab centers please contact us to go through your options. Whether you are looking for a drug rehab center in Auburn, WA or an alcohol rehab center in Auburn, WA or something further away we can answer all of your questions.
Auburn Drug Detox Centers & Alcohol Detox Centers
Clearing your system of any remaining alcohol or drugs that may still be in your system is vital to your recovery. Detoxification is a big step in getting sober and it can be an uncomfortable phase, even dangerous without medical professionals monitoring your progress.
There is no way around detox, but it can be less painful with medication and a safe place to stay while you are your most vulnerable. However, you must understand that detox isn't magic. Simply because you freed your physical body from poisons doesn't mean your mind and spirit have been released too.
Quality facilities like The Recovery Village will insure the patient realizes that detoxification is only a small part of the recovery process. There's lots of work to be done to change your responses to stressful situations and breaking habits that encourage drug misuse.
Local detox clinics are convenient and offer the patient an option in continuing to fulfill their routine obligations to work, family or school. Yet, remaining in your hometown simply for the convenience of others isn't going to help you get sober. If you're struggling with an insidiously addictive substance and have little to no control over your consumption of the drugs or alcohol, you need to sincerely consider a national facility to get the treatment you need. Removing the enabling people surrounding you and the stresses of daily life, while being privy to the nation's leading experts is your best shot at sobriety.
Recovery Meetings Near You
The lion's share of recovery work will be completed during the aftercare phase. Aftercare is the hinge of your sobriety, this network of peers will hold you accountable through life's losses and successes. All paths to wellness are unique, but they all require detox, retreat-based or outpatient care and aftercare. Patients who maintain a social tie with fellowship groups like Narcotics Anonymous meetings or SMART Recovery Meetings are more likely to achieve long-term sobriety.
Your recovery is in your hands. If you're fighting with a physically addictive substance like heroin, prescription opioids, cocaine, methamphetamine, alcohol or other corrosive drugs, you will need to change your immediate environment and those who surround you. Travelling to nearby cities or even further afield in the United States will offer you a real opportunity to transform your life from one of reliance to a life of independence. The following is a list of cities where you can find Washington addiction treatment centers.
Addiction Resources in Nearby Washington Cities
For those who are seeking alcohol and drug treatment facilities outside of Auburn, Washington, there are also many drug rehab resources across the state of Washington: