Renton Drug & Alcohol Rehab, Detox & Treatment Resources
Like many states in America, Washington is in the midst of an opioid overdose crisis. In Washington, as well as the rest of the nation, overdoses have replaced traffic accidents as the leading cause of accidental death. In fact, doctors have been prescribing more opioids every year since 1999. Oxycodone and fentanyl are to blame for many of the deaths, along with illegal opiates like heroin.
Opiates have a very high addiction rate, but doctors are still over-prescribing these drugs. If you have a loved one who is facing the struggles of addiction, take comfort in knowing there is help available. There are doctors, counselors and facilities where a person can receive treatment. These include Renton drug treatment facilities and Renton alcohol treatment facilities, in addition to options in other cities and states.
The misuse of a prescription or illicit drug is a common disease known as addiction. This is a treatable condition. A person suffering from this sickness need not try to recover alone. Recovery can be a long and potentially difficult road, and help is available. Whether you're seeking Renton drug rehab or alcohol, you can get the medical and psychological care necessary to battle addiction. Use this guide to find various invaluable resources to help you get your life back.
Our Closest Facility:
The Recovery Village Ridgefield Drug & Alcohol Rehab is just miles away from your doorstep. Our award winning facility is ready to tackle any substance abuse or addiction problem. Specializing in drug & alcohol treatment, learn more about why we're perfect to help you or a loved one.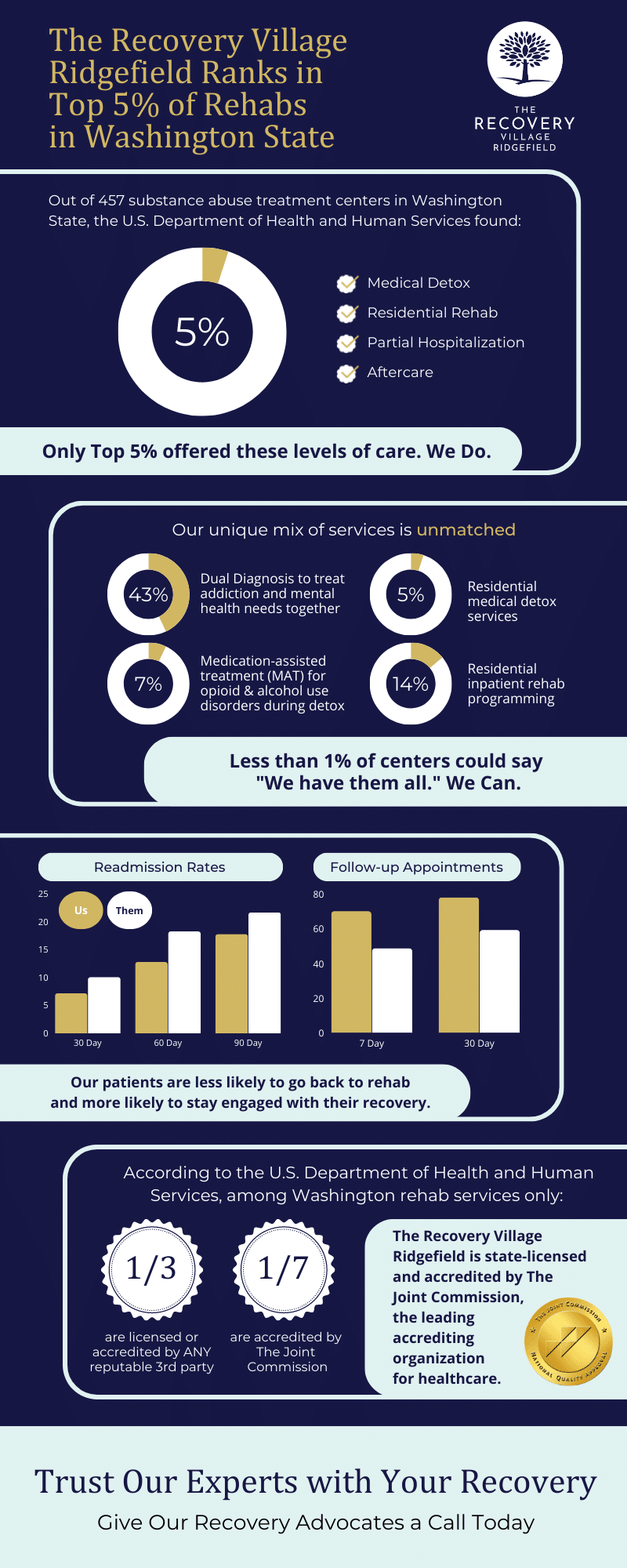 Alcohol and Drug Rehab in Renton, Washington
Drug and Rehabilitation Centers in Renton, Washington
Looking for a Renton drug rehab center or one in another area? This section can let you know about some of the treatment options. Recovering from drug or alcohol addiction is not something easily done alone. A few people can go cold turkey, but most people need help. One of the most successful ways to become completely recovered is to have access to medical, psychological and peer support. Many drug and alcohol treatment facilities provide this kind of multi-tiered support that can help guarantee lifelong recovery from the misuse of drugs or alcohol. Treatment programs can fall into one of the following categories:
Residential Treatment Programs
For some people, medical treatment is necessary to overcome withdrawal. Those with addiction who need this kind of care usually do so in a residential treatment program, also known as an inpatient treatment program. In this kind of program, progress is monitored by doctors and medication for withdrawal symptoms is prescribed as necessary. Counselors are also available to help patients work through the psychological side of addiction. A patient's stay at these types of programs may vary from as little as 2 weeks to 90 days or longer. A person who has a long history of battling addiction may find this kind of program is best for them. Want to learn more about the benefits of inpatient drug rehab? Renton, WA, centers and toll-free hotlines can answer your questions.
Partial Hospitalization Programs
A partial hospitalization program, often called a PHP, is typically for those who have already been through a residential treatment program. Patients are given the freedom to choose appointment times and treatment options. For those attempting to recover from addiction who also have work and family obligations, this type of program often works best. PHP is a great feature of drug treatment. Renton-area facilities provide this and other forms of care to aid in recovery.
Outpatient Treatment Programs
For people with mild problems or people who have been through the other programs successfully, an outpatient program may be best. Outpatient programs allow those who are recovering to get help on an as-needed basis. They also let people get help while still working or at school. If you think you'd benefit from outpatient drug rehab, Renton, WA, offers various resources to help you find a program to meet your needs.
If you are considering seeking a rehabilitation program, you will want a facility that is nationally recognized and well known. By selecting The Recovery Village as your treatment provider, you will receive several treatment options based on your needs.
Renton Drug Detox Centers and Alcohol Detox Centers
The misuse of some drugs and alcohol can cause withdrawal symptoms in some patients. At times, these symptoms can be life-threatening. The purpose of Renton alcohol detox and drug detox centers is to monitor a patient experiencing withdrawal and to use medication to help ease them through the withdrawal process. Some Washington detox centers can also help patients begin counseling to help them with their psychological factors that may have contributed to the addiction.
It is important to keep in mind that detox centers only provide the medical treatment necessary to ensure a patient makes it through the withdrawal phase of their treatment. When it comes to the psychological factors, they may be able to make referrals but do not provide the service themselves. If you are considering a detox facility, it is important to ask what services they offer and choose one that meets your needs.
If you are only experiencing mild withdrawal symptoms or have no symptoms at all, a detox center may not be for you. You can choose to go to a recovery center or perhaps begin attending meetings. Many detox centers will not provide counseling to patients, choosing to focus on the physical symptoms of addiction.
Recovery Meetings Near You
With Renton alcohol rehab programs and drug rehab programs (as well as those of other cities), an important component of recovery is aftercare. This is often in the form of counseling and meetings to help those in recovery continue living a life of sobriety. These include Alcoholics Anonymous, Narcotics Anonymous, SMART Recovery, Al-Anon, and Nar-Anon.
Choosing a treatment facility that is nearby but not located in one's hometown may be a better choice. This can help to avoid distractions that may be present and can affect the success of treatment. However, for some patients, having family and friends nearby who can visit is a better option than being alone. Some may find that a drug rehab center in Renton, WA, or an alcohol rehab center in Renton, WA, isn't the best option. But the choice of treatment facility and location is a choice only the patient can make. Communities near Renton, Washington, offer additional treatment options.
Addiction Resources in Nearby Washington Cities
For those who are seeking alcohol and drug treatment facilities outside of Renton, Washington, there are also many drug rehab resources across the state of Washington: