Snohomish, Washington, is a city in Snohomish County. As with so many cities and towns across the United States, Snohomish is affected by substance abuse, including the opioid epidemic.
According to a message from the Snohomish County Sheriff's Office, while the county accounts for 11% of the population of Washington, during the past five years, it has made up 14% of all opioid-related deaths. Snohomish County accounts for almost 16% of all heroin-related deaths in the state. There were 103 opioid-related deaths in the county in 2017, and 117 in 2018.
Substance abuse programs can help people who struggle with opioids, but also alcohol and other substances. There are local resources near Snohomish, and state and national options available as well.
Snohomish Drug and Alcohol Rehabilitation and Treatment
If someone has a problem with drugs or alcohol, there are different options available to them. The general types of programs and options that someone may turn to as a way to treat a substance use disorder include:
Supervised detox, which can be done on an inpatient or outpatient basis
Rehab programs including inpatient, outpatient or partial hospitalization programs
Medication-assisted treatment
12-step groups and other support and recovery groups
Drug and Alcohol Detox Programs and Treatment Centers in Snohomish
Everyone's treatment program is a little bit different. Some of the factors that play a role in the type of program a person chooses, as well as how long that treatment may last, include:
Overall physical health
Whether they have been through other treatment programs previously
If they are addicted to multiple substances at the same time
How long their addiction has lasted, and how severe it is
Whether they may need a medical detox program to go through withdrawal
It should also be noted that while detox in a medically supervised setting is important to keep someone safe during withdrawal, detox isn't an addiction treatment. Instead, it's one phase of addiction treatment.
Snohomish Residential Treatment Programs
A residential treatment program is one where patients live onsite. They receive therapy, recreational therapy, and nutritious meals as part of these intensive programs. At an inpatient alcohol rehab or drug addiction treatment facility, patients usually spend their days doing a combination of group and individual therapy, different types of counseling and other activities to promote recovery. There are different options if you think an inpatient rehab facility is right for you both locally and statewide, as well as in other states.
Seven programs with residential treatment are currently within 25 miles of Snohomish in Monroe and Everett. There are also several hospital inpatient detox programs within 25 miles. The Recovery Village Ridgefield is a Washington state rehab center with a variety of carefully tailored inpatient, residential programs and on-site detox as well.
Snohomish Partial Hospitalization Programs
A partial hospitalization program includes a combination of evidence-based treatment with skill enhancement. The objective of a partial hospitalization program is to help someone transition back into daily life while remaining substance-free.
Someone who might be a good fit for this level of care will have gone through detoxification and will have the ability to fully participate in the program. They should also have a strong support system and a reasonable expectation of improvement.
Ten programs within 25 miles of Snohomish offer partial hospitalization programs including in Everett and Monroe. The Recovery Village Ridgefield offers partial hospitalization programs too.
Snohomish Outpatient Treatment Programs
An outpatient rehab program can vary quite a bit in terms of what's required, the treatment approach and the time commitment a person is expected to adhere to. Overall an outpatient rehab does offer the flexibility to keep up with daily responsibilities. Someone in an outpatient program can also live at home during this treatment and commute to the facility for their scheduled sessions.
Outpatient drug treatment or alcohol treatment may be the initial phase of care for someone with a mild addiction. It can also be part of a continuum of care for someone who's already completed higher-level treatment.
Six outpatient detox programs are near Snohomish in cities such as Everett and Bellevue. There are 93 regular outpatient treatment programs within 25 miles. The Recovery Village offers outpatient rehab, including intensive outpatient programs for patients well-suited to this level of care.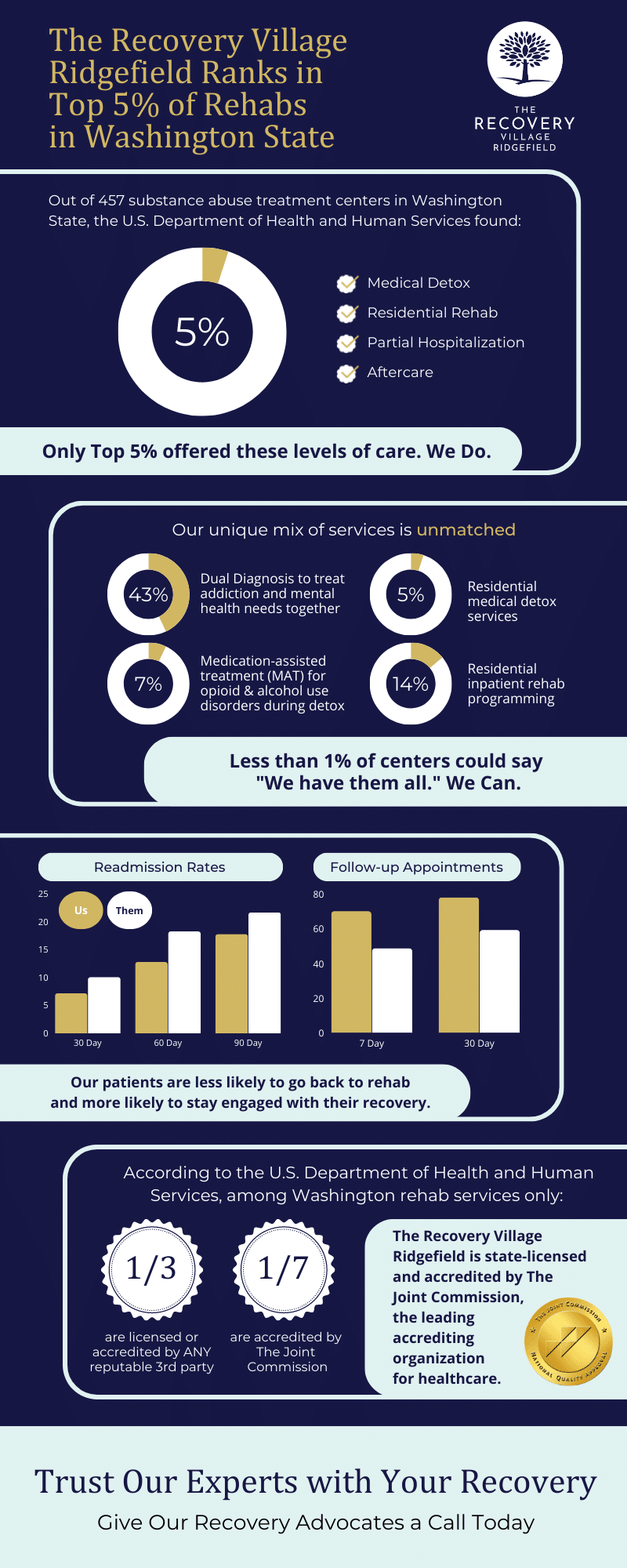 Sober Living and Rehab Aftercare Programs in Snohomish
Aftercare and continuing care, as well as social support, are critical for someone in long-term recovery. With the appropriate continuing care plans in place, someone who completes an addiction treatment program can stay connected, feel a sense of belonging, and be accountable in their sobriety.
Some of the different types of continuing care and drug rehab aftercare programs a person may participate in are:
Counseling and therapy on a group or individual level may be part of drug rehab aftercare programs
Sober living homes or living in aftercare facilities
Rehab alumni programs
Family education and counseling
Case management
Relapse prevention therapy may be in a rehab aftercare plan
The Recovery Village Ridgefield includes comprehensive aftercare planning as part of all treatment programs to prepare participants to return to their daily lives in a thriving, functional way.
Specialized Treatment Programs in Snohomish, WA
When some people seek addiction treatment, they may prefer or require a specialized program. Some of the available specialized treatment programs in Snohomish and nearby include:
Within 25 miles of Snohomish, there are 25 options for women's rehab centers, and there are 22 programs with treatment and rehab for pregnant women. These are in cities including Monroe and Everett.
12 programs offer rehab for the LGBT community within 25 miles of Snohomish
12 programs in Monroe, Everett, Bellevue and Seattle offer rehab for veterans and there are six nearby options for active duty military members
Within 25 miles of Snohomish, there are 19 programs for adolescents including rehab for teens
37 local programs treat the needs of people with co-occurring mental health and substance abuse disorders
What Is the Process Like in a Drug Detox and Rehab Facility?
There isn't one specific way to outline the drug treatment process, because at the core of any good rehab should be individualized treatment.
However, you can expect that when you go to a treatment center, you will meet with staff who will include mental and physical health care providers and support staff. They will create a plan for your treatment during this time and medication management if necessary. Then, you may go through medical detox for withdrawal symptoms.
After that point, treatment might include inpatient rehab, which can be anywhere from 28 days to several months or more. During inpatient rehab, patients participate in group therapy during the day. They may also regularly meet one-on-one with a counselor, and they can do recreational, therapeutic activities like yoga and meditation.
When someone completes their treatment plan, they begin their aftercare plan as they transition to their daily life.
Find more factors to know and expect during the drug and alcohol treatment process on this page from The Recovery Village.
Finding the Best Rehab Program for You
The goal of a rehab program is sustainable, long-term recovery and successful reintegration into your family and home life, as well as society. A big part of meeting all of those goals is finding the right fit for your needs in terms of a rehab program. You have to consider your personal situations along with the qualifications of a treatment center as you make a decision.
As you explore the best rehabs, think about the following:
What level of care will you likely need and how severe is your addiction?
Have you previously tried other types of treatment and relapsed?
Do you have the ability to participate in an inpatient program if needed?
Is it likely that you'll need an inpatient medical detox?
Do you have preferences such as a single-gender program or a religious rehab?
Do you have insurance?
What Questions Should You Ask When Considering a Treatment Program?
Along with the above considerations, there are other questions you can ask when you think about a treatment program and how it will fit with your needs.
What types of therapy are used, and what is the overall treatment approach?
Any addiction treatment program should use an evidence-based approach to treating addiction, but beyond that, what is the philosophy of the program and what types of therapy are specifically used?
Examples may include:
Cognitive behavioral therapy
12-step programs
Medication-assisted treatment
Contingency management
SMART Recovery
Group therapy
Family therapy
Community reinforcement approach
Motivational interviewing
Motivational enhancement therapy
Is the center nationally accredited?
Accreditations from organizations such as the Joint Commission can indicate the quality of care you're likely to receive at a rehab center. Accreditation can also help with insurance reimbursements for the cost of addiction treatment. Look for a rehab center that's opened its programs and care providers to review from outside experts.
What are the qualifications of the staff?
Along with looking at the overall treatment program and its credentials, you should also ask about the qualifications of individual staff members, including medical and support staff, and counselors and therapists.
How should I get ready for treatment, and what should I expect once I get there?
Being comfortable with a treatment program can help increase the likelihood that you stay for your entire program. Part of this can come from knowing how to prepare yourself, what to bring and what to expect. Ask the treatment center about all of these things as you're comparing programs.
Learn more with frequently asked questions from The Recovery Village.
Exploring Treatment Options Near Snohomish
Should you stay near your home and receive drug abuse treatment near Snohomish or should you travel? The most important thing is that you receive quality treatment, but there are advantages to both staying close to home and traveling for rehab.
If you decide to stay near Snohomish to receive substance abuse treatment, the advantages of this choice can include:
Your family and support system is near you, and some treatment programs can integrate family therapy
Aftercare planning can be easier when you attend rehab locally
You may be more comfortable with staying close to home
You don't have to arrange or pay for travel
On the other hand, traveling for rehab has its benefits too, including:
Physical separation can create mental separation, which can be valuable in the early days of recovery
The risk of leaving rehab early is lower if you're away from home
The people around you in your home environment may not be positive influences
You can feel truly anonymous
You have more options available if you can expand your treatment options beyond your local area
Additional Addiction and Rehabilitation Resources in Snohomish
Along with private rehab centers and treatment programs, other addiction and rehab resources in Snohomish may be helpful to someone struggling with substance abuse, as well as their family members. Knowing how to connect with local resources is good for someone who's already gone to treatment, or someone who hasn't yet.
Recovery Meetings Near You in Snohomish
Social support can make a significant difference in someone's long-term recovery outcomes. Support and recovery meetings can help a person integrate positive social support as well as structure and accountability into their life.
Non-Profit Organizations in Snohomish, WA
For people seeking community resources to help with issues related to substance abuse and mental health, these are available in Snohomish County.
Examples of local and non-profit organizations include:
The City of Snohomish, WA
Snohomish, Washington, is a historic city that's on the National Registries of Historic Places. It's the oldest city in Snohomish County, and the historic district is known for its Victorian and Arts and Crafts-style architecture. Snohomish is also known as the "Antique Capital of the Northwest." The closest major airport is Kenmore Air Harbor Seaplane Base, and King County International Airport and Seattle-Tacoma International Airport are nearby as well. Snohomish is located at 47.9129° N, 122.0982° W.
Addiction Resources in Nearby Washington Cities
For those who are seeking alcohol and drug treatment facilities outside of Snohomish, Washington, there are also many drug rehab resources across the state of Washington: