Small towns are not free from America's drug and alcohol crisis, and people in Woodland and throughout the state of Washington are struggling with drug and alcohol addiction each day. In 2017, there were 742 deaths in Washington due to opioid overdose alone.
Drug and alcohol misuse can lead to addiction. If you or a loved one is showing symptoms of addiction or misuse, it may be time to seek recovery treatment. There are many options available to Woodland residents in the nearby city of Vancouver, which is about a 30-minute drive from Woodland. With the help of a professional treatment facility, you'll be able to find and begin a treatment plan that works well for your situation.
Woodland Drug and Alcohol Rehabilitation and Treatment
Though the city of Woodland does not have any drug and alcohol rehabilitation centers currently, there are six inpatient and residential treatment facilities available nearby in Vancouver. Crossing the state line into Oregon, you'll find even more options to choose from in Portland.
Because of all these options, it can be overwhelming to figure out which one to choose. It's a good idea to learn about the types of programs and understand what each one offers.
Drug and Alcohol Detox Programs and Treatment Centers in Woodland, WA
Detox is usually the first step toward recovery, and it involves clearing the body of alcohol and drug-related substances. The closest drug and alcohol detox programs and treatment centers are located in Vancouver. The city has six drug and alcohol treatment facilities for residential and hospital inpatient detox programs, currently. There are also two outpatient programs for methadone and buprenorphine or naltrexone treatment.
For outpatient detox, patients will need to make a slightly longer trip to Portland, where there are several outpatient detox programs available.
You make the decision, we take care of the rest.
Comprehensive addiction treatment at The Recovery Village Ridgefield.
Woodland Residential Treatment Programs
A residential treatment program has patients stay at an inpatient rehab facility for a while to begin recovery. Depending on the programs chosen and the patient's treatment plan, this time frame could be anywhere from a few weeks to several months. During their stay, patients will engage in different types of therapy while receiving medical support for alcohol or drug addiction treatment.
There are currently no residential programs in Woodland, but there is a total of six residential treatment facilities in Vancouver. The facilities include three residential treatment programs, one residential detox program and two hospital programs for inpatient alcohol rehab and drug rehab.
In Vancouver, there are currently several programs and choices for treatment approaches:
Five 12-step facilitation programs
Five brief intervention programs
Three contingency management and motivational incentive programs
Six motivational interviewing programs
Six relapse prevention programs
Six anger management programs
Woodland Partial Hospitalization Programs
In a partial hospitalization program, patients can use the same rehabilitation resources as residential patients. The option is a good in-between program for people who require more treatment than an outpatient program but less than an inpatient one.
There are two partial hospitalization programs near Woodland, including one in Vancouver and one at The Recovery Village Ridgefield.
Woodland Outpatient Treatment Programs
Patients undergoing outpatient treatment do not have to live in a facility, but they still spend a few hours each week at the rehabilitation center for treatment. This option is much less of a time commitment compared to other programs. Many treatment plans that start with a more intensive program will end with the outpatient program. People who struggle with opioid addiction may receive medications to help treat dependence, such as methadone, buprenorphine and naltrexone.
There are currently no options for outpatient drug treatment programs in Woodland and few in Vancouver. Vancouver has two medically assisted outpatient treatments and no outpatient detox programs. Portland, however, has four outpatient detox programs and two medically assisted outpatient treatment programs.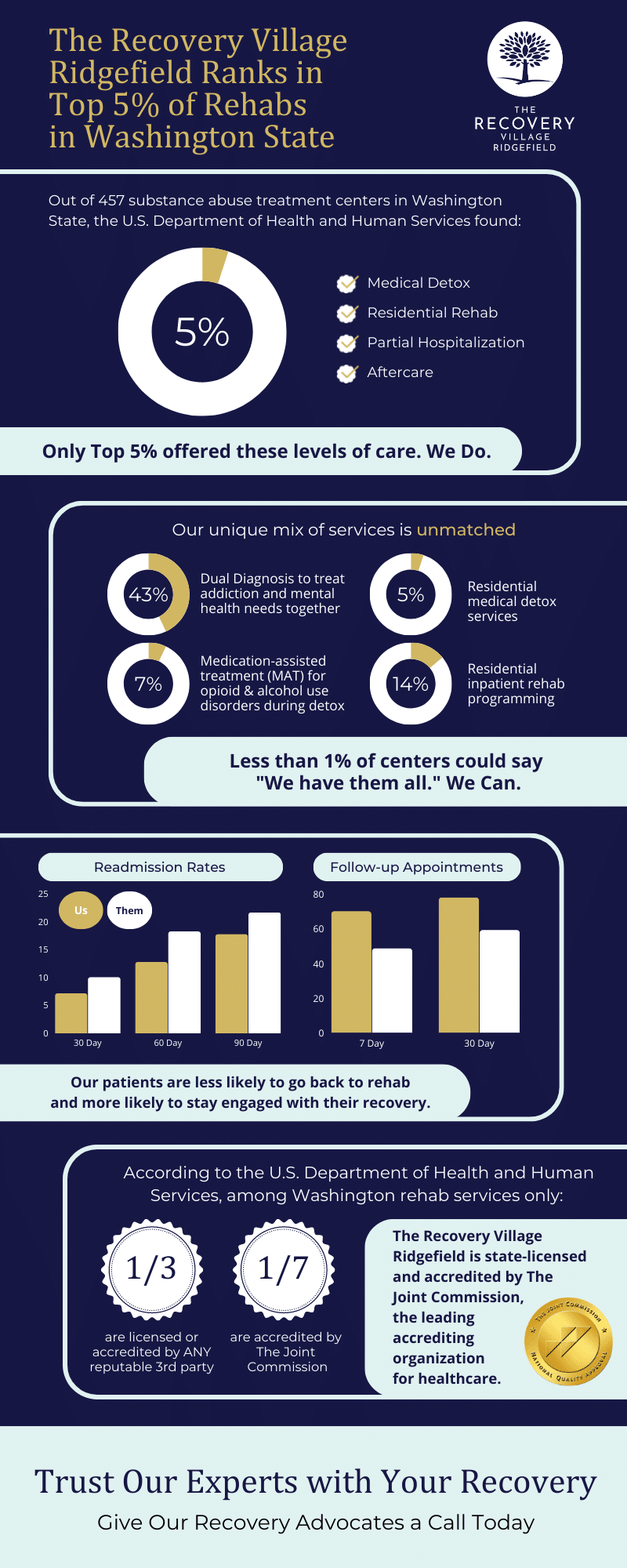 Sober Living and Rehab Aftercare Programs in Woodland, WA
Aftercare programs are incredibly important to recovery, as continuing care helps reduce the chances of a potential relapse in the future. Though there are no alcohol and drug rehab aftercare programs in Woodland currently, there are five located in Vancouver.
Rehab aftercare begins when a patient has completed the recovery treatment program and is ready to return to daily life. Sober living homes and aftercare facilities are a great step in this transition. These are places where people in recovery can live together, support one another and have a sense of structure. These facilities offer more freedom than inpatient services, but there are still guidelines to follow.
In addition to sober living, there is a variety of aftercare programs that help continue the recovery process:
Maintenance medication plans, if necessary
Follow-up appointments with physicians
Counseling
Self-help groups
12-step meetings
Volunteer activities that relate to sobriety
Alumni programs for people who have completed treatment
Specialized Treatment Programs in Woodland, WA
While there are no specialized programs in Woodland, there are various treatment programs in Vancouver that cater to certain demographics, such as women's rehab centers and rehab for teens. Some people may feel more comfortable choosing one of these specialized programs over a generalized one.
Specialized treatment options in the Vancouver area include:
Three rehab programs for people with co-occurring mental and substance abuse disorders
One rehab program for LGBT clients
One rehab program for military families
One rehab program for active duty military
Two rehab programs for veterans
Three rehab programs for people referred from the court system
One rehab program for people who have experienced sexual abuse
Two rehab programs for people who have experienced trauma
One rehab program for people who have experienced domestic violence
What Is the Process Like in a Drug Detox and Rehab Facility?
People feel intimidated or overwhelmed by the process of entering rehabilitation. By breaking down each step of the process, potential patients can see what's involved in rehab when they begin recovery.
Admissions
Generally, the first step of the drug treatment process is to introduce a new patient to the recovery facility and its staff. The patient may meet with their counselor, where the counselor will begin learning about the patient's drug and medical history. During admissions, the counselor and staff begin forming a suitable treatment and recovery plan for the patient.
Intake Assessment
The patient will typically undergo a comprehensive intake assessment of their mental and physical state. This evaluation helps create a treatment plan and determines whether the patient will require medication for recovery.
Detox
After the treatment plan is created, the patient may begin a medical detox to cleanse their system of drugs and alcohol. The point of this process is to return the patient to a stable and sober condition.
Further Treatment
After detox is completed, the patient will then begin their customized treatment plan and may transition to inpatient, partial hospitalization or intensive outpatient care. This plan usually includes medical support, therapy and other activities.
To learn more about the process of entering a rehab facility, read this helpful article from The Recovery Village.
Finding the Best Rehab Program for You
With many options to choose from, it's good to know how to find the best rehab center for your situation. Not all centers offer the same programs or types of treatment, so it's important to find a place that's suitable for your needs, depending on what you're looking for. The best drug rehab centers are licensed and accredited facilities.
What Questions Should You Ask When Considering a Treatment Program?
What insurance do you accept?
Most rehab facilities accept many types of private health insurance. If you do not have insurance, see how the facility can work with you to come up with an affordable plan for out-of-pocket payments.
Are you licensed and accredited?
Accredited rehab facilities have undergone an auditing process and proven they uphold certain standards of client care. These are usually the best rehab centers to choose, and going to an accredited center helps ensure that you receive the best recovery treatment possible.
What types of treatment programs do you offer?
Most centers should have many services, programs and treatment options available. These options can include therapy, detox and supplemental programs. Some facilities may not offer the treatment approaches you prefer, so it's important to find out.
What is your aftercare plan like?
The recovery process does not end after you leave a rehab facility. You want to choose a center that offers aftercare programs and maintenance services to prevent relapse in the future.
For more questions and answers about rehab, visit the frequently asked questions area at The Recovery Village.
Exploring Treatment Options Near Woodland, WA
There are many options for drug abuse treatment near Woodland, particularly in Vancouver. For the most part, Woodland citizens will need to travel here for rehab services. Though it's only about 30 minutes away, receiving treatment away from home has many benefits.
The benefits of traveling for rehab usually include:
Leaving an environment of drug or alcohol use
Removing triggers and stressful situations
The feeling of having a fresh start
The feeling of anonymity in a different area
Focusing solely on treatment and recovery
The downsides of traveling for rehab may include:
Leaving family and friends
Lacking a local support network
Having to arrange schedules for school or work
Additional Addiction and Rehabilitation Resources in Woodland, WA
In addition to addiction treatment programs, Woodland and Vancouver have other addiction and rehabilitation resources available to help people who are recovering. To find these resources, use the treatment locator tool from the Substance Abuse and Mental Health Services Administration. The filters will allow you to find options for substance abuse treatment, mental health counseling and centers, physicians and more.
Recovery Meetings Near You in Woodland, WA
Recovery meetings help people who are recovering from addiction find others who are going through similar struggles. At these gatherings, attendees can share stories and support one another. Social support is an important part of sobriety, and the support found in recovery meetings helps to prevent relapse.
City of Woodland, WA
Woodland, Washington, is located in Cowlitz County and Clark County, with the majority of people living in Cowlitz. The total population is approximately 6,138 people, according to the United States Census Bureau in 2017.
Woodland is named after its forested area, and the city offers many scenic views and natural environments to enjoy. The exact location of Woodland is 45.9109° N, 122.7408° W.
Addiction Resources in Nearby Washington Cities
For those who are seeking alcohol and drug treatment facilities outside of Woodland, Washington, there are also many drug rehab resources across the state of Washington:
---
National Institute on Drug Abuse. "Washington Opioid Summary." March 2019. Accessed May 2019.
The Substance Abuse and Mental Health Services Administration. "Treatment Locator Map." (n.d.) Accessed May 2019.