Located in Cowlitz County, Castle Rock, Washington is often described as the "Gateway to Mount St. Helens." It's at the base of the mountain and its part of the region of Washington state known as "timber country," since it is part of a Pacific rain forest. Castle Rock is named after a volcanic rock that formed over the Cowlitz River and soars 190 feet.
Unfortunately, like other places in Washington, there has been an uptick in substance abuse in Castle Rock and surrounding Cowlitz County in recent years. According to the Cowlitz County Community Report Card, death rates related to drugs and alcohol are higher in the county than in other areas of the state.
Local, statewide and national resources are available if you or someone you love would benefit from substance abuse treatment. Examples of the types of treatment programs available in Washington and nationwide include supervised detox programs, residential rehab, and support groups like Alcoholics Anonymous.
Our Closest Facility:
The Recovery Village Ridgefield Drug & Alcohol Rehab is just miles away from your doorstep. Our award winning facility is ready to tackle any substance abuse or addiction problem. Specializing in drug & alcohol treatment, learn more about why we're perfect to help you or a loved one.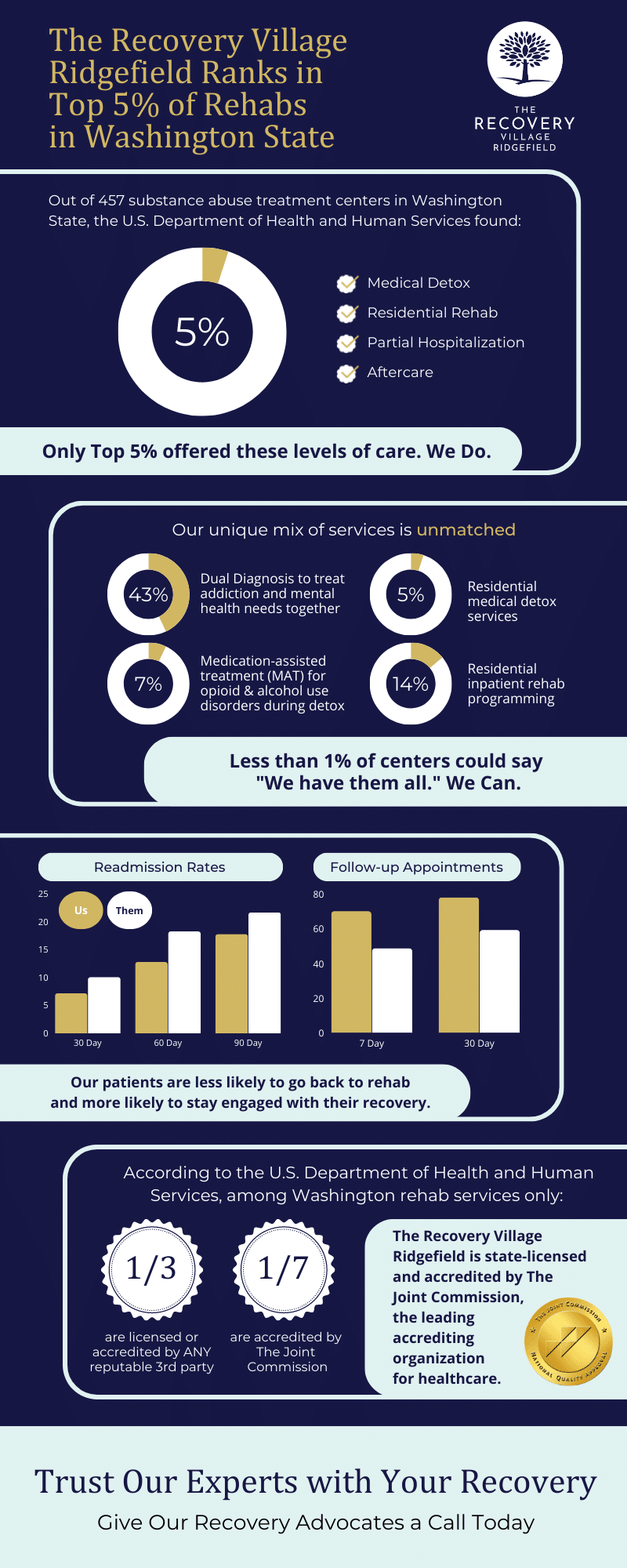 Castle Rock Drug and Alcohol Rehabilitation and Treatment
There are different types of drug and alcohol rehabilitation and treatment programs available. These may include:
Supervised detox. Many drugs, as well as alcohol, lead to dependency. This is a physiological response to the ongoing use of drugs and alcohol. When you're dependent on a substance, you will usually have withdrawal symptoms as you detox. Supervised detox can help mitigate symptoms.
Residential rehab. A residential rehab program is one where patients live on-site during treatment. Treatment can include different types of therapy, recreational treatment, and often nutritional counseling and general wellness therapy.
Partial hospitalization programs. This type of rehab is intensive and similar to inpatient rehab but patients don't stay the night at the treatment center.
Outpatient rehab. During an outpatient program, there is a sense of flexibility. A person in outpatient treatment can continue to live their daily life but also attends treatment sessions as scheduled.
Support groups. Often part of an aftercare plan following rehab, support and recovery groups, including 12-step programs like AA and NA, as well as alternatives can help you stay sober. One such alternative is SMART Recovery.
Drug and Alcohol Detox Programs and Treatment Centers in Castle Rock, WA
Someone seeking drug and alcohol detox programs and treatment centers has the option to stay near Castle Rock or to travel out-of-state. There are 50 programs offering substance abuse treatment within 50 miles of Castle Rock. This includes The Recovery Village Ridgefield. Other cities and towns where there are substance abuse programs near Castle Rock include Longview, Kelso and Chehalis.
Castle Rock Residential Treatment Programs
Residential treatment, inpatient alcohol rehab or drug addiction treatment offer advantages for patients, including a controlled environment where the focus is entirely on treatment and recovery. There are three hospital inpatient programs located within 50 miles of Castle Rock, as well as three programs with inpatient detox, including The Recovery Village in Vancouver, WA. Eleven substance abuse treatment programs offer residential rehab at an inpatient rehab facility setting.
Castle Rock Partial Hospitalization Programs
Partial hospitalization is also called day treatment since patients can return home in the evenings. Depending on the specific situation, some patients may return to sober living homes when they're in a partial hospitalization program as well.
Within 50 miles of Castle Rock, there are four partial hospitalization programs, including The Recovery Village Ridgefield. Other programs are in Saint Helens, Oregon and Oakville, Washington.
Castle Rock Outpatient Treatment Programs
Outpatient drug treatment programs offer a level of flexibility. There is one outpatient detox program located within 50 miles of Castle Rock in Vancouver. Forty-five programs nearby offer regular outpatient treatment, including locations in Kelso and Longview. Thirty-eight substance abuse options near Castle Rock include intensive outpatient programs and include The Recovery Village Ridgefield.
Sober Living and Rehab Aftercare Programs in Castle Rock, WA
Continuing care is what happens after someone leaves rehab, and it's important. Aftercare planning should begin as soon as someone enters treatment. Aftercare facilities may offer outpatient rehab or drug rehab aftercare programs. Other forms of aftercare include sober living homes, rehab alumni programs and support groups.
Specialized Treatment Programs in Castle Rock, WA
Specialized treatment programs near Castle Rock include:
Thirteen substance abuse treatment programs near Castle Rock offer rehab for the LGBT community.
There are eight program options with treatment for the active duty military community within 50 miles of Castle Rock, including in Longview and Mossyrock.
There are 12 treatment programs with rehab for veterans near Castle Rock.
Twenty-three local treatment programs work with patients who have co-occurring mental health conditions along with addiction.
Centers with rehab for pregnant women are located in cities including Kelso and Longview. There are 16 of these programs total within a 50-mile radius.
Twenty-seven programs include women's rehab centers.
Within 50 miles of Castle Rock, 22 programs include rehab for teens and adolescents.
For people who have experienced trauma, there are 20 programs nearby that include rehab for PTSD.
What Is the Process Like in a Drug Detox and Rehab Facility?
Many people try to stop using drugs or alcohol on their own but find they aren't able to. That's why they eventually seek professional help. A professional drug and alcohol detox and treatment program offers things that you can't get if you try to quit on your own, including evidence-based mental and physical care.
While each person's treatment journey may be unique, four general phases usually occur in the drug treatment process.
The first phase is the assessment. This happens when you arrive at the treatment center, and it's very important because it helps your treatment providers and support team know how to best help you overcome your addiction. Individualized treatment plans are developed during this stage.
The next phase is often detoxification. Someone may be detoxing from one or multiple substances, and it can take a few days up to several weeks to complete. Again, everyone is unique. Detox isn't a time for things like therapy. Instead, it's about keeping you safe and comfortable so that you are stabilized when rehabilitation does begin.
The third phase of treatment is rehabilitation. This is when the work of overcoming your addiction begins. You may participate in different types of therapy one-on-one with a counselor, and you'll also do group therapy.
The fourth phase of the addiction treatment process is aftercare, which occurs when you transition back to daily life and work on relapse prevention strategies you learned in treatment.
Find more details about the rehab treatment process on this page from The Recovery Village.
Finding the Best Rehab Program for You
With so many options available, it can be a challenge to know where to begin when you are trying to find the best rehab program for you and your needs. Some things to consider in terms of your personal needs might include:
How severe is your addiction? Someone with severe, long-term addiction may need a higher level of care than someone with a shorter-term or milder addiction.
Are you willing to travel for treatment?
Would specialized treatment be a good fit for you?
Do you need dual diagnosis treatment for a co-occurring condition?
Do you have physical health problems that also need to be addressed during treatment?
Are you able to leave your home and work to participate in inpatient rehab?
What Questions Should You Ask When Considering a Treatment Program?
Beyond thinking about your individual needs, there are questions to ask rehab programs as you determine the quality of care that they provide. The following are questions that you might want to ask treatment centers:
Is your facility licensed and accredited?
Licensing and accreditation are important when you're selecting a treatment center. Licensing and accreditation standards can vary depending on the state, so you will need to learn more about what's required in your state. Additionally, you should ask about the individual licensing of the people that will be on your treatment team.
What types of treatment are used?
In general, when someone goes to rehab, they will participate in both individual and group therapy. However, there can be many differences in the therapeutic approaches used and the underlying philosophy of treatment. Additionally, some centers may use holistic treatment or also include a focus on nutrition and general wellness, while others might not.
How long will the program last?
An inpatient treatment program can be short term or long term. Many residential programs will last, on average, 28 days but long-term programs can last months or even longer. A lot of people will complete an initial stay in inpatient treatment and then continue receiving treatment on an outpatient basis.
What is the goal of the treatment program?
Asking a facility about the goals of their treatment programs can seem like it would have an obvious answer. Of course, it's to help you stop using drugs or alcohol, but programs can measure success differently. For example, some programs see replacing drugs with medication like Suboxone as a success, while others see success as completing a stay in rehab. For other programs, long-term recovery is the measure of success.
Find more answers with these frequently asked questions.
Exploring Treatment Options Near Castle Rock
Is it better for you to go to treatment near Castle Rock or should you consider traveling for rehab? This is a big question and the answer is different depending on your situation, your needs and your preferences.
If you travel for rehab, it can open up more potential programs to you. This can be especially important if you need specialized care. Traveling for rehab also lets you create a sense of separation from your environment of substance abuse. That separation can help you be better able to make a mental change. When you travel for rehab, it might reduce your temptation to leave early as well.
Of course, traveling for rehab can be burdensome for some people, especially if they're physically or mentally unwell. It also reduces the likelihood of your family or loved ones being able to participate in your treatment.
Additional Addiction and Rehabilitation Resources in Castle Rock
If you complete rehab and return home to Castle Rock, it's important that you're connected to local resources. Addiction and rehab resources can help you maintain your sobriety over the long term as you move back into your daily life. Local resources can also help you form a support network.
Recovery Meetings Near You in Castle Rock
There is a reason recovery meetings have been popular for decades. Research shows recovery meetings and support groups are very effective at helping people remain sober. These meetings not only offer social support, but they can help you work through potential problems that would otherwise lead to relapse.
Non-Profit Organizations in Castle Rock, WA
The following are non-profit organizations near Castle Rock that primarily focus on helping people dealing with mental health and substance abuse issues, or connect people with local resources that can help them.
The City of Castle Rock, WA
Castle Rock, Washington is the site of the Rock Community Park, which features a historical marker and hiking trails. Castle Rock is around 58 miles north of Portland, Oregon and it's the Gateway to Mount St. Helens, located between the Cowlitz River and Interstate 5. The closest major airport to Castle Rock is Portland International Airport (PDX/KPDX). Castle Rock is located at 46.2751° N, 122.9076° W.
Addiction Resources in Nearby Washington Cities
For those who are seeking alcohol and drug treatment facilities outside of Castle Rock, Washington, there are also many drug rehab resources across the state of Washington: