Redmond Drug & Alcohol Rehab, Detox & Treatment Resources
The problem of substance abuse in the United States is enormous. The city of Redmond and other communities within King County and across Washington State have also been greatly affected by this pandemic. According to the Alcohol & Drug Abuse Institute (ADAI) at the University of Washington in Seattle, deaths that have been directly linked to the use of both prescription opiates like oxycodone and street drugs like heroin have ballooned 33% to 52% in the last 10 years. Additionally, the number of people seeking treatment for opioid addiction has also grown at an alarming rate. Publicly funded treatment facilities across the state of Washington indicate an increase of 197% from 2002 – 2013.
For people who are seeking treatment in Redmond and in King County, there are a number of treatment options available. King County boasts a large number of facilities with a wide variety of treatment options, doctors, counsellors and support groups. The following is a guide meant as a resource to help patients and their families find the treatment that is best for them within Redmond, Washington as well as within King County.
Our Closest Facility:
The Recovery Village Ridgefield Drug & Alcohol Rehab is just miles away from your doorstep. Our award winning facility is ready to tackle any substance abuse or addiction problem. Specializing in drug & alcohol treatment, learn more about why we're perfect to help you or a loved one.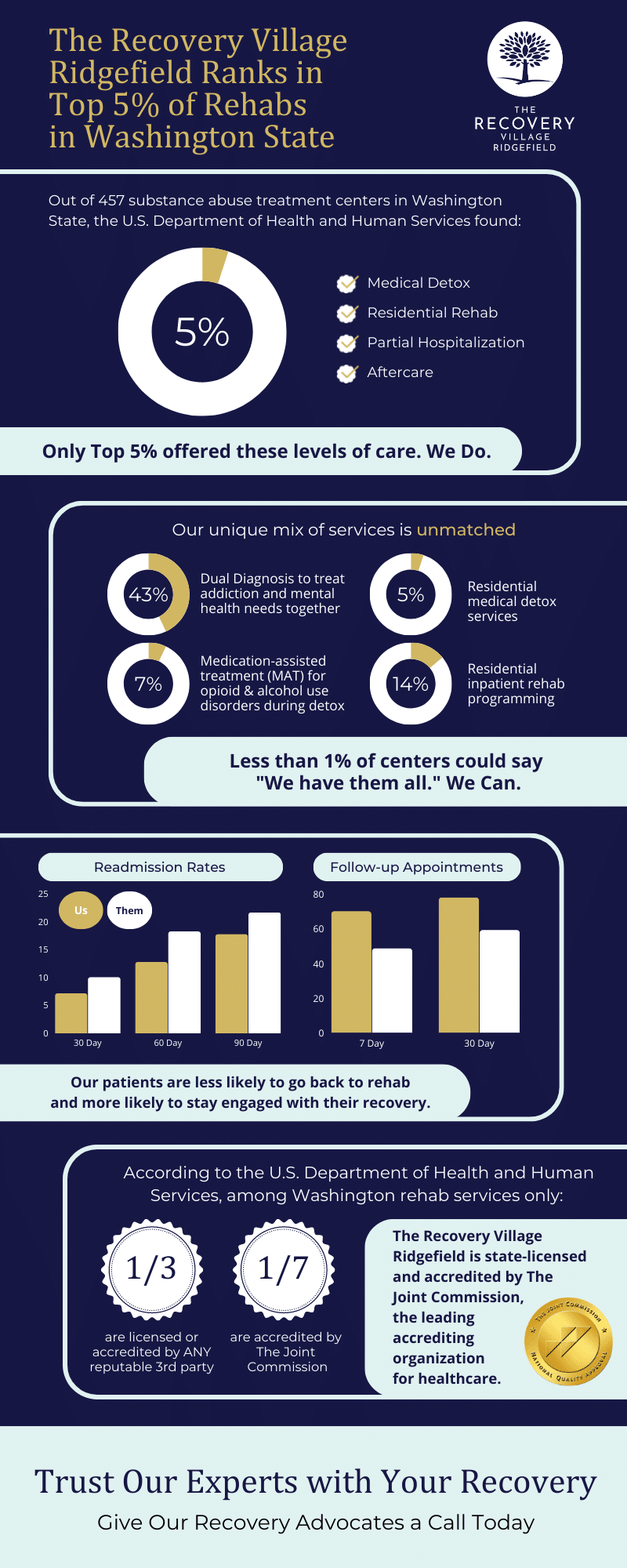 Finding Drug and Alcohol Rehab in Redmond, Washington
Drug & Alcohol Rehab Centers in Redmond, Washington
When you are suffering with a substance use disorder, you will need to pursue a treatment program at a rehabilitation facility. You will be more likely to find an effective program if you have an understanding of the different treatment programs that are available.
Residential Treatment Programs
Residential — or inpatient — treatment is created for those struggling with a long-term or severe addiction. In residential treatment, the patient will stay on campus at the facility until treatment is complete, and he or she will receive a broad range of medical, psychological, and supportive services. If you're seeking inpatient drug rehab, Redmond, WA, resources allow you to find a facility to meet your needs.
Partial Hospitalization Programs
Partial hospitalization is short-term and can last from 7 to 14 days, but varies according to the individual's needs. Group and individual therapy are part of the care plan, and usually include aftercare or follow-up via support groups. Redmond drug rehab centers and Redmond alcohol rehab centers provide information about the benefits of these programs.
Outpatient Treatment Programs
Outpatient treatment is designed for individuals with an addiction that is less severe than others. The patient travels to and from the center for 10 to 15 hours per week, which allows the client to work or attend school outside of treatment. The length of outpatient treatment can range from three to six months, or up to a year or longer. Detox, 12-step programs, group therapy, individual or family therapy and aftercare services are also included in outpatient drug rehab. Redmond, WA, offers various resources to help men and women find facilities that offer outpatient treatment.
Many people elect to utilize the services of a national treatment center like The Recovery Village because there are experienced addiction specialists on staff who are dedicated to helping you begin your long-term recovery journey. They will assess your situation and help you determine whether you need inpatient or outpatient treatment.
Redmond Drug Detox & Redmond Alcohol Detox Centers
If you ask anyone who has ever faced alcohol or drug rehab in Redmond, Washington, the toughest part is going through the detox process. Any treatment regimen for drug or alcohol dependency involves both the body and the mind. For those currently facing detox, it should be noted that the process can be dangerous and never be attempted by anyone other than those who are trained. The staff at a detox center knows how to offer the best medical and moral support. This can be crucial while the body is ridding itself of the substances it is addicted to. During detox, some patients may develop serious medical conditions that require medical intervention.
While Washington detox centers can be beneficial, it is much wiser to find a treatment center like The Recovery Village that will offer detox as well as treatment programs. Detoxing is an important step in your healing process. However, it is not enough to detox. You also have to do the spiritual and emotional work involved in recovery.
Recovery Meetings Near You
Recovery is a multi-phase journey. Completing alcohol or drug rehab in Redmond, Washington, can change your life, but it is only the first step in the recovery process. Aftercare is as vital as the stages that came before it. Aftercare services usually include a 12-step program, individual therapy, support groups or a combination of these.
Patients and their families who are seeking alcohol or drug rehab in Redmond, Washington can find many treatment facilities, government and non-profit organizations, doctors and many other resources available. Some patients may consider seeking treatment outside of their own local neighborhood and within other communities in the area.
Addiction Resources in Nearby Washington Cities
For those who are seeking alcohol and drug treatment facilities outside of Redmond, Washington, there are also many drug rehab resources across the state of Washington: