Named after America's first president, George Washington, the state of Washington has 215 state parks and six national forests among various other landmarks, making it stand out as one on of the most scenic states. However, Washington and the city of Tacoma are quickly becoming known for something else: the growing epidemic of prescription opioid misuse. In spite government efforts to control the situation, the opioid epidemic has grown stronger across the country.
According to the Alcohol & Drug Abuse Institute (ADAI) at the University of Washington, law enforcement agencies across the state indicated a 134 percent increase in overdose cases that tested positive for opioids from 2004 to 2016. For the same period of time, publicly funded drug treatment admissions for opioids increased 257 percent. This caused a 33 percent increase in deaths involving opioids across the state, exceeding the population growth rate in the state of Washington.
Regardless of the current state of opioid addiction in Tacoma, help is available to those looking to begin a life in recovery. There are many rehab facilities in various cities throughout the state that offer alcohol and drug treatment with the city of Tacoma being one of them. A number of alcohol and drug rehab facilities in Washington are available for those who are seeking help for their addiction. The Recovery Village Ridgefield offers Washington drug and alcohol rehab for those looking for medical detox, inpatient treatment and more.
Our Closest Facility:
The Recovery Village Ridgefield Drug & Alcohol Rehab is just miles away from your doorstep. Our award winning facility is ready to tackle any substance abuse or addiction problem. Specializing in drug & alcohol treatment, learn more about why we're perfect to help you or a loved one.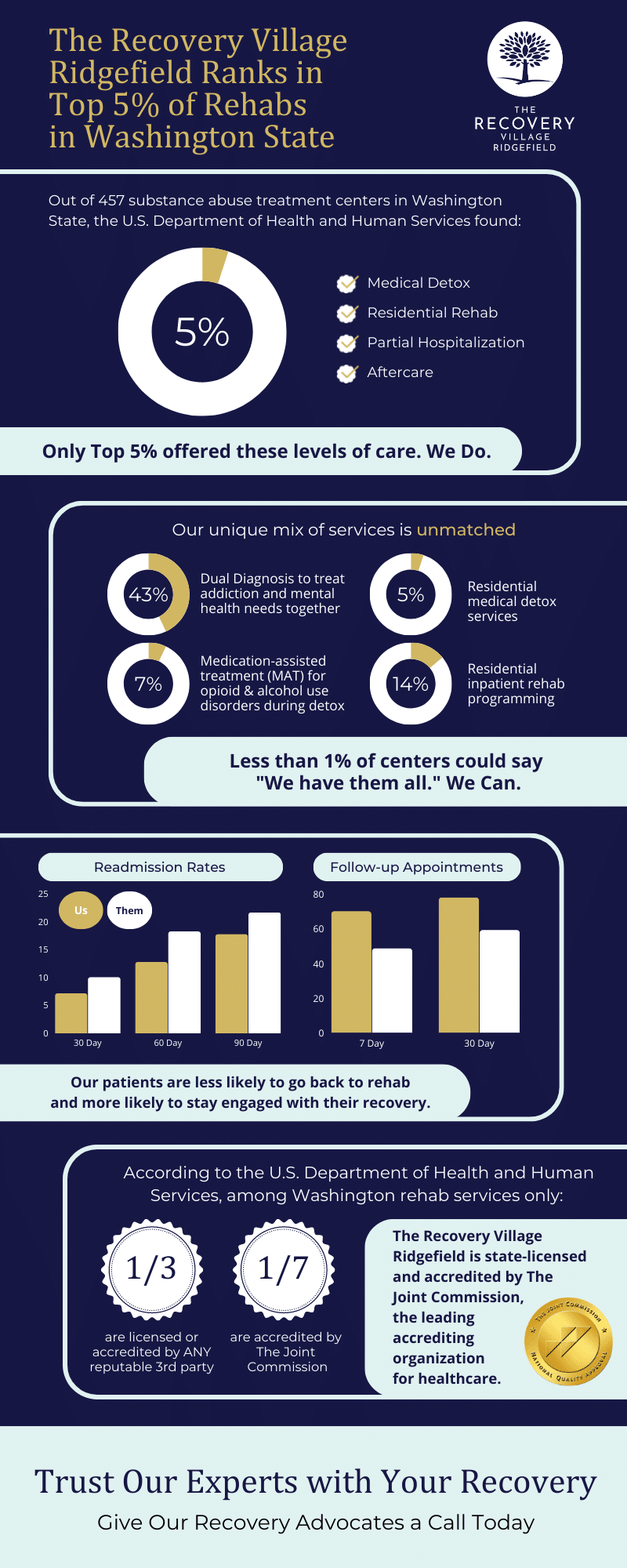 Finding Alcohol Rehab and Drug Rehab in Tacoma, Washington
Alcohol Rehab Centers and Drug Rehab Centers
Many Tacoma residents are well aware of the nationwide opioid epidemic that has taken far too many lives. For individuals seeking drug addiction treatment in the city of Tacoma, Washington, there are over 100 facilities to choose from. This can make it difficult to select the treatment option that can be most beneficial for recovery. When considering Tacoma drug rehab and alcohol rehab centers, it's important to consider the available treatment programs. Facilities that assist patients in overcoming their dependency can usually be categorized under one of the following program types:
Inpatient Treatment Programs
Inpatient drug rehab in Tacoma, WA, and other states offers patient monitoring by doctors, medical staff and counselors around the clock. For patients needing to undergo detox or who are struggling with chemical dependency, this can be the best choice. Staff is on hand while the patient manages the withdrawal symptoms related to their drug or alcohol addiction. On average, stays at similar facilities are between 30 to 90 days, depending on what amount of time the treatment team deems necessary for the individual situation.
Partial Hospitalization Programs
Also known as PHPs, Partial Hospitalization Programs have on-site housing and access to medical care. PHPs offer patients both medical treatment for addiction or substance misuse and counseling. This program is not as intensive as a residential treatment program, but it is still just as detailed and structured. Most PHPs allow patients to live in their own homes and then return for treatment between seven to eight hours each day.
Outpatient Treatment Programs
Patients who opt for outpatient programs can stay in their own home while seeking treatment. This allows the most in terms of flexibility and discretion. Patients are able to go to work or school while receiving treatment in the evening or on weekends. If you're seeking outpatient drug rehab, Tacoma, WA, you may want to use local outpatient programs as an aftercare plan for inpatient care.
Patients may also choose to seek treatment in another community outside of their area. A national treatment facility like Recovery Village can assist patients in learning the necessary tools to function throughout everyday life. If you're looking for Tacoma, WA, alcohol rehab or drug treatment, The Recovery Village can meet your needs, as it offers a full spectrum of treatment options and resources around the country to ensure success in recovery. With a full continuum of care available in Ridgefield, Washington. The Recovery Village Ridgefield can offer the support you or a loved on needs to find long-term healing.
Commonly Abused Drugs in Tacoma, WA
Tacoma isn't the only city to struggle with drug and alcohol addiction. In fact, 1 in every 7 people across the nation are trying to manage a substance addiction. Washington has numerous facilities across the state to help treat the most common addictions:
Substance Abuse Hotlines
If you are looking to speak with someone regarding your struggle with drugs or alcohol, or you're looking for assistance in how to help someone you love, our hotlines can help.
Tacoma Drug and Alcohol Detox Centers
The first step toward recovery from addiction to drugs or alcohol is detox. Medical detox offers the safest and most effective option for most patients looking to rid themselves of the substances in their body. Detox can be dangerous if not done properly, which is why it is highly recommended to detox with professional supervision. Both the body and the brain are affected by chemical dependency, so withdrawal can be difficult. During a properly supervised medical detox, patients have the opportunity to receive compassionate care when they need it most.
There are several Tacoma alcohol detox and drug detox centers. However, for some, it is more beneficial to take advantage of a treatment facility like The Recovery Village that offers a range of programs as well as medical detox.
Local Recovery Meetings Near You
One of the most important steps when facing addiction to drugs or alcohol is seeking help through a support group. Most of these groups hold meetings for those struggling with addiciton themselves, or their families by offering a safe space to discuss and interact with others who are facing similar circumstances.
Whether you're seeking a Tacoma alcohol rehab center or drug treatment facility, there are many resources available for patients looking to begin treatment. A vast number of facilities, physicians and counselors can be found in Tacoma and the nearby cities. Many of these services are equipped to handle any level of addiction. If you want to consider Washington drug rehab options outside of Tacoma, choose your city below, or call The Recovery Village today to learn more about rehab options in Ridgefield, Washington.
Addiction Resources in Nearby Washington Cities
For those who are seeking alcohol and drug treatment facilities outside of Tacoma, Washington, there are also many drug rehab resources across the state of Washington: