Pullman Drug & Alcohol Rehab, Detox & Treatment Resources
Addiction is a nation-wide epidemic that devastates individuals and families of all incomes, races and backgrounds. The small city of Pullman is just one community suffering from the harrowing effects of substance abuse. But Washington State University decided to help battle alcohol dependency by tightening alcohol and drug policies, forming a task force, offering mandatory alcohol/drug education and providing prevention/screening/outreach programs, especially among the freshman population.
The college has joined Pullman Regional Hospital in screening patients for risk of alcohol dependence and initiating intervention if deemed appropriate. In addition to the efforts being made by the college, the city of Pullman is trying to help its community by providing recovery programs via detox, outpatient, medication-assisted treatment (MAT), residential treatment and aftercare. Read on to find a recovery program that is perfect for you.
Our Closest Facility:
The Recovery Village Ridgefield Drug & Alcohol Rehab is just miles away from your doorstep. Our award winning facility is ready to tackle any substance abuse or addiction problem. Specializing in drug & alcohol treatment, learn more about why we're perfect to help you or a loved one.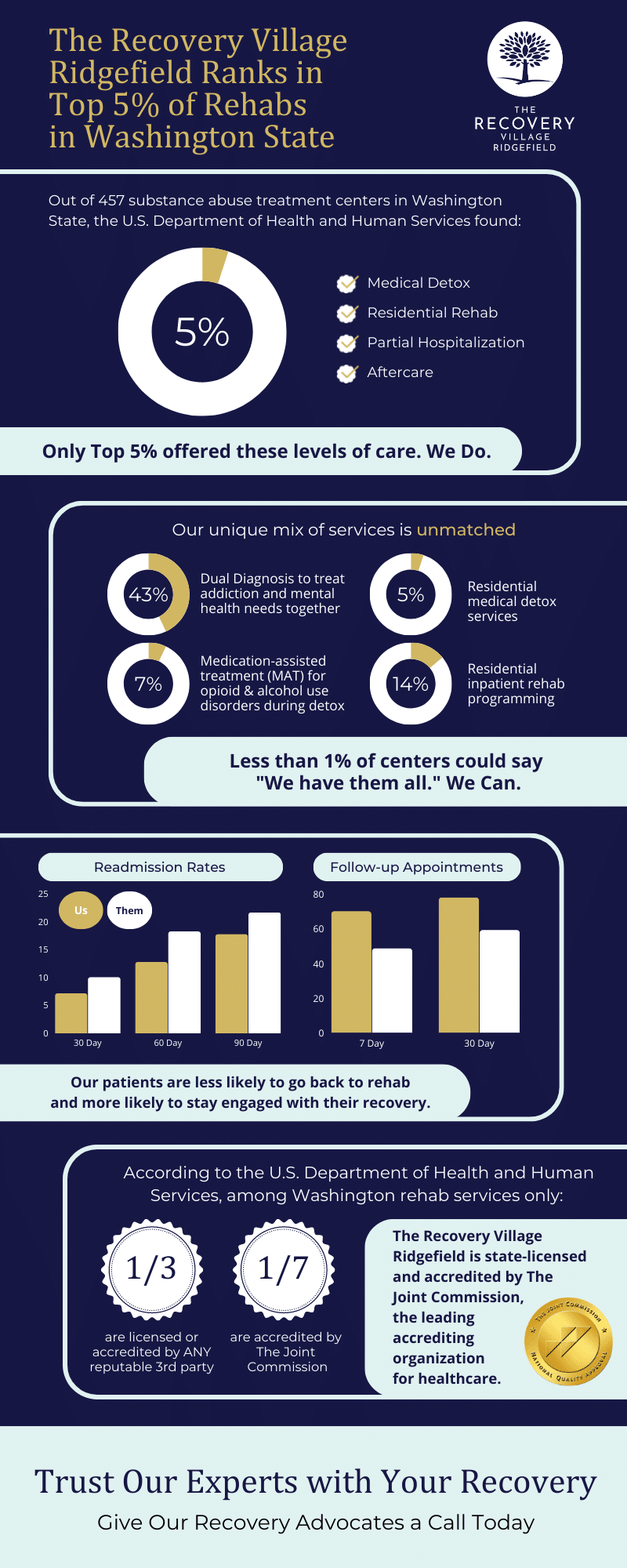 If you are interested in learning more about a particular alcohol or drug rehab center in Pullman, WA, help is available. Washington offers many excellent resources. This guide will provide you with more information on all those resources. Prefer to speak with someone to learn more? By calling The Recovery Village, you can ask about:
Pullman alcohol rehab
Pullman drug rehab
Pullman drug detox
Pullman alcohol detox
Pullman drug treatment facilities
Pullman alcohol treatment facilities
Inpatient drug rehab (Pullman, WA)
Outpatient drug rehab (Pullman, WA)
Finding Drug and Alcohol Rehab in Pullman
Pullman, Washington Alcohol Rehab and Drug Rehab Centers
If you are battling a substance use disorder, and you are addicted to any harmful substance – whether it is alcohol, marijuana, opioids, cocaine, methamphetamine, hallucinogens, benzodiazepines or any other substance – the most important thing you can do for yourself and for your loved ones is to seek treatment. The best way to determine which treatment program you need, though, is to understand all of the programs that are available.
Residential Treatment Programs
Residential treatment is perfect for individuals struggling with a long-term or severe addiction. Residential is designed for those who have relapsed multiple times or for those with an opioid dependence. In residential treatment, the patient lives at the facility until treatment is complete and receives a wide range of medical, psychological, and supportive services.
Partial Hospitalization Programs
Partial hospitalization is short-term in nature and can last from one to two weeks but varies based on the individual's needs. Group and individual therapy are part of the care plan and normally include aftercare or follow-up via support groups.
Outpatient Treatment Programs
Outpatient treatment is designed for those with an addiction that is less severe than others. The individual travels to and from the center for 10 to 15 hours each week, which makes room for work, school or other obligations. The length of outpatient treatment can last from 3 to 6 months or up to a year or longer. Outpatient treatment can include detox, 12-step programs, group therapy, individual or family therapy and aftercare services.
The Recovery Village is a national, branded treatment center that offers a full spectrum of quality services, including detox, inpatient, outpatient, partial hospitalization programs and aftercare. A cadre of professionals meets the individual needs of each patient with personalized care plans, while using a holistic approach to the recovery process.
Detox Centers
Detox is the first and most important step of your recovery journey. Length of detox varies, but it can last from one to two weeks. Because detoxing without medical supervision can be unsafe, doctors and other medical staff are a crucial part of this first stage. Although detox addresses the physical aspect of addiction, the mental, emotional, and spiritual components will not be. This is the work that will take place during an inpatient or outpatient treatment program.
One advantage of using a national treatment center like The Recovery Village is that both detox and treatment programs are available to you to truly begin your path to long-term recovery. So while you would only get help with detoxing at a detox center, at The Recovery Village, you are provided with more holistic treatment.
Recovery Meetings Near You
Recovery is a many-tiered journey. Completing a treatment program can alter your life in positive ways, but it is just the first part of recovery. Aftercare is as critical as the stages that come before it. Aftercare will typically involve recovery meetings like Alcoholics Anonymous meetings or SMART Recovery meetings.
There are many addiction resources accessible to those who are seeking addiction treatment in Pullman, Washington, but it may also be smart to explore your options in nearby cities. Because the state has so many excellent recovery resources, sometimes the most comprehensive Washington drug rehab centers lie outside of the city. If you're unable to find a Pullman drug rehab center or Pullman alcohol rehab center to meet your needs, consider one of the cities from the list below to find resources elsewhere in Washington:
Addiction Resources in Nearby Washington Cities
For those who are seeking alcohol and drug treatment facilities outside of Pullman, Washington, there are also many drug rehab resources across the state of Washington: