Bellevue Drug & Alcohol Rehab, Detox & Treatment Resources
Bellevue, Washington is considered an edge city. It is the sixth wealthiest city in Washington. The town of Beautiful View (Bellevue in French) offers scenic vistas of the Cascade and Olympic Mountains. This subtle city seated opposite Seattle and across lake Washington is a magnet for wealth.
However, a mild oceanic climate and prosperity do not protect communities from a rapidly spreading epidemic across the United States: drug and alcohol addiction. In November 2016, authorities busted a drug trafficking cartel in the Puget Sound area. Arresting ten people, some residents of Bellevue, Washington were caught with 30 pounds of methamphetamine and $350,000 in cash. Those arrested were also charged with intent to sell cocaine and methamphetamine, conspiracy and slew of other indictments. These arrests were a result of a two-year, multi-state operation.
Our Closest Facility:
The Recovery Village Ridgefield Drug & Alcohol Rehab is just miles away from your doorstep. Our award winning facility is ready to tackle any substance abuse or addiction problem. Specializing in drug & alcohol treatment, learn more about why we're perfect to help you or a loved one.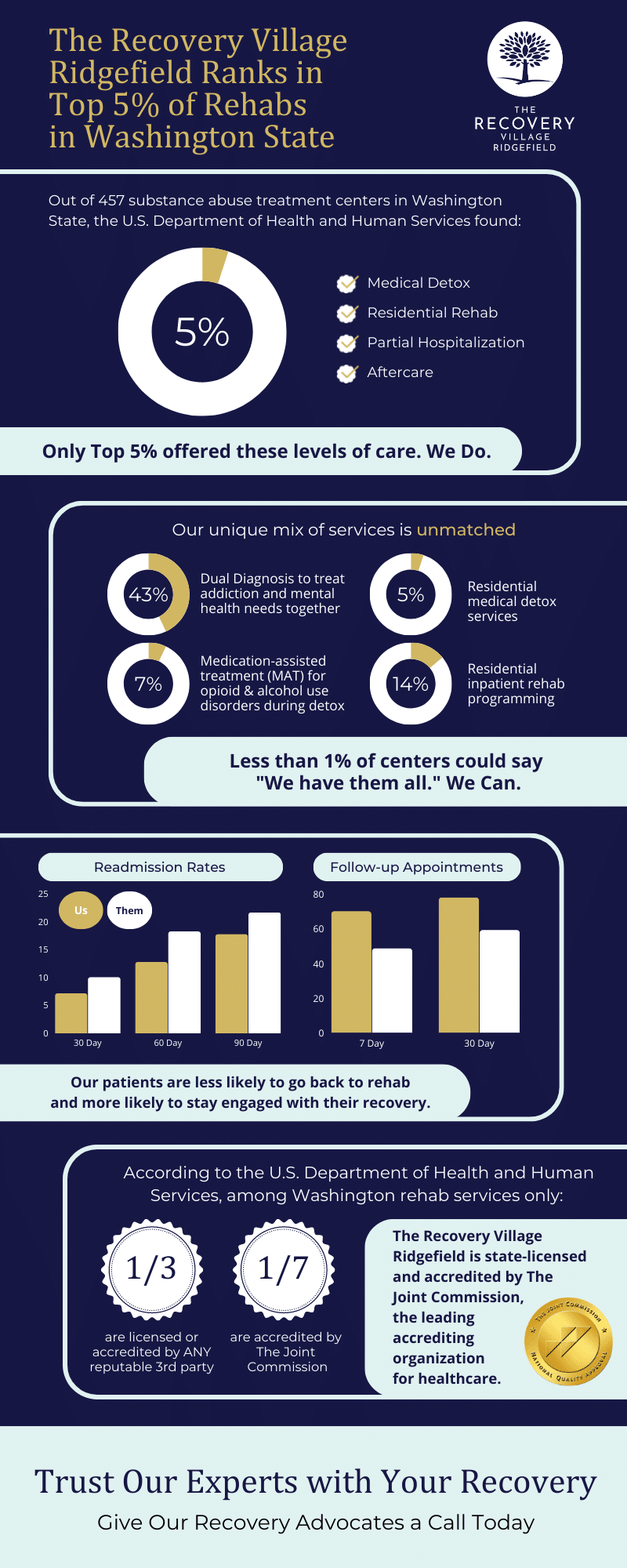 The widespread availability or alcohol and other misused substances are hurting communities all over the country. Addiction is an illness, like any other disease it deserves to be responded to with quick and effective relief to help patients overcome this very misunderstood sickness. For those seeking addiction treatment in Bellevue, Washington, there are many resources.
Our intake coordinators at The Recovery Village can help you with questions related to:
Bellevue alcohol rehab
Bellevue drug rehab
Bellevue drug detox
Bellevue alcohol detox
Bellevue drug treatment facilities
Bellevue alcohol treatment facilities
Inpatient drug rehab Bellevue, WA
Outpatient drug rehab Bellevue, WA
Finding Help & Recovery in Bellevue, WA
Alcohol & Drug Rehab Centers in Bellevue, Washington
Prescription opioids, heroin, methamphetamine, cocaine, alcohol, benzodiazepines and other substances quickly turn from recreation to dependency. Organizations that study drug and alcohol use in the United States agree that these substances are universally corrosive to the user and their community. It is crucial to receive treatment now. If you are looking for drug treatment in Bellevue or alcohol treatment in Bellevue there are options out there.
The following treatment programs are offered at rehabilitation facilities near you.
Bellevue Residential Treatment Programs
Also known as retreat-based therapy or inpatient care, these programs are the most successful and safest method for your transformation. You will live on-site at the clinic. Medical staff will monitor your health and help you through the detoxification process. They may choose to medicate you for your comfort.
Bellevue Partial Hospitalization Programs
Partial hospitalization programs are similar to inpatient therapy. However, instead of living in the facility, patients are able to go home at night. In some cases, housing on campus is provided.
Bellevue Outpatient Treatment Programs
Outpatient treatment programs are the most convenient of the recovery programs. However, this convenience comes at the high price of temptation, enablers and the stresses of day to day life. Outpatient treatment programs are like retreat-based and partial hospitalization treatments because they each require individual and group cognitive behavioral therapy and a commitment to an aftercare fellowship.
The strength of realizing your need for help is an energy source that'll help you defeat this disease. Don't be afraid to take a few steps away from your life and turn your focus to healing. Retreat-based therapy is the most effective form of treatment because it alleviates access to your substance, removing both the daily triggers and the enablers. Put your responsibilities on pause so you can commit whole-heartedly to your transformation. For information on drug rehab in Bellevue, WA or alcohol rehab in Bellevue, WA please give us a call.
Bellevue Drug & Alcohol Detox Centers
Bellevue's location and proximity to Seattle gives patients almost too many choices for treatment. How do you narrow down your options? An important factor to keep in mind while you're strategizing your recovery plan is to know that a top-grade facility will inform you that detoxification is just one of the many steps to sobriety.
Detoxification can be intimidating, even dangerous if attempted without medical supervision. However, there has been a lot of progress within the field of treating withdrawal symptoms. Research of alcoholism and addiction has produced medications to ease the discomfort for the detox phase of your recovery. Ultimately, the clinic you choose needs to offer you recovery treatment from a diverse set of approaches including detox, individual and group counselling and an aftercare program. This journey will be an extensive one.
Consider a national facility for your transformation. Leaving behind the substances, enablers and stresses of your daily life and gift yourself with the time and space that are necessary in recovering from this illness. The award-winning Recovery Village is a national retreat-based clinic dedicated to helping Americans and their communities heal from the drug epidemic, by offering the vanguard of addiction treatments with comfortable amenities to soothe you during your change.
Recovery Meetings Near You in Bellevue
By far, aftercare is where you will spend the most time working on your sobriety. The importance of a commitment to aftercare is tantamount to sustaining your drug or alcohol abstinence. Fellowships like SMART Recovery and Narcotics Anonymous Meetings allow you to remain accountable to yourself and the group reinforcing your sobriety.
The admission of needing help is a leap forward to your new life, away from slavery of substance abuse. Use that realization to power you in your next step in this transformation. It may be wise to explore surrounding communities when you are seeking alcohol and drug treatment facilities in Bellevue, Washington.
Addiction Resources in Nearby Washington Cities
For those who are seeking alcohol and drug treatment facilities outside of Bellevue, Washington, there are also many drug rehab resources across the state of Washington: