Lakewood Drug & Alcohol Rehab, Detox & Treatment Resources
Addiction is a crisis that has swept across the nation, leaving broken individuals and families in its wake. Regardless of age, income, class, or race, residents of the smaller city of Lakewood faces this epidemic too. A local newspaper, "The News Tribune", reported recently that a paramedic was arrested for allegedly stealing fentanyl from ambulances.
The same newspaper states that heroin and prescription medication are the primary substances being misused with 6.5% Pierce County residents suffering from addiction. Although the stories throughout the country are alarming and heartbreaking, Lakewood is doing its part to combat the problem by offering treatment services by way of detox, outpatient, medication-assisted treatment, residential treatment and aftercare.
Our Closest Facility:
The Recovery Village Ridgefield Drug & Alcohol Rehab is just miles away from your doorstep. Our award winning facility is ready to tackle any substance abuse or addiction problem. Specializing in drug & alcohol treatment, learn more about why we're perfect to help you or a loved one.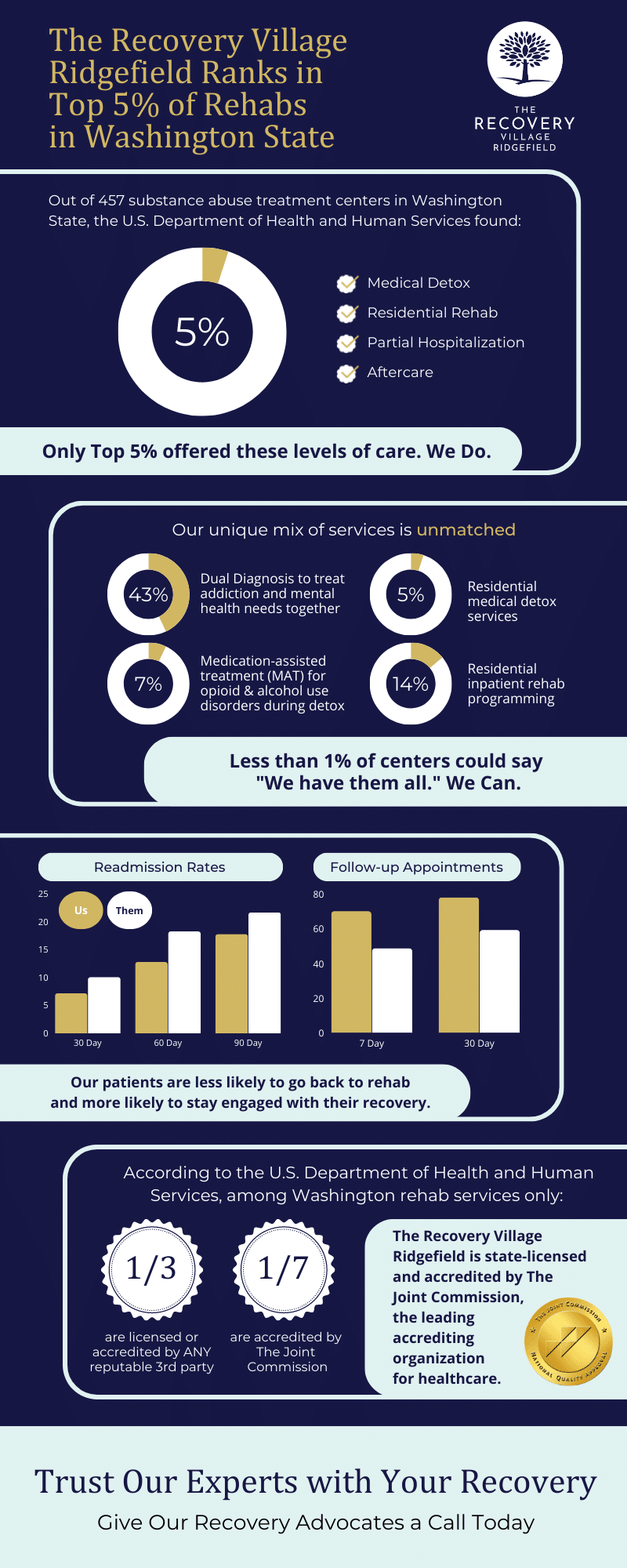 If you are in need of information about alcohol or drug rehab in Lakewood, Washington, help is available. Washington offers many excellent resources. This guide will take you through all of your options for recovery. Prefer to speak with someone about your options instead? Call The Recovery Village, where you can receive information about:
Lakewood alcohol rehab
Lakewood drug rehab
Lakewood drug detox
Lakewood alcohol detox
Lakewood drug treatment facilities
Lakewood alcohol treatment facilities
Inpatient drug rehab (Lakewood, WA)
Outpatient drug rehab (Lakewood, WA)
Finding Alcohol and Drug Rehab in Lakewood, WA
Lakewood, Washington Alcohol Rehab and Drug Rehab Centers
How can you know which treatment program you need? You need to look at your situation and ask yourself a few questions. Are you in need of detox? Are you dependent upon a substance that doesn't have many withdrawal symptoms like marijuana or hallucinogens? Or are you dependent upon a substance that has a painful withdrawal process like opioids or alcohol? Do you have a current stable and safe place to live? What is your history with addiction? All of these things will affect which treatment program you need.
Residential Treatment Programs
Residential treatment is designed for those suffering with a long-term or serious dependence. Residential is ideal for those who have relapsed several times or for those with an addiction to substances like opioids or benzodiazepines. In residential treatment, the patient lives at the center until treatment is finished and receives a vast array of medical, psychological, and supportive therapies and classes.
Partial Hospitalization Programs
Partial hospitalization is meant to be short-term. Many patients progress from residential treatment to a PHP, which is also sometimes called "dayhab". It is just like the residential program, but patients will go home at night.
Outpatient Treatment Programs
Offering a little more flexibility and freedom than the PHP, outpatient treatment programs only ask patients to be in the facility for therapy and other healing activities for 10 to 15 hours per week.
Many people elect to enroll in a treatment program at a national network of rehabilitation facilities like The Recovery Village because The Recovery Village gives you access to the highest quality amenities, the most experienced addiction specialists and healthcare professionals and the most effective aftercare plans to avoid relapse.
Detox Centers
If you are addicted to a substance like marijuana or cocaine, there are virtually no physical withdrawal symptoms. However, if you are addicted to a substance like opiates or benzodiazepines, there is a detoxification process you will need to go through before you can begin a treatment program. Many people choose to pursue this process at a Washington detox center where medical supervision is provided.
Others know that while detox is important, it is only one step of many that must be taken on a road to long-term recovery. Treatment programs are essential to your health and wellbeing. The Recovery Village and other national treatment centers offer detox programs as well as the inpatient, partial hospitalization or outpatient programs that you need to ensure you avoid relapse.
Recovery Meetings Near You
Recovery is a multi-layered journey. Finishing a recovery program can be life-affirming, but it is just the initial phase of recovery. Aftercare is as important as the steps that precede it. Aftercare services usually include recovery meetings like those of Alcoholics Anonymous, Narcotics Anonymous or SMART Recovery.
Washington is full of helpful resources for those who are seeking drug addiction treatment. When you are looking for drug or alcohol treatment facilities in Lakewood, Washington, it may also be smart to explore the resources in the surrounding cities. If you feel that a Lakewood drug rehab center or alcohol rehab center in Lakewood, WA, won't meet your needs, consider the options in the cities below:
Addiction Resources in Nearby Washington Cities
For those who are seeking alcohol and drug treatment facilities outside of Lakewood, Washington, there are also many drug rehab resources across the state of Washington: