Gig Harbor Drug & Alcohol Rehab, Detox & Treatment Resources
Gig Harbor is considered the gateway to the Olympic Peninsula and is a popular destination for visitors because of the towns' historic waterfront and neighboring state parks. Until 1940, Gig Harbor could only be reached with passage on a steamboat or through the difficult southern route circling Puget Sound and the Hammersly inlet. The town primarily relied on boat building, logging and commercial fishing industries for its subsistence. The town honors it's seafaring roots during the Maritime Gig Festival. Community members gather in the middle of the bay to perform the annual Blessing of the Fleet ceremony.
Gig Harbor and Pierce County aren't all eclectic shops and walks through emerald forests. There is an epidemic spreading through the heart of the Pacific Northwest, and it's destroying lives, families and entire communities. The disease is substance abuse.
Our Closest Facility:
The Recovery Village Ridgefield Drug & Alcohol Rehab is just miles away from your doorstep. Our award winning facility is ready to tackle any substance abuse or addiction problem. Specializing in drug & alcohol treatment, learn more about why we're perfect to help you or a loved one.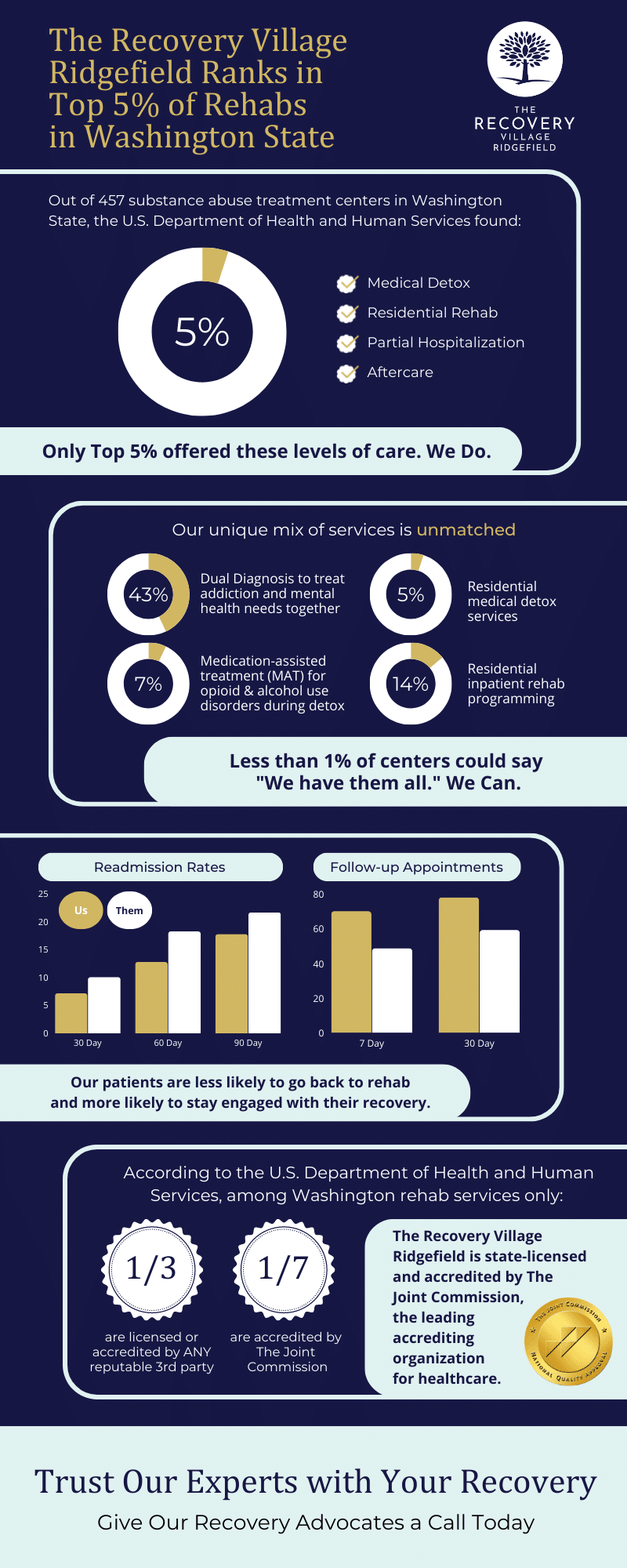 In December of 2016, two Gig Harbor men were arrested during a multi-state drug bust along with 19 others. Authorities believe the drugs were part of an organized crime syndicate transporting methamphetamine from Mexico and Arizona and along the coast into Washington. This two-year bust seized 44 pounds of methamphetamine, 50 guns and $50,000 in cash.
Those seeking drug addiction treatment in Gig Harbor, Washington have many options. This guide is a tool to help anyone struggling with this chronic condition. We will examine popular methods of treatment, medications and other resources available at a local and national level. If you would like to speak with someone about your options, call The Recovery Village to speak with someone who can give you information about:
Gig Harbor alcohol rehab
Gig Harbor drug rehab
Gig Harbor drug detox
Gig Harbor alcohol detox
Gig Harbor drug treatment facilities
Gig Harbor alcohol treatment facilities
Inpatient drug rehab (Gig Harbor, WA)
Outpatient drug rehab (Gig Harbor, WA)
Finding Alcohol and Drug Rehab in Gig Harbor, Washington
Alcohol and Drug Rehab Centers in Gig Harbor, WA
It's not easy admitting drug and alcohol misuse but once it is done, there's no returning to destructive behaviors without the tiny acknowledgement begging you to take the next step toward recovery. The following guide addresses the basic layout of most rehabilitation plans and provide a better idea of how to choose a program that's right for your individual circumstances:
Residential Treatment Programs
Residential treatment programs are also known as retreat-based therapy or inpatient treatment. During residential treatment, patients will go through the detox monitored by a medical and/or psychiatric team. Patients will remain on site throughout the length of the program. Inpatient treatment is the most successful approach of recovery. Stresses, temptations and distractions are removed in retreat-based therapy to allow the patients the space, time and the quiet necessary to complete this important transformation.
Partial Hospitalization Programs
Partial hospitalization programs share many attributes with residential programs. Patients remain on-site during their detoxification and then may return home once the toxins have been flushed from their system. Patients will be required to commute daily to the facility to complete treatment.
Outpatient Treatment Programs
Outpatient treatment programs are the most flexible methods for recovery. Patients commute to the clinic for medical and psychological treatment on a daily basis. Outpatient treatment programs are convenient in they allow for the patient to fulfil their family, career or education responsibilities. However, outpatient care is the most difficult path to rehabilitation because the clinics' staff cannot control the environment the patient is exposed to. Outpatient treatment programs approach the path to recovery as retreat-based and partial hospitalization do by asking patients to commit to detox, individual and group cognitive behavioral therapy.
Detox Centers
No one looks forward to detox. It can be uncomfortable, even dangerous without medical supervision. The days of the scary withdrawal symptoms are over. The psychiatric industry has made several innovations in the information surrounding addiction and how to alleviate the physical struggle so the patient can focus on healing mental and spiritual aspects of their recovery.
Quality programs will approach this disease from multiple perspectives and will host a plethora of treatments for the recovery from alcoholism and drug misuse. Detox is another big step toward sobriety, but it is just a step. Be cautious of any program whose only purpose is to aid the patient in detoxification. Substance dependency and alcoholism are symptoms. Recovery is discovering what they are symptoms of and finding healthy ways to cope.
Local resources may be convenient, but it's vital to consider how exposure to environmental factors will impact your recuperation. Access to preferred substances, stress, enabling influences and temptation all pose serious risk to recovery. National retreat-based facilities like the Recovery Village provide all the amenities needed for this positive transformation while employing industry leaders who are committed to advancements in the treatment of alcoholism and addiction.
Recovery Meetings Near You
Believe it or not, aftercare is where the individual will complete the majority of their recovery. Aftercare fellowships like Narcotics Anonymous and SMART Recovery hold the patient accountable for their long-term sobriety and are there to help the individual return to the path if they relapse. People who remain committed to an aftercare program are much more likely to sustain sobriety than a person who doesn't have a support system.
Alcoholism and drug misuse are serious conditions which require expert help and sometimes strong measures must be taken to aid the user in completing recovery. If you or someone you love is fighting against heroin, prescription opioids, methamphetamine, cocaine or benzodiazepines, it is best to consider a national rehabilitation facility that removes the constant barrage of temptations and stressful environmental factors which are triggers for alcohol or drug use. Consider a Washington drug rehab facility in one of the following cities:
Addiction Resources in Nearby Washington Cities
For those who are seeking alcohol and drug treatment facilities outside of Gig Harbor, Washington, there are also many drug rehab resources across the state of Washington: