Bothell Drug & Alcohol Rehab, Detox & Treatment Resources
Residents in the small town of Bothell, Washington have been struggling with drug and alcohol abuse for many years. According to an article in the "Bothell-Kenmore Reporter", heroin is high on the list of drugs being misused, and opioid-related overdose deaths are a major concern. The County Executive in King County, Dow Constantine, set up a task force to determine the best way to combat the heroin epidemic. Constantine's deputy director of communications, Chad Lewis, has this to say: "Right now you have people dying in the alleyways and streets and homes – living rooms – so it's an increasingly fatal epidemic, so that's the most urgent need, stopping the sharp increase in fatal overdoses."
Our Closest Facility:
The Recovery Village Ridgefield Drug & Alcohol Rehab is just miles away from your doorstep. Our award winning facility is ready to tackle any substance abuse or addiction problem. Specializing in drug & alcohol treatment, learn more about why we're perfect to help you or a loved one.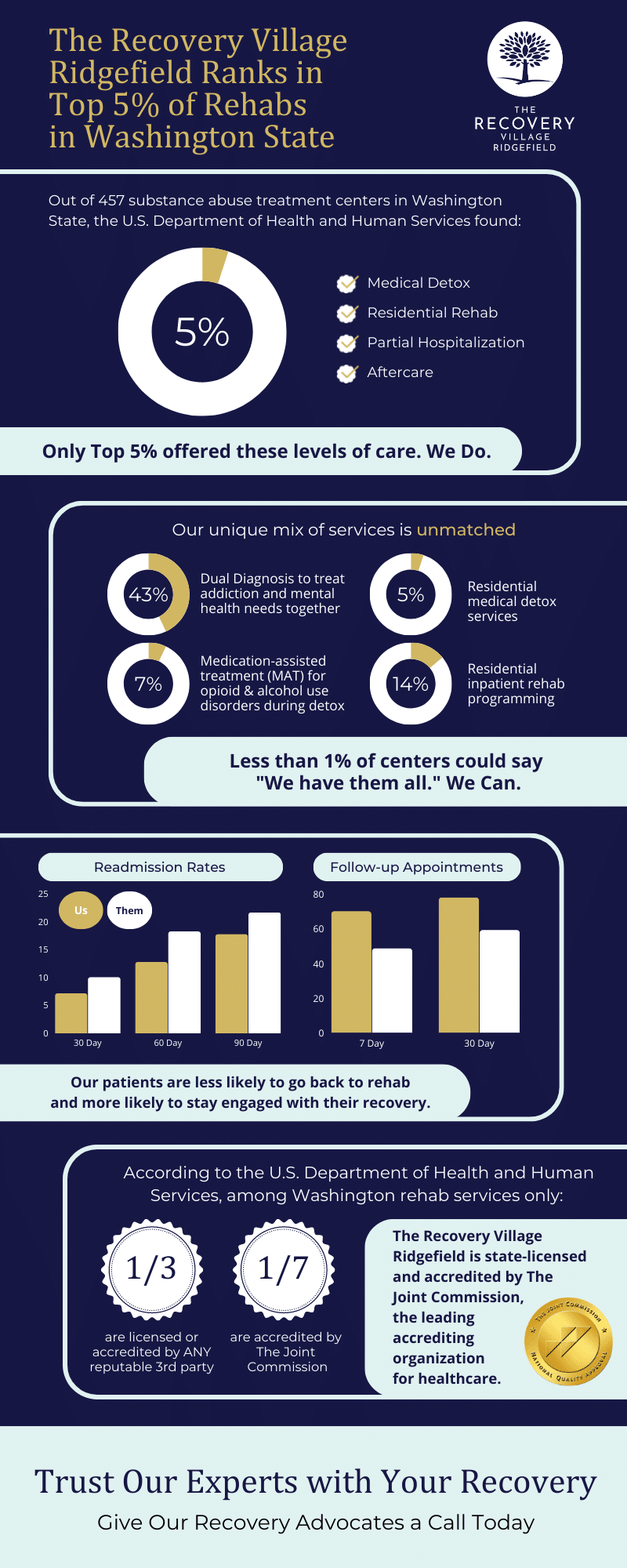 While Bothell works to curb substance abuse in its community, it also provides treatment by way of detox, outpatient, medication-assisted treatment (MAT), residential treatment and aftercare. If you are suffering from drug and/or alcohol addiction in the Bothell area, do not give up hope. There are addiction specialists who are dedicated to helping you overcome your drug and/or alcohol addiction. By calling The Recovery Village, you can speak with an intake coordinator who can give you information on:
Bothell drug treatment facilities
Bothell alcohol treatment facilities
Bothell drug rehab
Bothell alcohol rehab
Bothell drug detox
Bothell alcohol detox
Inpatient drug rehab (Bothell, WA)
Outpatient drug rehab (Bothell, WA)
Finding Alcohol and Drug Rehab in Bothell, Washington
Drug & Alcohol Rehab Centers in Bothell, WA
The nationwide opioid epidemic has taken its toll on far too many people. Residents of Bothell, Washington are no strangers to the problem and have seen it first hand. There is good news, however, for people who are seeking drug addiction treatment in the city of Bothell, Washington. Currently there are more than 100 facilities offering treatment of drugs and/or alcohol. When faced with such a vast number of choices, it can be confusing to know which will work out best for you. When taking a look at treatment options for drug or alcohol dependency, every facility will most likely fall within the following categories:
Residential Treatment Programs
This type of program is administered on an inpatient basis. A residential treatment program is a structured environment where patients can break their normal routine. Some patients begin at such a facility for detox and then stay while they receive a medication-assisted treatment or MAT. Along with medical intervention, patients also receive psychological counseling and group therapy. This can be the best option for some patients with serious challenges with addiction. Patients are carefully monitored 24/7 by medical staff and stay between 30 to 90 days.
Partial Hospitalization Programs
For those patients who have family and work commitments, partial hospitalization can be the ideal solution. PHP treatment usually lasts for 4 to 6 weeks and is regarded as one step down from residential treatment therapy. Patients stay at the facility for approximately 7 to 8 hours each day or they may opt for an occasional overnight stay if they or their doctor feels that it is necessary.
Outpatient Treatment Programs
This type of treatment program can be ideal for those patients who have only a mild addiction. Outpatient treatment is both flexible and discreet and allows patients to stay in their own home at night. While such an arrangement can be very beneficial for those who have families or other commitments, it isn't for everyone. In order to be successful, it is recommended that patients who choose outpatient therapy have already gone through detox or sought treatment through a residential and or PHP treatment if necessary.
There is an additional option for patients to consider when seeking treatment. Many find it beneficial to go to a facility that is located outside of their own immediate area or even outside of the state. Some national treatment facilities like The Recovery Village can give patients the kind of treatment they need by offering the widest range of treatment options and resources.
Detox Centers
Detoxification is an important step that you have to go through when treating an alcohol or drug addiction. If you are dependent upon certain substances like alcohol or benzodiazepines, you may have a more involved detox process. Withdrawal symptoms can be severe, and it can be dangerous or even deadly to detox on your own. This is why many people choose to seek the assistance available at a detox center.
While detox centers can be beneficial, they do not offer treatment programs in which the psychological and emotional work of recovery is done. This is why your best option is a national network of rehabilitation centers like The Recovery Village where you can go through medically supervised detox and then go straight into a residential treatment program where the real work will begin.
Recovery Meetings Near You
Help can be found for both patients and their loved ones through support groups throughout the city of Bothell. These groups offer self-empowerment and coping skills and an atmosphere where discussion and moral support are freely given. Many patients, their families, friends and colleagues have found such groups essential when dealing with issues of drug or alcohol dependency.
There are many treatment centers available to the residents of Bothell, Washington, but sometimes the most comprehensive recovery programs are found outside of the city. If you don't think an alcohol or drug rehab in Beverett, WA, would be the best fit for you, consider seeking Washington addiction treatment in the surrounding communities:
Addiction Resources in Nearby Washington Cities
For those who are seeking alcohol and drug treatment facilities outside of Bothell, Washington, there are also many drug rehab resources across the state of Washington: