Maple Valley, Washington is located in King County, and it's about an hour drive to Seattle. The city, as with most of King County, has been hard hit by substance abuse, including the opioid epidemic.
In May 2018, two reports were released that showed the drug trends in King County. One report was the 2017 Drug Use Trends Report in Kings County, published yearly by the University of Washington Alcohol and Drug Abuse Institute. This study showed that while cocaine use was on the decline, heroin and other opioid use was up.
The other relevant study was the Overdose Death Report. This data showed deaths from drug- and alcohol-related causes have been going up, with 52 percent of overdose deaths in the county involving opioids.
It's important for anyone impacted by substance misuse, whether it involves drugs or alcohol, to know there are local, state and national resources accessible to them.
Our Closest Facility:
The Recovery Village Ridgefield Drug & Alcohol Rehab is just miles away from your doorstep. Our award winning facility is ready to tackle any substance abuse or addiction problem. Specializing in drug & alcohol treatment, learn more about why we're perfect to help you or a loved one.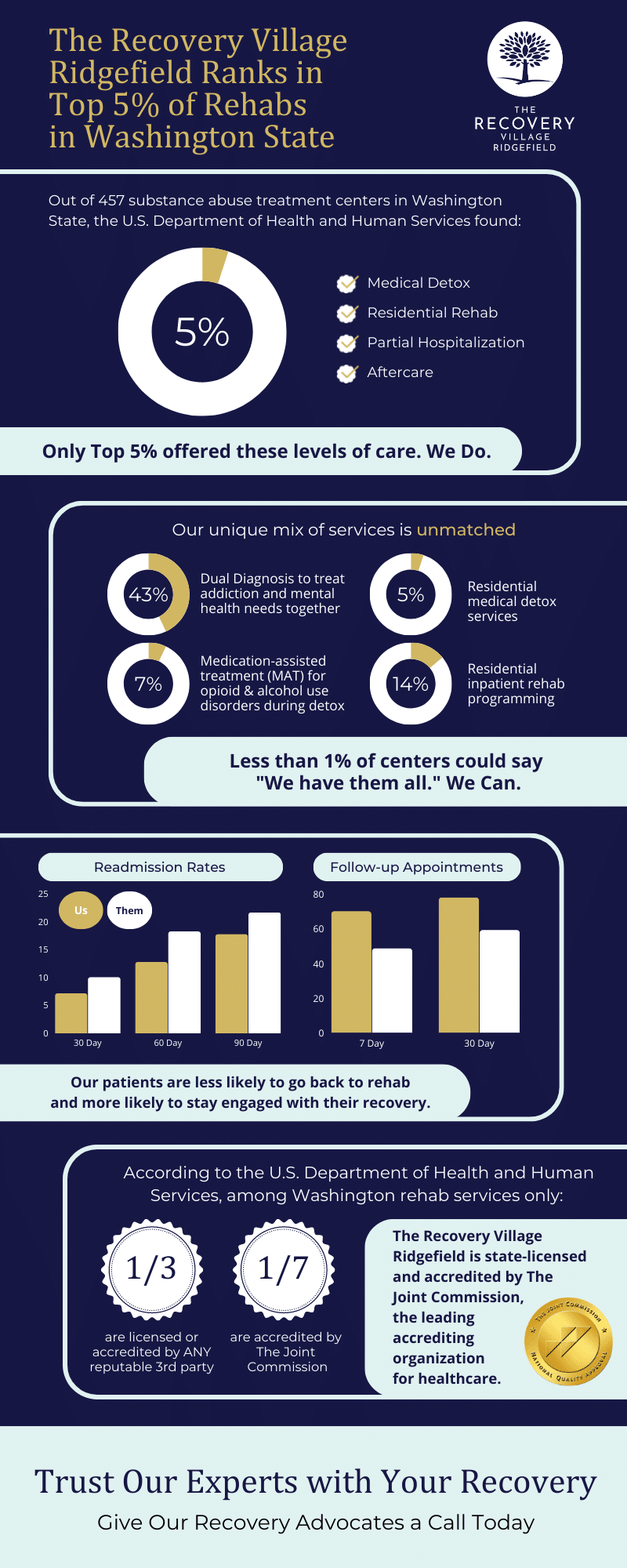 Maple Valley Drug and Alcohol Rehabilitation and Treatment
Drug and alcohol detox and rehab programs are available near Maple Valley, as well as throughout the state of Washington. Drug and alcohol rehab programs include:
Detox
Inpatient treatment
Partial hospitalization
Outpatient care
Aftercare
There are also recovery resources in Maple Valley like 12-step meetings.
Drug and Alcohol Detox Programs and Treatment Centers in Maple Valley, WA
There are a total of 25 substance abuse treatment programs in the nearby Seattle area. These programs include detox as well as inpatient, partial hospitalization and outpatient programs. Detox is a process in which a patient can receive supervised medical care as they go through symptoms of withdrawal. Then, once someone has fully detoxed, they may transition to the rest of their treatment program. Some of the general requirements to look for in drug and alcohol detox and treatment include evidence-based care, comfort, privacy and compassionate staff members.
Maple Valley Residential Treatment Programs
There are currently three hospital inpatient programs in Seattle. There are two residential rehab programs. The Recovery Village Ridgefield also offers residential rehab programs for people from Washington State, as well as from around the country.
For many people, the first step in their recovery journey is inpatient detox followed by a stay in a residential facility. A residential treatment program offers many advantages, particularly in early recovery. Residential or inpatient treatment programs offer stability, support and supervision. These programs are staffed by both physical and mental health care professionals, and treatment is intended to be holistic and comprehensive.
Maple Valley Partial Hospitalization Programs
Partial hospitalization or day treatment program is similar to residential rehab as well as outpatient treatment. Partial hospitalization or day treatment is intensive but, in some cases, participants may be able to leave treatment in the evenings and return home or to a sober living facility.
Although there are currently no partial hospitalization program options in Maple Valley, programs exist throughout the state. The Recovery Village in Ridgefield offers partial hospitalization programs in Washington State.
Maple Valley Outpatient Treatment Programs
Outpatient treatment programs are flexible and don't require participants to live at the treatment facility. Some people may begin their treatment with outpatient rehab, especially if they can't leave school or work or if they do not require intensive care. Other people may start with a higher level of care, such as residential rehab and then gradually move into outpatient treatment when they're ready.
There is one outpatient detox program not in Monroe, but the Seattle area, and there are 11 other outpatient treatment clinics.
The Recovery Village Ridgefield offers individualized outpatient drug treatment and alcohol treatment as well.
Sober Living and Rehab Aftercare Programs in Maple Valley, WA
Relapse rates, even after comprehensive addiction treatment, can be high, which emphasizes the importance of aftercare planning and programs after someone completes a rehab program. The first year in recovery can be the most challenging. Having adequate aftercare and continuing care plans in place can significantly reduce the risk of relapse.
Of the Seattle-area addiction treatment programs that are available, the majority offer some type of aftercare or discharge planning, including The Recovery Village Ridgefield.
There are different formats aftercare can take. Some people move into sober living homes after completing rehab. For other people, drug rehab aftercare programs may include group or individual therapy or participating in 12-step programs. There are also rehab alumni programs available to help people in recovery stay connected and supported.
Specialized Treatment Programs in Maple Valley, WA
There are specialized addiction treatment programs near Maple Valley in Seattle. While there aren't currently specialized treatment programs in Maple Valley, there are options in the Seattle metro area. These include:
12 addiction treatment programs for people with co-occurring substance abuse and mental health disorders
One Seattle-area program for LGBTQ people
One program in the Seattle metro offers rehab for veterans
Six Seattle rehab programs for people referred from the criminal justice system or courts
Two programs in and around Seattle geared toward people who have experienced sexual abuse
Five Seattle rehab programs that specialize in care for people who are victims of trauma
Rehab programs for teens in and around Seattle
Five Seattle rehabs specifically care for pregnant and postpartum women
What Is the Process Like in a Drug Detox and Rehab Facility?
The treatment process in a drug detox and rehab facility will usually begin with an in-depth intake experience. A person may be assessed by mental and physical health care providers, and then an individualized treatment plan can be initiated.
Once the intake is complete, most people will move into medical detox. During detox, a patient can be provided with any necessary medications or other medical interventions as their body gets rid of harmful substances.
Once someone completes detox, they transition to further treatment including inpatient and outpatient care. This will often include group and individual therapy, and supplemental and recreational activities.
After a patient completes the initial stages of their acute addiction treatment program, including inpatient rehab, partial hospitalization or intensive outpatient programs, aftercare planning begins.
Learn more about the rehab process from The Recovery Village.
Finding the Best Rehab Program for You
How do you know what the right rehab program is for you or your loved one? There are specific factors to consider as you explore how to find the best rehab center or how to compare rehab centers to one another. Some of the considerations to keep in mind when comparing and selecting treatment programs include:
Whether or not you also have mental health concerns that need to be treated
Any preference for gender-specific treatment
An ability (or willingness) to travel for rehab
The specific type of drug or alcohol addiction you face, as well as individual factors like how long you have struggled with addiction
As you narrow down your rehab options, think about looking for centers that:
Are accredited
Have a full-time staff including mental and physical health care professionals
Include co-occurring mental health treatment
Focus on aftercare planning and relapse prevention
What Questions Should You Ask When Considering a Treatment Program?
Certain questions can serve as a basis of comparison when choosing an addiction treatment program.
How Long Are Programs, Typically?
How long a rehab program might be varies greatly and depends on the person and the treatment center. The time someone spends in treatment can range from 28 days up to several months or more. While you may need a formal intake assessment to determine the length of your program, admissions counselors may be able to provide you with an estimate.
What's Included in Your Treatment Programs?
Rehab programs can vary based on what's included. For example, not all rehab and addiction treatment programs include medical detox, although many do. Some programs may cover certain forms of therapy, but not others. There are also programs that offer additional treatments or amenities at an additional cost.
Is Insurance Accepted?
Many addiction treatment centers near Maple Valley and elsewhere will accept private insurance. Insurers typically offer coverage for mental health care and addiction treatment that's similar to what they offer for physical conditions. Look for rehab centers that are in-network with your insurance provider, if possible, to lower the out-of-pocket costs.
What's Your Approach to Treating Addiction?
A good addiction treatment program will often include a combination of different types of therapy. For example, treatment may include group therapy and individual therapy, 12-step programs and recreational therapy to treat the physical and emotional needs of patients. A high-quality addiction treatment program takes into consideration that a person is more than their addiction, and their treatment should reflect that.
For more questions and answers about rehab, view frequently asked questions about rehab with The Recovery Village.
Exploring Treatment Options Near Maple Valley, Washington
One of the many decisions someone has to make if they're thinking about professional substance abuse treatment is whether they will receive treatment close to home or if they will travel elsewhere. While staying close to home can feel comfortable and keep you near your support system, there are benefits of traveling for rehab.
These benefits might include:
You can feel truly anonymous as you receive care
You leave behind factors that are part of your environment of active addiction
You can focus more on treatment when you're in a new place
Additional Addiction and Rehabilitation Resources in Maple Valley
Along with rehab centers in Seattle and nearby Ridgefield, there are also other addiction resources in Maple Valley. These resources may include support groups as well as local nonprofits that might be able to assist someone who is struggling with substance abuse.
Recovery Meetings Near You in Maple Valley, WA
One of the most important factors someone can have when they're in recovery is social support. Recovery meetings offer ongoing social support. Typically, 12-step programs are the most common recovery meetings people participate in, but there are alternatives as well.
If you are struggling with a crisis, the Crisis Text Line at 74147 can help no matter where you are located in the U.S.
The Recovery Village Ridgefield is also available if you have questions or concerns about drug or alcohol abuse at (844) 297-5872.
City of Maple Valley, WA
Maple Valley, Washington has an estimated population of 25,760 people. Located in King County, Maple Valley is located on Cedar River as well as other bodies of water including Lake Wilderness and Lake Lucerne. The location of Maple Valley is 47.3733° N, 122.0369° W. The nearest major commercial airport is the Seattle-Tacoma International Airport.
Addiction Resources in Nearby Washington Cities
For those who are seeking alcohol and drug treatment facilities outside of Maple Valley, Washington, there are also many drug rehab resources across the state of Washington: