The city of Moses Lake, Washington, is in Grant County. Moses Lake is the largest body of freshwater in Grant County. The lake includes more than 120 miles of shoreline over 6,500 acres.
For people who live in Grant County, drugs and alcohol may be problems they struggle with or someone they love could be dealing with substance abuse. For example, among adults aged 18 and older in Grant County, 14% reported binge drinking in the past 30 days, according to the Grant County Chronic Disease and Risk Factor Profile.
Grant County and Moses Lake, WA drug and alcohol rehab detox and recovery resources are available. Resources are available within Grant County, throughout the state of Washington and also nationwide.
Moses Lake Drug and Alcohol Rehabilitation and Treatment
For someone with a substance abuse problem, different treatment programs are available. Finding the right rehab can make a significant difference in treatment outcomes. Also, many people will go through several steps in a treatment program called a continuum of care, rather than just doing one type of treatment.
As an example, someone's continuum of care might include a supervised detox followed by a stay in an inpatient rehab center. Then, once someone completes their stay in residential treatment, they might transition to a lower level of care.
Drug and Alcohol Detox Programs and Treatment Centers in Moses Lake
Within 100 miles of Moses Lake, there are currently 87 substance abuse treatment programs. These include non-profit programs, residential and outpatient treatment, and detox programs.
Within 50 miles of Moses Lake, there are currently only two programs offering substance abuse treatment. The Recovery Village Ridgefield is also a Washington state substance abuse treatment program available to people who live in Moses Lake.
Moses Lake, WA Residential Treatment Programs
During residential treatment, which is also called inpatient alcohol rehab or drug addiction treatment, patients check into a facility and stay there overnight. During a residential treatment program, participants do therapy throughout the day. This therapy is often in a group setting, but individualized sessions are part of that as well.
Residential treatment programs may include on-site detox, as well as nutritious meals and recreational therapy such as yoga and meditation.
Many people travel for residential rehab or to go to an inpatient rehab facility, although that doesn't have to be the case.
There aren't currently any residential treatment programs within 50 miles of Moses Lake, but there are 28 inpatient programs within 100 miles. The Recovery Village Ridgefield also offers residential treatment programs.
Moses Lake Partial Hospitalization Programs
Partial hospitalization programs (PHPs) may be a good fit for someone who has gone through detox already, has a stable home environment and is likely to be able to participate in treatment and also improve. Partial hospitalization programs often have many of the same elements of an inpatient treatment program, but participants can return home in the evenings, depending on the facility's requirements.
Along with The Recovery Village Ridgefield, other PHPs are located in Washington state. Within 100 miles of Moses Lake, there are six treatment programs with partial hospitalization including in Wenatchee, Kennewick, and Yakima.
Moses Lake Outpatient Treatment Programs
During outpatient rehab, a participant in the program can go to the treatment center a few times a week and then live at home and continue their daily life. Outpatient drug treatment or alcohol treatment may include one-on-one counseling, medication management, relapse prevention and sometimes group and family therapy as well.
Two outpatient treatment programs are within 50 miles of Moses Lake, including one in Moses Lake and one in Othello. Currently, 64 outpatient programs are available within 100 miles of Moses Lake. The Recovery Village Ridgefield offers individualized outpatient programs, including intensive outpatient programs.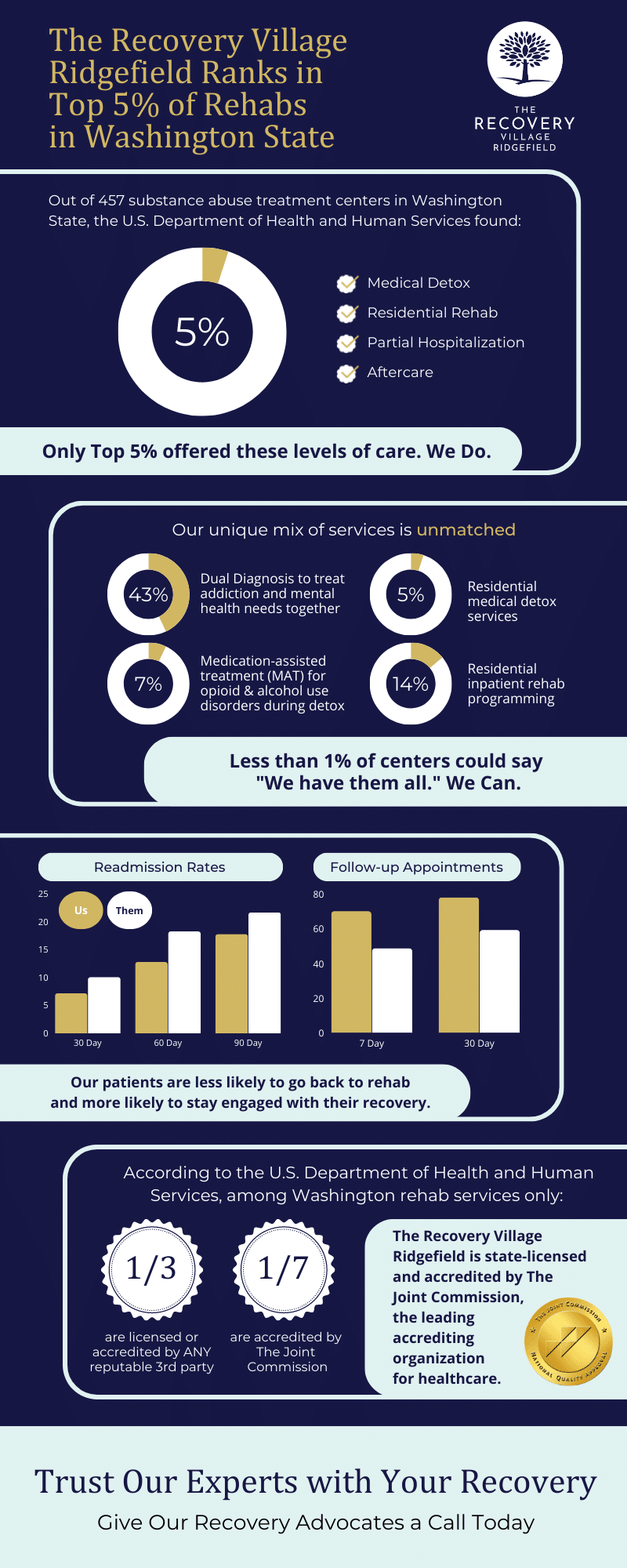 Sober Living and Rehab Aftercare Programs in Moses Lake
Aftercare is one of the most important parts of rehab. Aftercare occurs after someone completes treatment and transition back to daily life and society. Aftercare services should be integrated into someone's treatment plan, and may include:
Sober living homes and transitional housing
Participation in therapy at aftercare facilities and drug rehab aftercare programs
Rehab alumni programs
Individual counseling with a local therapist
Specialized Treatment Programs in Moses Lake
Specialized treatment programs may be the right option for some people who seek treatment for substance abuse.
Specialized treatment programs near Moses Lake currently include:
11 programs within 100 miles of Moses Lake offer rehab for veterans
Within 100 miles of Moses Lake, there are ten substance abuse programs with rehab for veterans including in Richland, Ellensburg, and Yakima, and six programs offer programs for active duty military members
One program within 50 miles of Moses Lake works specifically with women, and within 100 miles there are 40 women's rehab centers
18 substance abuse programs within 100 miles of Moses Lake include rehab for pregnant women
Within 100 miles of Moses Lake, there are 25 substance abuse programs for adolescents and options for rehab for teens
What Is the Process Like in a Drug Detox and Rehab Facility?
When someone receives treatment for a substance use disorder, their program should be very individualized to their unique needs.
With that being said, there are four parts of the drug treatment process that frequently occur.
First, there is an assessment from a team of professionals. This team will likely include doctors, therapists and support staff from the treatment center. This assessment is what a person's individualized treatment plan is based on.
Following the intake assessment, for many people, the next step is medical detoxification. During detox, a person's symptoms of drug or alcohol withdrawal are monitored and if necessary, treated. Once someone completes detox they can transition into their rehab program.
Finally, aftercare planning is part of the drug treatment process, as well.
Find out more about what to expect during a substance abuse treatment program on this page from The Recovery Village.
Finding the Best Rehab Program for You
Based on currently available research and evidence, staying in treatment for an adequate amount of time is one of the biggest indicators of successful long-term recovery. To complete treatment, it's important for someone to find a program well-matched to their needs and one in which they feel comfortable.
Factors to think about when comparing the best drug rehab centers are:
How long do programs last? Residential treatment programs can be short- or long-term, and someone with severe addiction may be best suited to a longer program.
What is the role of aftercare planning and how is follow-up handled once someone completes treatment?
Would you feel more comfortable in a specialized treatment program, such as a single-gender rehab?
Is family therapy included in treatment?
Do you have a co-occurring mental health disorder and if so, do the treatment programs you're considering offer dual-diagnosis care?
What Questions Should You Ask When Considering a Treatment Program?
Along with thinking about what will personally be the best fit for you, you should also look at the overall quality of care provided by a treatment center. Questions to ask when comparing rehab centers include:
Exploring Treatment Options Near Moses Lake
Should you travel for rehab, or should you stay close to home? It's a big question, and the right answer won't be the same for every person. If you're going to participate in an outpatient program or partial hospitalization, you will likely choose drug abuse treatment near Moses Lake because those programs usually let you return home each day.
If you're going to be participating in inpatient rehab, you may stay in Washington, or you might travel out of state.
If you travel out of state, you'll have more program options available to you, and you'll be less likely to leave early. You'll also have a sense of physical separation from the environment of your substance abuse. A lot of people find that separation, mentally and physically, helps them focus on recovery in the early days.
On the other hand, if you stay near Moses Lake, your family and loved ones may be able to participate in your treatment. You won't have to worry about traveling, which can be difficult when you're in a fragile state-of-mind already. Also, your insurance may only cover the treatment you receive in-state.
Additional Addiction and Rehabilitation Resources in Moses Lake
Beyond rehab centers near Moses Lake and throughout Washington and the nation, there are other addiction and rehabilitation resources available. These include recovery meetings and support groups, non-profit organizations and local government resources that work to help people with mental health and substance abuse issues.
Recovery Meetings Near You in Moses Lake
Recovery meetings and support group participation is often part of people's relapse prevention plan for long after they leave treatment. There's a reason for this. These social support groups have been proven to help improve the likelihood of successful long-term recovery, in large part thanks to the connections people can form in these groups.
Participation in recovery meetings can also help people develop healthy coping mechanisms and ensure they maintain the motivation to continue their recovery.
Non-Profit Organizations in Moses Lake, WA
Local organizations including non-profit groups and local government organizations can be helpful to someone who lives in Moses Lake and is struggling with substance abuse or mental health issues.
Moses Lake Substance Abuse Hotlines
As well as rehab centers and non-profit organizations, there are crisis lines, substance abuse helplines and mental health hotlines available to people in Moses Lake. If you are in a situation where you have questions about substance abuse or addiction treatment and it's not an emergency, you can also call The Recovery Village Ridgefield at any time.
The Town of Moses Lake, WA
Moses Lake, Washington, is in the central part of the state, and it's the largest city in Grant County. Some of the popular community events in Moses Lake include the Spring Festival, held each Memorial Day weekend, as well as the Moses Lake Water Sports Festival. The Moses Lake Sand Dunes are a big draw from people from around the world as well. The closest major airport is Pangborn Memorial Airport. Moses Lake is located at 47.1301° N, 119.2781° W.
Addiction Resources in Nearby Washington Cities
For those who are seeking alcohol and drug treatment facilities outside of Moses Lake, Washington, there are also many drug rehab resources across the state of Washington:
Medical Disclaimer
The Recovery Village aims to improve the quality of life for people struggling with substance use or mental health disorder with fact-based content about the nature of behavioral health conditions, treatment options and their related outcomes. We publish material that is researched, cited, edited and reviewed by licensed medical professionals. The information we provide is not intended to be a substitute for professional medical advice, diagnosis or treatment. It should not be used in place of the advice of your physician or other qualified healthcare providers.
Reach out now
We can help answer your questions and talk through any concerns.