Port Orchard, Washington, is located in Kitsap County. As with many other cities and counties in Washington state, there is a push to reduce drug- and alcohol-related deaths and help people get substance abuse treatment when necessary.
In 2017, there were 742 overdose deaths linked to opioids in Washington state. The greatest increase in opioid deaths was related to heroin, and there was also an increase related to synthetic opioids like fentanyl.
Teen substance abuse is more problematic in Washington state than other states, too. For example, according to the 2016 Healthy Youth Survey, 20% of tenth-grade students in Washington reported using alcohol and 17% reported using marijuana.
People who struggle with substance abuse in Port Orchard or anywhere in Washington may feel hopeless, but rehab resources are available. There are addiction treatment specialists and programs in Washington that can help you or someone you love.
Our Closest Facility:
The Recovery Village Ridgefield Drug & Alcohol Rehab is just miles away from your doorstep. Our award winning facility is ready to tackle any substance abuse or addiction problem. Specializing in drug & alcohol treatment, learn more about why we're perfect to help you or a loved one.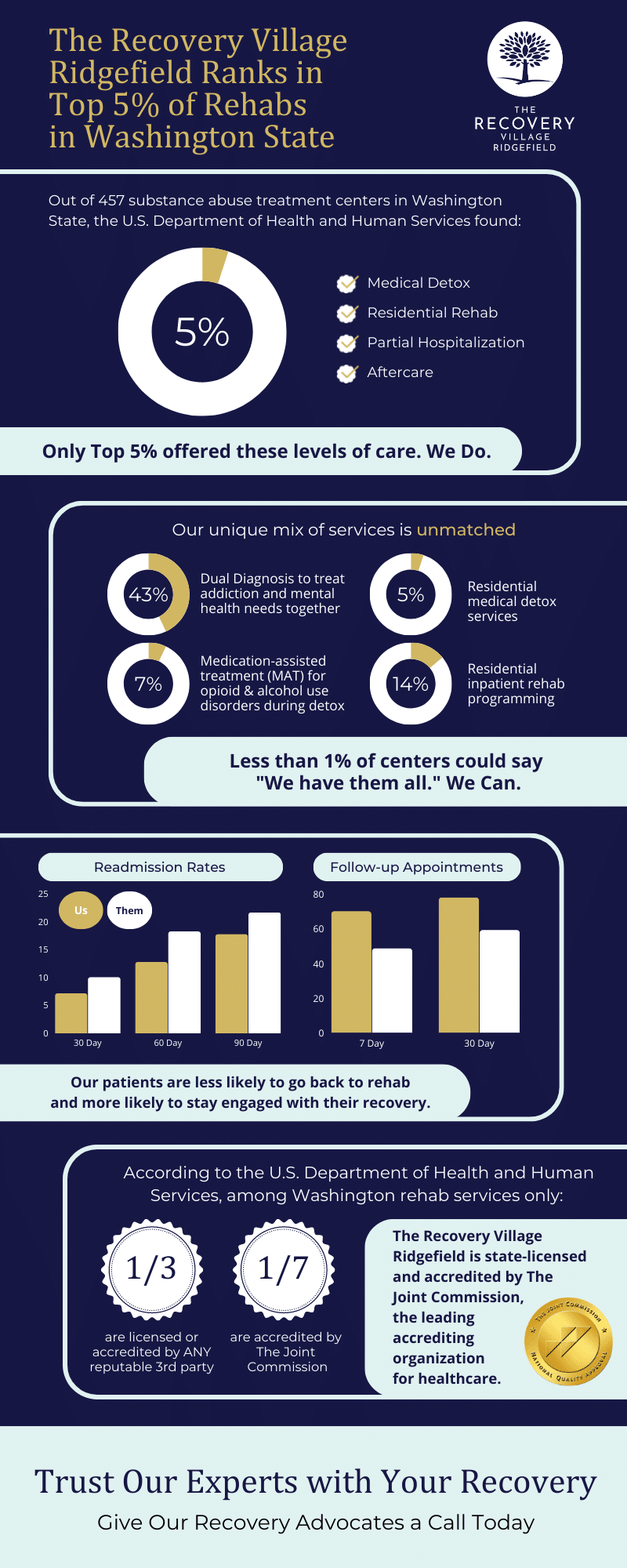 Port Orchard Drug and Alcohol Rehabilitation and Treatment
For people in Port Orchard, there are a variety of drug and alcohol rehabilitation and treatment programs available in the surrounding areas. These options may include:
Residential (inpatient) programs
Outpatient treatment
12-step support groups
Many other options
By knowing which drug and alcohol treatment resources are available, someone can make a decision that will benefit their quality of life. This helpful article from The Recovery Village can offer more insight on how to choose a rehab facility.
Drug and Alcohol Detox Programs and Treatment Centers in Port Orchard, Washington
During the detox phase of treatment for drug or alcohol addiction, people can cleanse their bodies of all harmful substances and all drugs. Detox helps lay the foundation for further treatment and gives people a fresh start to recovery.
There are several drug and alcohol detox programs and centers near Port Orchard, including The Recovery Village Ridgefield Detox Center. Some people also benefit from opting for a treatment program outside of their hometown, which allows them to remove themselves from their environment of active addiction as they begin treatment.
Port Orchard Residential Treatment Programs
While there aren't residential treatment programs in Port Orchard currently, there are options nearby in other areas of Washington. For example, there are two residential treatment centers in or near Seattle. Also, a relatively short drive from Port Orchard is The Recovery Village Ridgefield, which offers residential treatment programs.
A residential treatment program is also called inpatient rehab. During a residential program, the person receiving addiction treatment checks into a facility, where they stay for some time. The length of time someone spends in a residential facility can vary because everyone's treatment plans are unique.
When someone participates in a residential treatment program, there is complete support and supervision. The structure of an inpatient alcohol rehab or an inpatient drug addiction treatment program can help reduce chaos and create stability, which is important in the early days of treatment.
An inpatient rehab facility can be simple with few amenities, or it can be luxurious and resort-like. Regardless of the amenities, what's most important when it comes to choosing a residential facility is that it provides high-quality, evidence-based treatment on an individualized level.
Port Orchard Partial Hospitalization Programs
While there aren't Port Orchard partial hospitalization programs at the moment, there are options nearby, including the program offered by The Recovery Village Ridgefield.
A partial hospitalization program, or PHP, is an option for someone who requires intensive treatment and perhaps psychiatric care and medication management. Someone in a PHP will attend treatment all day for a set amount of time and then, depending on the center, will either reside on-site or return home at the end of the day. Some people participating in these programs may live in a sober living house during this time.
Some PHPs do have participants live onsite, however, but they may be in a lower level of care during this time than they were in a residential treatment program.
Port Orchard Outpatient Treatment Programs
Outpatient drug treatment programs offer a less intensive option either for a patient who has already completed a higher level of treatment, or someone who may have a less severe substance use disorder.
While there aren't Port Orchard outpatient treatment programs currently, there is one outpatient detox program in nearby Seattle. There are also 11 other outpatient treatment programs in or near Seattle. The Recovery Village also offers outpatient treatment programs at The Recovery Village Ridgefield.
Someone participating in an outpatient treatment program can often continue their daily life and commute to a treatment center several times per week for daytime treatment. If someone participates in an intensive outpatient program (IOP), they will usually go to the treatment center several times a week, or they may live on site, in some cases.
Sober Living and Rehab Aftercare Programs in Port Orchard, WA
Drug rehab aftercare programs may be as simple as participation in a support group or ongoing individualized therapy. Many people also choose to participate in rehab alumni programs to stay connected to a support system.
Currently, there are 24 programs in the Seattle area that offer aftercare or continuing care as part of their substance abuse treatment programs. The Recovery Village Ridgefield also offers aftercare programs through their facility.
Someone's treatment journey can be much longer than inpatient or outpatient rehab. As part of a full, individualized treatment plan, there should be considerations for aftercare as well. Also called continuing care, aftercare planning can include follow-up appointments with doctors and counselors and also offer recommendations for living options. For example, someone may move into a sober living house or aftercare facilities after completing inpatient rehab.
Sober living homes can allow someone to transition back to daily life while still maintaining a sense of support and accountability.
Specialized Treatment Programs in Port Orchard, WA
Specialized treatment programs for addiction are geared toward a population of people and their unique treatment needs. Some types of specialized addiction treatment programs include:
Rehab for veterans: Kitsap Recovery Center in Port Orchard accepts veterans, along with facilities in Sheridan, Erlands Point-Kitsap Lake and many other facilities in the Seattle area.
Rehab for the LGBT community: There are 27 facilities near Port Orchard that offer treatment for members for the LGBTQ+ community, with the closest location in Bremerton. In nearby Seattle, there is one specialized LGBT treatment center.
Rehab for pregnant women: There are 33 facilities offering treatment for pregnant and postpartum women near Port Orchard, with the closest locations in Bremerton.
Rehab for PTSD: There are 36 mental health facilities in Seattle and the surrounding areas that offer treatment for post-traumatic stress disorder (PTSD).
Women's rehab centers: More than 65 rehab centers in the Port Orchard and surrounding areas offer programs for adult women.
Rehab for teens: Approximately 20 facilities offer programs for adolescents and transitional age adults in the Seattle area.
Our programs available through The Recovery Village Ridgefield are also highly tailored to the needs of the individual and can work well for someone with specialized requirements.
What Is the Process Like in a Drug Detox and Rehab Facility?
Many people feel apprehensive about receiving treatment for drug or alcohol addiction because they're unsure of what to expect. While there are different levels of care and everyone's treatment journey is unique, there are some overall factors that remain the same among most rehab programs.
Many people will begin rehab with medical detox, which allows them to safely go through withdrawal. Even before that, however, people will meet with staff who work at the treatment center. They will learn more about each client's personal and medical history to create a personalized treatment plan. Clients will undergo a physical and mental health evaluation, and if necessary, their treatment plan may include medication.
After detox care, a person will likely transition to residential care, then a PHP or IOP, and then they may go to outpatient, if necessary. Each client usually leaves rehab with a well-rounded aftercare plan to assist them in their next steps in recovery.
To learn more about the rehab process, visit this informational page from The Recovery Village.
Finding the Best Rehab Program for You
There are many factors to consider as you explore how to find the best rehab center. What might work well for one person in terms of the best drug rehab centers won't necessarily work for everyone.
When you're narrowing down your options for treatment, consider centers that:
Are accredited
Have good online reviews
Work with your health insurance
Have full-time medical staff
Offer a variety of programs
Offer counseling for co-occurring mental health conditions
What Questions Should You Ask When Considering a Treatment Program?
The following are a few of the questions to ask when you're exploring different treatment facilities.
What Is the Basis of the Treatment Programs?
Addiction treatment programs might vary at least slightly in terms of how treatment is approached. For example, at The Recovery Village Ridgefield, substance use disorders are treated as a medical disorder. Treatment can include cognitive behavioral therapy, recreational therapy, 12-step programs and a variety of other unique approaches combined into one program for the best possible outcomes.
What Is the Admissions Process Like?
Determine what admissions might look like at the centers you're considering. At The Recovery Village, the first step in the admissions process is usually a phone conversation with either the person who will receive treatment or their loved one. These calls are confidential and can help decide whether our treatment program is right for you.
Is Insurance Accepted?
Private insurance will often cover some or all of the costs of addiction treatment. Under the Affordable Care Act, insurers on the exchanges are required to provide coverage that's similar to what's provided for physical health conditions. Most facilities can contact your insurance company to determine the coverage available to you and what you might need to pay out-of-pocket.
If you don't have insurance or your insurance won't cover the costs of addiction treatment, some facilities also work with you to create payment plans that will work for your needs.
What Services Are Offered?
The level of care and services you need are dependent on your addiction, and your mental and physical health. Specific services you might look for as you compare addiction treatment centers include whether medical detox is available and the types of inpatient programs, as well as what levels of aftercare and continuing care are provided.
For more questions and answers about rehab, view frequently asked questions about rehab with The Recovery Village.
Exploring Treatment Options Near Port Orchard, WA
If you live in or near Port Orchard, WA, you may want to find treatment close to home, which allows you to stay near your family and within your comfort zone. It can also reduce travel time and costs.
However, there are benefits to enrolling in a program that's not near Port Orchard as well. When you travel outside of your hometown or state, you can put yourself in a new environment. It can alleviate some of the stress of your home life, and take you away from the people and situations that may have been part of your active addiction.
Additional Addiction and Rehabilitation Resources in Port Orchard, WA
Along with rehab programs near Port Orchard, there are additional addiction and rehabilitation resources that are available. These can include support groups, and county and local resources for people struggling with addiction and co-occurring mental health conditions.
Recovery Meetings Near You in Port Orchard, WA
Recovery meetings are a way for people who either have or haven't participated in formal treatment programs to gain social support and remain accountable in their recovery. Support groups include Narcotics Anonymous (NA) as well as Alcoholics Anonymous (AA). There are in-person and online meetings of both groups. For someone who wants an alternative to 12-step programs, there are options like SMART Recovery.
Non-Profit Organizations in Port Orchard, WA
There are non-profit organizations in Port Orchard including Kitsap Mental Health Services (KMHS).
Kitsap Mental Health Services is a nonprofit community mental health center providing treatment to children, adults, families, and seniors.
City of Port Orchard, WA
Port Orchard, Washington is 13 miles from West Seattle. It's connected to Seattle and Vashon Island with the Washington state ferries. Along with using the Sea-Tac Airport in Seattle, there is a private airport that also serves Port Orchard. In 2017, Port Orchard had an estimated population of just under 14,000.
Port Orchard is located at 47°31′54″N 122°38′18″W (47.531563, -122.638405).
Addiction Resources in Nearby Washington Cities
For those who are seeking alcohol and drug treatment facilities outside of Port Orchard, Washington, there are also many drug rehab resources across the state of Washington: