Kirkland Drug and Alcohol Rehab, Detox and Treatment Resources
The Center for Disease Control states that substance abuse and alcoholism are now as deadly as cancer and heart disease. This epidemic is ravaging across the United States like wildfire. The National Institute of Drug Abuse states, "Heroin was the most commonly identified drug in reports from drug items seized by law enforcement and analyzed by the National Forensic Laboratory Information System laboratories in the first half of 2013…"
Kirkland is suffering as well. The widespread of alcohol and prescription opioids, heroin, methamphetamine and other drugs is a problem authorities struggle to contain. If you or someone you love is struggling with alcoholism or addiction, there are many resources available to you or your loved one to help them along the path of recovery.
Our Closest Facility:
The Recovery Village Ridgefield Drug & Alcohol Rehab is just miles away from your doorstep. Our award winning facility is ready to tackle any substance abuse or addiction problem. Specializing in drug & alcohol treatment, learn more about why we're perfect to help you or a loved one.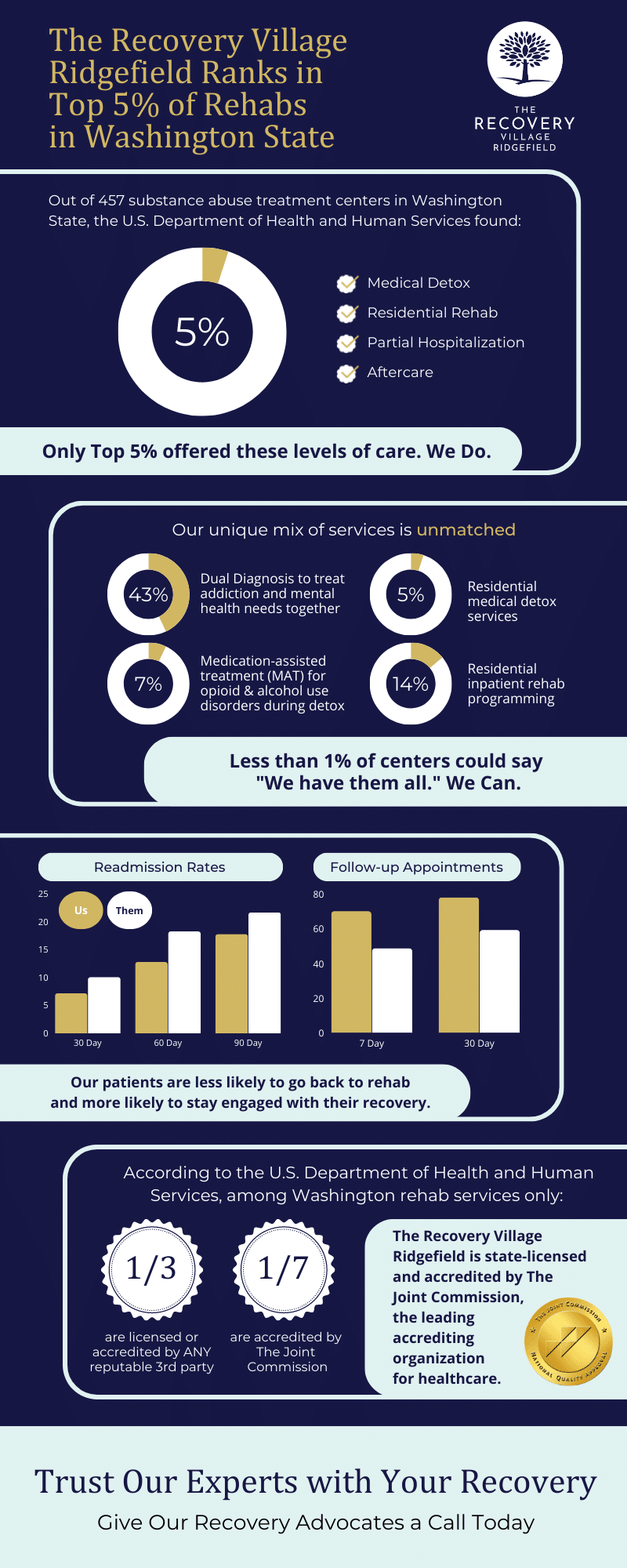 Please keep reading this guide. It will discuss common methods of treatment, what to expect during treatment, and the benefits and drawbacks of potential facilities. Those who are seeking drug and alcohol treatment facilities in Kirkland, Washington, will find a number of recovery resources. You can also learn more about your options by speaking with an intake coordinator at The Recovery Village, where you can get information about:
Kirkland alcohol rehab
Kirkland drug rehab
Kirkland drug detox
Kirkland alcohol detox
Kirkland drug treatment facilities
Kirkland alcohol treatment facilities
Inpatient drug rehab (Kirkland, WA)
Outpatient drug rehab (Kirkland, WA)
Finding Drug and Alcohol Rehab in Kirkland, Washington
Kirkland, Washington Drug Rehab and Alcohol Rehab
There's a diverse selection of recuperation possibilities. No matter who you are, there are methods and approaches that will suit your schedule and your budget. Help is all around you; all you have to do is reach for it.
Residential Treatment Programs
Residential treatment programs are also known as retreat-based therapy or inpatient care. The patient will reside at the facility throughout the treatment. Patients will have access to 24/7 medical supervision, and they will have already undergone any detoxification that is necessary.
Partial Hospitalization Programs
PHP are similar to retreat-based therapy but the patient remains on site during detoxification, then returning home to commute for care. Patients will still have access to medical care though they won't be at the facility 24 hours a day.
Outpatient Treatment Programs
Outpatient treatment programs provide the same care as detoxification, individual and group cognitive behavioral counselling and aftercare but the patient lives at home.
It's important to realize your strengths and weaknesses that surround your problem. If enablers and temptation are around every corner, then your best choice is to leave your immediate surroundings.
Detox Centers
Psychological, physical and spiritual health is begun by with removing all illicit substances from your body. Choosing to reinvest in life is a brave choice, but sobering up can be complex, uncomfortable and potentially fatal without medical supervision. Consult a doctor before beginning your detoxification.
The detoxification stage is crucial in the fight against addiction, but detox is only the beginning of the recovery process. Recovery is a complex set of therapies. Be cautious of any treatment approach with a singular focus on detox. You will need cognitive behavioral individual and group therapy, stress coping mechanisms and aftercare. A worth clinic will prepare you for the long path ahead of you without promises of a quick fix.
National treatment programs are pioneers in the medical and psychological innovations for treatment of alcoholism and addiction. These retreat-based therapies have experts invested in the research of budding treatments. The award-winning Recovery Village is a facility dedicated to providing their patients with expert care, privacy and the vanguard of treatments for alcoholism and substance misuse.
Recovery Meetings Near You
The bulk of your recuperation will take place in aftercare. Fellowships like Alcoholics Anonymous, SMART Recovery and Narcotics Anonymous are effective tools to help sustain sobriety. Aftercare is for anyone battling with alcoholism or drug misuse. These fellowships are as colorful as the Washington ecosystems. In the groups assures you will find kinship, understanding and encouragement.
Consider leaving the stresses present in your environment. The access to the misused substance, along with enablers and temptations in your home may hinder your pursuit of treatment and can delay your recovery. Be honest about your vulnerabilities. Decide upon a path that will enhance your sobriety for the rest of your life. If you feel that receiving treatment at a Kirkland drug rehab center or alcohol rehab center isn't the best fit for you, explore Washington addiction treatment centers in other cities throughout the state.
Addiction Resources in Nearby Washington Cities
For those who are seeking alcohol and drug treatment facilities outside of Kirkland, Washington, there are also many drug rehab resources across the state of Washington: