Find Washington Drug Rehab & Alcohol Rehab That Works
The Evergreen State has no shortage of picturesque scenery, wildlife, trendy eateries, and lovely sites to see. However, Washington is also wrought with drug and alcohol misuse, and residents need comprehensive addiction treatment options now more than ever. If you or a loved one is struggling with a substance use disorder, finding the right detox or recovery center is key. There are various treatment resources from which to choose, including drug abuse hotlines, outpatient and inpatient alcohol rehab in Washington state, and outpatient and inpatient drug rehab.
Addiction can affect anyone from any ethnicity, age group, and walk of life. It's important to know the choices that the state offers to reverse it. This page will familiarize you with the options available in cities across Washington so you can find lasting recovery.
Washington's Opioid Crisis
Washington may be a state filled with beauty, but it is not immune to the public health issues that the rest of the nation is facing. With 737 opioid-related deaths in 2018 according to the National Institute on Drug Abuse, Washington is firmly a part of the opioid crisis. With resources and treatment centers available throughout the country, including in Washington, there are many opportunities for healing and recovery.
Choosing a Washington Rehab Facility
In the same way that no two substance use disorder cases are the same, no two rehabilitation centers are exactly alike, either. Because of this, it's vital that you choose an alcohol and drug treatment center in Washington that caters to your individual needs and recovery goals. If you're struggling, take comfort knowing there's a Washington recovery center that can make your journey easier. Many of the drug rehab centers Washington state offers are designed to accommodate any substance use disorder.
The Recovery Village currently has one drug and alcohol rehab center in the beautiful state of Washington, with several more located across the country. The Recovery Village Ridgefield, our Washington facility, is run by dedicated staff members who offer evidence-based treatment in a supportive and healing environment. Our Washington rehab center:
Offers multiple levels of recovery care
Treats substance use disorders along with co-occurring mental health conditions
Provides a variety of scientifically proven treatments, including cognitive behavioral, dialectical behavioral and EMDR therapy
Offers individualized treatment programs
Conducts regular individual and group therapy sessions
Is staffed with a dedicated team of qualified medical and clinical professionals
Provides treatment that is 100% confidential — guaranteed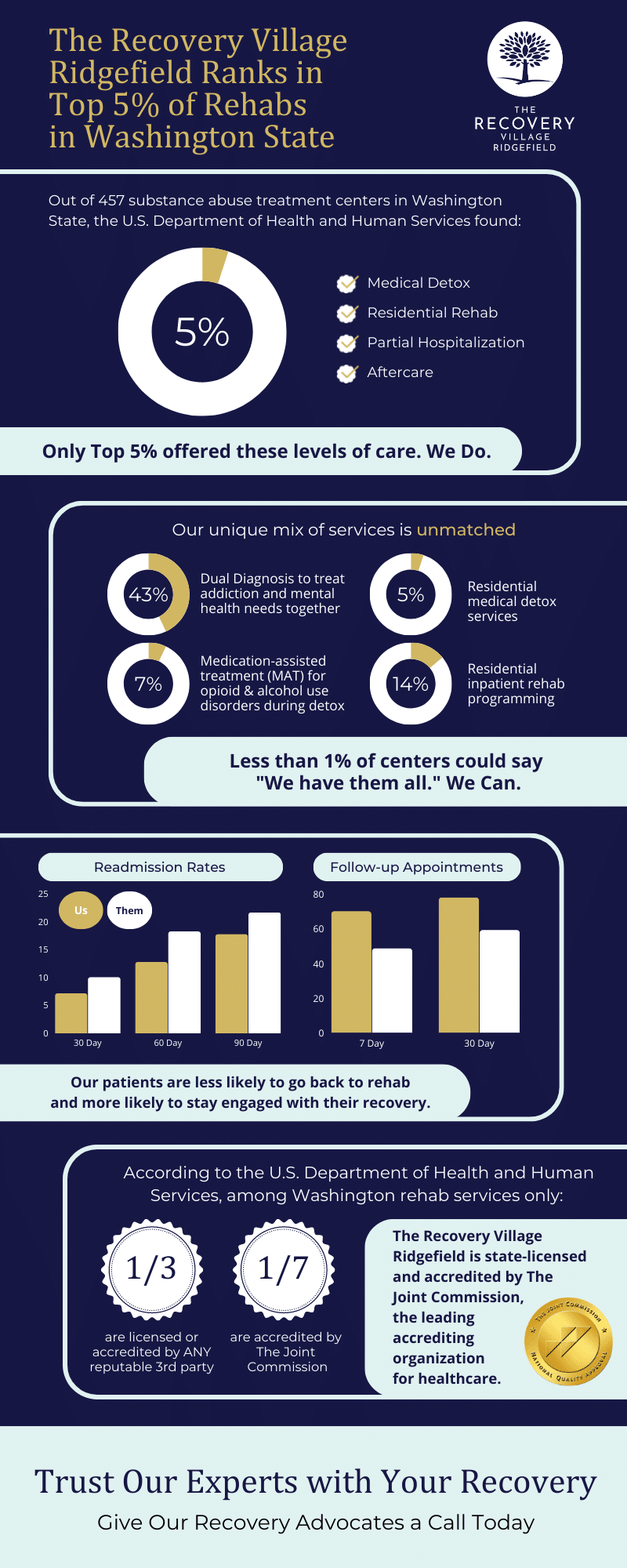 Washington State Rehab
Many Washington drug rehab facilities offer a variety of programs to help men and women break free from the chains of their addiction, including inpatient and outpatient programs. Alcoholism can also be treated at these facilities with the same forms of treatment, typically beginning with medical detox.
Drug and alcohol rehab in Washington is often the best choice for individuals who are struggling with substance addiction, abuse or dependence. You can find more information about the many drug rehab centers in Washington State in the sections below.
Alcohol Treatment Centers in Washington State
Are you seeking alcohol rehab? Washington State offers dozens of options that can meet your needs. Regardless of how long you've been struggling with alcohol and how severe your abuse or addiction is, the alcohol treatment centers Washington State offers can help you reach a point of freedom in sobriety.
Inpatient Drug Treatment Centers in Washington State
As a treatment program of the Washington State drug rehab centers, inpatient care is available for any individual who needs round-the-clock monitoring and access to medical care for their addiction.
Inpatient treatment centers in Washington State offer the most intensive level of care for addiction. They typically begin with medical detox and may also include various forms of therapy. This level of care precedes partial hospitalization and outpatient care.
Addiction Resources in Nearby Washington Cities
The Recovery Village
The Recovery Village is committed to offering comprehensive drug rehab in Washington state and around the country. Because we know that a one-size-fits-all approach to recovery doesn't work, we make sure to individually tailor each patient's program to their unique needs. By addressing co-occurring disorders along with addiction, our staff can improve your chances of staying sober and help connect you to a healthier life.