The state of Washington is in the midst of a substance abuse crisis, specifically an opioid abuse crisis. The Office of the Attorney General states that 718 Washingtonians died from an opioid overdose, and more than six in ten deaths involved an opioid drug.
The small town of Shelton, located in Mason county, is unfortunately not immune to this statewide epidemic. According to the Mason County Public Health Department, the rate of deaths from all opioids in Mason County was higher than the state of Washington from 2012-2016. While this is a shocking statistic for such a small town, it is not an uncommon one.
Those who struggle with substance abuse may feel hopeless, but there are numerous resources and addiction recovery specialists available and eager to help. Acknowledging that there is a problem and reaching out for help are the first steps toward recovery.
Our Closest Facility:
The Recovery Village Ridgefield Drug & Alcohol Rehab is just miles away from your doorstep. Our award winning facility is ready to tackle any substance abuse or addiction problem. Specializing in drug & alcohol treatment, learn more about why we're perfect to help you or a loved one.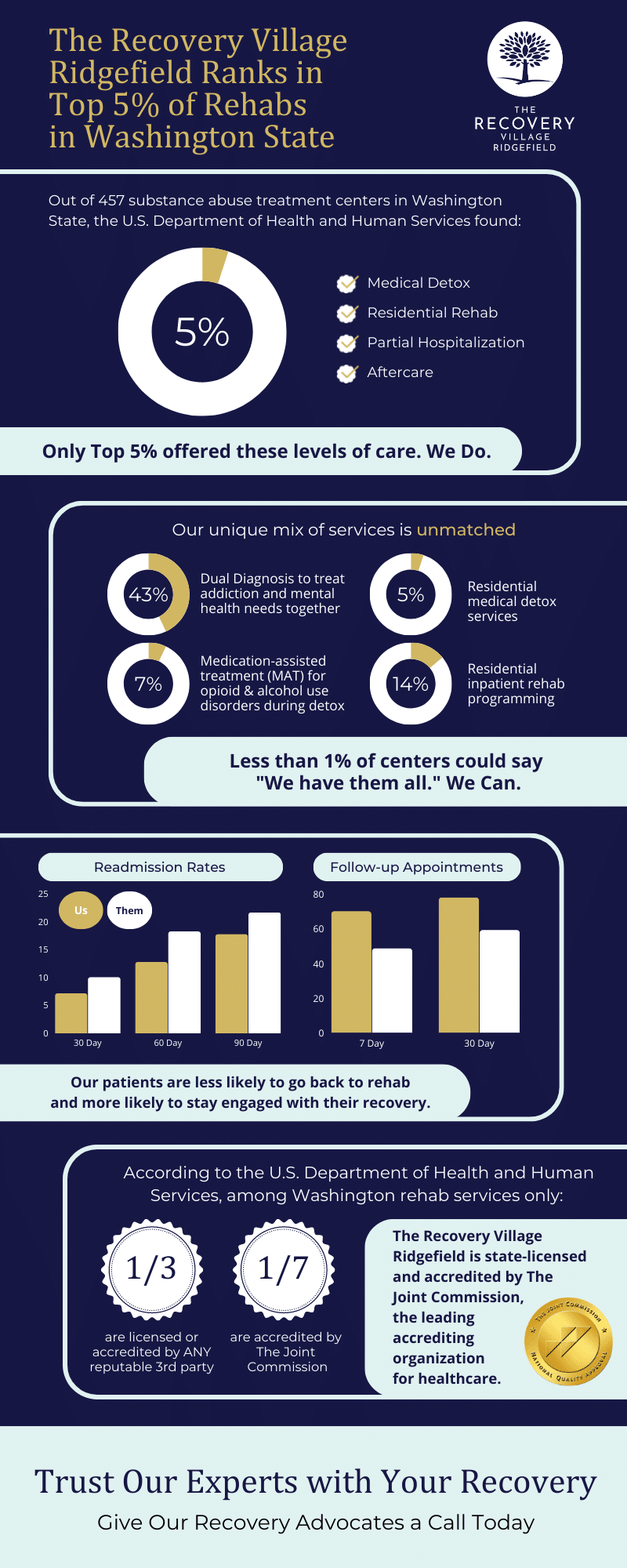 Shelton Drug and Alcohol Rehabilitation and Treatment
Shelton residents who are beginning to research treatment options for substance abuse have a variety of options. However, the process of choosing a treatment program can be very overwhelming. It is best to first understand the different programs that are available before making this life-changing decision.
Drug and Alcohol Detox Programs and Treatment Centers in Shelton, WA
Drug and alcohol detox is the first crucial step of rehab and helps people cleanse their bodies of drugs and alcohol. One of the first crucial tasks, when someone enters drug treatment, is to detoxify the system and get through the process of withdrawal from addictive substances, which is often challenging and sometimes dangerous. This is best accomplished through medically supported detox and withdrawal, which can help ease withdrawal symptoms while keeping the patient safe.
People looking for detox care may have to travel a short distance outside of Shelton. Less than two hours away, in nearby Ridgefield is The Recovery Village Ridgefield. In addition to inpatient, outpatient, and aftercare programs, Ridgefield also has a standalone detox center devoted entirely to medical detox. This is an excellent resource for those needing a safe, supportive detox experience with 24-hour support from medical professionals.
Many different programs and treatment options are currently available to residents of Shelton. It is important to note that the substance abuse treatment facilities are very limited in Shelton proper, however, there are some options in nearby Olympia, the closest metro area.
Shelton Residential Treatment Programs
A residential treatment program, which is also known as an inpatient rehab facility, provides drug addiction treatment and inpatient alcohol rehab in a structured environment with 24-hour care by medical professionals. In an inpatient drug rehab or residential program, patients may or may not have already completed any necessary detox before beginning treatment.
Once detox has been accomplished, patients participate in a rehabilitation program that may include counseling, substance abuse classes, cognitive-behavioral therapy, 12-step work and alternative therapies such as yoga and meditation.
Currently, there are no residential treatment programs in the city of Shelton, but there are two treatment centers in Olympia, the nearest metro area.
Shelton Partial Hospitalization Programs
In a partial hospitalization program, patients participate in treatment and have access to medical care during the day. While some individuals choose to live at the facility full-time, others return to sober living housing or supportive home environments in the evenings. It depends on the facility's requirements, and whether clients are required to live on-site at the center.
The same rehabilitation curriculum of counseling, classes and other therapies as described above are also included. Currently, there are no partial hospitalization programs in the city of Shelton or within the nearest metro area (Olympia). You may have to expand your search to other cities in the state of Washington to find the closest partial hospitalization facility near you.
Shelton Outpatient Treatment Programs
During an outpatient drug treatment program, patients usually undergo treatment for 10 to 15 hours a week, while living off-site at home or in sober living environments. These patients are typically not in need of medical care, but they do have access to health care professionals and addiction specialists. Outpatient treatment may be an ideal option if you are motivated to become sober, but are unable to step away from work, school or other responsibilities to stay at an inpatient rehab center.
Currently, there are no outpatient treatment facilities in the city of Shelton or within the nearest metro area (Olympia). You will have to expand your search to other cities in the state of Washington to find the closest outpatient facility near you.
Sober Living and Rehab Aftercare Programs in Shelton, WA
Relapse, a return to drug or alcohol use after an attempt to stop, is a common symptom of addiction. According to the National Institute on Drug Abuse (NIDA), an estimated 60% of people recovering from addiction will encounter relapse at some point, which is why aftercare programs are so important.
Continuing care after rehab is a necessary next step and rehab aftercare facilities and services provide much-needed support to help patients stay on track with their recovery goals. No matter what substance has been misused, sober living and rehab alumni programs can be helpful.
Drug rehab aftercare programs include activities like:
Relapse prevention therapy (this type of therapy is available in Shelton)
Sober living housing
Specialized Treatment Programs in Shelton, WA
Specialized treatment programs are drug and alcohol treatment programs that address the specific needs of distinct patient populations. Providing focused care to these groups can increase the level of comfort and compliance of these patients.
Some examples of specialized programs available in the areas surrounding Shelton include several programs offering rehab for veterans or rehab for LGBT persons. Other places might be women's rehab centers (which may offer rehab for pregnant women) or programs that specifically offer rehab for teens.
What Is the Process Like in a Drug Detox and Rehab Facility?
Like most patients or loved ones seeking recovery, you likely have questions about the detox and drug treatment process. It is important to know that the treatment process will vary depending on the particular substance that you or your loved one is affected by.
Intake Assessment
You can expect an initial intake assessment by a health care provider such as a doctor. Your medical history will be reviewed and a physical exam will likely be performed. You can also expect questions regarding the circumstances of your substance abuse.
Medical Detox
This step is often the most physically tiring because your body needs to go through a detoxification process once the offending substance is discontinued. The detox process can vary depending on the drug you are detoxing from and how severe your usage is.
Transition to Further Treatment
Once you have completed the detox process, the important work of rehabilitation can begin. This is the most mentally and emotionally difficult part of your recovery as this is the phase where you will face many deeper wounds that created the need for addiction in the first place.
To learn more about the rehab process, visit this page from The Recovery Village.
Finding the Best Rehab Program For You
Choosing a rehab center is an overwhelming task. There are many factors to consider when determining how to find the best drug rehab center for you or your loved one near Shelton, Washington.
The right facility for you will depend on whether you:
Have been struggling with addiction for a long time, or have been using multiple drugs in high quantities
Need treatment for a mental health condition in addition to substance abuse
Have health insurance coverage
Are willing to travel
What Questions Should You Ask When Considering a Treatment Program?
As you research treatment centers and speak with rehab providers, here are some important questions to ask and topics to cover.
Are you in-network with my insurance company?
Treatment for substance abuse can be expensive, so look for rehab facilities that are in-network with your insurance provider. For further reading about insurance coverage and rehab, check out this article.
How long will I spend in rehab?
When you decide to enter a rehab program for drug or alcohol addiction, you're faced with many options. However, one of the first and most important questions to answer is how long you're going to spend in rehab. There are many types of treatment. Read more here to find out which program type could be the best for you.
What type of accreditation, licensing and certifications do your facility and staff maintain?
Accreditation is the process that rehab facilities must undergo to confirm they meet high standards for addiction treatment. It is important that the facility you choose is accredited and the staff are properly licensed and credentialed. Read more here.
Do you offer family support?
Friends and family play vital roles in the recovery process. Those recovering from substance abuse who have a strong support system have a greater chance of completing treatment successfully and maintaining their sobriety at home. It is important that the facility you choose for rehab recognizes the importance of family involvement and includes them in parts of the rehab journey. Read more here about the family's role in addiction recovery.
For additional questions and answers, click here for an inpatient drug treatment center checklist.
Exploring Treatment Options Near Shelton, WA
It is not always possible to find a treatment center close to home. In fact, your search for drug abuse treatment near Shelton will likely yield more results for programs that require travel.
Fortunately, drug rehab centers away from home can offer more opportunities for healing in a new environment. Sometimes removing oneself from the stressors of their home can be very helpful in the recovery process. Also, physically distancing yourself allows for the elimination of familiar temptations and triggers that contribute to your trouble with substance abuse.
The Recovery Village can help. To learn more about treatment programs, call The Recovery Village to speak with a representative. The Recovery Village is a national treatment facility that offers comprehensive services including detox, inpatient, outpatient, partial hospitalization and aftercare.
Additional Addiction and Rehabilitation Resources in Shelton, WA
Recovery does not end once rehabilitation is complete. Many people would argue that the aftercare resources are some of the most important to support you in taking steps to ensure that the skills learned during rehabilitation become a part of everyday life. Fortunately, there are plenty of additional resources in and around Shelton for you to explore.
Recovery Meetings Near You in Shelton, WA
There are a variety of recovery meetings available to people in and near Shelton.
Non-Profit Organizations in Shelton, WA
Several non-profit groups exist in and near Shelton.
Shelton, WA Substance Abuse Hotlines
Drug and alcohol abuse and addiction are serious disorders. However, there are many drug abuse hotlines available and substance abuse hotlines that can help. Calling a drug abuse hotline or substance abuse hotline is 100% confidential and is often the first step toward recovery for many individuals. Help lines can provide referrals to local treatment facilities, support groups, and community-based organizations.
However, if you or someone you are assisting is experiencing a life-threatening situation, immediately dial 9-1-1. Our nationwide, 24-hour drug helpline is available for those seeking steps toward recovery for drug rehab and drug detox. If you're seeking drug rehab help, our free drug addiction helpline is here to offer it.
A local drug abuse hotline is also available to Washington state residents:
Washington Recovery Help Line: 1-866-789-1511 (toll free, WA only). This line can help with 24-hour referrals to local treatment resources for substance abuse, problem gambling and mental health.
City of Shelton, WA
Shelton (47.2151° N, 123.1007° W) sits between the Puget Sound and the Olympic Mountains in Mason County, Washington. This small city, home to Jarrell Cove State Park, has a population of 9,834 people, as of the 2010 census. The nearest major airport is the Seattle-Tacoma International Airport (SEA), which is 72 miles from Shelton.
Addiction Resources in Nearby Washington Cities
For those who are seeking alcohol and drug treatment facilities outside of Shelton, Washington, there are also many drug rehab resources across the state of Washington: