Levels of Care
When someone arrives at The Recovery Village Atlanta, we begin with an intake assessment to design an individualized treatment program based on their needs. The assessment evaluates past and current drug use and physical and mental health. Most patients start their treatment journey with medical detox. Then as medically appropriate, they may transition to other treatment programs. Levels of care include:
Important Notice Regarding COVID-19:
We are closely monitoring all developments associated with Coronavirus (COVID-19) and are taking proactive steps to ensure the health and safety of all patients, employees and the communities we serve. This means some off-site activities or other programming have been postponed or moved to telehealth offerings. Your cooperation during this time is greatly appreciated.
What to Expect
When you're preparing for a rehab stay, knowing what to bring can help things go smoothly for you. During your treatment experience, we recommend that you bring the following:
Bags: No more than two bags or pieces of luggage (anything over this is placed in storage during your stay)
Documentation: A picture or copy of your vaccine card, picture ID, necessary travel documents, relevant medical records and a list of medical providers and family members with their contact information
Financial: a form of payment such as cash, credit card or debit card. You can bring some additional cash (no more than $200). You can also bring a prepaid Visa gift card used for purchases facilitated by staff on your behalf.
Electronics: You can bring your cell phone, e-reader, iPod, MP3 player, earbuds, or headphones.
Clothing: Bring seasonally appropriate clothing. You should remember a sweater or jacket, long pants or shorts, socks and undergarments. You can bring a hat and warm gloves if needed, tennis shoes, sandals or flip flops, comfortable workout clothes and sleepwear. Clothing, including workout items, should be discrete.
Personal care: You can bring personalized masks, eyewear, contacts, dental floss, a hairbrush, unopened supplies and an alcohol-free mouthwash. You can bring a toothbrush, unopened toothpaste, lotion, lip balm, disposable razors, blow drying and styling tools and feminine products. Also permitted are sunscreen and skincare.
Tobacco: Cigarette or chewing tobacco products are allowed and should be unopened. Bring enough for your entire stay.
Personal comfort: You can bring certain hobby items like a sketchbook, journal and reading materials.
Things that you should not bring for your stay include internet devices, laptops and cameras. There is no vaping allowed at The Recovery Village Atlanta.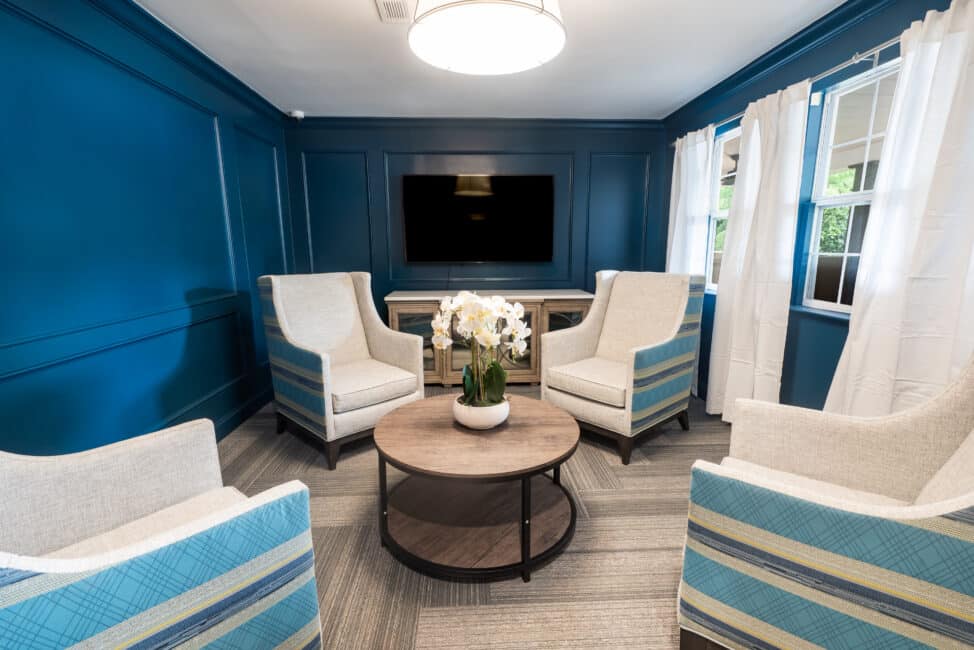 Amenities
Amenities can create a healing, peaceful environment conducive to recovery. At The Recovery Village Atlanta, our amenities promote the creation of healthy lifestyle habits and holistic healing. Amenities are available based on your level of care and include:
Fully equipped gym
Half-court basketball
Horseshoes
Bags court
Walking trails
Open air patios
Lounges for all care levels
Our Staff
Our team at The Recovery Village Atlanta is highly qualified. The medical team has years of experience treating substance use and mental health disorders. They're compassionate and skilled and help clients begin their lifelong recoveries. Every member works with clients to develop tools and strategies to prepare them for their life after treatment.
Estella Matheu
Executive Director
Jennifer Hooper
Clinical Director
See Open Positions
Frequently Asked Questions
Here are some of the most common questions about treatment at The Recovery Village Atlanta.