Bremerton Drug & Alcohol Rehab, Detox & Treatment Resources
The small town of Bremerton, Washington, population 39,000, has formed a narcotics task force to address its struggle with substance abuse. Heroin and opioid-related overdose deaths are such a big concern that the community has received $325,000 in funding for local treatment and prevention programs like needle exchange, free needles and educating school-age children.
If you are one of the millions of people suffering from drug and/or alcohol addiction, do not feel hopeless or alone. Help is available to you if you are willing to reach out and take it. Those who are seeking drug addiction treatment in Bremerton, Washington will find a plethora of resources.
Our Closest Facility:
The Recovery Village Ridgefield Drug & Alcohol Rehab is just miles away from your doorstep. Our award winning facility is ready to tackle any substance abuse or addiction problem. Specializing in drug & alcohol treatment, learn more about why we're perfect to help you or a loved one.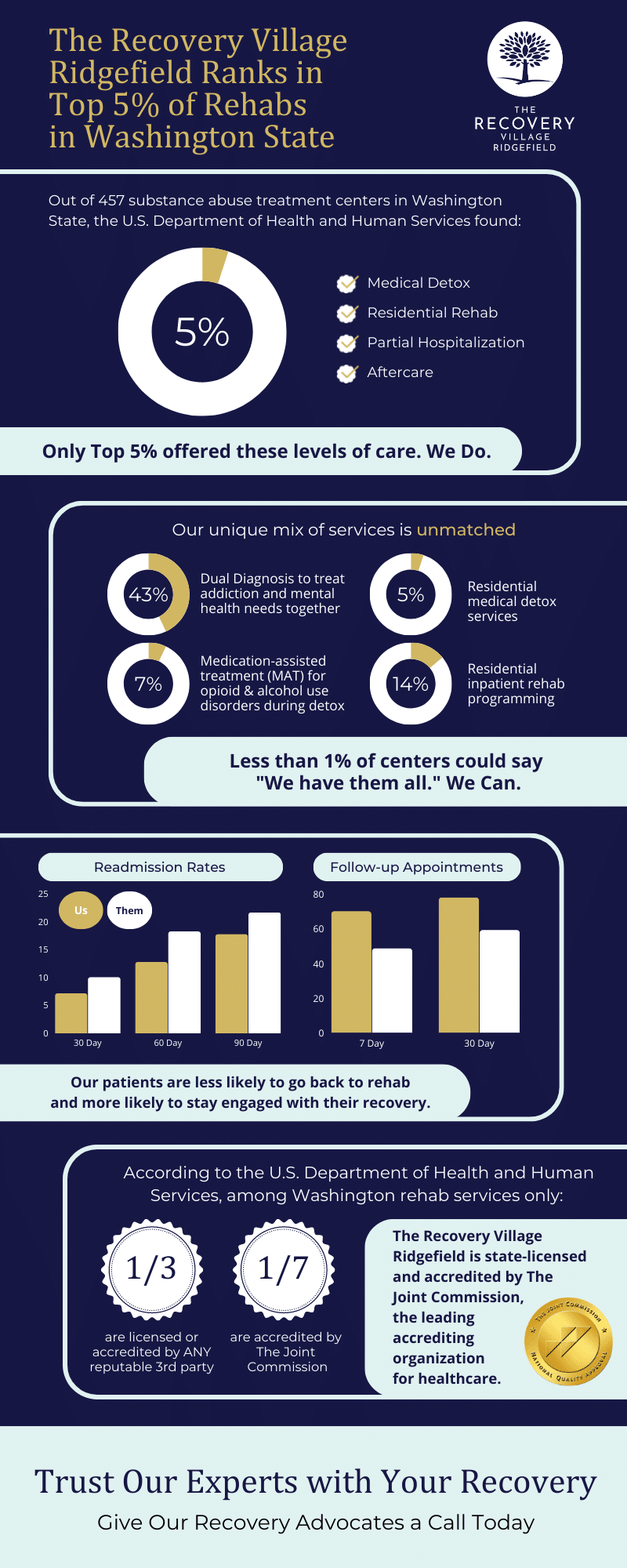 This guide will inform you of all of the detox centers, rehabilitation facilities and recovery meetings available to you in the Bremerton area. Prefer to speak with someone about the available programs and facilities instead? Call The Recovery Village, and an intake coordinator can discuss your options with you, including:
Bremerton alcohol rehab
Bremerton drug rehab
Bremerton alcohol treatment facilities
Bremerton drug treatment facilities
Bremerton alcohol detox
Bremerton drug detox
Inpatient drug rehab (Bremerton, WA)
Outpatient drug rehab (Bremerton, WA)
Finding Drug and Alcohol Treatment in Bremerton
Drug & Alcohol Rehab in Bremerton, Washington
Those living in Bremerton struggling with drug and/or alcohol addiction have a number of recovery resources available to them. These include detox, inpatient services, outpatient services, medication-assisted treatment or a combination of these treatments. In the state of Washington, there are numerous rehabilitation facilities.
Residential Treatment Programs
Residential treatment is designed for individuals suffering with a long-term or serious addiction. Residential is ideal for those have relapsed more than once or for those with an opioid dependence. In residential treatment, the patient lives at the center until treatment is finished and receives a wide spectrum of medical, psychological and supportive services. Length of stay differs, but can last from weeks, months, or up to a year or more, and is decided on an individual basis. Some people are court-ordered to enter residential treatment, but others choose residential on their own or on the advice of family or friends.
Partial Hospitalization Programs
Partial hospitalization is short-term in nature and can last from 7 to 14 days but depends on the individual's needs. Group and individual therapy are components of the case plan and ordinarily include aftercare or follow-up by way of support groups.
Outpatient Treatment Programs
Outpatient treatment is ideal for individuals with an addiction that is less serious than others. The patient travels to and from the facility for 10 to 15 hours each week, which allows flexibility for work or school. The length of outpatient treatment can last from three to six months or up to a year or more. Outpatient treatment can include detox, 12-step programs, group therapy, individual or family therapy and aftercare services.
With so many to choose from, opting to recover in another city under the care of a national brand may be the best option for you. Privacy is a major concern for some individuals. A second advantage to seeking treatment in another city is the quality of services as a branded treatment center can provide additional services that a small, local one cannot. Distance is a third reason some individuals want to recover out of town. Some need to put distance between themselves and the enabling forces in their community. The Recovery Village is a great example of the type of national brand that many people who struggle with substance use disorder can rely on.
Detox Centers
There are 18 Washington detox centers within 25 miles of Bremerton. Detox is the first and most important step in your recovery journey. The length of detox varies but can last 7 to 14 days. Since detoxing without medical assistance can be dangerous, doctors and other medical staff are a critical part of this first step via a detox center.
While a detox center is a wise choice, it should be kept in mind that detox centers do not offer treatment programs, which are necessary for long-term recovery. It is wise to choose a facility like The Recovery Village that offers detoxification as well as inpatient and outpatient treatment programs as needed.
Recovery Meetings Near You
Recovery is a many-tiered process. Finishing a treatment program can transform your life, but it is only the first step in the recovery journey. Aftercare is as important as the stages that preceded it. Aftercare services normally include a 12-step program, individual therapy, support groups or a combination of these. There are many options for recovery meetings in the Bremerton area.
There are a vast number of recovery centers available to the residents of Bremerton, Washington, but sometimes the most comprehensive treatment programs lie outside of the city. If you think that a Bremerton drug rehab center or Bremerton, WA, alcohol rehab center isn't the best option for you, consider recovery resources in the following nearby communities:
Addiction Resources in Nearby Washington Cities
For those who are seeking alcohol and drug treatment facilities outside of Bremerton, Washington, there are also many drug rehab resources across the state of Washington: