Yakima Drug Rehab & Alcohol Rehab, Detox, & Treatment
The entire nation is plagued by the issue of substance abuse. The state of Washington and specifically, the city of Yakima are no exceptions to this. Not only are illegal drugs like marijuana and cocaine a real issue, but alcohol, prescription medications and other drugs that can be taken legally can also be extremely destructive. Addiction can do a lot of harm to your career, your relationships and your entire life. That is why it is so important to find the right drug rehab in Yakima or the best alcohol rehab in Yakima, WA.
The epidemic of substance misuse is particularly bad for the state of Washington. More than 13% of all deaths in the state are substance-related deaths. Just over one third of all of the traffic deaths in 2012 and 2013 were caused by drunk driving. This is a significant problem across the state.
There is hope, however, for those who suffer from drug and/or alcohol addiction. Despite the common incorrect opinions of many people who do not understand, addiction is a disease like heart disease or diabetes. Like these other diseases, addiction can also be treated.
Those who are interested in addiction treatment in Yakima, Washington should continue reading for more resources.
Our Closest Facility:
The Recovery Village Ridgefield Drug & Alcohol Rehab is just miles away from your doorstep. Our award winning facility is ready to tackle any substance abuse or addiction problem. Specializing in drug & alcohol treatment, learn more about why we're perfect to help you or a loved one.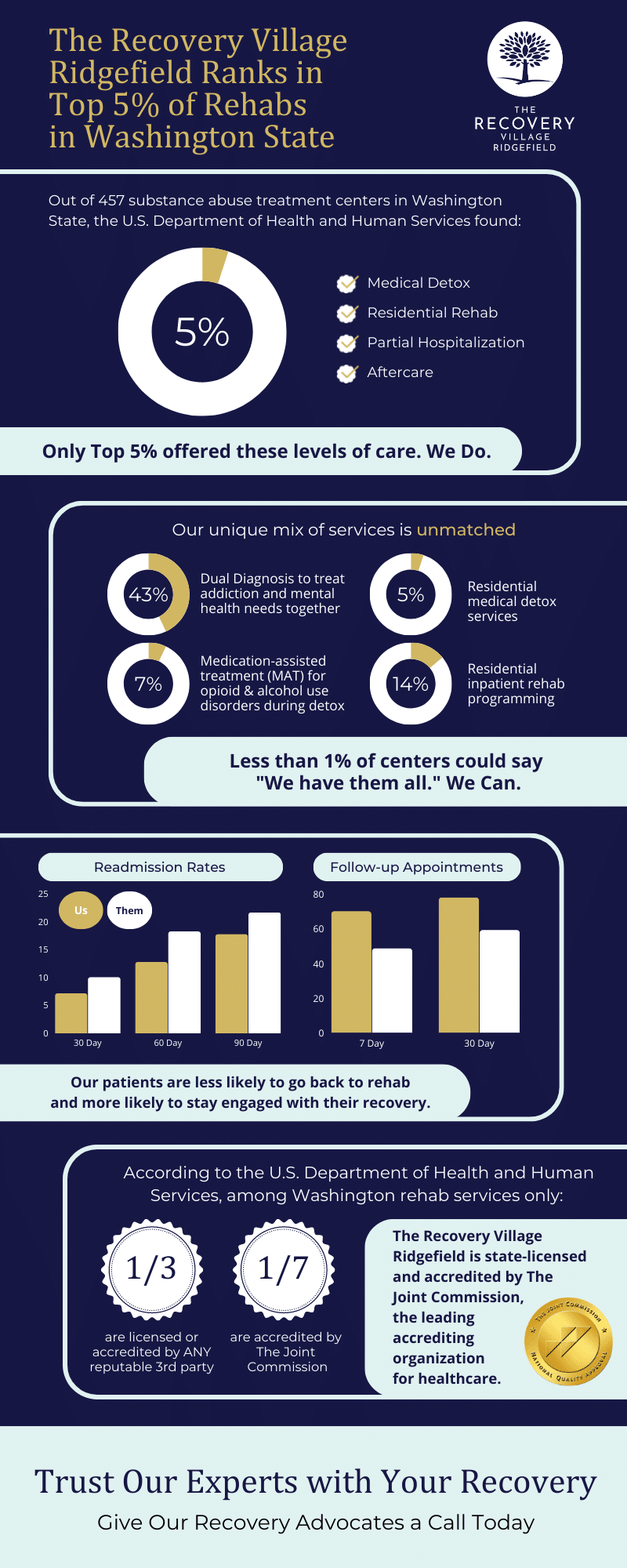 Finding Help in Yakima, WA
Yakima Drug Rehab Centers & Yakima Alcohol Rehab Centers
There are numerous options available for those who wish to find addiction treatment in Yakima, Washington. Three treatment programs are typically available in the form of inpatient treatment, partial hospitalization programs and outpatient treatment. Having a comprehensive understanding of these treatment programs will help you to determine which one would be best for you. There are many options if you are looking for Yakima alcohol treatment facilities or Yakima drug treatment facilities.
Residential Treatment Programs
In a residential program, patients will stay in the facility, being monitored medically 24 hours a day. This program is also referred to as an inpatient treatment program. It is usually for patients with a severe substance use disorder or patients who require detox prior to treatment. It is important to find the right inpatient drug rehab in Yakima, WA.
Partial Hospitalization Programs
In a PHP, patients will stay at home if they have a stable, drug-free environment or at housing provided on campus if any is available. They are still given medical supervision and they still participate in all of the same activities, but they go home at night.
Outpatient Treatment Programs
In an outpatient treatment program, patients will stay at home if they have a stable, drug-free environment or at housing provided on campus if any is available. They still participate in the same activities, but they do not participate for as many hours per week as PHP patients or residential patients. Finding the best outpatient drug rehab in Yakima, WA can be a challenge, but we are here to help.
Though there are many options in Washington for Yakima drug rehab or Yakima alcohol rehab, it may also be smart to consider seeking treatment in another location. You may allow yourself more space and distance from your destructive environment in a national treatment center (like The Recovery Village) which can allow room for more healing.
If you are looking for Yakima, WA drug rehab or Yakima, WA alcohol rehab please call to go over the options available.
Yakima Drug Detox & Yakima Alcohol Detox
Many people choose to go to a detox center in Yakima, Washington. For patients addicted to opiates, benzodiazepines, alcohol and/or other substances, it may be necessary to go through a detoxification process. Attempting to detox on your own without medical care is not usually smart as the withdrawal symptoms may get bad and you may relapse. If you go to a detox center, you will have medical supervision to guide you through the uncomfortable process.
You will not be able to receive treatment, however, in a detox center. On the other hand, a drug or alcohol treatment center usually will offer a detox program. Detox is only the first of many steps on the recovery journey, which is important to keep in mind. Beginning a residential treatment program will allow you to start the real work of recovery. Yakima drug rehab and Yakima alcohol rehab options are open to help you.
Recovery Meetings Near You in Yakima, WA
Having a good aftercare plan will ensure that you do not relapse. You want to make sure that you find a recovery program like Alcoholics Anonymous or SMART Recovery to have a good aftercare plan.
Washington has a lot of addiction resources for those who are willing to ask for help. If you are seeking drug addiction treatment in Yakima, Washington, there are many rehabilitation facilities, recovery meetings and options for medication-assisted treatment for you to explore. You may also want to look in nearby cities for further options for Washington detox.
Whether you are looking for a drug rehab center in Yakima, WA or an alcohol rehab center in Yakima, WA or anywhere across the country we can help you find the perfect place for you.
Addiction Resources in Nearby Washington Cities
For those who are seeking alcohol and drug treatment facilities outside of Yakima, Washington, there are also many drug rehab resources across the state of Washington: