Pasco, Washington, is a city in Franklin County. Pasco is part of the Tri-Cities region of Washington, which includes Kennewick and Richland.
Pasco and the Tri-Cities area has seen an uptick in drug-related overdoses and deaths in recent years, particularly because of opioids like heroin. Along with opioids, other drugs that may be of significant concern in Pasco and nearby areas of Washington include methamphetamine, cocaine and alcohol.
Resources are available both locally and statewide to help people who struggle with substance abuse as well as mental health issues. There are rehab, detox and recovery resources in Washington, near Pasco. There are also nationwide programs for people from Pasco and the surrounding cities and towns.
Pasco Drug and Alcohol Rehabilitation and Treatment
When someone struggles with an addiction to drugs or alcohol, their condition is complex because addiction is a chronic disorder. It affects a person psychologically and physically, but also other areas of their life such as their career and finances.
A drug and alcohol rehab and treatment program should address all of these complexities, and also include relapse prevention strategies to help a person remain drug- and alcohol-free after treatment ends.
Some of the specific types of addiction treatment programs available near Pasco may include:
Medical detox
Medication-assisted treatment
Residential, or inpatient, rehab
Outpatient rehab
Partial hospitalization programs
Specialized rehab programs
Support and recovery groups
Non-profit organizations
Drug and Alcohol Detox Programs and Treatment Centers in Pasco, WA
Within a 15-mile radius of Pasco, there are ten substance abuse treatment programs. These programs are in Pasco as well as Kennewick and Richland. Two detox programs are within a 15-mile radius. The Recovery Village Ridgefield is also available for people who live in Pasco. The Recovery Village Ridgefield has a standalone center devoted entirely to medical detox.
Detox is different from addiction treatment. Detox helps cleanse the body of drugs and alcohol and mitigates symptoms of withdrawal in a supportive manner. A person has to fully detox from all substances before they can transition to the next phase of their treatment program.
Pasco, WA Residential Treatment Programs
Residential treatment takes place in an inpatient rehab facility. Whether it's inpatient alcohol rehab or a drug addiction treatment program, a patient checks into the facility and lives there during treatment. Inpatient treatment can often include behavioral health treatment as well for co-occurring disorders such as depression or anxiety. Inpatient rehab is well-suited to treat the needs of the whole person, including their mental and physical health.
There is one residential substance abuse facility within 25 miles of Pasco, in Kennewick. There is also one long-term residential program, and three short-term residential programs are within 50 miles. The Recovery Village Ridgefield offers individualized inpatient treatment also.
Pasco Partial Hospitalization Programs
Partial hospitalization programs (PHPs) offer intensive treatment, usually while a client still lives on-site at a facility. Depending on the rehab center, some participants may return to their home during a PHP if it's a substance-free, safe environment. Other people may leave partial hospitalization and return to a sober living house.
Two partial hospitalization or outpatient day treatment programs are near Pasco in Kennewick and Pendleton, Oregon. The Recovery Village Ridgefield also offers partial hospitalization and day treatment programs.
Pasco Outpatient Treatment Programs
An outpatient drug treatment program is one that can last anywhere from one to three months on average. Participants go to scheduled treatment sessions at a treatment center, but they can also return home at the end of the day. People in outpatient can maintain their responsibilities, including school and work. Some people may do outpatient treatment as the first step, but for others, outpatient treatment is part of a continuum of care after they finish higher levels of treatment.
Three outpatient detox programs are within 50 miles of Pasco. There are 26 general outpatient programs in Pasco or within 50 miles, and 24 programs include intensive outpatient treatment. The Recovery Village Ridgefield works with patients on an outpatient basis as well and also offers intensive outpatient programs.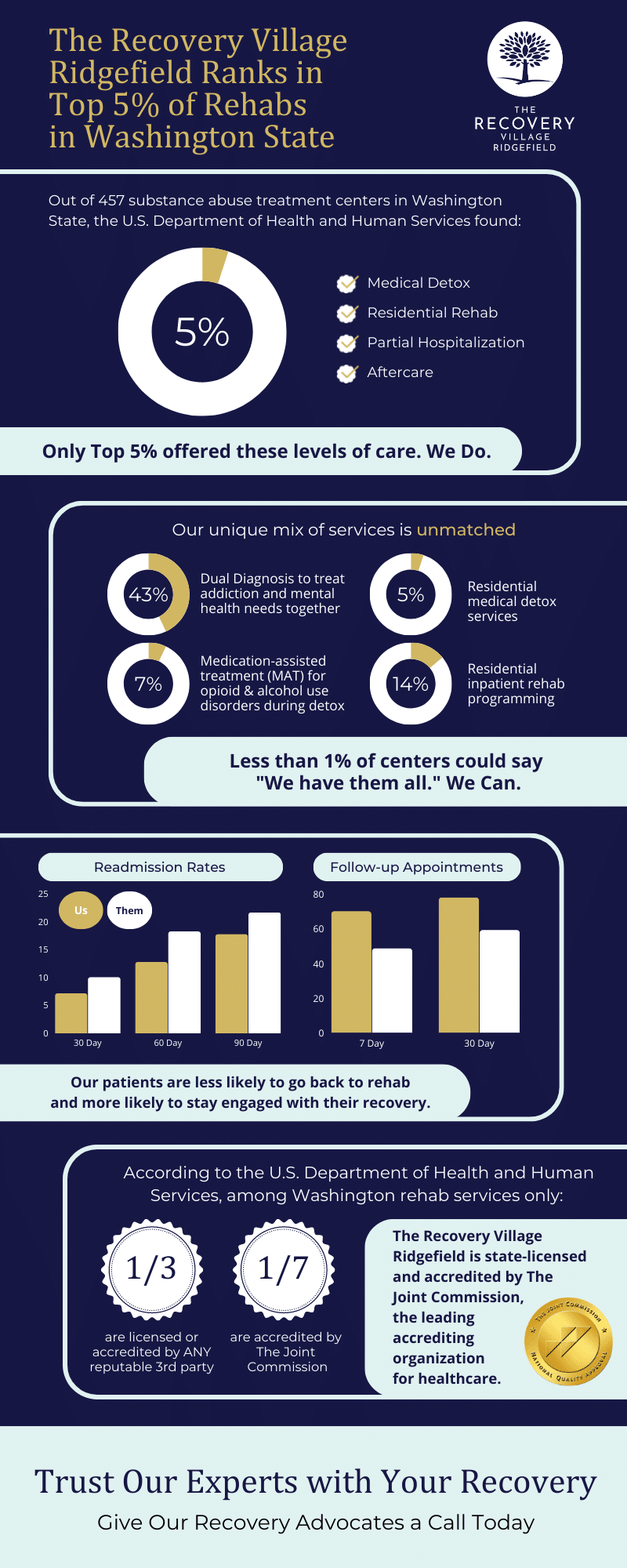 Sober Living and Rehab Aftercare Programs in Pasco
There is a high likelihood of someone relapsing on drugs or alcohol, even after completing rehab, which is why aftercare planning is essential to any program. It's often considered one of the most important parts of rehab.
Aftercare planning and drug rehab aftercare programs can help someone transition back to their daily life, and it helps give them a foundation and strategy for relapse prevention. Aftercare planning might include some of the following, or a combination:
Time in a sober living home
Follow-up care with a doctor or therapist
Rehab alumni programs
Support and recovery groups
Individual therapy
Many of the programs near Pasco offer aftercare planning. The Recovery Village Ridgefield also makes continuing care and aftercare planning parts of all individualized treatment plans.
Specialized Treatment Programs in Pasco
Specialized treatment programs are available to meet the unique needs of people seeking treatment for drugs or alcohol.
Some of the specialized treatment programs near Pasco include:
15 substance abuse programs within 50 miles of Pasco that include women's rehab centers, and five with rehab for pregnant women
Five programs near Pasco offer rehab for the LGBT community including in Kennewick, Richland and Milton Freewater, Oregon
Five programs include rehab for veterans within 50 miles of Pasco, including in Richland, Walla Walla and Pendleton. Two substance abuse programs in the area work with active duty military members specifically.
10 programs include treatment for trauma including rehab for PTSD
12 programs within 50 miles include rehab for teens and adolescents
10 substance abuse programs are available for people referred from the courts and the criminal justice system
What Is the Process Like in a Drug Detox and Rehab Facility?
How should you know what to expect if you seek addiction treatment? While the drug treatment process can depend on the center, the person, and the type of addiction, there are typically a few phases that occur.
Intake assessments: The first phase of the drug treatment process or alcohol treatment process is an assessment. The assessment team includes the people who work with you and provide treatment during your program. For example, your intake assessment may include doctors, therapists and support staff. It's important to be as forthright and honest as possible during this time because this is when your individualized treatment plan is created and implemented.
Medical detox: Dependence is something most people have when they have an addiction although these aren't the same condition. During medical detox, the physiological symptoms of withdrawal are treated if someone's dependent on drugs or alcohol.
Transition to further treatment: Following a full detox, a person can transition to the next steps of their treatment plan, including inpatient or outpatient treatment. These may include group therapy, individual counseling, recreational therapy and other forms of holistic care.
Aftercare planning: Aftercare planning is implemented once a person's other phases of treatment end. Aftercare plans usually include follow-up medical and counseling appointments, recommendations for local support groups and more.
Finding the Best Rehab Program for You
A common question people have is with so many options available, how can they compare the best drug rehab centers and find the right one for their needs? Learning how to find the best rehab center comes down to balancing individual needs with the overall qualifications of the center.
Factors to consider include:
Do you need specialized care of any type and if so, is that available at the treatment centers you're considering?
What are the qualifications of the people who will be providing treatment? Does the staff include health care professionals as well as counselors and support staff?
Are you willing and able to travel for treatment and if so, how will this affect your options?
Is dual-diagnosis treatment offered for co-occurring disorders?
What are the roles of family and loved ones in the treatment program? Are there family programs or family therapy available?
What's the success rate and what do previous patients have to say about the treatment?
What Questions Should You Ask When Considering a Treatment Program?
In addition to the considerations above, other specific questions can be included as part of your search for a qualified, effective addiction treatment program.
Exploring Treatment Options Near Pasco
Location is a consideration when choosing treatment. If you're going to participate in outpatient rehab, then you'll need a location near your home. If you're going to an inpatient program, you'll have a choice between drug abuse treatment near Pasco or traveling for treatment. So, what's the best option?
The pros of staying near Pasco for rehab may include:
You're close to your family and support system, and that support can be helpful for recovery
It's easier for the treatment center to create an aftercare plan
If the rehab center includes family therapy, it will be easier for your family to participate
You don't have to cover the costs of traveling
Sometimes insurance won't cover out-of-state care
The pros and traveling for rehab might include:
You can leave behind your environment of addiction including people, places or triggers
When you're able to travel, you have more options available to you
You can create a mental separation as well as a physical separation from your addiction
You're less likely to leave early when you aren't close to your home
Additional Addiction and Rehabilitation Resources in Pasco, WA
Other addiction and rehabilitation resources near Pasco can include:
12-step programs
Other support and recovery groups
Individual therapists and counselors
Non-profit organizations
Local government resources
Recovery Meetings Near You in Pasco, WA
One factor that's integral to recovery from drug or alcohol addiction is social support. Having a social support system can help someone stay on-track in their sobriety and remain accountable.
Support and recovery groups are an excellent way to maintain a local, sober support system. Recovery meetings are frequently included in someone's aftercare plan when they leave rehab, but people don't have to go to treatment first to participate in support groups.
Non-Profit Organizations in Pasco, WA
As well as support and recovery groups like AA, NA and SMART Recovery, there are local non-profit groups and governmental organizations that provide mental health and substance abuse help and resources.
Pasco Substance Abuse Hotlines
The following are phone numbers and resources for anyone looking for substance abuse and mental health help in and around Pasco, as well as crisis help. For non-emergency questions or information related to substance abuse and addiction treatment, you can reach out to The Recovery Village Ridgefield.
City of Pasco, WA
The City of Pasco, Washington is in Franklin County and is part of the Tri-Cities Region. Pasco is near Kennewick and Richland, which are the other two cities in the Tri-Cities. Pasco has a lot of agricultural areas around it, and it's home to the regional Tri-Cities Airport with direct flights to major U.S. cities including Denver, Salt Lake City, Phoenix and San Francisco. The Pasco Farmers Market is one of the most popular community events, as is the Fiery Foods Festival. Pasco is located at 46.2305° N, 119.0922° W.
Addiction Resources in Nearby Washington Cities
For those who are seeking alcohol and drug treatment facilities outside of Pasco, Washington, there are also many drug rehab resources across the state of Washington:
Medical Disclaimer
The Recovery Village aims to improve the quality of life for people struggling with substance use or mental health disorder with fact-based content about the nature of behavioral health conditions, treatment options and their related outcomes. We publish material that is researched, cited, edited and reviewed by licensed medical professionals. The information we provide is not intended to be a substitute for professional medical advice, diagnosis or treatment. It should not be used in place of the advice of your physician or other qualified healthcare providers.
Reach out now
We can help answer your questions and talk through any concerns.