North Bend, Washington, is in King County. North Bend is part of the Seattle metropolitan area, and the community was made famous when it was featured in the television series "Twin Peaks." Unfortunately, while North Bend is a beautiful place, drug and alcohol use are problematic, which is true throughout most of the United States.
In 2017, drug and alcohol use caused the deaths of 379 residents of King County, which was up from 348 in 2016, according to reports published by King County and the University of Washington Alcohol and Drug Abuse Institute. Opioids, and in particular heroin and fentanyl, were the substances most commonly associated with fatal overdoses.
For people in North Bend, rehab and recovery resources are available, and people can empower themselves by learning more about these resources.
North Bend Drug and Alcohol Rehabilitation and Treatment
Addiction to drugs or alcohol is considered a chronic disorder requiring both mental and physical treatment in many cases. Dependence is separate from addiction, but the two tend to occur together. With dependence to drugs or alcohol, a person will experience withdrawal symptoms if they stop using cold turkey.
Many people require a medical detox to treat dependence and then they can begin further treatment through an additional rehab program. Options are available in the areas surrounding North Bend for drug and alcohol rehab, including programs like:
Detox
Inpatient care
Partial hospitalization programming
Intensive outpatient care
Outpatient care
Aftercare support
Drug and Alcohol Detox Programs and Treatment Centers in North Bend, WA
While there aren't currently drug and alcohol detox programs and treatment centers in North Bend, a variety of options exist in the Seattle metro area, as well as other Washington locations such as Ridgefield. The Recovery Village Ridgefield has a standalone facility dedicated solely to detox care.
Medical detox programming, regardless of whether it's through a local clinic or established rehab center, helps people start recovery in a supportive manner. Detox gives people the opportunity to cleanse their bodies of drugs and alcohol with the guidance of medical staff.
North Bend Residential Treatment Programs
While there aren't currently any North Bend residential treatment programs, there are a total of 25 treatment programs in nearby Seattle. Of those, three are hospital inpatient programs, and two are residential inpatient facilities. As well as Seattle facilities, The Recovery Village Ridgefield offers residential treatment programs including inpatient detox.
Alcohol and drug addiction treatment can occur at varying levels of care. There are high levels of care, such as detox and inpatient treatment. Then, there are lower care levels like outpatient rehab.
For many people, a residential treatment program is the first part of their rehab plan. Inpatient care usually follows medical detox. During inpatient rehab, clients live at the treatment center. While they're there, their time is fully dedicated to recovery and healing. Inpatient alcohol rehab or inpatient drug addiction treatment offers stability, support, and monitoring in the early days of recovery, which can be challenging.
North Bend Partial Hospitalization Programs
There aren't currently any North Bend or Seattle partial hospitalization programs, but this level of treatment is available at The Recovery Village Ridgefield.
A partial hospitalization program (PHP) is a lower intensity treatment program than inpatient rehab. A PHP may be an option for someone with a less severe substance use disorder or someone who has already gone through higher levels of care.
Most PHPs include many of the same treatment components of residential rehab, but the time commitment may be less rigorous. In some cases, a person participating in a PHP can return home when they complete their treatment program each day.
North Bend Outpatient Treatment Programs
There is one outpatient detox program in Seattle and 11 other outpatient clinics that treat substance abuse. The Recovery Village Ridgefield facility also offers a variety of individualized outpatient treatment programs, including intensive outpatient care.
An outpatient treatment program lets people continue their daily life and routines as they also receive treatment. Outpatient treatment programs often include individual counseling and group therapy. For someone to thrive in outpatient treatment programs, they do need a safe home environment that is supportive and substance-free.
Outpatient treatment programs offer a sense of flexibility, and for someone people, this is a starting point in treatment. For others, outpatient treatment may be an option after completing higher levels of care.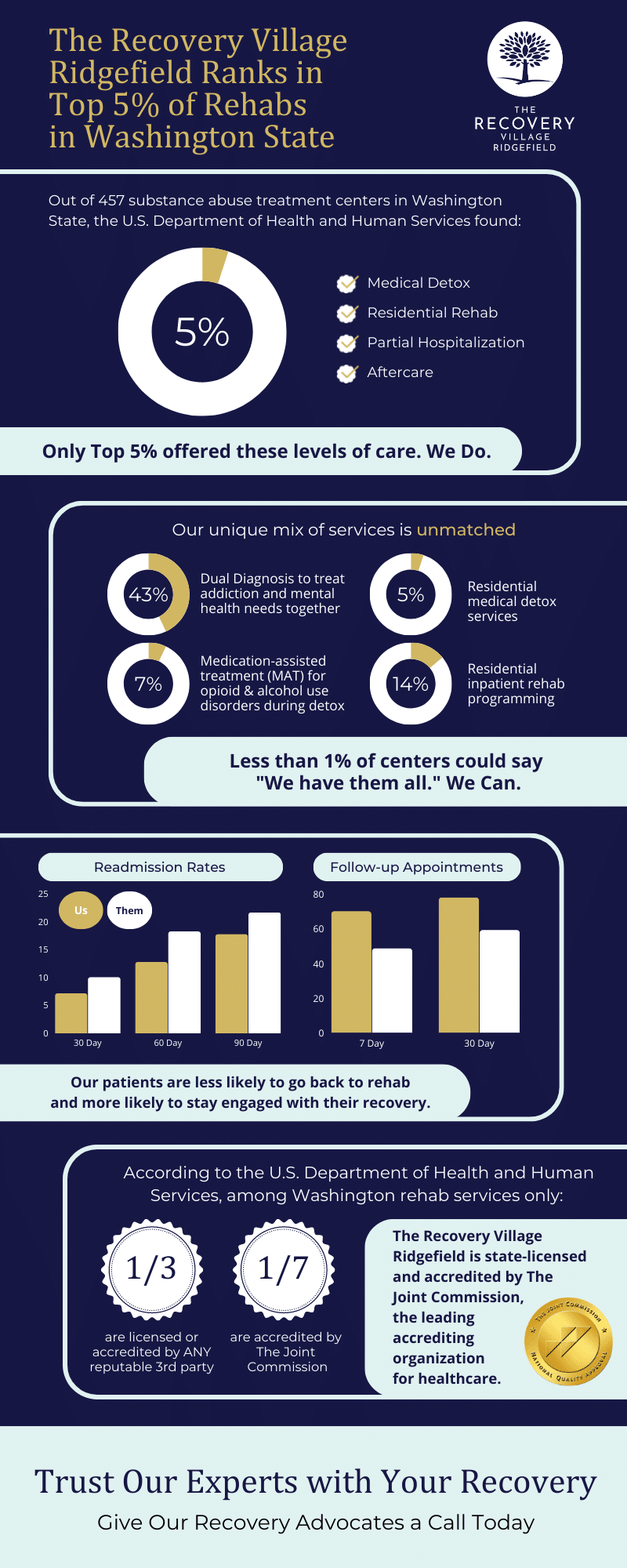 Sober Living and Rehab Aftercare Programs in North Bend, WA
Of the accredited treatment facilities in Seattle, 96% of accredited treatment programs include aftercare planning. The Recovery Village Ridgefield also includes aftercare planning and follow-up as parts of treatment.
Once someone completes the initial stages of an addiction treatment program, they can work on maintaining their recovery throughout continuing care and aftercare programs. Depending on the person and their individualized treatment plan, continuing care could include living in a sober living home or another type of aftercare facility.
When a facility offers features like rehab alumni programs, it can be a valuable way to keep people connected to their recovery and their support system.
Specialized Treatment Programs in North Bend, WA
Although there are currently not any specialized addiction treatment programs available in North Bend, Seattle offers some options, including:
12 specialized programs for people with co-occurring mental health and substance use disorders
One program that offers rehab for veterans
One program offering rehab for the LGBT community
Five program options that offer rehab for pregnant women or postpartum women
Five facilities offering rehab for PTSD and programming for people who have experienced trauma
What Is the Process Like in a Drug Detox and Rehab Facility?
What can you expect when you receive addiction treatment? If you're interested in receiving treatment or you're exploring options for a loved one, you can contact a treatment center by phone. The addiction specialists will be able to determine what program could be a good fit.
Then, the staff of the treatment facility can arrange for travel and arrival at the center. Once someone arrives, they begin their intake assessment. This evaluation is important because it allows the treatment team to make an individualized rehab plan.
Once someone completes their intake assessment, they may begin detox. During this time a client is supervised, and their symptoms of drug or alcohol withdrawal are monitored and managed.
Once detox is completed, a client can transition to further treatment, including inpatient and outpatient programming. Clients may also enroll in partial hospitalization programs or intensive outpatient programs and receive an aftercare plan upon leaving the facility.
Finding the Best Rehab Program for You
Whether you are searching for a rehab near North Bend, elsewhere in Washington or another state, how do you know how to find the best rehab center? Finding the best rehab center is an important and life-changing decision.
To help you find a center that can meet your needs, look for facilities that:
Are accredited
Will work with your health insurance coverage
Offer detox care
Have step-down programs available, including inpatient and outpatient
Offer counseling for co-occurring mental health conditions
Have relatively positive online reviews
What Questions Should You Ask When Considering a Treatment Program?
When you compare treatment programs and centers, there are certain questions you can use to gauge the quality of care, how effective a program might be and whether or not it could be a good fit for your needs.
Exploring Treatment Options Near North Bend, WA
How do you know whether it's best to travel away from your home to receive addiction treatment, or to stay nearby? It's a personal decision.
Many addiction treatment professionals feel that there is value in leaving one's hometown or even state for treatment because it provides a fresh start and perspective. It can take you away from stress or potentially negative influences and allow you to focus entirely on your recovery.
On the other hand, if you stay relatively close to home, your family and loved ones may be an integral part of the treatment process.
Additional Addiction and Rehabilitation Resources in North Bend, WA
Rehab and addiction treatment centers are only one part of long-term recovery. There are other addiction and rehab resources in and near North Bend also to be aware of.
Recovery Meetings Near You in North Bend, WA
Recovery meetings are a way for people who are in recovery for alcohol or drug addiction to come together. There is a sense of anonymity but also mutual support. Social support is a critical part of recovery.
Non-Profit Organizations in North Bend, WA
There are non-profit groups and organizations that provide help, referrals, and services to people in the North Bend and King County area.
North Bend, WA Substance Abuse Hotlines
City of North Bend, WA
North Bend, Washington is in King County, close to Seattle. It was featured in the show "Twin Peaks," and the upper valley area surrounding North Bend is home to an elk herd, and there are several biking and hiking trails in the area including the Mount Si Trail. Snoqualmie Falls is around five minutes from North Bend, and North Bend is 40 minute from the Seattle-Tacoma International Airport. The location of North Bend is 47.4957° N, 121.7868° W.
Addiction Resources in Nearby Washington Cities
For those who are seeking alcohol and drug treatment facilities outside of North Bend, Washington, there are also many drug rehab resources across the state of Washington:
Medical Disclaimer
The Recovery Village aims to improve the quality of life for people struggling with substance use or mental health disorder with fact-based content about the nature of behavioral health conditions, treatment options and their related outcomes. We publish material that is researched, cited, edited and reviewed by licensed medical professionals. The information we provide is not intended to be a substitute for professional medical advice, diagnosis or treatment. It should not be used in place of the advice of your physician or other qualified healthcare providers.
Reach out now
We can help answer your questions and talk through any concerns.