Battle Ground, Washington, is in Clark County. It's a rapidly growing community and suburban area. This city is in the southwest part of the state, close to Vancouver. Battle Ground is also only around 25 miles from Portland, Oregon.
While Clark County and Washington have lower opioid death rates than the United States as a whole, it's still a problem, according to data from the Centers for Disease Control and Prevention. In Clark County in 2016, there were more than ten deaths per 100,000 people related to opioids, and that number was slightly higher for the entire state.
Meth has also seen a resurgence in Clark County. Local substance abuse programs, state law enforcement, and health care organizations have all reported meth use rising. Other substances with high abuse rates in the area include alcohol, cannabinoids, and benzodiazepines, in addition to opioids.
For people in Battle Ground, an important part of the fight against substance abuse is knowing where to turn for help. There are local resources in and around Battle Ground, state resources throughout Washington, and national sources of substance abuse help for people from Battle Ground.
Battle Ground Drug and Alcohol Rehabilitation and Treatment
Drug and alcohol rehabilitation and treatment can take many different forms. For example, for most people who have an addiction to drugs or alcohol, dependence exists as well.
Dependence and addiction are two separate conditions. Dependence refers to the physiological dependence a person has on a substance. As someone stops using that substance, withdrawal symptoms may occur. These symptoms can range from mild to severe and often require professional, inpatient monitoring and medical treatment.
Detox is just one part of the spectrum of addiction treatment, however. There are also inpatient rehabilitation programs where a person checks into a facility. There are outpatient rehab programs offering more flexibility, and there are partial hospitalization programs that are somewhere in the middle of inpatient and outpatient rehab.
Drug and Alcohol Detox Programs and Treatment Centers in Battle Ground, WA
According to the Substance Abuse and Mental Health Services Administration (SAMHSA), there are quite a few centers and programs offering substance abuse help and treatment in and near Battle Ground.
These are around 26 programs in Battle Ground or within 15 miles of the city. Many of these programs are in Vancouver, which is nearby. The Recovery Village Ridgefield is one such program available to residents of Battle Ground. The Recovery Village Ridgefield offers a standalone center devoted entirely to detox care.
Battle Ground, WA Residential Treatment Programs
Within 15 miles of Battle Ground, there are seven facilities offering residential treatment. This number includes the Recovery Village Ridgefield.
The format, time commitment and types of therapy can vary between addiction treatment programs and also an individual's needs. One type of treatment that's often the first part of someone's rehab program is residential treatment in an inpatient rehab facility.
Inpatient rehab, whether it's drug addiction treatment or inpatient alcohol rehab, offers many advantages for patients. First, a residential treatment program may include an onsite medical detox, so the patient can easily transition between the phases and steps of treatment.
Residential rehab is also intensive and immersive. The environment is carefully managed to prevent the risk of relapse. There are both short- and long-term residential treatment programs.
Battle Ground Partial Hospitalization Programs
A partial hospitalization program is a transitional program for people who are ready to step into less intensive care or who can begin at a lower level of care because of a milder addiction. With a partial hospitalization program, much of the therapy and treatment is similar to what residential patients receive. In partial hospitalization, most clients live on-site at a center and receive medical support and counseling.
Three programs near Battle Ground offer partial hospitalization, including The Recovery Village Ridgefield.
Battle Ground Outpatient Treatment Programs
Outpatient treatment programs are significantly less intensive than inpatient or partial hospitalization programs. Outpatient rehab requires a commitment averaging a few hours a week, and during that time the participants are expected to come to the treatment center. When someone engages in an outpatient treatment program, which can last for one month up to several months or more, they have the flexibility to live and work as normal.
Some people's individual treatment plan might begin with outpatient rehab. For others, they may begin outpatient treatment after completing higher levels of care.
There are 25 outpatient drug treatment programs and alcohol rehabs in and near Battle Ground. There are two outpatient detox programs in the area, and 20 intensive outpatient programs, including The Recovery Village Ridgefield.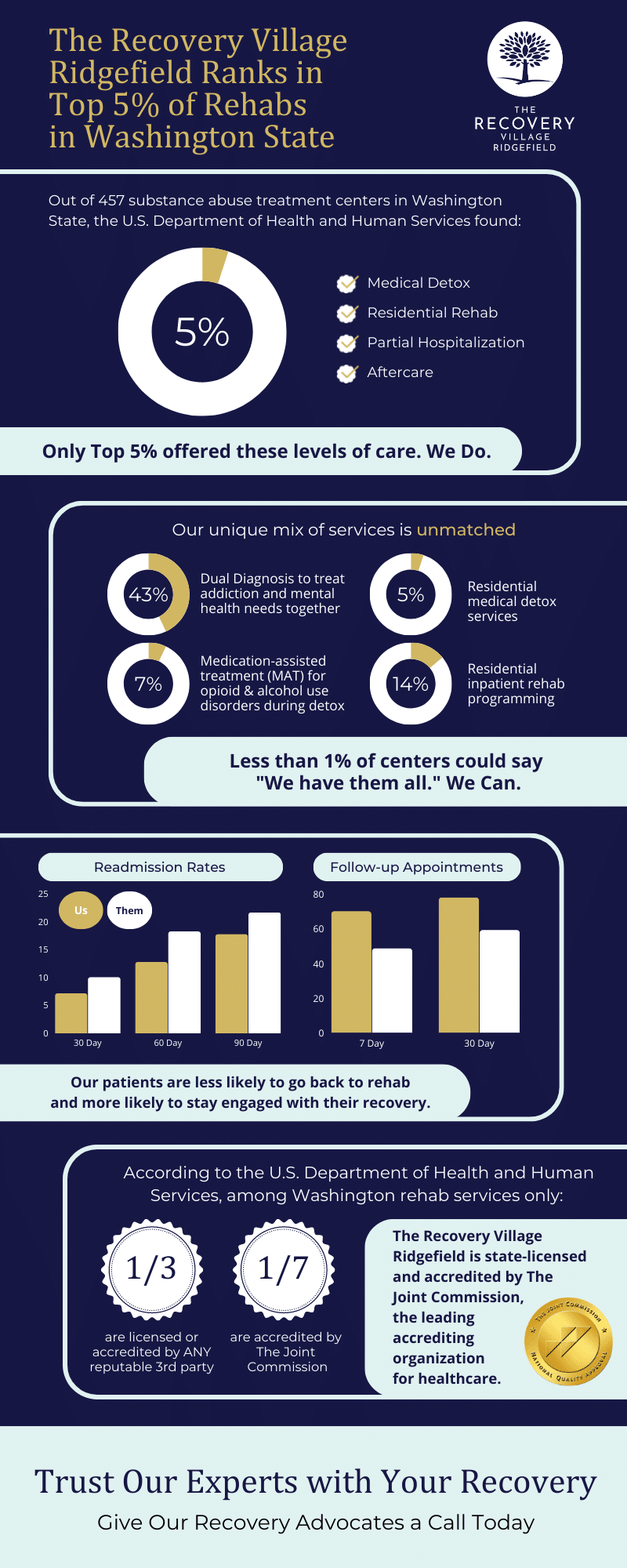 Sober Living and Rehab Aftercare Programs in Battle Ground, WA
When someone completes a rehab program, it's a huge step but only one part of long-term recovery. That's why it's important their treatment program includes a focus on continuing care. Aftercare facilities, drug rehab aftercare programs, and rehab alumni programs are all integral to maintaining a connection to treatment and long-term recovery.
There is one sober living home facility near Battle Ground. The Recovery Village Ridgefield also offers aftercare and continuing care planning as part of all individualized treatment programs.
Specialized Treatment Programs in Battle Ground, WA
Specialized treatment programs in Battle Ground or nearby are geared toward providing treatment to specific populations in a comfortable environment. Specialized programs include:
Seven programs offering rehab for the LGBT community near Battle Ground
Six programs near Battle Ground offer rehab for veterans
Seven women's rehab centers, including rehab for pregnant women and postpartum women
Ten rehabs for teens and adolescents within a 15-mile radius
11 programs work with people who have experienced trauma, including offering rehab for PTSD
15 local treatment programs offer care for co-occurring mental health disorders and substance abuse disorders
What Is the Process Like in a Drug Detox and Rehab Facility?
When someone goes to a drug detox and rehab facility, what can they expect? What is the drug treatment process like or the process to treat alcohol addiction?
Finding the Best Rehab Program for You
A person's overall level of comfort with a treatment program can be a good indicator of successful long-term outcomes. Choosing the right rehab program depends on certain factors.
Consider the following when finding the best rehab center:
What types of programs are available? For example, is the level of care you need available? If you have a severe addiction or you've gone through previous rehabs before and relapsed, you may need intensive treatment so is that available?
What is the staff of the treatment center like? Are they engaged and compassionate? What are their individual credentials? Have any of the staff members also gone through addiction, so they have an empathetic understanding of what patients are going through?
Would you prefer a certain type of treatment, such as single gender or a religious program?
What Questions Should You Ask When Considering a Treatment Program?
As you're exploring treatment programs, your mind may be racing. There's so much to think about, ranging from the location of the facility to the level of care available.
Many treatment programs are addiction-specific facilities. This means that they may specialize in the treatment of alcoholism, certain drugs or perhaps behavioral health disorders like sex addiction.
Some questions that can help guide the process to choose a program include:
Exploring Treatment Options Near Battle Ground, WA
There are local options for drug abuse treatment near Battle Ground, but also state and national facilities. How do you decide where to attend treatment?
However, the pros of traveling for rehab may include:
You get the chance to start over in a new place
You're more likely to complete a program if you're far from home and can't as easily return home if you feel like it
You may find it's nice to physically and mentally separate yourself from your home environment
You have a wider variety of treatment programs available to you
Additional Addiction and Rehabilitation Resources in Battle Ground, WA
Whether someone goes to rehab or they don't, there are also local resources in and near Battle Ground that may be helpful to them. For example, there are recovery meetings such as 12-step programs. Recovery meetings are often included in aftercare plans. There are also non-profit organizations that help people with substance use disorders as well as governmental organizations.
Recovery Meetings Near You in Battle Ground, WA
Recovery meetings and support groups are excellent resources for anyone who struggles with addiction, whether they have completed treatment or not. These programs create a social support network that can be an integral part of relapse prevention.
Frequently, 12-step programs are the most popular types of recovery meetings, but there are others as well. These meetings tend to be flexible in terms of scheduling, and they're available in most cities and towns in the country, making them accessible.
Non-Profit Organizations in Battle Ground, WA
The following are non-profit and local government organizations in and near Battle Ground. These organizations can help connect residents with other resources or in some cases referrals to treatment and care. They can also provide crisis services.
Battle Ground, WA Substance Abuse Hotlines
Below are some phone numbers that could be helpful if you live in Battle Ground. These numbers include crisis lines at the local and state level, as well as national hotlines. You can also contact The Recovery Village Ridgefield if you have questions about substance abuse.
City of Battle Ground, WA
Battle Ground, Washington, has a population of over 20,000 residents currently. Battle Ground is close to Vancouver, and around 32 miles from Mount St. Helens. The Harvest Days festival is held every summer in Battle Ground, and other community events as well such as a yearly chili cook-off. Bus service is available to downtown Vancouver, and the closest large commercial airport is Portland International. Battle Ground is located at 45.7807° N, 122.5475° W.
Addiction Resources in Nearby Washington Cities
For those who are seeking alcohol and drug treatment facilities outside of Battle Ground, Washington, there are also many drug rehab resources across the state of Washington:
Medical Disclaimer
The Recovery Village aims to improve the quality of life for people struggling with substance use or mental health disorder with fact-based content about the nature of behavioral health conditions, treatment options and their related outcomes. We publish material that is researched, cited, edited and reviewed by licensed medical professionals. The information we provide is not intended to be a substitute for professional medical advice, diagnosis or treatment. It should not be used in place of the advice of your physician or other qualified healthcare providers.
Reach out now
We can help answer your questions and talk through any concerns.