Longview, Washington, is in Cowlitz County, which has been affected by the opioid crisis. Find addiction and mental health resources in the area.
Longview is a city that's part of Cowlitz County, Washington. Longview is located where the Cowlitz and Columbia Rivers meet. Proximity-wise, Longview can be considered part of the Vancouver metro area, which is near Portland, Oregon.
Cowlitz County, like so much of the state of Washington, has been heavily affected by substance abuse and, in particular, the national opioid epidemic. Cowlitz County has the third-highest death rate because of opioid overdoses in the state, behind Clallam and Mason Counties.
Cowlitz County, like many other counties around Washington and the country, are considering lawsuits against drug manufacturers because the effects of substance abuse are depleting public resources.
At the individual level, addiction treatment is available near Longview, Ridgefield and throughout Washington, as well as nationwide. Knowing where to turn for help and resources is essential for anyone who faces drug or alcohol addiction.
Longview Drug and Alcohol Rehabilitation and Treatment
A starting point when your life is affected by substance abuse is learning more about treatment programs and options in nearby areas. It's empowering, whether you are struggling with addiction to drugs or alcohol, or your loved one is. Not all programs and treatment approaches are the same, and some may work better for your needs than others.
There are several options for drug and alcohol rehab near Longview and in the surrounding areas. Many options exist throughout Washington state.
Drug and Alcohol Detox Programs and Treatment Centers in Longview, WA
While there is only one drug and alcohol treatment program in Longview, there are many others in nearby Portland, Vancouver, and Ridgefield. The Recovery Village Ridgefield Detox Center is a great resource for anyone looking for evidence-based detox care and offers medical detox care in Washington.
Drug and alcohol detox programs allow people to go through withdrawal safely with the support of a medical team. Detox cleanses the body of drugs and alcohol, laying a firm foundation for continued treatment and recovery.
You make the decision, we take care of the rest.
Comprehensive addiction treatment at The Recovery Village Ridgefield.
Longview Residential Treatment Programs
Currently, there isn't a residential rehab program in Longview, but there are three residential programs in the Vancouver area and one hospital inpatient program. There is also The Recovery Village Ridgefield, which offers residential treatment programs personalized to each client's unique needs.
A residential treatment program may also be called inpatient alcohol rehab or inpatient drug addiction treatment.
During a residential treatment program, a patient checks into the treatment facility. They usually receive around-the-clock medical and psychiatric care, and the environment is structured, supportive and supervised. Many residential treatment programs include an inpatient medical detox as well.
An inpatient rehab facility can be a beneficial option for someone who has a severe addiction problem or who have tried other treatment programs and experienced a setback. Residential care is a viable starting point for many people, and once they complete residential treatment, they can move to lower intensity programs, such as outpatient rehab.
Longview Partial Hospitalization Programs
While there isn't a Longview partial hospitalization program or PHP, there is one available at The Recovery Village Ridgefield.
Most PHPs have elements of both inpatient rehab and outpatient treatment. Participants may stay onsite for partial hospitalization or return home in the evenings, but the level of care is less intense than residential inpatient treatment and prepares people for intensive outpatient (IOP) care or outpatient programming.
Longview Outpatient Treatment Programs
There aren't currently any Longview outpatient treatment programs, but there are two outpatient treatment clinics in Vancouver. The Recovery Village Ridgefield also offers outpatient programs, including IOP.
Outpatient treatment programs offer flexibility and increased freedom for participants. During an outpatient program, the participant is responsible for attending treatment throughout the week but can continue with daily life as well in a supportive living arrangement that's conducive to recovery.
Sober Living and Rehab Aftercare Programs in Longview, WA
Of the addiction treatment centers near Longview, most offer aftercare planning, discharge planning, and continuing care. The Recovery Village Ridgefield also includes comprehensive aftercare planning as part of all treatment programs.
Addiction recovery continues long after a person completes rehab. Many addiction treatment centers will integrate long-term aftercare planning into their individualized treatment plans.
Sober living programs can include recommendations for local sober living homes and may be included in some people's continuing care plans. These supportive environments provide a step-down from structured programming in rehab, but there is still supervision.
Other forms of drug rehab aftercare can include participation in support groups like a 12-step program, or ongoing individual or family counseling. Rehab alumni programs can be a good way for people who attend rehab to stay connected to the center, their support group, and their recovery.
Specialized Treatment Programs in Longview, WA
At The Recovery Village Ridgefield, people can benefit from individualized care plans that account for each client's unique physical and mental needs. There are also other specialized treatment programs in Longview.
Some of the specialized treatment programs available in and around Longview include:
Three Vancouver-area programs geared toward the needs of people with co-occurring mental health disorders
One treatment center that specializes in rehab for the LGBT community
One program in Vancouver for rehab for veterans, active-duty military and their families
Two veteran substance abuse treatment programs
Several specialized programs for people who have endured trauma or abuse, which may offer rehab for PTSD
Women's rehab centers, and specialized rehab for pregnant women
Rehab for teens and adolescents
What Is the Process Like in a Drug Detox and Rehab Facility?
While the drug treatment process can look different for every person, what are some general features to expect?
A stay in a drug detox and rehab facility can vary quite a bit, depending on the facility, but usually includes:
An initial intake process to inform a personalized treatment plan
Participation in detox care
Transition to further treatment after detox
A range of programs for inpatient and outpatient care
Mental health counseling in most programs
Therapy options in most programs
Access to recreational amenities as medically appropriate
Rehab can range from a few weeks up to several months or more for residential treatment. Most drug detox and rehab facilities take multiple approaches to treatment. For example, there may be a combination of individual and group therapy. Some programs will also include family therapy.
A rehab program will also integrate holistic treatment options in addition to therapy and 12-step programs. For example, mindfulness, meditation or recreational therapies may be used.
To learn more about the rehab process, visit this informational page from The Recovery Village.
Finding the Best Rehab Program for You
There are considerations and questions to keep in mind when comparing rehab programs. Certain questions can help you learn how to find the best rehab center and ensure that it's a quality, evidence-based program.
When you're narrowing your options for rehab, consider centers that:
Are accredited
Offer a range of treatment programs
Have full-time staff
Offer counseling for co-occurring mental health conditions
Offer aftercare planning
Offer sober living support, if necessary for you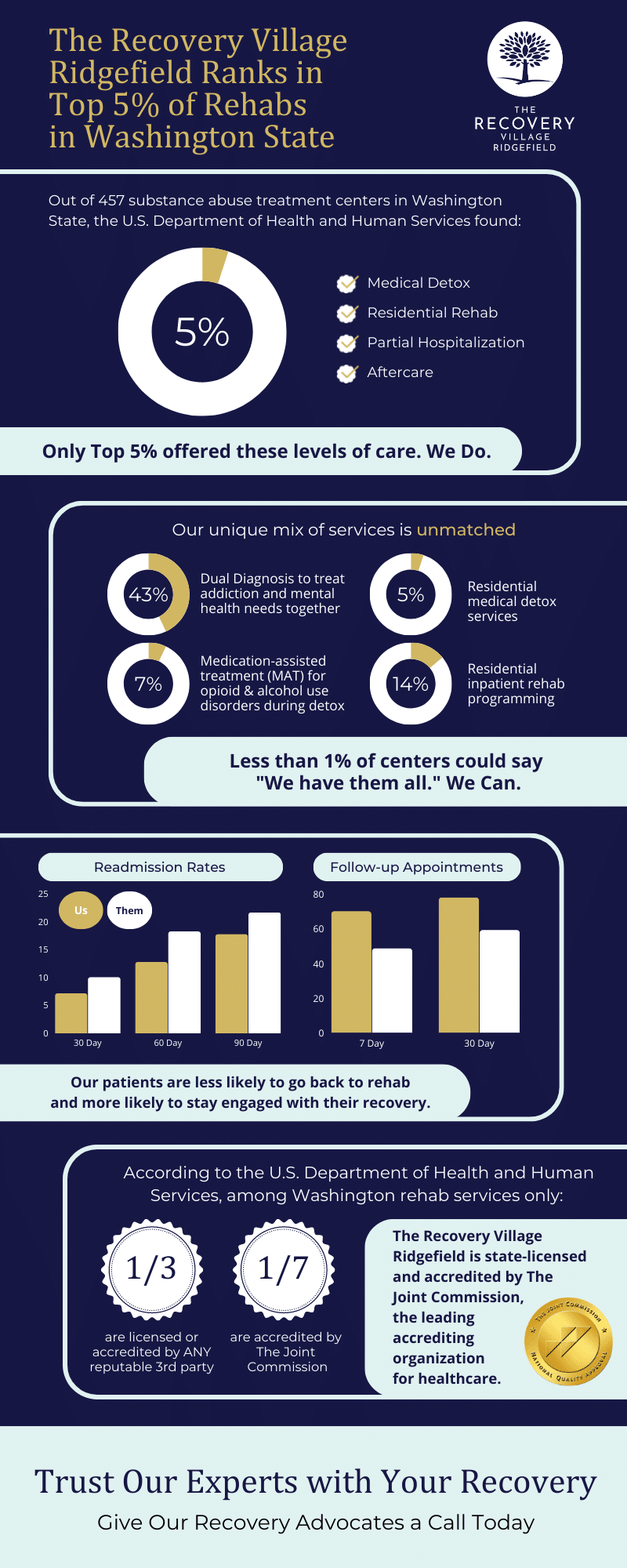 What Questions Should You Ask When Considering a Treatment Program?
When you talk with a representative of a rehab center, ask the following questions.
What Is Your Treatment Philosophy?
No two treatment plans are going to be exactly alike because everyone is an individual, but treatment centers do tend to have an underlying philosophy that serves as the basis for their care and programs.
Multi-disciplinary treatment programs led by skilled staff with experience and credentials can improve your recovery outcomes. Holistic treatment is also important. Holistic treatment means all the needs of a patient are considered and treated including their physical and mental health, as well as their spiritual health.
What Is the Admissions Process Like?
It's important for people to have access to treatment when they need it. Look for an admissions and intake process that is smooth and efficient. At The Recovery Village Ridgefield, for example, the intake team work on your behalf with your insurance provider and keep the admission process seamless for you and your family.
Is Insurance Accepted?
Health insurance can help you minimize the out-of-pocket costs of rehab. Many private insurers cover some or all of the costs of addiction treatment a well as mental health care. For example, The Recovery Village Ridgefield is in-network with some of the primary insurance companies in Washington and the country.
What Services Are Offered and What's Included?
At a minimum, most inpatient or residential treatment programs include treatment as well as room and board, but what about beyond that? For example, is medication management part of the program, and what about the costs of medical detox if necessary? Are there recreational and nutrition services provided, or do these services cost extra?
For more questions and answers about rehab, view frequently asked questions about rehab with The Recovery Village.
Exploring Treatment Options Near Longview, WA
While there are many decisions when it comes to detox and rehab, one of the primary ones you have to make early on is whether you'll attend treatment near your home or you'll travel for treatment. As with anything, there are pros and cons to both options.
If you live in Longview and attend treatment near your home, pros can include:
You may feel more comfortable
You'll be closer to your support system including family and friends
Travel time and costs will be lower
However, the pros of going somewhere outside of your hometown or state can include:
You can be truly anonymous during treatment
You can gain a fresh start in a new environment
If your home environment isn't positive or supportive, you can leave that during treatment
Additional Addiction and Rehabilitation Resources in Longview, WA
Along with addiction treatment centers in and near Longview, other recovery resources may be helpful for people who struggle with drug or alcohol addiction as well as their families.
Addiction Resources in Nearby Washington Cities
For those who are seeking alcohol and drug treatment facilities outside of Longview, Washington, there are also many drug rehab resources across the state of Washington:
Recovery Meetings Near You in Longview, WA
Recovery meetings are support groups where people in recovery from drug and alcohol addiction can go to remain accountable to themselves and their support system, and also have social interactions and share their experiences.
The most well-known recovery meetings are 12-step programs like Alcoholics Anonymous (AA) and Narcotics Anonymous (NA), but there are others for people who might not prefer a 12-step program.
City of Longview, WA
Longview, Washington had an estimated population of over 37,000 people in 2016. The city is a hub of manufacturing as well as marine transportation because it's home to the Port of Longview. Longview is near Castle Rock, which serves as the gateway to the Mount St. Helens National Monument. Longview is primarily served by the Southwest Washington Regional Airport and is located at 46.1382° N, 122.9382° W.