Hudson Drug & Alcohol Rehab, Detox & Treatment Resources
Hudson is a small rural town with a population of approximately 22,300. Located southeast of Cleveland and north of Akron, the area is heavily influenced by its larger neighbors. This is shown in the more than 900 companies based in the town that range from large corporations to small family-owned businesses. The town is part of Summit County, which includes the city of Akron.
In Summit County, authorities are increasingly concerned about the growth in the abuse of drugs such as heroin. Leading community members refer to the situation as an opioid epidemic. A petition addressed to the City of Hudson was launched in 2014 asking the authorities to fight the growing abuse of heroin in the community. The Akron Beacon Journal reported that there were 2,423 drug overdoses in the county in 2016.
While drug dependence is a serious problem, there is hope. Numerous treatment options are available in and around the Hudson area, in the state of Ohio and across the country. If you or a loved one is facing an addiction, it helps to begin learning about the available alcohol and drug treatment in Hudson as you start down your path to recovery.
Our Closest Facility:
Just a short drive down the road, The Recovery Village Columbus Drug & Alcohol Rehab is centrally located to solve any addiction problems you may have. Accepting all major insurance providers including medicaid and medicare, get admitted today and solve your addiction issues.
Finding Drug and Alcohol Rehab in Hudson, Ohio
Hudson, OH Drug Rehab and Alcohol Rehab Centers
Numerous Hudson drug treatment facilities exist in Summit County and in Cleveland that are dedicated to helping those who live with drug and alcohol dependence. These include local support groups, partial hospitalization and full residential treatment programs.
Residential Treatment Programs
Residential treatment centers provide recovering patients a safe and drug-free environment where they can go through a monitored detoxification program. When they're free from physical or chemical dependence, they receive therapy and counseling designed to help them understand more about addiction and how to live a drug- or alcohol-free life. Residential drug rehab centers in Hudson, OH usually have a more home-like environment than what's found in hospitals, and their facilities are designed for the needs of those in recovery. At a residential treatment program, patients live at the facility full time, which can make it easier for them to focus on recovery.
Partial Hospitalization Programs
A partial hospitalization program, known as a PHP, is one where the patient doesn't stay overnight at the hospital or treatment facility but participates in an extensive outpatient rehabilitation program at the facility during the day. The cost of a PHP is much lower than that of an inpatient drug rehab in Hudson, OH, but it still incorporates much of the same counseling and therapeutic features. A PHP doesn't offer the same level of patient protection, however, and it's essential that patients have a stress-, drug- and alcohol-free place to stay when they leave the PHP facility for the day.
Outpatient Treatment Programs
While similar in some ways to a partial hospitalization program, an outpatient drug rehab in Hudson, OH allows patients to live at home throughout their therapy. This allows them to continue to work and participate in normal activities. An outpatient program is suited to someone who does not require as much supervision and is able to go through detoxification with minimal symptoms and without intensive medical care. Key aspects of an outpatient program are attending regular therapeutic and counseling sessions over a period of time.
The choice of program depends upon a number of factors. Before deciding on the best option, it's essential to take into account the type of addiction, its severity and whether detoxification should be medically supervised. Other factors include insurance coverage, family and work responsibilities and the patient's state of mind.
One sound choice to consider is a nationally recognized treatment facility like The Recovery Village, which offers all three treatment options. Located in Groveport, Ohio, The Recovery Village provides the full continuum of addiction care.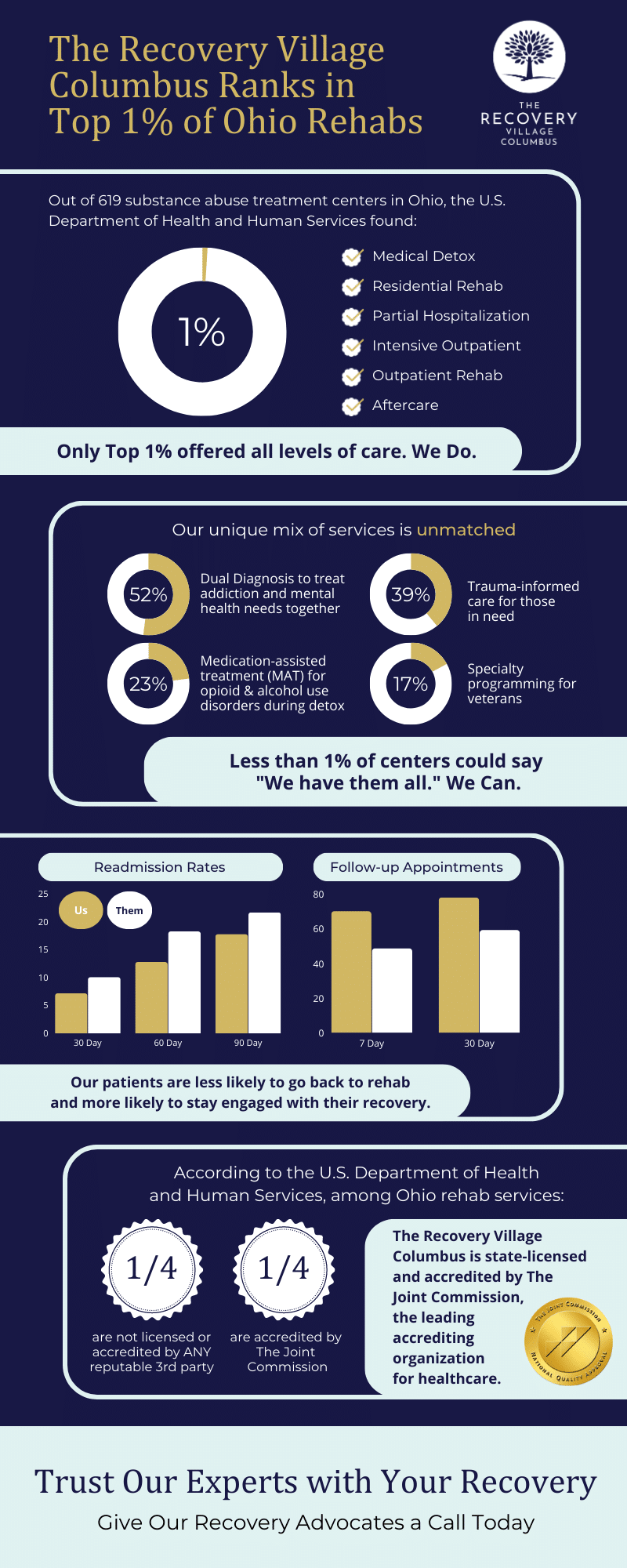 Detox Centers
With its location close to two major city centers, there are many options for detoxification for those seeking help in Hudson. Detoxification is the first step on the road to recovery. It usually takes a few days for the drugs or alcohol to be eliminated from the patient's body. Depending upon the type of addiction and its intensity, it may be necessary for the patient to seek medical help to prevent undesirable side effects that can occur during detoxification. Because a person's body can become chemically dependent upon a drug, pain, nausea and anxiety are common side effects of withdrawal. These can be treated with medication. With serious addictions, the side effects may last for several days.
Once a patient undergoes Hudson drug detox, the next step is to learn to live without drugs and alcohol. Therapy sessions can help those in recovery deal with underlying psychological reasons for the addiction.
Recovery Meetings Near You
Recovery meetings offer strength and support to those in recovery. They're open to those still fighting addiction as well as those who are going through rehabilitation and maintaining sobriety. Meetings can provide those in recovery with a safe place to talk about their experiences, struggles and difficulties, and they may play an important role in helping to prevent relapse.
There are several different organizations that cater to the various needs of former drug and alcohol users as well as to the families and loved ones of those in recovery. All recovery groups offer anonymity and are safe places to share personal stories.
Hudson is in Summit County, Ohio, and other nearby towns and cities offer treatment facilities, too. It can be beneficial to travel to a different area than your hometown as you begin treatment and recovery. A new environment can help you focus and feel invigorated about the new life journey and the healing process you're embarking on.
Addiction Resources in Nearby Ohio Cities
For those who are seeking alcohol and drug treatment facilities outside of Hudson, Ohio, there are also many drug rehab resources across the state of Ohio: