Lorain Drug & Alcohol Rehab, Detox & Treatment Resources
Lorain, Ohio is a city of about 300,000 people just 30 miles west of Cleveland. It is famous for being the home to a wide range of people of all nationalities. Its economy centers on the steel mills, but all the mills closed as of 2016. Lorain has seen a surge in drug overdose deaths in recent years. In fact, in 2016, Lorain saw the death toll from drug overdoses double from previous years, to approximately 140 drug overdose deaths. In recent history, the most abused substance was prescription pills. When regulations for prescriptions became more stringent, substance misusers moved onto cheaper options, such as heroin and fentanyl. The belief is that the deaths are not due to just one substance but from a mixture of several substances. Also, the problem is not just in Lorain. According to the Centers for Disease Control and Prevention, the rising causes of overdose deaths in Ohio are unprecedented and often involve fentanyl.
On a positive note, law enforcement is doing its best to stop the flow of drugs into the community. It's also important to note that there is hope for those who misuse drugs and other substances. Most important is the necessity for those struggling with substances to receive the type of care they need. Particularly in cases of opioids, it's crucial to take the right steps during detoxification to avoid devastating side effects.
Our Closest Facility:
Just a short drive down the road, The Recovery Village Columbus Drug & Alcohol Rehab is centrally located to solve any addiction problems you may have. Accepting all major insurance providers including medicaid and medicare, get admitted today and solve your addiction issues.
Finding Drug and Alcohol Rehab in Lorain, Ohio
Lorain, Ohio Drug Rehab Centers and Alcohol Rehab Centers
For those struggling with substance misuse and for the loved ones of those struggling with substance misuse, the road ahead can be long and arduous. There is no reason to feel alone, however, as there is a vast network of support available. From various alcohol and drug rehab centers to support groups, there are others just like you who are walking or have walked the same path. For those with substance misuse disorders, a structured program administered by professionals is oftentimes necessary for a safe road to recovery. Different programs exist to meet different needs.
If you're considering attending a Lorain alcohol rehab or Lorain drug rehab, there are many options available to you. These choices offer the person the opportunity to find a program that best fits his or her needs. Many considerations exist, such as the amount of time and care that one may need to recover. The biggest factor to consider is where the person is in his or her recovery. This determines the level of care that he or she will need moving forward. There are several types of programs to consider.
Residential Treatment Programs
Residential treatment programs are a great option for those first entering their sobriety journey, and nearing the end of their detox program. This type of treatment offers care every hour of the day, which is often the best way to ensure someone's success later down the road. The person will receive constant monitoring to avoid temptations or relapse. Many times, the root causes for substance misuse are present in the person's everyday routine and environment. Residential treatment gives him or her the ability to start fresh in a new environment, which can help with the success rate of sobriety.
Partial Hospitalization Programs
Partial hospitalization programs are a step down from the level of intensive care provided by residential treatment programs. The person still has 24-hour access to support and care and can live on-site. Those in partial hospitalization programs have typically completed their detox, and they are ready to change their previous patterns. The program utilizes a mix of personal therapy, group therapy and family therapy. These programs offer a more intensive level of care than a typical visit to the doctor and give patients the tools they need to continue constructively on their journey.
Outpatient Treatment Programs
Outpatient programs are one offer for those who no longer need around-the-clock care. These programs are ideal for those who are ready to resume their normal lives and enroll in school or attend work. The individualized program caters to the patient's necessary level of care and may be daily or weekly. These outpatient programs are also an excellent way for people to keep their substance temptations in check because they provide a constructive backbone for their daily lives.
It is helpful to reach out to professionals for advice on what's best when it's time to take the step towards detox, sobriety and beyond. If you're researching Lorain drug treatment facilities or Lorain alcohol treatment facilities, keep in mind that there are also options in nearby cities and states. Each person is different and has different needs. Finding the best fit for a program is important, and it's best to ask questions and tour facilities to best understand what each offers.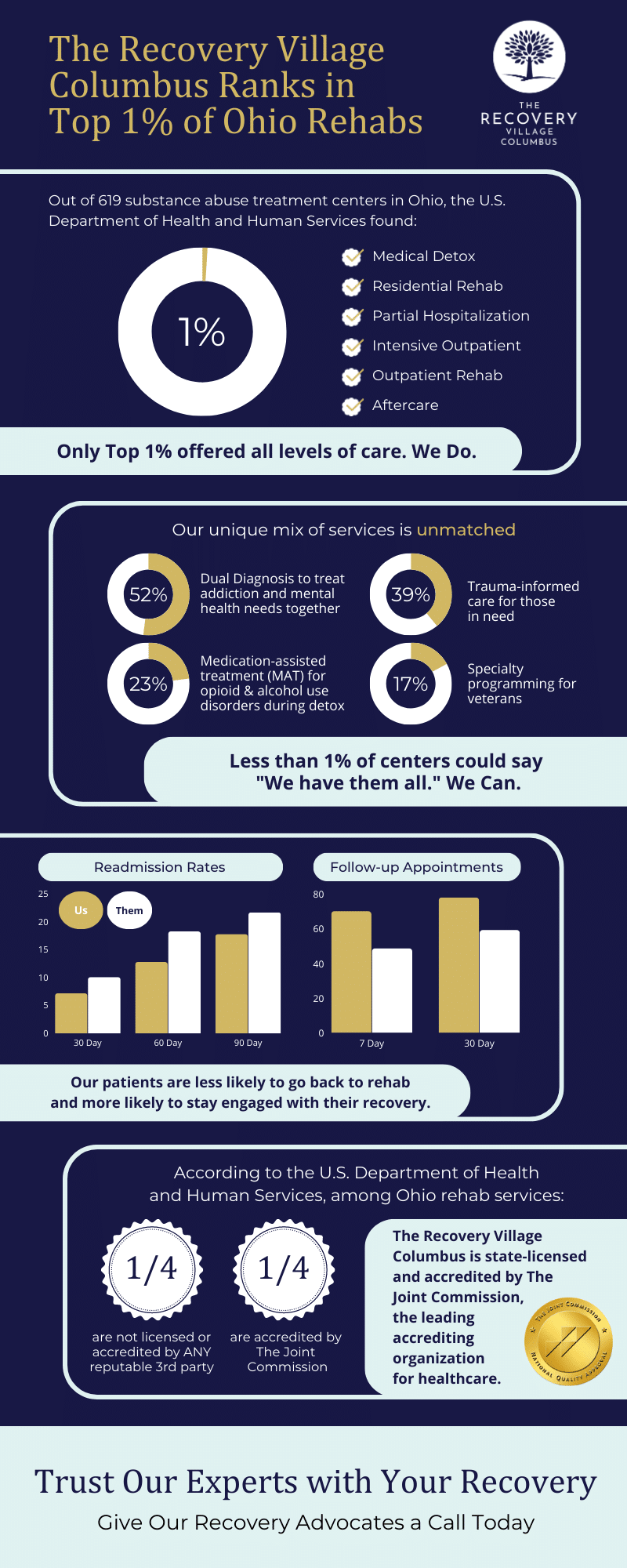 Detox Centers
Detox centers offer a safe place for people with substance misuse disorders to clear their bodies of drugs, alcohol and other substances. When someone chooses to stop using addictive substances, it can cause severe withdrawal symptoms. Detox centers feature professionals that aid people throughout all of the negative effects that one may face during this process. This aid may include professional medical help, which is something best achieved at detox centers rather than at individual doctor appointments.
For example, during a drug detox for those addicted to amphetamines, the effect of detoxification on the brain could lead to psychosis. In such turbulent times, it's helpful for the person to be under medical care so that he or she may transition as easily as possible to a sober state of being. If you'd like help, reach out to a Lorain drug detox center or a Lorain alcohol detox center.
Recovery Meetings Near You
There are many people suffering and recovering in the same way you are, and recovery meetings are a constructive and positive way to keep yourself in check. If you have recently completed drug rehab in Lorain, OH or alcohol rehab in Lorain, OH, there are many resources available to you that help you maintain your sobriety.
There are options for drug rehab center in Lorain, OH or an alcohol rehab center in Lorain, OH. In addition, there are more clinics in the surrounding suburbs and nearby cities. With recovery centers, detox centers and many specialized NA and AA meetings nearby, people in Lorain are only a short drive from help.
Addiction Resources in Nearby Ohio Cities
For those who are seeking alcohol and drug treatment facilities outside of Lorain, Ohio, there are also many drug rehab resources across the state of Ohio: