The U.S. is in the midst of an opioid epidemic, and small towns are not immune from the impact of drug and alcohol addiction. Ohio currently has the second-highest rate of opioid overdoses in America. In 2017 alone, there were 4,293 opioid-related deaths reported in the state, which makes Ohio's rate almost three times higher than the nationwide average.
Drug and alcohol addiction affects both small and large communities throughout Ohio, including New Albany. If you or a loved one has been struggling with addiction, now may be the time to find out what options you have for rehabilitation in your area. There are many treatment centers located close to New Albany with a variety of programs, resources and recovery options available.
Our Closest Facility:
Just a short drive down the road, The Recovery Village Columbus Drug & Alcohol Rehab is centrally located to solve any addiction problems you may have. Accepting all major insurance providers including medicaid and medicare, get admitted today and solve your addiction issues.
New Albany Drug and Alcohol Rehabilitation and Treatment
There are currently no options for rehabilitation programs located in New Albany. Options exist in the surrounding areas, though.
Fortunately, Columbus is only 20 minutes away, and there are many treatment centers, programs and services to choose from in this city. Additionally, The Recovery Village Columbus is located in Groveport, Ohio, and offers a full variety of rehab programs. Because of the variety of options available, it's important to learn about how to find a rehab facility that suits your needs.
Drug and Alcohol Detox Programs and Treatment Centers in New Albany, OH
The detox process involves removing alcohol and drugs from a person's body. Detox allows them to begin the rest of the recovery treatment program. The closest detox programs are located in Columbus, which has two residential detox programs and one outpatient detox program. The city also has nine medically assisted outpatient treatment programs.
New Albany Residential Treatment Programs
Patients who choose a residential treatment program stay at an inpatient rehab facility to begin recovery. Depending on the patient's program and treatment plan, they could stay for anywhere from a few weeks to several months. During this time, patients engage in various types of therapy while being given medical support for alcohol or drug addiction treatment.
For inpatient alcohol rehab and drug rehab, Columbus has five residential treatment facilities and three hospital inpatient facilities. The treatment options available include the following:
17 groups and 12-step facilitation programs
19 brief intervention programs
Eight contingency management programs
23 motivational interviewing programs
24 relapse prevention programs
23 anger management programs
New Albany Partial Hospitalization Programs
Partial hospitalization is a treatment program that is less intensive than inpatient care but more intensive than outpatient. During the program, patients use the same resources as those who are in residential or inpatient care. Clients may either live on-site at a facility or live at home during this level of care, depending on the facility requirements.
Although there aren't currently any partial hospitalization programs in New Albany, in Columbus, there are two partial hospitalization programs available. The Recovery Village Columbus also offers this level of care.
New Albany Outpatient Treatment Programs
Outpatient drug treatment is much less intensive than other programs. Patients don't live in the facility, but they do attend programs for a few hours each week. Many patients who start with more intensive treatments will later transition to an outpatient program. If a patient struggles with opioid addiction, they may be prescribed medication for treating dependency.
Columbus has one outpatient detoxification program and nine outpatient methadone, buprenorphine and naltrexone treatment programs. The Recovery Village Columbus also offers outpatient care.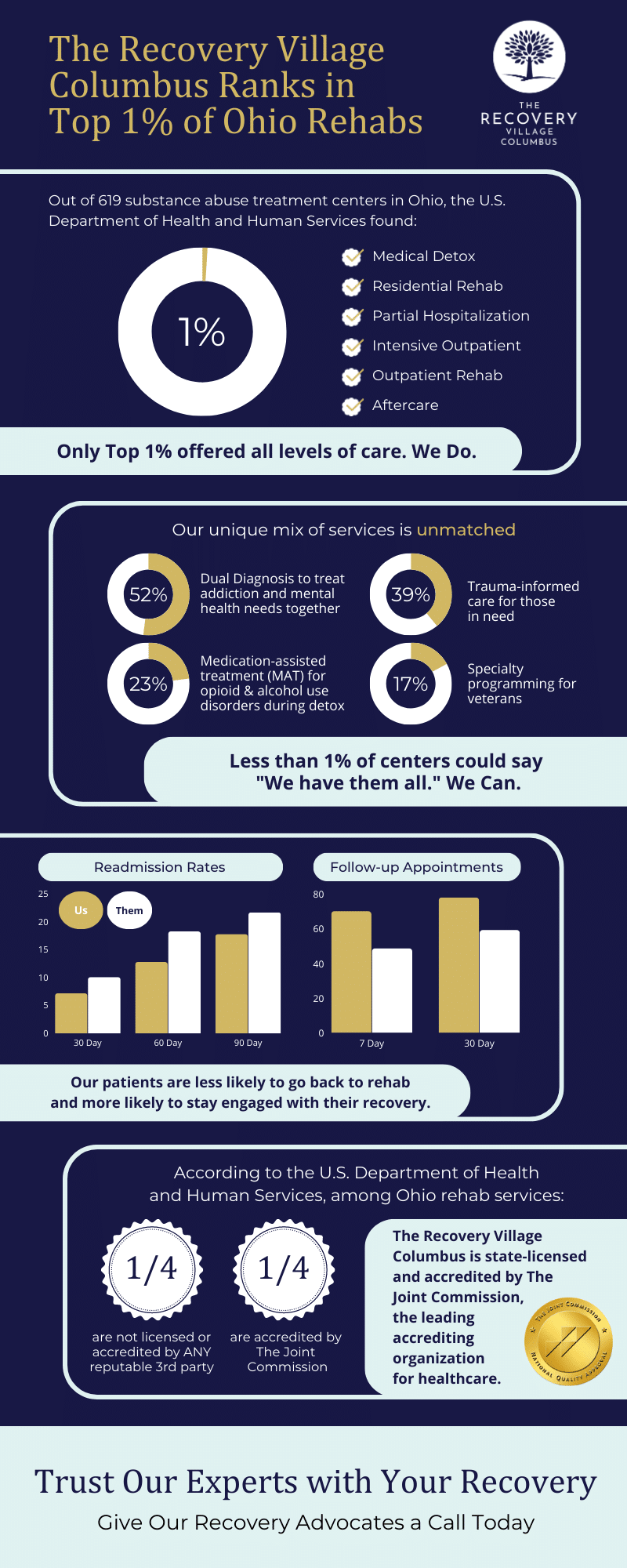 Sober Living and Rehab Aftercare Programs in New Albany, OH
After the primary treatment process has ended, it's important for patients to be part of an aftercare program. Continuing care is vital to recovery, as it helps reduce the chances of relapse in the future.
Sober living homes, aftercare facilities and rehab alumni programs are a few examples of resources for people in recovery. Each one helps people find support and structure while helping those who are struggling.
There are 20 alcohol and drug rehab aftercare programs located in Columbus.
Specialized Treatment Programs in New Albany, OH
There are facilities that cater to people within certain demographics, such as men's or women's rehab centers. People may feel more comfortable being in programs with others who are in similar situations.
The specialized programs available in Columbus include:
15 rehab programs for people with co-occurring mental and substance use disorders
Two rehab program for LGBT clients
One rehab program for veterans
10 rehab programs for people referred from the court system
Three rehab program for people who have experienced sexual abuse
Seven rehab program for people who have experienced trauma
Three rehab program for people who have experienced domestic violence
Five rehab programs for pregnant or postpartum women
Ten rehab programs for teens
What Is the Process Like in a Drug Detox and Rehab Facility?
In general, most rehab centers typically follow the same processes. When patients first arrive, they'll be introduced to the facility and its staff. The patient may meet with a counselor who will begin learning about their past and present drug use and medical history. Meanwhile, the admissions staff will start creating a treatment and recovery plan for the patient.
Patients undergo a comprehensive intake assessment to determine their physical and mental state. This evaluation helps staff create a suitable treatment plan and learn if the patient will need medication.
The patient may go through a detox to clean their system of alcohol or drug substances. After detox, patients are sober and ready to begin the recovery process through inpatient, partial hospitalization or outpatient care. These programs usually include medical support, therapy and other activities.
Finding the Best Rehab Program for You
It's important to know how to find the best rehab center for your situation. Since not all centers offer the same programs or treatments, a person will need to find a facility that's suitable for their needs, depending on what they're looking for. The best drug rehab centers have been licensed and accredited.
What Questions Should You Ask When Considering a Treatment Program?
Some questions that are helpful to ask a treatment center include:
What forms of insurance do you accept?
Most rehab centers accept many forms of private health insurance. If you do not have insurance, see how the facility can come up with an affordable plan to handle your out-of-pocket payments.
Is your rehab center licensed and accredited?
Accredited rehab facilities have undergone an auditing process, proving that they uphold certain levels of care. These are the best rehab centers to choose from. By going to an accredited center, you can help ensure that you receive the best treatment possible.
What treatment programs do you offer?
Most centers have many programs, services and treatment options available. These options usually include inpatient and outpatient care, detox and other supplemental programs. It's important to do a little research because some facilities may not offer the treatment approaches you desire.
What does your aftercare plan include?
Even though patients eventually leave a rehab facility, it doesn't mean the recovery process has ended. It's important to choose a center that offers aftercare programs and other maintenance services to help prevent relapse in the future.
For other questions and answers about choosing a rehab facility, visit the frequently asked questions area at The Recovery Village.
Exploring Treatment Options Near New Albany, OH
To find drug abuse treatment near New Albany, people will have to travel about 20 minutes to Columbus.
Finding treatment away from your home city has some benefits, including:
Leaving an environment of drug or alcohol use
Removing triggers and stressful situations
The feeling of having a fresh start
The feeling of anonymity in a different area
Focusing solely on treatment and recovery
The downsides of traveling for rehab can include:
Leaving family and friends
Lacking a local support network
Having to arrange school or work schedules
Additional Addiction and Rehabilitation Resources in New Albany, OH
In addition to rehab centers, the New Albany area has other addiction and rehabilitation resources available for people in recovery. To locate them, use the treatment locator tool from the Substance Abuse and Mental Health Services Administration. The filters allow you to search for specific drug or alcohol treatment facilities, mental health centers, physicians and more.
Recovery Meetings Near You in New Albany, OH
Recovery meetings are valuable in helping people find people who are going through similar situations. At these meetings, individuals can support one another, share stories and foster a sense of community. This social support is a key factor in helping prevent relapse.
Non-Profit Organizations in New Albany, OH
There are several non-profit groups and organizations near New Albany that help with drug addiction and mental health treatment. In addition, these non-profit groups help the friends and families of loved ones who are struggling with addiction.
NAMI Ohio
NAMI Ohio
1225 Dublin Rd. #125, Columbus, OH 43215
(614) 224-2700
City of New Albany, OH
New Albany, Ohio, is located in both Franklin and Licking Counties. One theory says its name comes from settlers who traveled from Albany, New York, in the early 1800s. The total population is approximately 10,718 people, according to a 2017 census from the United States Census Bureau. The closest airport is Port Columbus International Airport (CMH). The exact location of New Albany is 40.0812° N, 82.8088° W.
Addiction Resources in Nearby Ohio Cities
For those who are seeking alcohol and drug treatment facilities outside of New Albany, Ohio, there are also many drug rehab resources across the state of Ohio: