Westerville Drug & Alcohol Rehab, Detox & Treatment Resources
Westerville, Ohio, a northeastern suburb of Columbus, is close enough to the city to enjoy its OSU fervent Buckeye football boosterism, vibrant arts scene and other amenities, including a forward-thinking culture that makes it appealing to Millennials and Gen-Xers. Nearby Westerville also has plenty to offer on its own, with natural beauty, abundant parks and a family-oriented quality of life that has seen it twice recognized as a Money Magazine "Best Places to Live."
Yet, neither Columbus nor Westerville has been exempt from the nation's heroin and prescription drug crises, and no city is immune to alcohol addiction. Ohio, unfortunately, has led the nation in fatal heroin overdoses; along with communities around the country, Ohio cities struggle to keep up with an opioid problem that increasingly involves fentanyl.
While addiction contributes to many social problems, it is, in fact, a medical problem. This problem often goes ignored, according to U.S. News & World Report, because one in 10 people receive no treatment. Yet, people who find themselves caught in a battle with addiction can find help with a variety of treatment approaches that focus on the individual and replace the addiction with steps toward a more positive future. Addiction is not a failure of will, but rather a health problem much like diabetes or a chronic illness. Taking that first step toward treatment can put you on the path toward all the advantages of sobriety, including a focus on goals and relationships that may have gone by the wayside during drinking or drug misuse. There are various Westerville alcohol rehab, Westerville drug rehab and options across the state of Ohio to help you get on the right track.
Our Closest Facility:
Just a short drive down the road, The Recovery Village Columbus Drug & Alcohol Rehab is centrally located to solve any addiction problems you may have. Accepting all major insurance providers including medicaid and medicare, get admitted today and solve your addiction issues.
Finding Help in Westerville
Westerville, Ohio Alcohol Rehab Centers and Drug Centers
Addiction to alcohol or drugs causes separation from loved ones and a downward spiral that can lead to losses of jobs, interests, goals and dreams. However, addiction is not a moral failing but a medical problem, and treatment options are available when someone is ready to move forward into sobriety. "Addiction is a disease that affects both the brain and behavior," according to the National Institute on Drug Abuse.
Effective treatment for this chronic disease depends on the individual, but must address all of the patient's medical needs as well as the drug or alcohol abuse. It must also be easily and promptly accessible, and must last long enough, with follow-through efforts. There are Westerville drug treatment facilities and Westerville alcohol treatment facilities that cater to people who struggle with alcohol or drug misuse.
Residential Treatment Programs
Residential treatment centers, whether long- or short-term, may be most effective in some cases. Patients check themselves into a facility for 24-hour daily treatment and support, which can include education and group support, medication management and individual counseling. A study in the journal Addiction found that those with alcohol addiction were more likely to maintain sobriety if they received treatment and support, but those who did not were more likely to resume drinking after becoming sober. Treatment at a residential center can help build skills to maintain sobriety once the patient returns home.
Partial Hospitalization Programs
Partial hospitalization programs combine the intensive treatment strategies used in 24-hour hospitalization, but allow the patient to continue with work, school and other daily living. The patient still receives support, counseling and strategies for success, but relies more on outside support. The cost will likely be less than full-time hospitalization. Patients should discuss their needs, whether for full-time or part-time hospitalization, with their family members and doctor to determine which treatment is the best course.
Outpatient Treatment Programs
Outpatient treatment may be the best solution for some patients, whether because of their health needs or because it is less costly. Outpatient services can include drug or alcohol education, support groups and individual counseling. While they lack the 24-hour support of inpatient treatment, some intensive outpatient models "can be comparable to residential programs in services and effectiveness," according to the National Institute on Drug Abuse, particularly if the patient already has a good support system with friends and family.
Whether you require intensive care through a residential program, or part-time help through an outpatient program, there are many options available to fit your needs. Attending a drug rehab in Westerville has advantages since you are close to home. You can also attend nearby centers out-of-town to enjoy a change of scenery.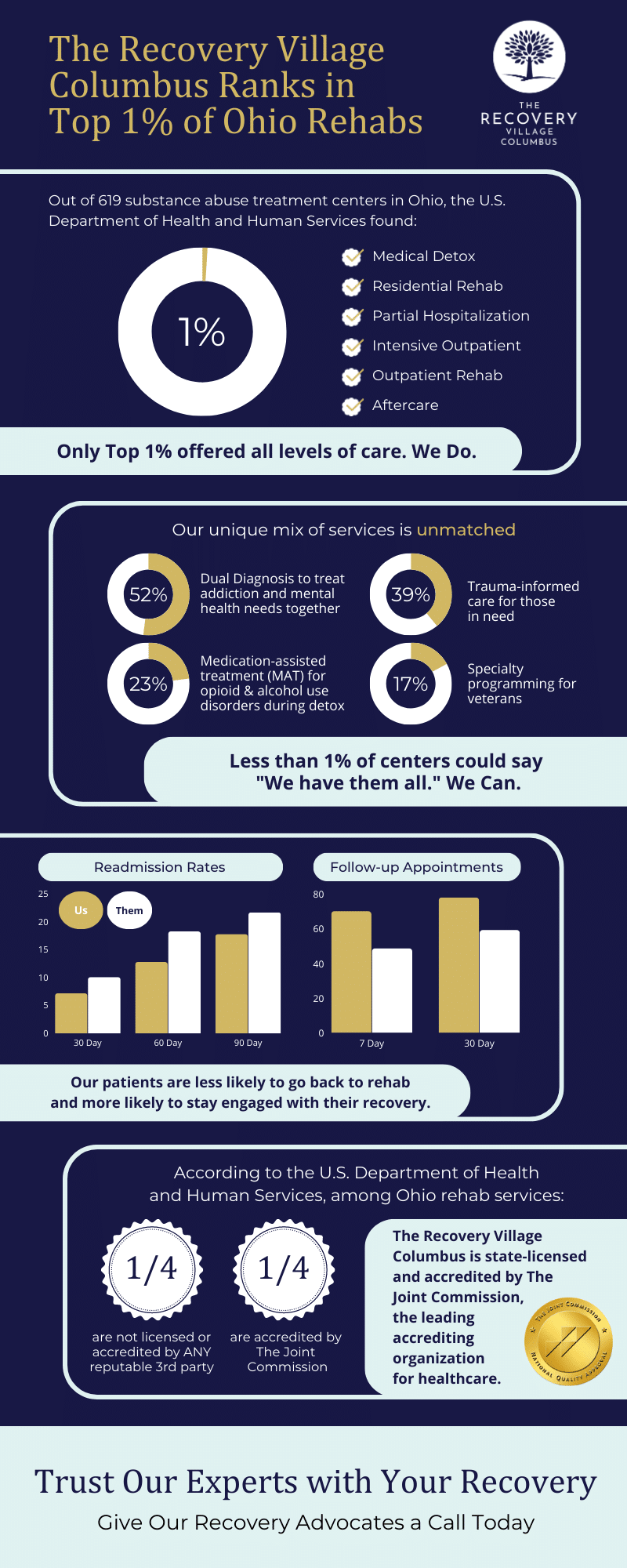 Detox Centers
Withdrawing suddenly from alcohol or drugs can be medically dangerous. Doctors can assist by prescribing medications and monitoring the patient in either inpatient or outpatient settings. While the immediate goal of drug detox is to eliminate the drugs or alcohol from the patient and to manage the unpleasant side effects, the long-term goal is to begin the patient's journey toward sobriety and a more serene life. Whether the treatment is more effective as inpatient, outpatient or a combination most likely depends on the individual, according to a study by Motoi Hayashida.
While treatment options vary for someone who is ready to give up alcohol or drug addiction, the best path depends on individuals and on their goals, medical history and temperament. Whether treatment begins with medically necessary detox, or with inpatient, outpatient or a combination strategy, the journey to sobriety is an ongoing process that depends on daily commitment, therapy that includes a growing awareness of the individual makeup that has contributed to the addiction and plenty of support from family, friends and others who share an understanding of what's necessary to remain drug- or alcohol-free.
Recovery Meetings Near You
When you return home from a drug rehab center in Westerville, you can receive continuing support at recovery meetings. Recovery groups such as Alcoholics Anonymous, Narcotics Anonymous and SMART, as well as self-help groups for family and friends such as Al-Anon, Ala-Teen and Nar-Anon, have a demonstrated track record of assisting addicts who have their focus on sobriety and their family members. Whichever approach you decide to take, many experts have shown time-tested benefits to those who attend support meetings.
While Westerville drug rehab options may be available, keep in mind that nearby suburbs and cities also have treatment facilities and self-help meetings that may have the specific qualities you are seeking or have times that are more convenient. People who are in recovery from alcohol or drug addiction, and their families and loved ones, may find that attending more than one support group a week is most effective, so find a location and a time that works with your schedule. The path to sobriety doesn't end with treatment; this lifelong process is a journey to self-awareness and serenity. Consider further services in these cities that are near and easily accessible to Westerville. Many support groups also have online meetings in case you can't make it to one nearby.
Addiction Resources in Nearby Ohio Cities
For those who are seeking alcohol and drug treatment facilities outside of Westerville, Ohio, there are also many drug rehab resources across the state of Ohio: