Kent Drug & Alcohol Rehab, Detox & Treatment Resources
Substance abuse problems have become a major issue for the state of Ohio. In recent years, Ohio has become one of the states with the highest number of overdoses, overdose deaths, and opiate-related misuse issues in the country. Northeast Ohio particularly has been in the news continuously for strings of overdoses, deadly mixtures of illegal drugs circulating and overall substance misuse problems throughout the area.
Reports show that drugs of all types are being used across the state of Ohio, with opiates like heroin and prescription pain killers being some of the most used and misused drugs in the state. In recent years, Ohio has become an example of the ever-growing opiate epidemic within the United States due to the high rate of opiate misuse and overdose in the state.
Many people throughout Ohio are struggling with substance misuse issues and are in need of help and treatment, but the continuous negative stigma surrounding addiction to drugs and alcohol stops many people from seeking help and makes them feel as though they don't deserve help. The fact is that addiction is a very serious disease, and those suffering from it deserve proper treatment — as does anyone suffering from any illness or disease deserves treatment. For those dealing with drug or alcohol addiction, there is hope.
From Kent drug rehab centers, Kent alcohol rehab centers to recovery meetings throughout the city, there are many different options available to you. This article will help you to learn more about the various treatment options available to you in Kent.
Our Closest Facility:
Just a short drive down the road, The Recovery Village Columbus Drug & Alcohol Rehab is centrally located to solve any addiction problems you may have. Accepting all major insurance providers including medicaid and medicare, get admitted today and solve your addiction issues.
Finding Drug and Alcohol Rehab in Kent, Ohio
Kent, Ohio Alcohol Rehab Centers and Drug Rehab Centers
Your recovery journey may have many different options and levels of treatment. In order to determine the best course of action for your needs, you first need to know about the Kent alcohol rehab and Kent drug rehab options available to you in Kent.
Residential Treatment Programs
A residential treatment program generally involves around-the-clock monitoring by medical staff. You live at the treatment facility full time, attend counseling sessions and go to educational lectures pertaining to the disease of addiction and recovery practices. These types of programs are best for those with long-term or more severe addiction issues, and they also work well for people who may not have a helpful support structure in place at home, where the temptation to use again may feel overwhelming at first.
Partial Hospitalization Programs
Partial hospitalization treatment generally follows inpatient treatment as a next step once residential treatment has been completed. It's also sometimes recommended for those with substance use issues that are less severe. In a PHP, you stay at the treatment facility for most of the day attending classes and intensive therapy, and you're able to return home at night.
Outpatient Treatment Programs
Outpatient programs are entered in one of two ways: either as a next step in the recovery process for someone who has successfully gone through residential and partial hospitalization treatment, or as an option for someone needing treatment in a less intense environment. Outpatient treatment offers a way to attend recovery programs while living at home or in another safe environment, such as housing provided by the recovery center.
Determining what level of treatment is right for you can be a big decision, and there are many factors to consider. Make sure to think about your specific needs, how long you've been using a substance, whether or not a detox is needed and how intense or hands-on you want your program to be.
There are Kent drug treatment facilities and Kent alcohol treatment facilities. In addition, The Recovery Village offers treatment centers all over the country that are fully staffed by professionals trained in recovery treatment to guide you through a potentially challenging process. If you're suffering from a drug or alcohol addiction, there's hope and help for you.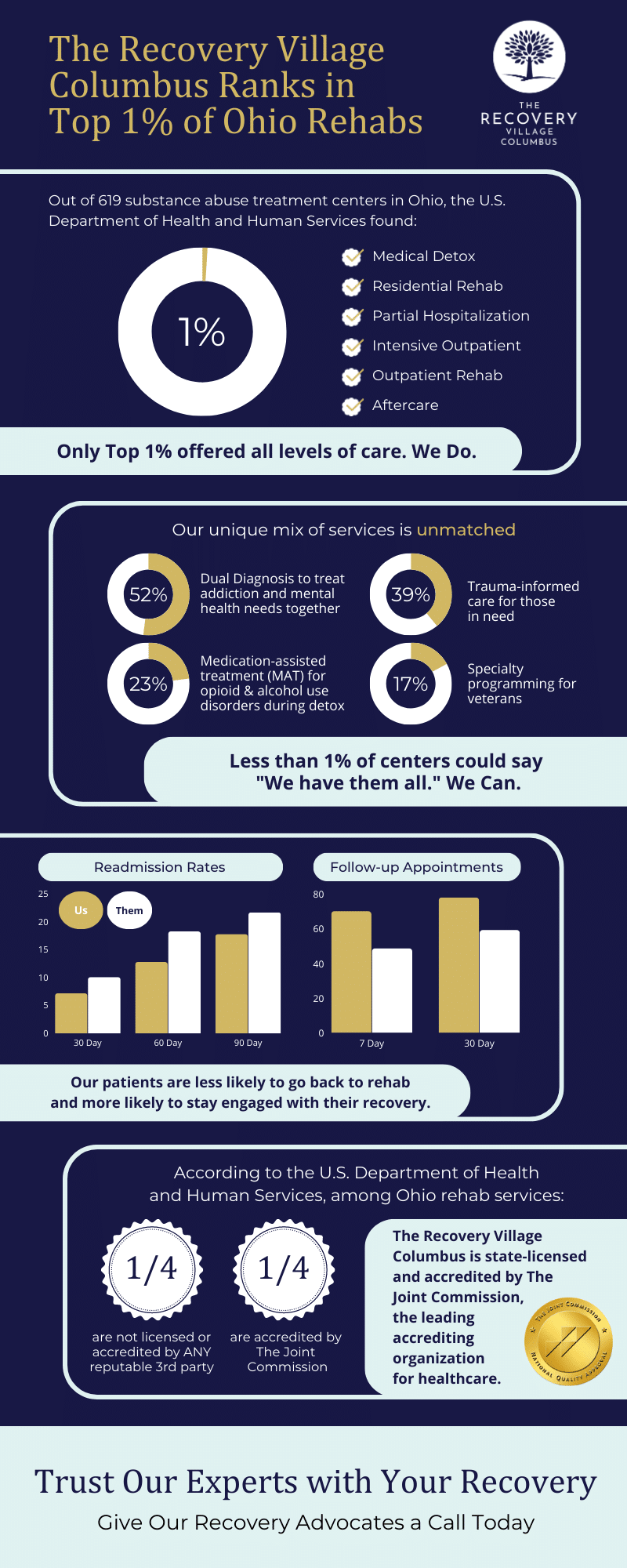 Detox Centers
Detox centers are an important part of recovery. They offer a way for those with certain substances in their system a way to detox from these substances in a medical setting where patients are typically monitored and made more comfortable. The main goal of detox is to remove the substance from your body safely and to help you get through the period of withdrawal without it becoming so physically severe that you feel you need to use again in order to relieve the discomfort. There are Kent drug detox and Kent alcohol detox centers where those who have been using certain substances, such as heroin or alcohol, can safely detox.
Recovery Meetings Near You
Going to meetings is a large part of recovery and can help those in recovery to continue down the path to a life free from drugs and alcohol. Recovery meetings can be extremely beneficial after a treatment program has concluded and you return to your normal life. Meetings offer support from others in recovery and a place to share your experiences and hear others' experiences. You can find a lot of different recovery meetings in Kent that are suited to different types of addiction and different situations. For those searching for treatment witrh a drug or alcohol misuse disorder, The Recovery Village can help. There are multiple resources in Kent, Ohio, but The Recovery Village has locations in within Ohio as well as in states all across the country. Call today to learn more about The Recovery Village locations or to discuss finding the right treatment options for your needs.
You can choose to attend a drug rehab center in Kent, OH or an alcohol rehab center in Kent, OH. On the other hand, traveling to a new environment to engage in treatment and recovery can help you feel like you're enjoying a fresh start. You may be able to locate recovery and treatment services in neighboring cities near Kent, Ohio.
Addiction Resources in Nearby Ohio Cities
For those who are seeking alcohol and drug treatment facilities outside of Kent, Ohio, there are also many drug rehab resources across the state of Ohio: