Pickerington, Ohio is located in both Fairfield and Franklin Counties. Pickerington is a suburb of Columbus, Ohio.
Pickerington, like the rest of Ohio, is facing a problem with addiction and substance abuse. The entire state of Ohio has been affected by the opioid epidemic that is facing the nation.
According to the National Institute on Drug Abuse (NIH), in 2017 Ohio had the second-highest rate of drug overdose deaths associated with opioids in the United States. There were 4,293 deaths in the state, which is a rate of 39.2 deaths per 100,000 people. That's significantly higher than the national rate of 14.6 deaths per 100,000 people.
There are drug and alcohol rehab, detox and recovery resources in Pickerington and nearby Columbus for people who struggle with addiction to opioids and other substances.
Our Closest Facility:
Just a short drive down the road, The Recovery Village Columbus Drug & Alcohol Rehab is centrally located to solve any addiction problems you may have. Accepting all major insurance providers including medicaid and medicare, get admitted today and solve your addiction issues.
Pickerington Drug and Alcohol Rehabilitation and Treatment
For many people who struggle with opioids, other drugs or alcohol, a continuum of treatment can springboard lifelong healing. A continuum of care means someone goes through several phases of treatment. For example, the first step of treatment may be medical detox.
During medical detox, a person receives professional care and supervision as they go through withdrawal from drugs or alcohol. Medical detox can help with life-threatening withdrawal symptoms and can increase the likelihood that the patient will continue into the next phases of treatment.
Once someone completes detox, they may participate in other types of treatment, including:
Inpatient (residential rehab)
Partial hospitalization programs
Outpatient rehab
12-step programs
Other recovery groups such as SMART Recovery
Individual counseling or therapy
Drug and Alcohol Detox Programs and Treatment Centers in Pickerington, OH
When someone is seeking treatment for an addiction to drugs or alcohol, finding the right program is important. This will improve the likelihood that they complete treatment and can result in better overall outcomes. There are many choices available in the Pickerington area, and having an idea of what programs are available is useful.
Twenty-nine substance abuse treatment programs are located within 15 miles of Pickerington. The Recovery Village Columbus is also located nearby and welcomes patients from Pickerington and the rest of Ohio, as well as other areas of the country.
Pickerington, OH Residential Treatment Programs
People who struggle with substance abuse, especially in the earliest days of their recovery, may benefit from a residential treatment program. During a residential treatment program or inpatient rehab facility, patients live in the treatment center for a duration of time.
The time a person stays in an inpatient alcohol rehab or drug addiction treatment facility can vary depending on their needs and the particular program. Some people may check into a residential treatment program for around 28 days and, for other people, the stay may be much longer.
Five programs within 15 miles of Pickerington offer residential treatment, including the Recovery Village Columbus. For someone who wants to travel outside of Ohio for treatment, The Recovery Village also offers programs in states including Florida, Colorado and Washington.
Pickerington Partial Hospitalization Programs
Someone might participate in a partial hospitalization program if they have a strong home environment that's supportive and substance-free, and if they can make it to treatment every day. During a partial hospitalization program, participants either live at the treatment center, or at home or a sober living house.
Five programs are available within 15 miles of Pickerington that offer partial hospitalization programs, also known as day treatment. The Recovery Village Columbus is one of the treatment centers that offer this level of care. Most patients in partial hospitalization care at The Recovery Village Columbus live on-site at the center during treatment.
Pickerington Outpatient Treatment Programs
Outpatient drug treatment or alcohol treatment doesn't require you to live on-site. Instead, you can continue your daily life and keep up with work or family commitments, but you also attend a treatment program several hours each week. Outpatient rehab can vary in intensity, and some programs require as little as an hour per week, while intensive outpatient programs (IOP) may require a commitment of several hours each week.
Three outpatient detox programs are located within 15 miles of Pickerington. There are 25 regular outpatient rehab programs within 15 miles in Columbus and Pataskala. There are 16 facilities that offer intensive outpatient treatment. The Recovery Village Columbus is one of the local treatment centers near Pickerington offering intensive outpatient programs and other types of outpatient rehab.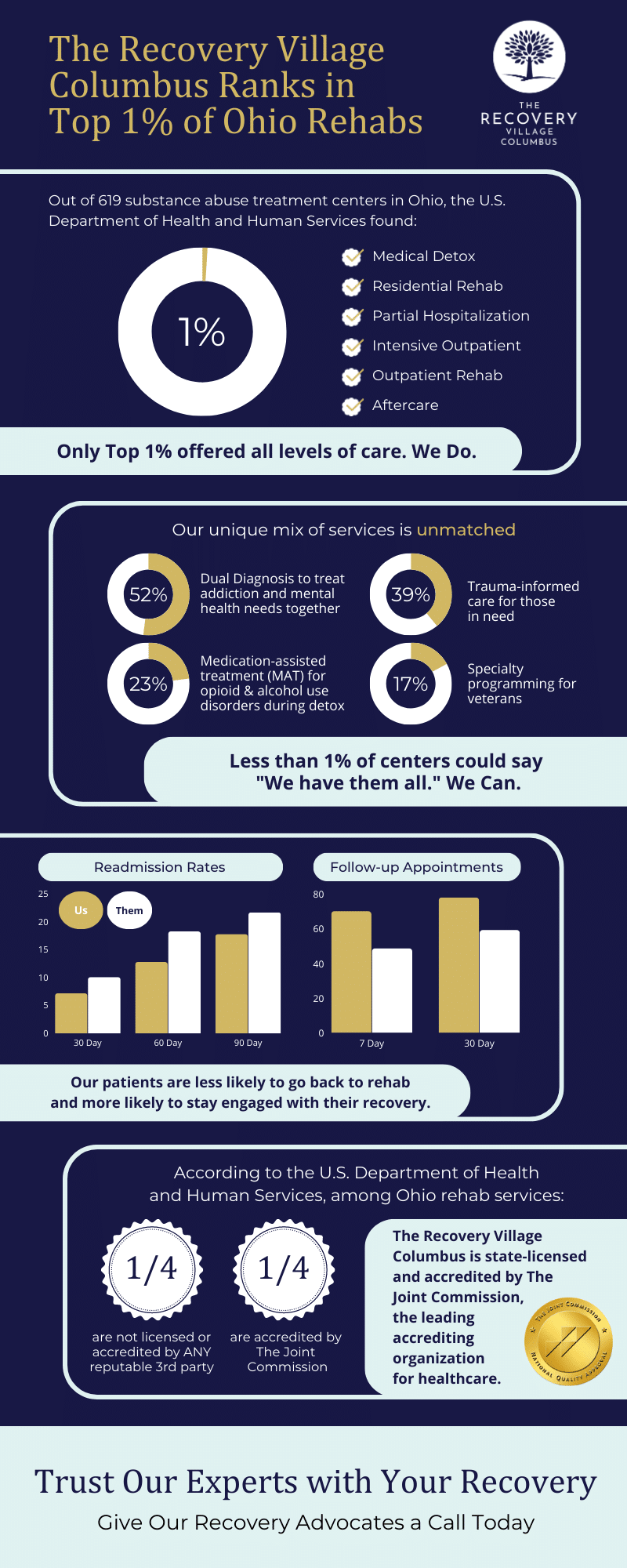 Sober Living and Rehab Aftercare Programs in Pickerington
Relapse prevention should be an integral part of a rehab program. Once someone leaves treatment and transitions back to their daily life, this is when the work begins to utilize strategies that were learned during treatment. That's why aftercare planning and continuing care are so important. As you're comparing treatment and rehab programs, ask about how they work with patients to prevent relapse and what their aftercare plans are like.
For example, some types of continuing care may require that you regularly check in with drug rehab aftercare programs or aftercare facilities for group therapy. Some people may benefit from moving into sober living homes as they transition back into their daily lives, and other people may participate in ongoing rehab alumni programs to stay connected with their treatment program and sober support system. Participation in recovery groups like 12-step programs or SMART Recovery can be beneficial to prevent relapse as well.
Specialized Treatment Programs in Pickerington
For the best outcomes, an addiction treatment program needs to be highly matched with the needs of patients. Some people may benefit from participation in specialized treatment programs. Centers near Pickering include:
Seven programs within 25 miles of Pickerington offer rehab for the LGBT community.
Within 25 miles of Pickerington, Ohio, there are seven programs with rehab for veterans, and there are two programs offering treatment specifically for active-duty service members.
Thirty-one programs near Pickerington, including in Columbus, offer treatment for people with addiction and co-occurring mental health conditions.
There are 31 programs within 25 miles of Pickerington that include women's rehab centers, and there are 11 options if you're searching for rehab for pregnant women and postpartum women.
Nineteen programs include rehab for PTSD and treatment for people who have experienced trauma within 25 miles of Pickerington.
There are 14 treatment facilities and substance abuse programs with rehab for teens and adolescents.
What Is the Process Like in a Drug Detox and Rehab Facility?
Knowing what to expect can help you feel more comfortable receiving addiction treatment. Or, if you're searching for help on behalf of your loved one, knowing more as you discuss this with them can help them be more comfortable with the idea.
While each rehab program will be unique, for most programs, the first step of the drug treatment process is an assessment. During the assessment, treatment providers will go over the details of your physical health, mental health and your substance abuse history. Everything you share during this time is confidential. This part of the process is important because the information you provide is used to create your treatment plan. Being open and honest is difficult, but it's very important to make sure you receive the care you need.
The next phase for some people may be detoxification. During detox, the goal isn't getting to the root of your addiction. Instead, it's simply about keeping you safe and comfortable as you go through withdrawal.
Many rehab centers include an on-site detox program. This is the case at The Recovery Village Columbus, so once you complete detox, you can transition to rehabilitation. Rehabilitation is the time when you work to address deeper issues related to addiction.
Whether you participate in inpatient or outpatient rehab, you will likely participate in group and individual therapy sessions. If you're in an inpatient program, there will also be opportunities for recreational therapy.
As you complete rehabilitation, aftercare planning is implemented.
Find more details about the drug and alcohol treatment process on this page from The Recovery Village.
Finding the Best Rehab Program for You
With different rehab programs near Pickerington and also around the country, how do you know how to find the best rehab center for you? It tends to come down to balancing your personal needs with the qualifications of the treatment center. When you're comfortable with the rehab program you select, you're more likely to complete treatment, and that's a big factor in reducing the risk of relapse.
As far as your personal needs, think about the following as you think about how to find the best rehab center.
Are you able to travel for treatment and, if so, do you feel comfortable doing so?
How much would your family want to be part of treatment, if at all?
Do you need medical detox?
Do you have co-occurring mental or physical health issues that need to be part of your individualized treatment plan?
Have you tried other types of treatment before and experienced a relapse?
Do you have preferences as far as the treatment philosophy of a rehab center—for example, do you want a religious or holistic program?
What Questions Should You Ask When Considering a Treatment Program?
Along with the personal questions listed above, it's important to choose a respected, accredited and high-quality program. As you compare rehabs near Pickerington or elsewhere, ask the following questions to gauge the quality of treatment.
What levels of care are available?
Everyone is going to have a unique history in terms of mental health and substance abuse, and not everyone will need the same level of care. Having a broad range of treatment options available can help serve your unique needs as assessed by a medical professional.
What is your approach to treatment?
Every rehab center is going to have its own treatment philosophy and approach. You may be more comfortable with one approach over another. Some treatment approaches are built on the 12 steps, some are religious, and others may be holistic or spiritual. There are also rehabs that may integrate several different philosophies into their programs. Regardless of the specifics of the approach, a good treatment program should include evidence-based practices that are scientifically proven.
How long is treatment?
The length of a treatment program will depend on the individual and the center. Ask about how long, on average, patients stay in treatment as you talk to different rehabs.
Is your center accredited?
An accredited center is one that has undergone outside review and has been proven to offer quality treatment. Accreditation is important not only from the perspective of quality of care, but insurance companies often want to see accreditation as they make reimbursements.
Find answers and more information with The Recovery Village's frequently asked questions.
Exploring Treatment Options Near Pickerington
Should you receive drug abuse treatment near Pickerington, or should you travel to another part of Ohio or out of the state altogether?
If you decide to stay near Pickerington for treatment, benefits can include:
Being closer to loved ones and family who may be able to participate in certain aspects of your treatment program
In-state insurance coverage
Not having to arrange or pay for travel if you stay near Pickerington
Easier aftercare planning if you attend a treatment center closer to your hometown
However, there are benefits to traveling for rehab, which is why it's something people often do. Benefits of leaving Pickerington for rehab might include:
Creating physical and mental distance between yourself and your environment of substance abuse
Leaving behind people who might be a negative influence
The ability to focus on your recovery when you're away from your daily life
Having more rehab options available to you if you travel for treatment
Lowering the risk of leaving treatment early if you're not near your home
Additional Addiction and Rehabilitation Resources in Pickerington
In addition to rehab and treatment programs in and near Pickerington, other resources may be helpful to you or a loved one who is struggling with substance abuse. There are local support and recovery groups, and nonprofit organizations, for example.
Recovery Meetings Near You in Pickerington
When you struggle with addiction and are feeling alone or like you don't have support, this can be a major trigger for relapse. You may do well while you're in treatment, but you could find that you struggle with relapse after treatment. Social support can help with this and it can come in many forms, including participation in recovery groups. Recovery groups and meetings allow people to come together and support one another, and they also offer a sense of structure similar to rehab.
Non-Profit Organizations in Pickerington, OH
There are non-profit and local organizations that work with people who struggle with mental health issues and substance abuse in Pickerington and are also nearby in cities such as Columbus. Some of the local non-profit organizations available to people in Pickerington include:
The City of Pickerington, OH
A suburb of Columbus, Pickerington, Ohio is the second-largest city in Fairfield County. There is a historic downtown area of Pickerington, and it's located to the east of Columbus. The population of Pickerington is estimated at just under 20,000 residents. AreaVibes describes the amenities, housing and schools in Pickerington as an A+ place to live. The city is located at 39.8842° N, 82.7535° W. The nearest major airport is Rickenbacker International Airport (LCK). Also relatively close to Pickerington is Port Columbus International Airport (CMH).
Addiction Resources in Nearby Ohio Cities
For those who are seeking alcohol and drug treatment facilities outside of Pickerington, Ohio, there are also many drug rehab resources across the state of Ohio: