Toledo Drug & Alcohol Rehab, Detox & Treatment Resources
In northwest Ohio, seated at the western tip of Lake Erie is the small metropolitan area of Toledo. The area is full of activities for all ages and tastes with the Maumee Bay State Park and Cedar Point National Wildlife Refuge along the shores of Lake Erie for beach and nature lovers. It's also a hub for higher education with opportunities at places like the University of Toledo and cultural exhibits at the Toledo Museum of Art.
Unfortunately, not everyone is visiting areas for nature, education, and culture. Another far too common recreational activity in Toledo is substance abuse — from legal drugs, such as alcohol and prescription medications to harder substances like opiates, cocaine and methamphetamines. According to the National Institute of Drug Abuse (NIH), heroin passed marijuana as the most chief illicit drug in 2013, and the abuse continues to escalate.
Along with the increase in heroin, Ohioans are facing an even more powerful narcotic addiction with the growth in fentanyl use. Law enforcement and elected officials are trying to combat the crisis by reducing the number of drugs available on the streets and increasing penalties for trafficking the drug. However, that's not enough to help the individuals and families already experiencing drug misuse disorders.
A significant reason for this increase is the widespread availability of prescription pain killers that lead to dependence. Addiction isn't a crime, it's an illness that needs immediate and long-term care to overcome. While Toledo is going through a serious increase in substance abuse, the state of Ohio is pushing back with positive treatment plans to help people and their families win the fight against substance misuse.
Our Closest Facility:
Just a short drive down the road, The Recovery Village Columbus Drug & Alcohol Rehab is centrally located to solve any addiction problems you may have. Accepting all major insurance providers including medicaid and medicare, get admitted today and solve your addiction issues.
Finding Drug and Alcohol Rehab in Toledo, Ohio
Toledo, Ohio Alcohol Rehab Centers and Drug Rehab Centers
Toledo is just one of the cities in Ohio facing the problems of alcohol and drug dependence as well as the fallout resulting from addiction. As states continue to close loopholes that allow those dependent on prescription painkillers to obtain them legally, such as the pill mills, those suffering from opiate addiction often turn to heroin and the even stronger alternatives like fentanyl. Even worse, some users don't even know they are getting fentanyl as dealers are cutting their heroin with fentanyl for an extra kick that keeps people going back for more. Sadly, it is so potent that a single dose can be deadly. This is just another reason to get into a treatment program at a rehabilitation facility.
Residential Treatment Programs
These are secure facilities that provide a high level of care and have multiple resources to treat a variety of alcohol and drug dependency disorders. Resources include addressing underlying psychiatric, medical or family problems that can interfere with the treatment. During a residential treatment program, patients attend daily group and individual therapy sessions as well as take part in social activities such as sports, art, or music classes. They also learn to manage and reduce stress to avoid a relapse. Residential Treatment programs are both short-term, lasting three to six weeks or long-term for patients to slowly return to community living.
Partial Hospitalization Programs
Partial Hospitalization Programs (PHP) are less restrictive than residential treatment programs but have more structure and accountability than outpatient programs. Also referred to as day treatment options, patients spend four to six hours, five days a week attending group meetings and classes to help them support healthy, drug and alcohol-free lives while still living at home with their families. Meetings are often three or four times a week to maintain a healthy support system.
Outpatient Treatment Programs
Outpatient programs are the least restrictive programs and need a lot of support and responsibility from the patient to reduce the chances of relapses. These programs are excellent options for patients that need to keep up with work, school, home and family responsibilities while completing a treatment program. Participants attend regular AA and NA meetings as well as individual therapy appointments with their clinician.
Choosing the right program is an essential step towards recovery. Each type has the same goal of seeking a life of sobriety, but take different paths to achieve it. Begin by figuring out what you expect to gain from rehabilitation and create a plan with friends and family. Before choosing a program, it is helpful to tour Toledo drug treatment facilities or Toledo alcohol treatment facilities to find out if it's the right fit for you.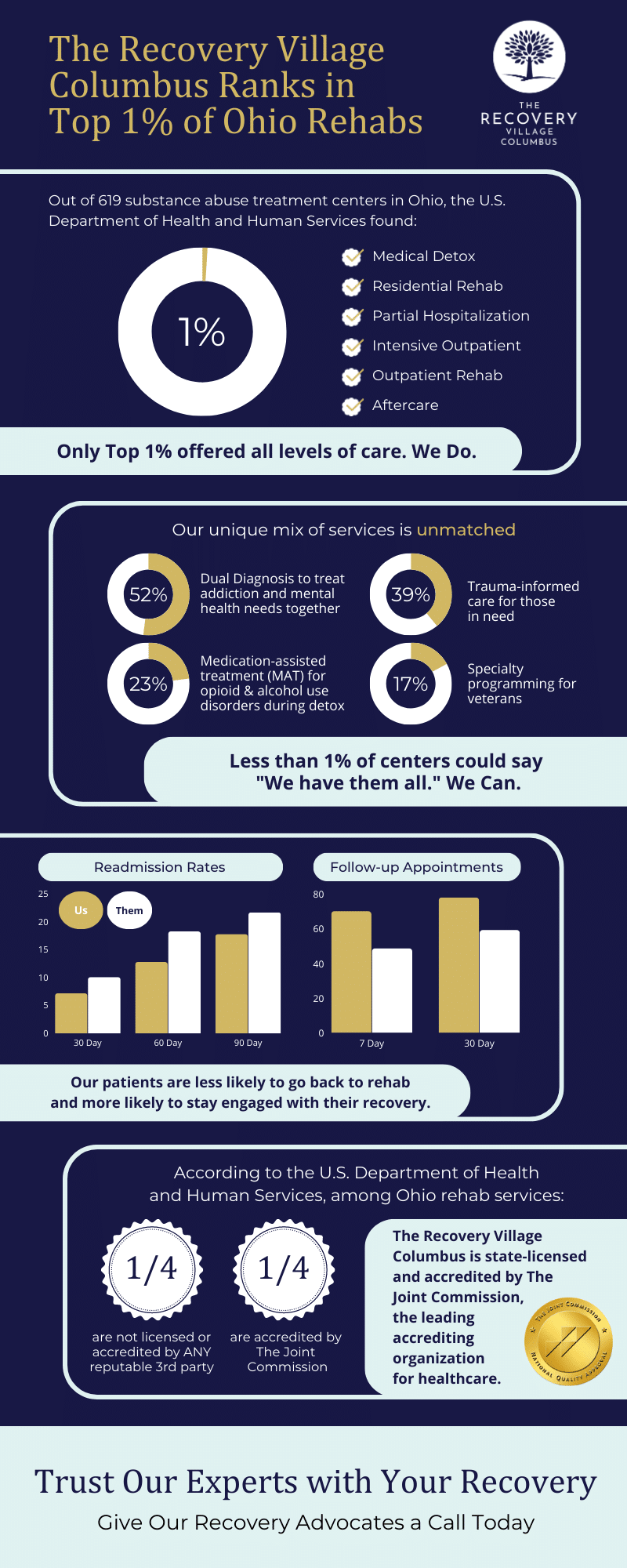 Detox Centers
The first step toward recovery is acknowledging that you need help. The next step for some addictions is detoxification. Some alcohol and substance dependencies cause serious physical withdrawal symptoms that can not only be unpleasant and painful but also dangerous to your physical health. A detox center can watch these symptoms and offer medical solutions to reduce the severity of the symptoms.
Detox centers have registered nurses, doctors, and other professionals available 24/7 in a hospital setting. During drug detox, they can give you methadone to reduce the pain of withdrawal as well as Buprenorphine that treats opiate dependence, and offers long-term maintenance to lessen the chances of a relapse. Buprenorphine can also speed up the detoxification process, allowing the patient to enter the next phase of their recovery faster. Other medications include Clonidine to reduce anxiety and other physical symptoms such as cramps, muscle aches and excessive sweating.
Recovery Meetings Near You
Recovery from substance misuse is a lifetime commitment. There will be times after detoxification and treatment that your strength will be tested. To help avoid the pitfalls of a relapse, there are meetings for people in all stages of recovery happening all over the country, including throughout the Toledo area to help aid in your recovery and guide you through the tough times.
Learning about addiction, the triggers, and what coping techniques work best for you takes time. At an Alcoholics Anonymous, Narcotics Anonymous, and SMART meeting you can talk to others and find new resources to lessen the chances of a relapse as well as find support to get yourself back on the right path when relapse happens.
If you are looking at options for Toledo, OH drug rehab or Toledo, OH alcohol rehab, you should also consider the resources in nearby cities. These cities offer their own resources for those with substance use disorders.
Addiction Resources in Nearby Ohio Cities
For those who are seeking alcohol and drug treatment facilities outside of Toledo, Ohio, there are also many drug rehab resources across the state of Ohio: