Middletown Drug & Alcohol Rehab, Detox & Treatment Resources
Drug overdose is a leading killer in Butler County, Ohio, which is home to the middle-class city of Middletown. This is the third year in a row that drug overdoses took more lives than any other cause in this area. This is a sobering thought for this community positioned halfway between Dayton and Cincinnati on Interstate 75. Its proximity to these drug-riddled cities certainly isn't helping efforts to curb this deadly epidemic. In 2016, Dayton ranked as the worst city in the country for drug overdoses, with Cincinnati and Toledo among the top 10 as well. The city made 800 drug arrests in 2016, which local authorities claim didn't even make a dent in the ongoing problem.
According to the Butler County Coroner, fentanyl is 50 times more potent than heroin; and, when added to heroin, it creates a lethal combination. This is especially true if the fentanyl comes from clandestine sources rather than pharmaceutical labs. In most cases, both sellers and users don't know the exact dose of heroin they have or if fentanyl is in it.
Despite this dark view, there is a ray of light and some help available in Middletown and Butler County. If you or someone you know is in the grip of drug addiction of any kind, there is a path away from a life of misuse — substance abuse treatment.
Our Closest Facility:
Just a short drive down the road, The Recovery Village Columbus Drug & Alcohol Rehab is centrally located to solve any addiction problems you may have. Accepting all major insurance providers including medicaid and medicare, get admitted today and solve your addiction issues.
Finding Drug and Alcohol Rehab in Middletown, Ohio
Middletown, Ohio Alcohol Rehab Centers and Drug Rehab Centers
Finding the appropriate help depends on your individual situation; however, it's important to know that there are different levels of treatment programs available for people in all situations. Inpatient, partial hospitalization and outpatient treatment options provide varying levels of support to help you or your loved one on the road to recovery. Drug and alcohol treatment in Middletown alternatives for different situations include the following:
Residential Treatment Programs
As the name indicates, patients in a residential treatment program live temporarily in a facility where they have 24-hour access to expert medical help. Inpatient drug rehab in Middletown, OH is most suitable for patients with severe addictions or an extensive history of addiction problems because of the round-the-clock dedicated help available. Usually, entry into a residential treatment program begins only after a patient has completed detox.
Partial Hospitalization Programs
A step down from the full residential treatment program, a partial hospitalization program (PHP) integrates patients into structured therapy and appropriate medical care during daytime hours. Treatment can accommodate a patient's lifestyle, permitting them to continue to live at home or in another safe environment during the duration of treatment.
Outpatient Treatment Programs
Another option available to substance misuse patients is outpatient drug rehab in Middleton, OH. This type of treatment is relevant for those who have already completed more thorough recovery measures or who have lower levels of substance misuse. Patients may opt to live at home or in another safe environment such as campus housing at a treatment facility.
Taking the first step toward recovery is a big one, so think about your situation before making a treatment decision to enter a drug or alcohol rehab center in Middletown, OH. You'll want to consider your history with addiction, the types of substances you're addicted to and if you think you'll need medical detox before further treatment.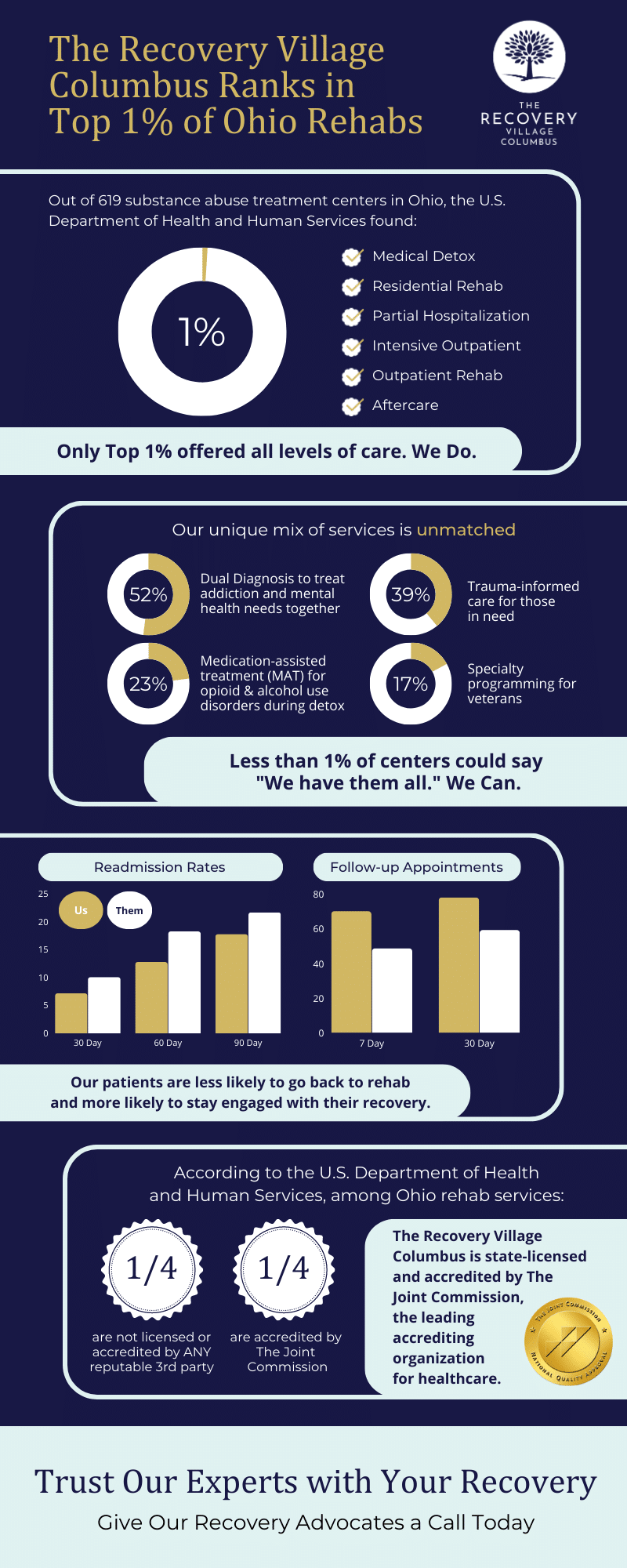 Detox Centers
Fortunately, there are several Middletown drug detox options to assist you in getting clean of any substance abuse dependencies you may have, including those relating to drugs, prescription opioids, and alcohol.
Detoxification is not an easy process, but you can trust that the medically trained professionals at designated detox centers will work with you to make your transition to a better life as smooth and productive as possible. Entering Middletown alcohol detox is a courageous step, and your support team will ensure the best care for your particular situation, which sometimes includes further treatment at specialized facilities.
Recovery Meetings Near You
Recovery meetings will further support your efforts to get healthy, and you'll be able to meet others like you who share some of the same struggles you face. Life doesn't have to be hard; make the choice to get healthy again and you're halfway there already.
Located near the metropolitan areas of Dayton and Cincinnati, a variety of options exist for Middletown drug rehab and treatment centers for those seeking help with substance misuse. These recovery choices include onsite meetings as well as online and conference call support offerings. Several options are available in the city of Middletown and in surrounding towns, as well as in areas within reasonable driving distance. The southwestern area of Ohio is rich in resources for those looking for top-notch substance misuse recovery and support programs. Nearby cities with several treatment programs options include the following:
Addiction Resources in Nearby Ohio Cities
For those who are seeking alcohol and drug treatment facilities outside of Middletown, Ohio, there are also many drug rehab resources across the state of Ohio: