Cincinnati Drug & Alcohol Rehab, Detox & Treatment Resources
Cincinnati has about 300,000 residents and was the first city created after the American Revolutionary War. It is known for its food, particularly chili, and for sports. As for movie and television buffs, Cincinnati is familiar for its scenes in the Brady Bunch, Rain Man and Hard Knocks. There is a vibrant theater scene as well, centered on The Playhouse.
Amidst its culture and history, Cincinnati is currently grappling with a large opioid abuse issue. In 2017, the state of Ohio was the most severely affected in comparison to the rest of the country. Many of the issues stem from heroin and synthetic narcotics. Law enforcement agencies are battling the illegal heroin and prescription opioid trade by identifying trafficking gangs and breaking them up.
The community at large is concerned and looking for ways to improve the situation. It's very important to always remember that recovery from drug use is possible. Whether it's you or a loved one, there are active steps that you can take to steer life into a more positive direction, filled with hope and new beginnings.
Our Closest Facility:
Just a short drive down the road, The Recovery Village Columbus Drug & Alcohol Rehab is centrally located to solve any addiction problems you may have. Accepting all major insurance providers including medicaid and medicare, get admitted today and solve your addiction issues.
Finding Help & Recovery in Cincinnati, OH
Alcohol & Drug Rehab Centers in Cincinnati, Ohio
If you or a loved one is struggling with a drug use disorder, there is hope. There are programs to treat and empower those with misuse disorders, giving an opportunity for people to receive the help and care they need. Cincinnati alcohol rehabs give people structure and professional insight, which can be invaluable when tackling life's hardest curveballs. Getting sober is a serious task in one's life, and can be life-threatening if not handled correctly. Particularly with heroin, a person needs professional care in order to preserve their life throughout the process of battling their misuse disorders. Luckily, there are many options available for those facing substance use issues, and a great amount of support available for them and their families.
Cincinnati offers a wide range of alcohol and drug rehab centers. These choices offer people the opportunity to find a program that best fits their needs. There are many things to take into consideration, such as the amount of time and care that one may need to commit to recovery. The biggest factor to take into consideration is where the person is on their journey of recovery. This determines the level of care that they will need moving forward. Here are several types of Cincinnati drug treatment facilities to consider:
Cincinnati Residential Treatment Programs
Residential treatment programs, also known as inpatient programs, offer around-the-clock care. Programs can last days, weeks or months, and are best for those who would benefit from an immersive experience. Residential programs offer a chance for people to detox and receive therapy in a new environment, keeping them away from their habits and triggers. Inpatient drug rehabs in Cincinnati, are also recommended for those who are beginning their journeys toward recovery.
Cincinnati Partial Hospitalization Programs
Partial hospitalization programs are geared towards people who have completed the detox process and would like care, but also desire the opportunity to live at home. This also gives people the flexibility to attend school or continue work. These programs are best suited for those who have a good support network, and a home environment conducive to recovery. These programs oftentimes include regular individual or group sessions, as well as medication management. Therapy may also include recreational therapy and family therapy. This is oftentimes a positive way to transition from a residential to outpatient program.
Cincinnati Outpatient Treatment Programs
Outpatient programs are programs that allow people to live at home at night and attend the program at designated centers during the day. These programs are a good fit for those who are living in recovery housing, or in a supportive home environment. Outpatient drug rehabs in Cincinnati allow people to enjoy day-to-day living, which may include school or work. They offer a transition for patients back into their regular activities, while maintaining a structured support program to help them through the recovery process. These programs are typically geared towards those who are no longer experiencing severe withdrawal.
The right program is different for each person and depends on the person's path of recovery. If there are questions or concerns, it's best to look into different programs and to contact someone to get the answers. Regardless of the final choice, receiving help from professionals can strengthen one's ability to stay on the right track. It also provides a level of safety during what can be a dangerous and tumultuous time. These programs offer a person the chance to detox from their misuse physically, but they also address the mental and emotional issues that led to the substance use.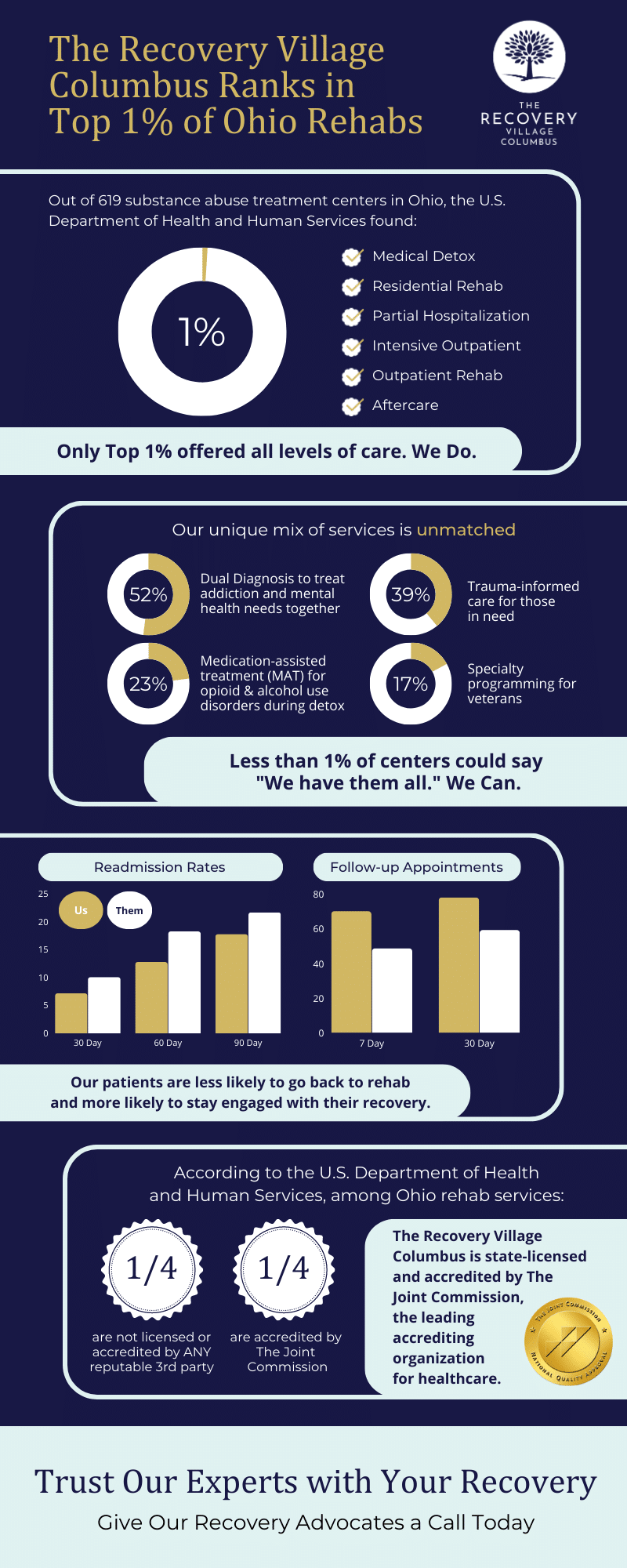 Cincinnati Drug & Alcohol Detox Centers
Cincinnati drug detox centers are often a person's first step when beginning the road to recovery. These detox centers help people with a variety of substance dependencies, including alcohol and drugs. Many people will need professional help when dealing with withdrawal symptoms, which can be life-threatening if they are not dealt with correctly. Cincinnati alcohol detox centers offer a structured and safe place to deal with withdrawal symptoms.
Everyone is different, and different detox centers offer their own programs. It's best to do research based on the person's substance dependency. Meet with the staff, take a tour and ask questions to determine whether the place is right for you.
Recovery Meetings Near You in Cincinnati
Connecting with others who are on the same journey as you is powerful and helpful. Finding a network of support from others who have walked your path is empowering. It's also an opportunity to be honest and seek help in a non-judgemental setting. Here are some options for recovery meetings for you to attend as part of your drug or alcohol treatment in Cincinnati:
Addiction resources are available in cities near Cincinnati. All of the Alcoholics Anonymous, Narcotics Anonymous and SMART Recovery programs are available in every large city and many smaller towns throughout the United States. If you're looking for options other than alcohol and drug rehab centers in Cincinnati, consider expanding your search to these nearby cities.
Addiction Resources in Nearby Ohio Cities
For those who are seeking alcohol and drug treatment facilities outside of Cincinnati, Ohio, there are also many drug rehab resources across the state of Ohio: