Newark, Ohio is a 40-minute-drive northeast of the capital city of Columbus. It's in Licking County and has approximately 49,000 people. Founded in 1802, Newark is the site of several major manufacturers and houses a regional campus of Ohio State University. Its highlights include Dawes Arboretum, ancient Indian mounds, the National Heisey Glass Museum and Blackhand Gorge State Nature Preserve.
Newark might seem distant from big-city problems; however, alcohol and drug abuse, in particular abuse of prescription opioids and heroin, have had a devastating effect on Licking County. This includes the rising cost of foster care for children of addicted individuals, as The Newark Advocate newspaper reports.
While the social costs can be high to addicted individuals and their loved ones, addiction is not a moral failing or a social problem in itself; instead, it's a disease with complex causes and effects that differ according to the individual. When someone is ready to give up addiction and move toward sobriety, resources are available in Newark and the surrounding areas. These include drug rehab in Newark, OH as well as alcohol rehab in Newark, OH. Taking the first brave step of acknowledging the problem can be the hardest thing to do.
Our Closest Facility:
Just a short drive down the road, The Recovery Village Columbus Drug & Alcohol Rehab is centrally located to solve any addiction problems you may have. Accepting all major insurance providers including medicaid and medicare, get admitted today and solve your addiction issues.
Finding Drug and Alcohol Rehab in Newark, Ohio
Newark, Ohio Alcohol Rehab Centers and Drug Centers
When someone decides to stop drinking or taking drugs, it's crucial to receive expert help. There are several options ranging from Newark alcohol rehab and Newark drug rehab. Program choices may include full or partial hospitalization or outpatient programs. Hospitalization programs may include medication management, assessment of any concurrent mental or physical health problems, individual or group therapy, stress reduction techniques and, of course, temporary removal from the environment that made the drug use possible.
When full hospitalization is not ideal because of expenses, insurance considerations or the need to continue work or school, partial hospitalization or outpatient treatment offers some of the same benefits. Numerous alcohol and drug treatment centers are in or near Newark, but a facility a bit farther away is sometimes a better fit for those who desire a bit more anonymity. If you choose to stay in town, do research and find out which Newark drug treatment facilities or Newark alcohol treatment facilities are a best fit for you and your needs.
Residential Treatment Programs
Residential care offers the advantages of full-time medical management for the addiction and any co-occurring medical problems; 24-hour care offers stability and the security of knowing that expert care is near should any difficulties occur during withdrawal or the subsequent treatment. residential treatment also has the advantage of removing the addicted individual from influences that contributed to the drug or alcohol problem. Individual and group therapy are on hand, and the patient immerses into learning and understanding new coping skills as he or she rids the body of substances.
Partial Hospitalization Programs
Partial hospitalization can offer the advantages of full residential treatment with the flexibility of outpatient treatment. Depending on the patient, it may be a good fit financially and allow the continuation of daily living such as work or school activities.
Outpatient Treatment Programs
For some, outpatient treatment programs are the best fit. Patients receive regularly scheduled individual or group therapy. They receive monitoring for health problems and guidance toward community resources such as maintenance self-help meetings as they continue the path toward sobriety.
As you consider attending a drug rehab center in Newark, OH or an alcohol rehab center in in Newark, OH, know this: Experts agree that alcoholism and drug addiction are not a failing of the will that a patient can easily control. Instead, they are diseases and, much like diabetes or high blood pressure, their cause can be a combination of genetic and biological components. The solution depends on the individual patient, and the most effective treatment may include a combination of medical intervention; behavioral, cognitive and family therapy; and self-examination through a 12-step program or another fellowship group.
What do you have to gain as you let go of your addiction to drugs or alcohol? According to an article titled "Enjoy Sobriety" in Psychology Today, benefits will include a healthier body and mind, relationships that are more rewarding and the freedom of feeling in charge of your own life. Here's perhaps the biggest one: inner peace. As the saying goes in AA, take it one day at a time. Whatever you decide to do, Newark, OH drug rehab or Newark, OH alcohol rehab can put you on the right track towards success.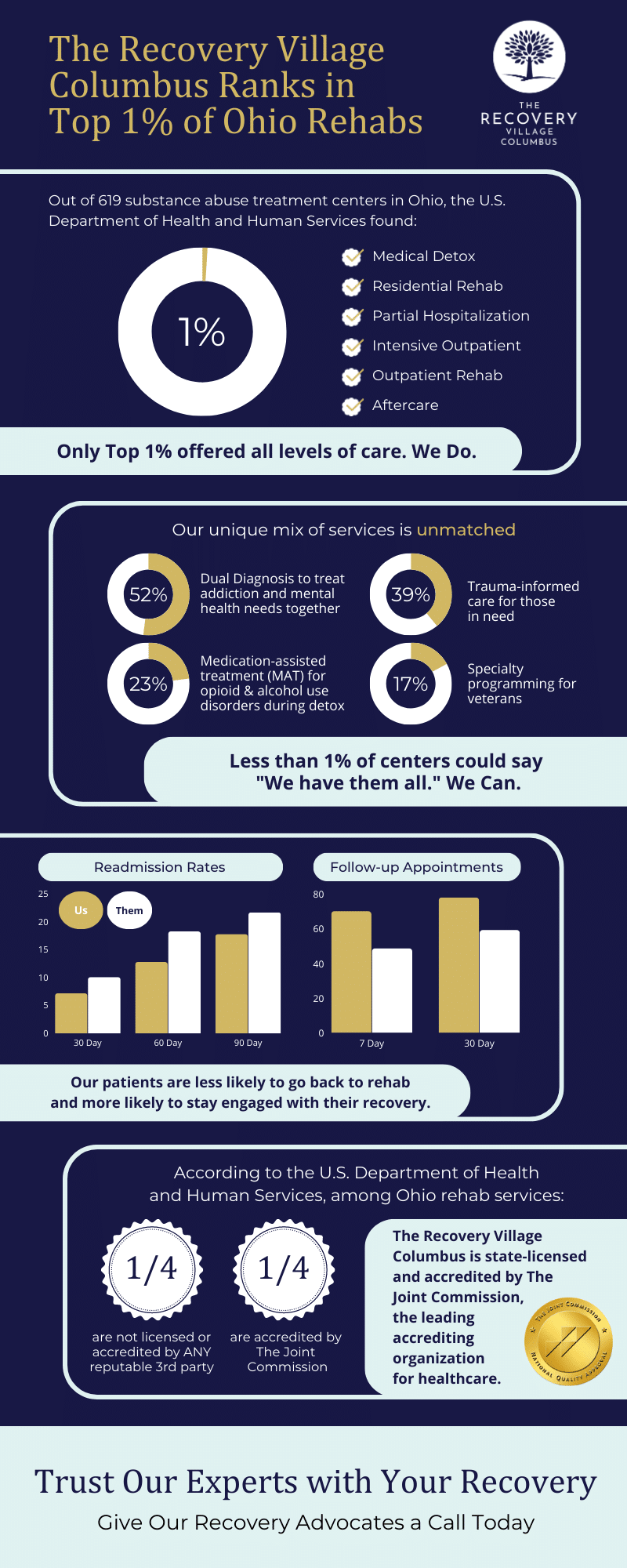 Detox Centers
When someone suddenly stops using drugs or alcohol, withdrawal can be uncomfortable and medically uncertain. Expert help is necessary. During drug detox, medical professionals can monitor the patient for any co-occurring health conditions, dispense medication to make the process easier and offer other resources to make the transition more comfortable. It's the first key step toward a recovery that will progress toward individual or group therapy with new coping skills learned along the way. Taking the first step may be the hardest, but this step is crucial toward a lifetime of serenity rather than one overtaken by substance misuse.
Recovery Meetings Near You
In group meetings such as AA, NA and SMART, people working toward sobriety can gain self-awareness as well as fellowship with others sharing the struggle.
There are several addiction resources in nearby cities, as well as in Newark itself. Consider the pros and cons of each program and find the one that's the best fit for you.
Addiction Resources in Nearby Ohio Cities
For those who are seeking alcohol and drug treatment facilities outside of Newark, Ohio, there are also many drug rehab resources across the state of Ohio: