Youngstown Drug & Alcohol Rehab, Detox & Treatment Resources
Youngstown is a metropolitan area located halfway between Cleveland and Pittsburgh. Although the region suffered after the steel industry left the area in the 1970s, the city is growing again, and it's home to the 14,000 students who attend Youngstown State University. Residents enjoy a comparatively low cost of living and plenty of cultural and community activities at the Butler Institute of American Art, the DeYor Performing Arts Center and the Mill Creek Metro Park system.
In 2011, law enforcement officials noticed an increase in the availability of heroin and heroin-fentanyl mixtures arriving in the region. As a result, heroin has been a prominent drug threat in the greater Youngstown area. Stories about drug abuse may be common in Youngstown; however, there have been decreases in prescription opioid misuse thanks to interventions such as the Ohio Automated Prescription Reporting System. There are also numerous Youngstown alcohol treatment facilities available for anyone suffering from drug or alcohol addiction, representing a positive option for patients who choose to address their substance misuse and enter treatment programs to pursue recovery.
Our Closest Facility:
Just a short drive down the road, The Recovery Village Columbus Drug & Alcohol Rehab is centrally located to solve any addiction problems you may have. Accepting all major insurance providers including medicaid and medicare, get admitted today and solve your addiction issues.
Finding Drug and Alcohol Rehab in Youngstown, Ohio
Youngstown, Ohio Alcohol Rehab Centers and Drug Centers
If you're ready to get help with your substance misuse or addition, assistance is available for drug rehab in Youngstown, Ohio and in the surrounding areas. If you're ready to seek drug treatment Youngstown, review your options and resources to determine which type can provide the right recovery care for your needs.
According to the Ohio Department of Mental Health and Addiction Services, cocaine, heroin, marijuana, sedative-hypnotics and methamphetamine are highly available in the Youngstown area. Although people from all socioeconomic groups report using drugs, treatment professionals note an increase in younger people and women misusing heroin. Cocaine and prescription opioid use are declining, but methamphetamine use in rural areas such as Ashtabula County is increasing.
Fortunately, there are treatment options available in Youngstown, ranging from outpatient groups to full inpatient drug rehab Youngstown, OH. As you explore the available programs, look for one that meets your recovery needs and fits in with your lifestyle.
Residential Treatment Programs
In a residential treatment program, you stay full-time at the facility as you complete a multidisciplinary plan designed to treat your addiction. The first step is a complete detox, followed by therapy sessions and classes that focus on life skills and relapse prevention. Many residential programs also offer sports programs and other classes that teach patients how to live full lives and make healthy choices after they leave the facility.
Partial Hospitalization Programs
Partial hospitalization programs blend elements of residential and outpatient programs to give patients more flexibility with their schedules. Instead of spending the night at the facility, patients in PHPs go home after spending the day attending the same type of life-management classes and therapy sessions that inpatient clients use.
Outpatient Treatment Programs
Outpatient drug rehab Youngstown, OH gives patients the greatest flexibility to continue leading their lives while receiving treatment. In these programs, patients can schedule therapy sessions, social groups and life-management classes around their schedules. This helps them maintain their sobriety while still taking care of their responsibilities at home and work.
Finding the right Youngstown drug rehab center for your needs is an important part of the recovery process. The services and staff encourage and support your commitment to sobriety, and teach you how to attain it. Each alcohol and drug rehab center in Youngstown, OH is different, so take your time evaluating what each has to offer, and choose the one that best fits your sobriety goals and lifestyle needs.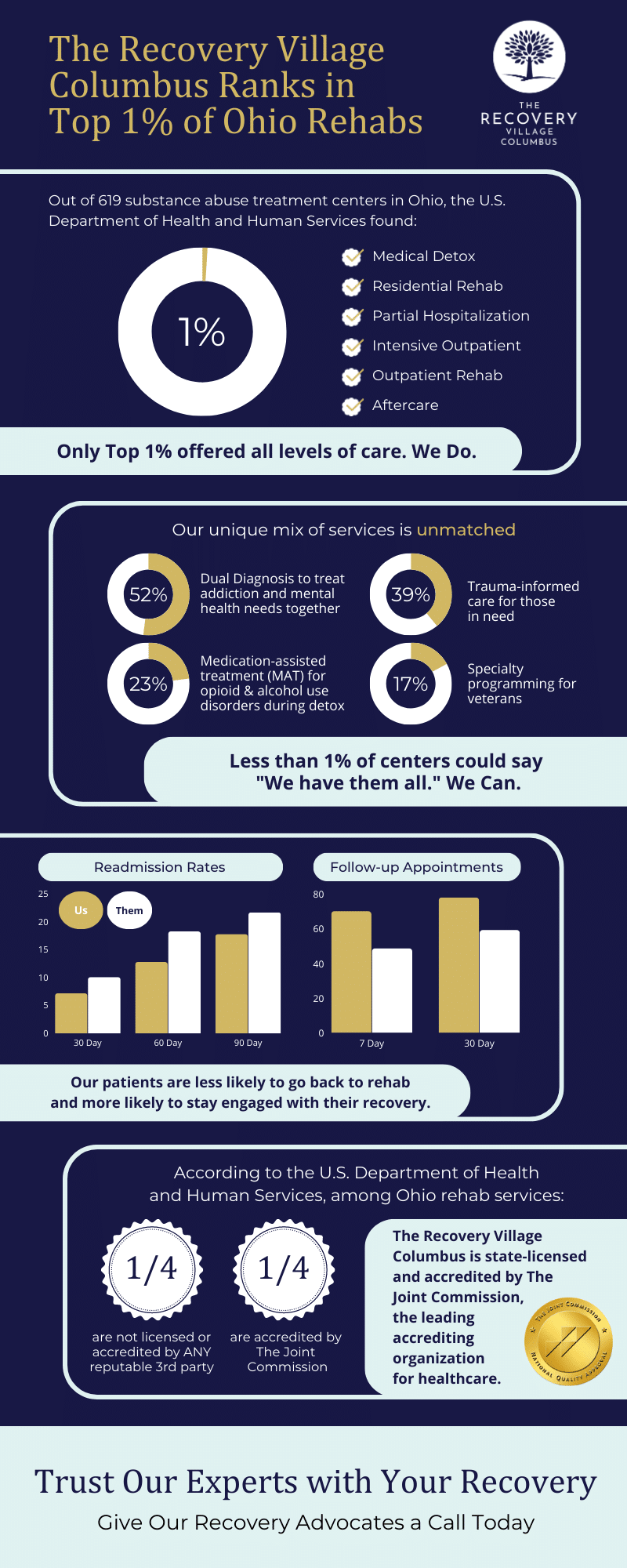 Detox Centers
Your path to recovery starts with a serious look at the effects of drugs and alcohol on your life. When you understand these negative influences, you can change the behaviors that create problems at home and work. It's okay if you don't know how to make these changes right now. With the right support, it's possible to enjoy the benefits of sobriety and leave addiction behind you.
To do this, you have to go through detoxification to remove the drugs and alcohol from your body. This is an important step, and it's one you shouldn't attempt without a support team that understands what you're going through and has the knowledge to help you through the process. You can find this support at the different Youngstown and nearby drug detox centers Instead of facing the intense detox process alone, you can walk through it with the guidance of trained medical professionals.
Recovery Meetings Near You
In addition to the support you find at Youngstown drug rehab clinics, you may benefit from aftercare support groups such as 12-step programs where you have a chance to interact with other people working to maintain sobriety. At group meetings, you and other members share your challenges and successes so you learn from and support each other. These groups offer open meetings that anyone can attend in addition to closed meetings designed for specific groups of people.
Addiction Resources in Nearby Ohio Cities
For those who are seeking alcohol and drug treatment facilities outside of Youngstown, Ohio, there are also many drug rehab resources across the state of Ohio: