Cuyahoga Falls Drug & Alcohol Rehab, Detox & Treatment Resources
The epidemic of drug and alcohol use has gotten increasingly worse in recent years, with more overdoses happening all over the country every year and more cases of substance abuse reported than ever before. Ohio has become one of the states with the highest rate of reported overdoses, and northeast Ohio has been in the news multiple times for the local opiate and drug epidemic.
The statistics surrounding overdose deaths and other incidents stemming from drug and alcohol addiction in the area are staggering, and combined with the ever-growing stigma surrounding those battling these problems, many of those suffering are left feeling hopeless. So many struggling with drug or alcohol dependence feel as though they don't deserve proper treatment, and often don't seek help because of this. However, addiction is a medically recognized disease that doctors and other professionals have studied for over 50 years, and those suffering from it deserve to find help and treatment for this disease, just as anyone suffering from any disease does.
Our Closest Facility:
Just a short drive down the road, The Recovery Village Columbus Drug & Alcohol Rehab is centrally located to solve any addiction problems you may have. Accepting all major insurance providers including medicaid and medicare, get admitted today and solve your addiction issues.
Finding Drug and Alcohol Rehab in Cuyahoga Falls, Ohio
Cuyahoga Falls, Ohio Alcohol Rehab Centers and Drug Rehab Centers
Choosing a treatment program is the first step toward recovery. First, it's important to understand the various types of Cuyahoga Falls detox programs and facilities available so you can choose the option that best suits your individual situation.
Residential Treatment Programs
A residential treatment program usually takes place at a rehab facility where the patient will have access to a fully trained staff at all times to tend to his or her physical and mental needs during treatment. Inpatient programs generally follow detox, and some facilities even offer both detox and residential treatment within the same center. Inpatient drug rehab Cuyahoga Falls, OH is ideal for those whose addiction has become severe. The patient will live at the treatment facility while receiving medical care, substance abuse counseling and recovery education for a duration a month or more.
Partial Hospitalization Programs
A partial hospitalization program (PHP) is a less intense treatment option utilized by those with a shorter-term addiction, or as a next step for people who have completed a residential program successfully. A PHP usually consists of being in the facility for multiple hours during the day to receive treatment services and learn about further recovery options. During partial hospitalization programs, the patient will usually live at his or her home and commute to the treatment center daily.
Outpatient Treatment Programs
Outpatient programs are another choice for those who have completed previous recovery treatment, and for those individuals with a less severe substance dependence issue or someone requiring a less intensive treatment experience. Outpatient drug rehab Cuyahoga Falls, OH consist of patients living at home or in another secure environment or halfway house while attending sessions a few times per week.
If you're seeking a drug rehab center in Cuyahoga Falls, OH, one of these treatment options is sure to be right for you. Before choosing a program, it's important to consider all factors, such as the length of your misuse history, the nature of the substances you're using, whether you require detox, and how intensive your treatment program should be.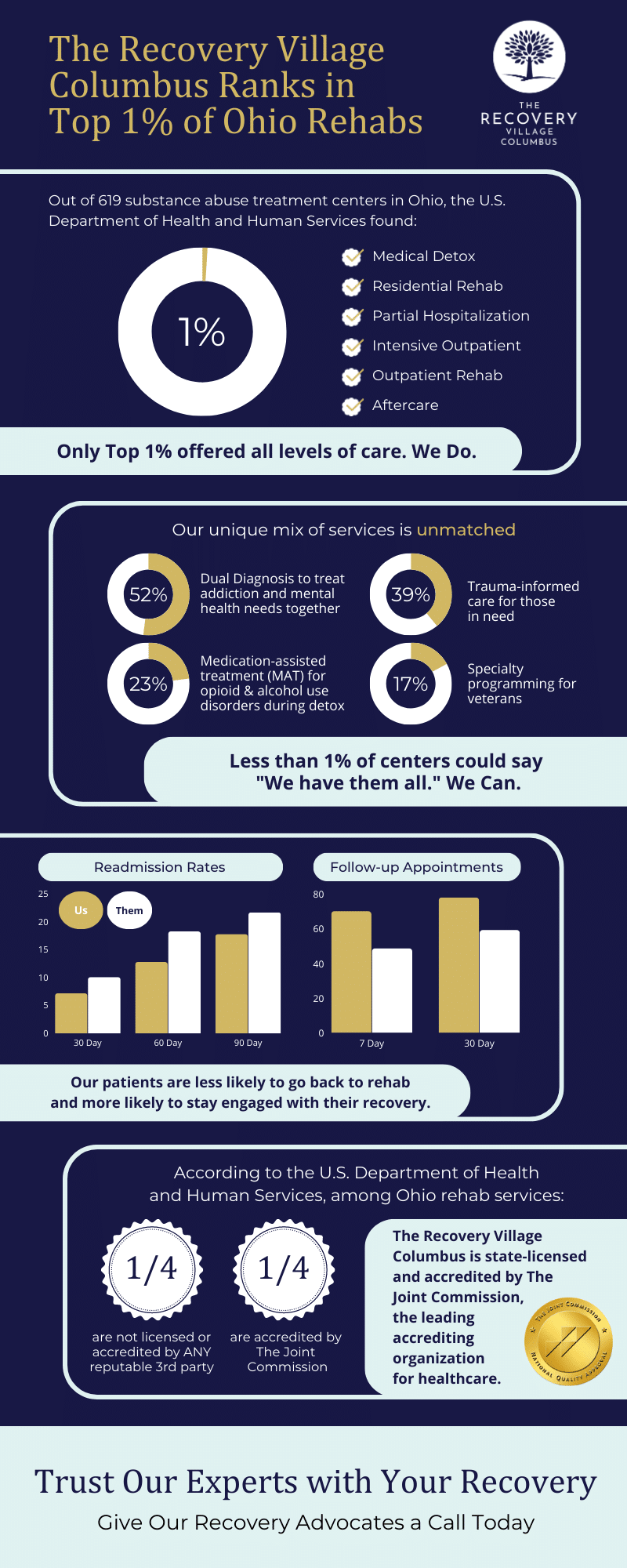 Detox Centers
Detox is sometimes an integral part of starting the recovery journey. Many people suffering from drug or alcohol misuse require detox prior to beginning a full recovery treatment program. Cuyahoga Falls drug detox centers offer medically assisted detox where the patient receives monitoring and sometimes medication such as suboxone to help detox from the substance of choice. During detox, a patient usually stays within a detox facility until the substance of use is out of his or her system. There are multiple options available for drug rehab in Cuyahoga Falls, OH and the surrounding area offers a multitude of options in all different areas that may work for you.
Recovery Meetings Near You
Recovery meetings are essential to ongoing recovery treatment once a patient completes the program within a treatment facility. With regular meetings, recovery can continue on a successful path as patients receive continued support. If you're looking for recovery meetings in Cuyahoga Falls, OH, you have a wide range of options and various types of meetings to consider in the area. Learning more about these different options will help you to better understand the types of recovery meetings and allow you to make a decision regarding what meetings may work best for you.
Cuyahoga Falls, Ohio offers a multitude of options for those seeking recovery, but it may also be beneficial to explore options in other cities.
Addiction Resources in Nearby Ohio Cities
For those who are seeking alcohol and drug treatment facilities outside of Cuyahoga Falls, Ohio, there are also many drug rehab resources across the state of Ohio: