The northeast Ohio area has become a huge topic when it comes to conversations and news stories about substance abuse. The numbers of overdoses, particularly prescription painkiller and other opioid overdoses, has increased significantly in Ohio over the past few years. The state now has one of the highest rates of overdoses per year in the entire country. Some reports gained national attention after certain areas of Ohio had 20, 30 or even 40 overdoses in short periods of time in certain areas.
Drug and alcohol abuse has impacted families and individuals in Ohio and all across the United States, and the stigma surrounding people with addictions has kept many from seeking the care and treatment they need to start down the road to recovery. However, those suffering from substance abuse don't need to feel helpless or hopeless. Recovery options are available, and sufferers deserve proper treatment and the opportunity to recover.
Yearly statistics have shown the devastating effect of drug and alcohol addiction can have on people's lives. Luckily, help is available for people suffering from substance abuse problems, and available for the families and loved ones affected by those problems. By utilizing drug treatment in Warren, recovery from addiction is quite possible.
Our Closest Facility:
Just a short drive down the road, The Recovery Village Columbus Drug & Alcohol Rehab is centrally located to solve any addiction problems you may have. Accepting all major insurance providers including medicaid and medicare, get admitted today and solve your addiction issues.
Finding Drug and Alcohol Rehab in Warren, Ohio
Warren, Ohio Alcohol Rehab Centers and Drug Rehab Centers
If you're looking for Warren drug rehab, there are a few different options available to you. Treatment programs differ in level of intensity, whether you remain inpatient or opt for partial hospitalization. The type of program you choose often depends on your specific needs, how long you've been using and if you need detox prior to beginning a treatment program. Learning about the different types of programs can help you better understand what each offers and which may be the right choice for you.
Residential Treatment Programs
A residential program offers in-house care in a facility that specializes in addiction-recovery services. Services within an inpatient center may include medical monitoring, counseling, group therapy and addiction or recovery education. In a residential treatment program, you have 24/7 access to trained staff to help you with your recovery journey. This type of program is often ideal for those who have been using for a longer period, those who need medical detox or those who have a more severe addiction. Many inpatient settings offer detox prior to beginning the residential program. Look for inpatient drug rehab in Warren, OH.
Partial Hospitalization Programs
Partial hospitalization treatment involves the patient living away from the treatment center, within his or her own home or in another safe setting. The patient then comes into the treatment center daily for recovery treatment and counseling. Often, this type of program serves as a step down in intensity from a residential program, as patients move to a PHP once they've successfully completed their time in residence. A PHP is also an option for those who may not require medical detox or an inpatient setting to begin treatment due to a less severe addiction or a shorter span of time using. You can find partial hospitalization at a drug rehab center in Warren, OH.
Outpatient Treatment Programs
Outpatient therapy or outpatient treatment usually consists of counseling, group therapy or recovery education attended for a few hours on a few days per week. A patient attending this type of program often lives at home, in another safe environment or in housing on the treatment center's campus reserved for those who have completed other forms of treatment. Outpatient programs can serve as a step down in intensity from PHP treatment. They are also of use to those suffering from an addiction that isn't as severe and doesn't require medical care or hospitalization. Multiple facilities offer outpatient drug rehab in Warren, OH.
The recovery treatment options available to you are both versatile and comprehensive, giving you the opportunity to choose the right type for your needs. Whether you're looking for Warren alcohol rehab or drug treatment in Warren, you have a multitude of options. You can choose from one of the multiple recovery centers in and around Warren or nearby cities.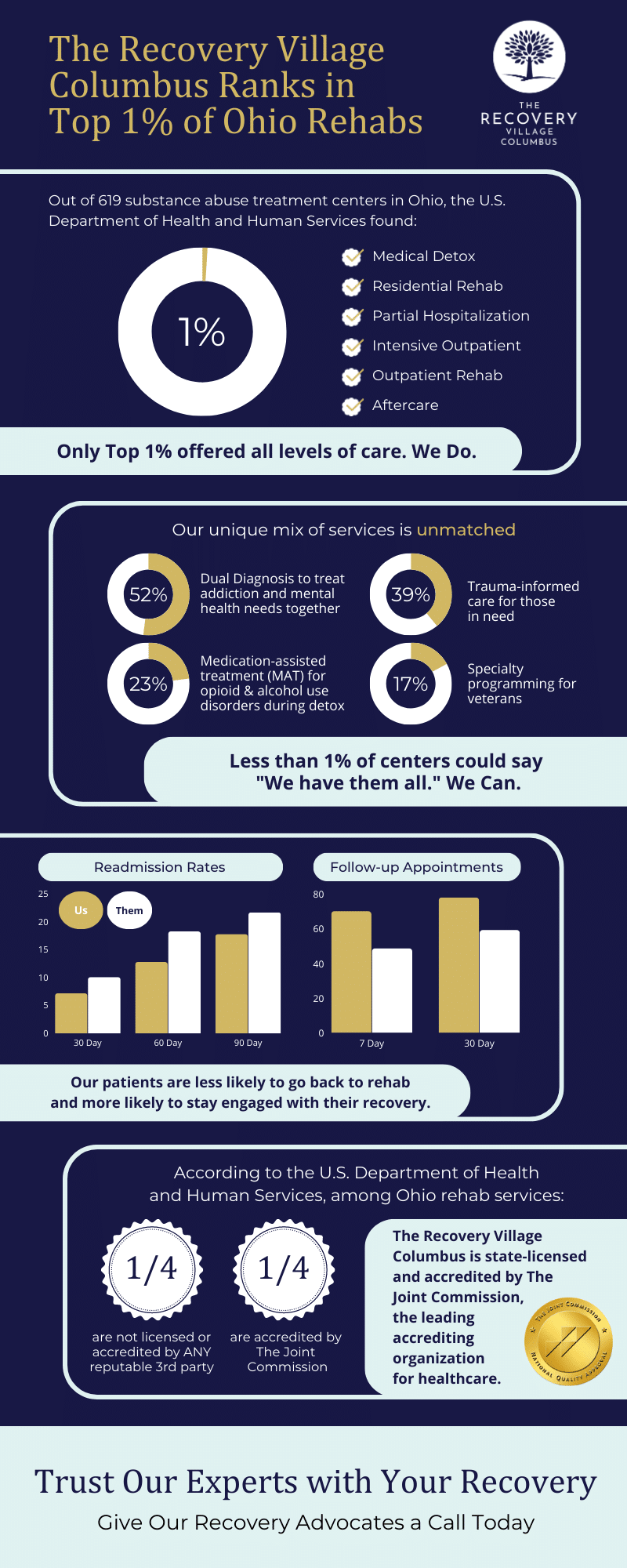 Detox Centers
Medical detox is often required as a first step in recovery, with the goal being to rid your body of the substances you've been using and to help minimize the unavoidable effects of withdrawal. Using substances such as heroin can cause you to need detox after you've been using for an extended period of time. Detox can help you get through the period of withdrawal and help you refrain from using during that difficult period. You can find Warren drug detox centers and treatment facilities offering detox in the area.
Recovery Meetings Near You
Attending regular meetings during your recovery journey can be helpful, and these types of meetings are an essential part of any comprehensive recovery plan. Adding recovery meetings to your drug or alcohol treatment in Warren can help you maintain recovery. There are different types of meetings to attend depending on your personal addiction struggles, the substances you misused and your own preferences for treatment.
There are many Warren, Ohio drug rehab and alcohol treatment options for people struggling with addiction, but you can also search for treatment resources in other areas.
Addiction Resources in Nearby Ohio Cities
For those who are seeking alcohol and drug treatment facilities outside of Warren, Ohio, there are also many drug rehab resources across the state of Ohio: