Compared to the national rate of 14.6 deaths per 100,000 persons, Ohio recorded 39.2 deaths per 100,000 persons as a result of opioid misuse. In 2007, accidental drug poisoning became the leading cause of death by injury in the state of Ohio and has remained number one in this category up until 2017.
While these statistics are sobering, they are matched by the rise of drug and alcohol treatment awareness and options. Drug and alcohol rehab, detox and recovery resources are more widely researched, understood and available today than ever before. It is important for citizens of Westlake, Ohio, to know that treatment options for addiction are present in and around their community.
Westlake Drug and Alcohol Rehabilitation and Treatment
In 2018, the Ohio State Highway Patrol ticketed 7,104 drivers for drug violations. Ohio is among the top five statesin the United States for drug overdose deaths. The National Institute on Drug Abuse explains that substance use erodes the brain's ability to make rational choices.
In cases where addiction overrides a person's ability to make good choices, intervention and treatment in the form of drug and alcohol rehabilitation becomes imperative. People struggling with addiction have an opportunity to receive the treatment they need to regain a healthy and productive life. Westlake, Ohio, contains several such treatment opportunities. The Recovery Village Columbus also offers a full variety of treatment programs for residents of Westlake.
Drug and Alcohol Detox Programs and Treatment Centers in Westlake, Ohio
Medical detox is the first step in drug and alcohol recovery and includes medical care as the body undergoes withdrawal. For people who rely on alcohol or drugs, treatment must begin with total abstinence. There is often a physical reaction to abstinence which can range from mild to acute. A detox program is always overseen by medical professionals and symptoms can be relieved by medicine, therapies, and support.
The Recovery Village Columbus, located in Groveport, Ohio, provides drug and alcohol detox programs. There are currently three centers in nearby Huntington, West Virginia, that can also provide medical detox.
We're here for you now, and always will be.
Comprehensive addiction treatment at The Recovery Village Columbus.
Westlake Residential Treatment Programs
Drug addiction treatment and alcohol recovery may begin with a residential treatment program. An inpatient rehab facility can offer 24-hour care and medical assistance. Inpatient alcohol rehab can be an important component of early recovery. The highest level of supervision and care is provided with around-the-clock access to medical professionals, clinicians, and counselors.
There are 15 facilities within 20 miles of Westlake, Ohio, that offer residential treatment programs. The Recovery Village Columbus also offers residential treatment.
Westlake Partial Hospitalization Programs
Partial hospitalization programs provide part-time hospital care for those in treatment for drug or alcohol addiction. Patients stay in the hospital half of the time and spend the other half of their time at home. Depending on the facility's guidelines, some therapies or counseling can take place off campus as a transition back into regular life. This support continues intensive treatment. Supportive, substance-free home life can be an important predictor of success for this kind of program.
Ten facilities within 15 miles of Westlake, Ohio offer partial hospitalization programs.
Westlake Outpatient Treatment Programs
Outpatient drug treatment is a final step in the recovery process. In outpatient treatment, patients have returned to living at home full time. People usually attend regularly scheduled meetings for continued medical care and treatment. To be eligible for outpatient treatment, participants should have completed detox and be stable enough to pursue regular activities without returning to substance use.
There are 12 outpatient treatment programs within 15 miles of Westlake, Ohio.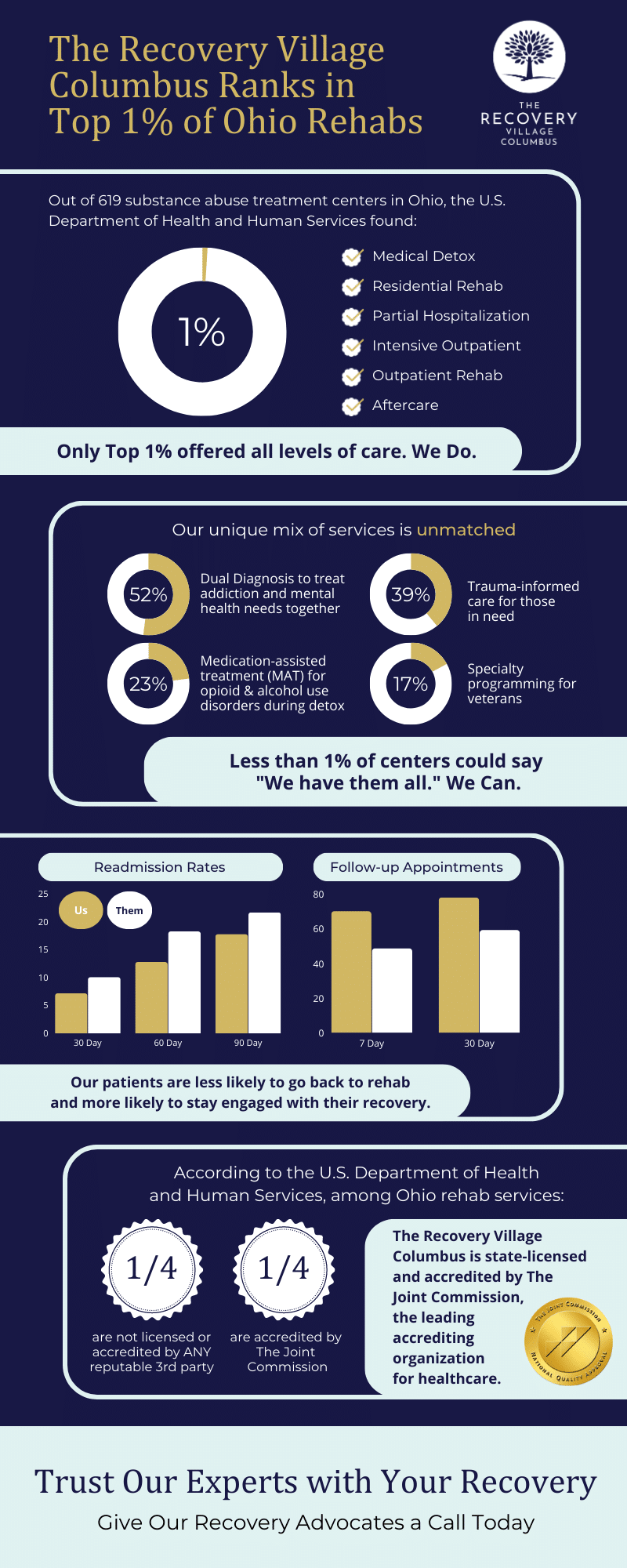 Sober Living and Rehab Aftercare Programs in Westlake, Ohio
Participating in continuing care can be a vital way to extend and commit to recovery. Sober living aftercare facilities provide a residential environment that gives daily support and guidance. Group therapy, a home environment, and social support help those in recovery in their new, addiction-free lives. Rehab aftercare is the stage of drug rehab aftercare programs that can be essential for success.
Sober living programs typically provide:
Accountability
House responsibilities
No substance use allowed
A daily schedule that includes group time
Counseling and treatment
Rehab alumni programs can be an essential element that produces lasting change. There are nine facilities within 20 miles of Westlake, Ohio that offer rehab aftercare programs.
Specialized Treatment Programs in Westlake, Ohio
Specialized treatment can be found facilities near Westlake, Ohio, that may offer:
Rehab for veterans or active duty military
Rehab for LGBT persons
Rehab for PTSD
Victims of sexual abuse
Victims of trauma
Victims of domestic violence
Rehab for pregnant women or postpartum women
LGBT clients
There are specialized counseling and health clinics within 85 miles of Westlake, Ohio.
What Is the Process Like in a Drug Detox and Rehab Facility?
Being introduced into your drug treatment process will probably include assessment, registration, meeting staff and seeing lodging arrangements.
In the early days of your rehab, you can expect to experience the following:
Meet with medical and counseling staff
A daily schedule of medicine, therapy, meals and recreation
Monitoring of your well-being and progress
Communication of benchmarks that mark changes in your stage of treatment
After detox, participants will transition into other levels of care as treatment progresses. Inpatient or partial hospitalization programs are the next steps toward recovery. The qualified professionals who oversee your treatment will provide you with a treatment plan that will provide guidance for your long term success.
Finding the Best Rehab Program For You
The best rehab centers will provide you with personalized treatment options. These options may include professionally led services and oversight with prescription medicine, group therapy and behavioral support. The best drug rehab centers provide detox, medicine, therapy and a sobriety plan. Treatment facilities should only operate under important licensing and accreditation standards.
Here is how to find the best rehab center:
Find and use a reputable database.
Narrow down qualified facilities that provide the services you require.
Visit the center.
Ask important questions before committing to treatment.
The best rehab centers will conduct an assessment of your needs and communicate their medically determined approach for your recovery.
What Questions Should You Ask When Considering a Treatment Program?
People seeking treatment for drug and alcohol addiction should feel free to ask questions at each treatment center they consider. The stigma of addiction can dampen a willingness to investigate but understanding treatment as thoroughly as possible will significantly enhance the recovery process.
Here are some questions you should ask when considering a treatment program:
What kind of treatment is available?
What kind of care will you receive?
Are all medical procedures thoroughly explained to you?
Is the facility like a hospital or a hotel?
Do treatment options indicate a whole-person approach?
Will you receive physical, mental and social support?
Good treatment centers will have high-quality programs and be willing to help you set your expectations and provide you with as much information as you need to make the right decision.
Exploring Treatment Options Near Westlake, Ohio
Drug abuse treatment is available in Westlake, but specialized or additional treatment options could mean travel of some kind. While many treatment facilities are available in the city, some people find that regular travel is a burden. Others may find that important medical or therapy options are only available a significant distance from home.
There are pros and cons of traveling for alcohol or drug rehabilitation.
Pros:
Access to specific medicines or treatment programs
A feeling of removal from habits and environments of addiction
Access to specialized programs and sober living aftercare
Cons:
Distance from family and friends
An unfamiliar environment can feel uncomfortable
The cost associated with distant care may be higher
Ultimately, weighing the balance of this decision will require introspection and careful thought. Making a long-term commitment to your addiction recovery is essential as you choose a treatment center.
Additional Addiction and Rehabilitation Resources in Westlake, Ohio
Cuyahoga County provides education and publications on substance abuse. A Drug Court Docket helps reduce substance abuse utilizing community means as an alternative to prosecution for felony charges related to drug or alcohol crimes.
Westlake has a variety of behavioral health, mental wellness, and counseling facilities that can provide ongoing therapy. Support groups, including family support groups, are available to help with the transition into sober living and provide long term support for addiction recovery.
Recovery Meetings Near You in Westlake, Ohio
There are many recovery meetings available near Westlake, Ohio that can provide you with social support and encouragement.
City of Westlake, Ohio
Westlake, Ohio is a small city with beautiful lakes, hills, and rich history. Westlake, Ohio is located at 41.4553° N, 81.9179° W. To get to Westlake, Ohio, flights can be taken into Cleveland Hopkins International Airport (CLE). Westlake is located only 12 miles west of downtown Cleveland. This city of about 33,000 people has access to urban and suburban life.
Visitors can enjoy the Rocky River Reservation, Lake Erie Nature and Science Museum, and Huntington Beach. The City of Westlake Police Department recognizes that its citizens are not immune to drug and alcohol addiction issues. They provide direct information for proactive narcotics investigation programs to target and eliminate illegal drugs. There is help and support for recovery from addiction in Westlake, Ohio.
Addiction Resources in Nearby Ohio Cities
For those who are seeking alcohol and drug treatment facilities outside of Westlake , Ohio, there are also many drug rehab resources across the state of Ohio:
---
Centers for Disease Control and Prevention. "Drug Overdose Deaths." Published 2018. Accessed May 22, 2019.
City of Westlake, Ohio. "Police department." N.D. Accessed May 22, 2019.
National Institute on Alcohol Abuse and Alcoholism. "What Types of Alcohol Treatments are Available?" N.D. Accessed May 22, 2019.
National Institute on Drug Abuse. "Ohio Opioid Summary." Revised 2019. Accessed May 22, 2019.
National Institute on Drug Abuse. "Treatment Approaches for Drug Addiction." Revised January 2019. Accessed May 22, 2019.
Ohio Department of Health. "Drug Overdose." Published July 2, 2018. Accessed May 22, 2019.
Ohio State Highway Patrol. "OSHP Statistics." N.D. Accessed May 22, 2019.