Drug and alcohol addiction can feel like insurmountable challenges, but there is always hope. Illicit drug use in Ohio was estimated at over 8% among people ages 12-17 from 2013-2014. According to the Centers for Disease Control and Prevention, 20.1% of Ohioans reported binge drinking and excessive alcohol use in Ohio cost $7.6 billion in 2013.
The small town of St. Marys, Ohio is not immune to drug and alcohol addiction. St. Marys and surrounding areas provide drug and alcohol rehab, detox and recovery resources.
St. Marys Drug and Alcohol Rehabilitation and Treatment
Drug and alcohol rehabilitation and treatment is available in St. Marys. For those struggling with addiction, it can be hard to imagine the first step. A good start is to find a rehabilitation and treatment center that can meet your needs. There are many resources listed on this page to help you determine what your needs may be, what questions to ask, what kind of treatment to choose and how to pursue your path of freedom from addiction.
In or near St. Marys, drug and alcohol rehab options may include:
Detox
Inpatient
Partial hospitalization
Outpatient
Aftercare
Sober living homes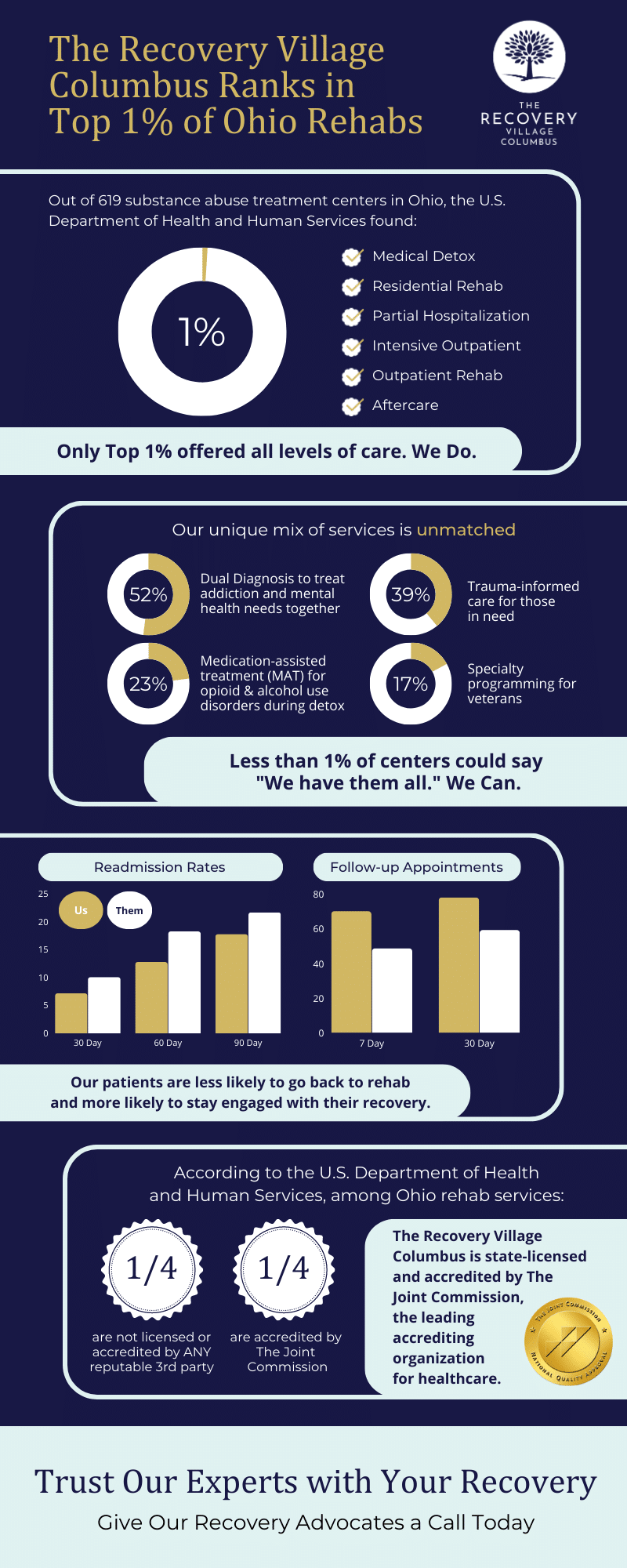 Sober Living and Rehab Aftercare Programs in St. Marys, OH
Long-term recovery often requires continuing care that can be found in sober living aftercare facilities. Rehab aftercare provides residential or regularly scheduled assistance for walking a new, addiction-free life.
The U.S. National Library of Medicine National Institutes of Health conducted a review of sober living homes and concluded that successful drug rehab aftercare programs share the following characteristics:
Internal, mutual accountability among residents
Alcohol- and drug-free environments
Lifestyle structure with house meetings and responsibilities
Some form of mandated or highly encouraged ongoing treatment
Rehab alumni programs can provide lasting change. Lutheran Services and The Victor House are two sober living facilities within the city of St. Marys. There are additional sober living aftercare facilities in nearby areas.
Specialized Treatment Programs in St. Marys, OH
Addiction is not localized to a specific group of people. Recovery, however, can be enhanced for groups of people who share common experiences and have the same needs.
Women's rehab centers or rehab centers for teens are specialized facilities that address the unique lifestyle needs of those groups. The nearby cities of Dayton, Findlay, Xenia, Hilliard, Kendallville and beyond have facilities that cater to:
Rehab for veterans
Rehab for LGBT clients
Active duty military personnel
Clients referred from the court or judicial system
Domestic violence sufferers
Victims of sexual abuse
Victims of trauma
Rehab for pregnant women or postpartum women
What Is the Process Like in a Drug Detox and Rehab Facility?
The drug treatment process is dynamic and highly individualized, but the ultimate goal of every treatment approach is long-term recovery from substance abuse. The National Institute on Drug Abuse explains that the essential tenets of effective drug addiction treatment should include the following:
Treatment plan
Psychology
Pharmacology
Peer support
Abstinence from substance use
Case management
Continuing care
It is vital to find a drug detox and rehab facility that includes these elements and can set you up for success.
Finding the Best Rehab Program For You
When deciding on your addiction recovery path, the first question is how to find the best rehab center. The best drug rehab centers share certain qualities like professionalism, good communication, consistency and adherence to standards.
Drug rehab programs can be accredited to ensure their commitment to providing the highest care. The best rehab centers include comprehensive treatment in a safe and medically proficient setting. Whatever level of treatment you need and wherever you are in your recovery, you should feel empowered to ask important questions and evaluate whether a program meets the highest standards.
What Questions Should You Ask When Considering a Treatment Program?
There are several important factors to consider when you decide where to receive treatment for drug and alcohol addiction. The National Institute on Alcohol Abuse and Alcoholism provides a guide on how to identify quality treatment:
Does the provider meet state, accreditation or licensing qualifications?
Do you feel that your individual needs will be met?
Does the proposed treatment plan cover all of your immediate needs and include steps for long-term recovery?
Are the proposed therapies based on scientific research and quantifiable?
Will the program take your insurance or are financial arrangements feasible?
Don't be afraid to ask additional questions as well, including:
What are the program rules?
What is the daily schedule?
What freedoms or choices will you release or retain?
Traveling any distance for treatment can add to a sense of stress of pursuing recovery. However, it may also be an important step to gain distance from former habits. Each person will have to assess their needs and make the best choices individually.
City of St. Marys, OH
With fewer than 10,000 residents, St. Marys, Ohio, is an intimate community full of friendly, familiar faces. Visitors can fly in from nearby Columbus.
City leaders are passionate about decreasing the flow of drugs in the city. From the Night of Hope Concert Against Heroin to drug task forces that partner with neighboring Wapakoneta, Celina, and Lima for operations and arrests, the City of St. Marys, Ohio, is committed to finding solutions to addiction issues.
The values at the heart of St. Marys, Ohio, remain sound and each resident should be assured that there is a way out of drug and alcohol abuse, there are resources available and the community is ready to provide support.
Addiction Resources in Nearby Ohio Cities
For those who are seeking alcohol and drug treatment facilities outside of St. Marys, Ohio, there are also many drug rehab resources across the state of Ohio:
Medical Disclaimer
The Recovery Village aims to improve the quality of life for people struggling with substance use or mental health disorder with fact-based content about the nature of behavioral health conditions, treatment options and their related outcomes. We publish material that is researched, cited, edited and reviewed by licensed medical professionals. The information we provide is not intended to be a substitute for professional medical advice, diagnosis or treatment. It should not be used in place of the advice of your physician or other qualified healthcare providers.
Reach out now
We can help answer your questions and talk through any concerns.